6 Tips for Surviving a Micromanager
Updated on: by Miranda Grimm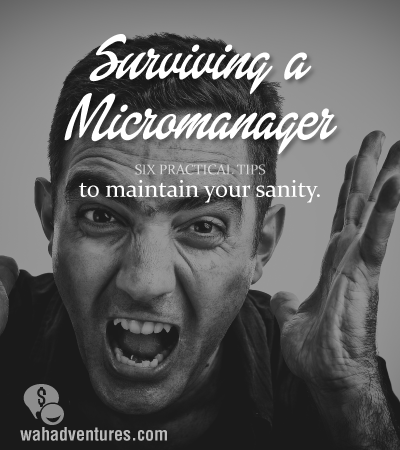 If you haven't run into a micromanager at work, it's just a matter of time before you do. Micromanagers exist in every field and geography. While their management style may seem soul-numbingly oppressive, you need to recognize that a micromanager is paralyzed by the fear that something under their control is about to go wrong. While it won't be easy, the following 6 tips will help you survive a micromanager.
Need Easy Extra $350+/Month For Free?
1) Communicate.
Since micromanagers are afraid of being left out of the loop, you'll need to communicate your progress on a regular basis. While it may seem like a hassle, your choice to actively communicate will allow you a small degree of control. Rather than wait for a last minute status request, your willingness to communicate will reduce your micromanaging boss's need to know everything right now.
2) Choose your battles.
You're not going to win all of your battles. Make sure to win the ones that matter to you. To a micromanaging boss, your desire to push them out of your business will make it look like you are trying to hide something. In some cases, the more you push, the harder they will make it for you to succeed. Save your energy and only fight when you know you can win.
3) Create milestones and stick to them.
Micromanagers have a strong desire to know that their projects are on time and on budget. Help them out by creating project milestones and sticking to them. Once you have demonstrable track record, your boss may give you more leeway in accomplishing your goals.
4) Become a perfectionist.
Any mistake you make will fuel your boss's desire to micromanage you. Double or triple check your work to make sure it is accurate. If you are not a great writer, enlist the help of a friend to proofread your work. While minor spelling or grammar error may not seem significant to you, a micromanager will view any error as a validation of their micromanaging style.
5) Don't badmouth your boss.
While it could be tempting to let off a little steam, never make public comments about your boss's micromanaging behavior. If the comments make it back to your boss, your life could get even more miserable. Even if you are planning on leaving the position, you will still need a reference. There is nothing more awkward than having to explain to a new employer that your old boss won't vouch for you.
6) Know when it's time to leave.
Sometimes it's impossible to make a bad situation better. If you feel like you've reached the end of your rope, it is time to move on. Ideally, you should try to stay in your position for at least a year but if you have reached the point where you can no longer tolerate going into work, it's time to move on.
When you leave, make sure to give proper notice and help with the transition of your replacement. It should go without saying that you should stay positive and avoid the temptation to slam your boss. While it may be tempting to warn your replacement of your boss's micromanaging ways, your comments may come off as sour grapes.
Working with a micromanager is something almost everyone will have to face during their career. While it may be unpleasant, the experience will help you develop the skills and character necessary to excel in business. If you are not a detail-oriented person, a micromanager will definitely help you. If you need work on developing patience, a micromanager will give you the opportunity to develop it. While you may not want to spend the rest of your career under the thumb of a micromanager, a short internship will do wonders for your professional development.
Related Posts:
Earn Everything… nearly!
Join Ipsos iSay, one of the few Faithful and Honest survey panels and earn prizes, gift cards and donations. Stack your points and redeem them: Simple! No hidden fees and completely free!