17 Tips for Getting a Free Business Phone Number in 2023
Updated on: by Amy Kennedy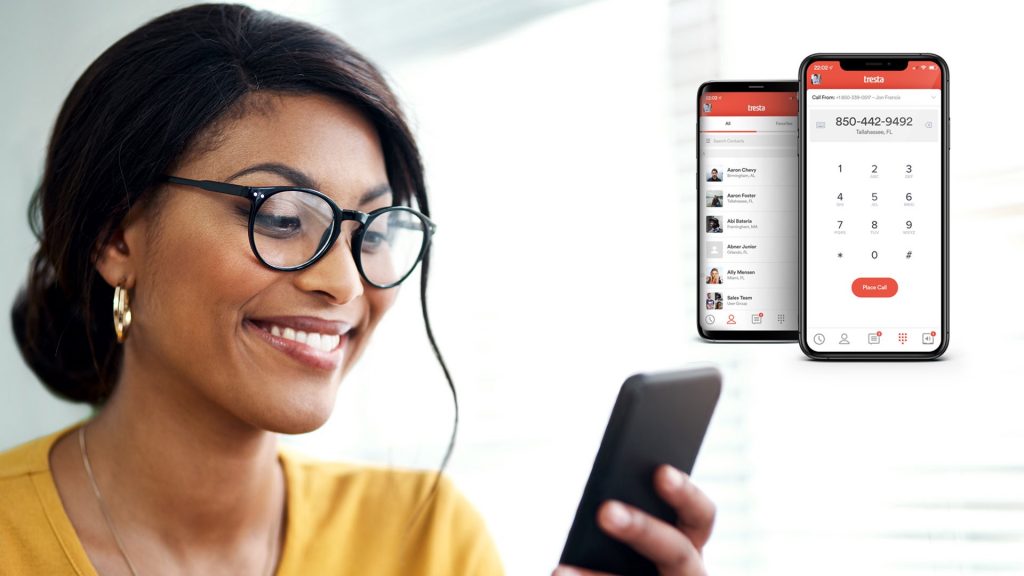 Although a lot of people are switching to digital methods of contact, like email or live chat, to connect with companies, there are still plenty of customers who prefer to reach out by phone.
This makes it a necessity for almost any business owner to have a phone line for customers to call when they have a question or an issue.
It can be tempting to save some money by just using your personal number if you have a small business.
However, this mixes business with pleasure, which isn't always a good idea.
Customers should be able to get in touch with you, but calling your personal line can make it difficult to have boundaries between your regular and professional lives.
Business lines can be pricier than personal lines, unfortunately, but paying this cost is a crucial part of doing business.
That's why I've researched some ways to get a business phone number for free or cheap!
Can I Really Get a Free Business Phone Number?
Yes, if you know how to do it!
And that's what this post is all about.
Some companies provide free or very affordable phone lines for businesses to help them create a contact line with their customers that isn't expensive.
There are also app options that could help you connect with customers for free.
I do want to note that the free options often aren't as feature-heavy has paid options.
You might not get all the extras you need from a business phone line if you're a larger business, like call forwarding or call queue greetings, from free services.
But if you're looking for a barebones, basic service to get the job done, then these free services will probably work for you.
Considerations to Make Before Getting a Free Number for Your Business
Not all business phone lines are the same.
If you're new to the business scene and aren't sure what to look for in your new business phone line, take these points into consideration before deciding on a service:
Cell Phone vs Landline
More than a decade ago, most people still had landlines in their homes.
Cell phones have mostly taken over for personal use, but many businesses still use landlines to conduct their business.
Why?
They typically have a clearer call quality because of the way they're set up. They also don't require an internet connection to work, so if your internet goes out, your phone can still make and receive calls.
A cell phone has benefits for business, too.
Cell phones can actually be more affordable than a landline, depending on the provider you go through.
You also have the benefit of getting texts for your business and being on-the-go with business calls.
Some of the options below provide landlines and others provide cell phones, so it's important to decide on which one better fits your business needs before choosing a service.
Frequency of Use
How often you plan to use your business phone could affect the free service you choose.
That's because some of them only allow free service for a limited number of minutes per month.
If you go over that amount, you may be charged or unable to make and receive phone calls, which could be detrimental for you and your customers.
Local vs Toll-Free Numbers
Getting a local number for your business is usually cheaper.
But if your business services people across the country or globally, it might not make sense for you to have a local number.
Unfortunately, it's difficult to find a free toll-free number to use for business. Most free services only provide local numbers.
Vanity Numbers
A vanity number is one that customers can remember more easily than a string of numbers.
For example, a web design firm might use a number like 1-800-XDESIGN to make it easy for customers to remember the number to call if they spot it on a website or in an advertisement.
If you think your business would benefit from a vanity number, it's unlikely that you'll be able to get one from a free service alone, as these usually cost extra.
Additional Services Needed
As I mentioned, free business phone services usually lack in features.
Small businesses that just need a simple phone line might be just fine with the features they provide.
But larger businesses may find them a little too simple to keep up with the needs of their business.
Think about features that might be necessary for your business, including call recording, call parking, text messaging, VoIP setup, extensions, etc.
If the free service doesn't offer what you need, it's best to bite the bullet and pay for non-negotiable features.
Read More: 28 Best Ways to Work Online from Your Smartphone 
How to Get a Free Phone Line for Business Use
Here are 14 ways you can get a free phone line for your business in 2023:
Google Voice is one of many free Google apps.
This one could be the right choice for businesses that want to have a virtual phone number for customers to contact them without needing to use their personal line.
With your free Google Voice number, you can make and receive phone calls and texts, and there's even functionality for voicemail.
Just login to your dashboard to check voicemails, or you can have your calls and texts forwarded to your cell phone to keep everything in one spot.
Voicemails will also be sent to your email as a transcript, which is helpful when you can't check it right away but want to still be able to see what the message says.
You can only use this service for local numbers.
With eVoice, you'll need to pay a monthly fee for phone service, but your actual business phone number is 100% free.
And, unlike other services, you can get either a local or a toll-free number with eVoice, and there's no extra charge for a toll-free number.
Plans come with unlimited calls, users, and lines, plus custom greetings, call forwarding, and other helpful features for businesses.
The Elite Monthly plan is $14 per user per month, but eVoice also has custom plans available to tailor to your business needs.
Callcentric is an internet phone service that might serve your business needs.
It's not free, but it is very cheap for numbers in some areas.
You can use the rate checker to look up a phone number and find out how much you'll need to pay for it.
You can also get international numbers if needed.
Try the SMS Basic plan for just $1 per month if you need texting, too.
YouMail has a unique service that lets you add a number onto your existing phone line to use for personal or business purposes.
So, all you need is an existing phone plan to use it.
All calls and texts for your new number will go straight to your current cell phone, so you can check and manage them all in one spot.
Some paid plans even offer up to 25 extra numbers at no extra cost, so you can sign up for numbers for your employees, too.
Get a free phone system and cloud number from FreedomVoice.
You'll get a 30-day free trial when you sign up, just to make sure the service is right for you.
Paid plans start at under $10 a month, which is perfect for a small business owner that needs a basic setup.
Although it sounds like it only provides texting, TextNow actually allows texting and calls to go straight to your computer.
You can use it for business by downloading the app and setting up your free business number.
When someone calls or texts you, you'll get notified on your computer (there are also apps for mobile devices if you prefer to use it that way).
The service also has conference calling capabilities.
This app is completely for texting, so it can be a good option if you already have a business line but would like customers to be able to contact you by text, too.
Just download the app for Apple or Android devices, choose your phone number, and start getting and sending texts right away.
The Phonebooth service isn't free, but its numbers are.
You can sign up for the service for your business for just $20 a month to get two free phone lines to use.
You'll also get unlimited groups, group conferences, voicemail transcripts, and more.
If a basic plan will meet your needs and you don't plan to use your business line much, FreedomPop could be the answer.
It gives you free unlimited Wi-Fi calling and basic data so that you can get your calls made and received reliably.
You can order a SIM card to add to your device for free on the website.
Grasshopper
Grasshopper is a virtual phone system aimed at small businesses.
It isn't a completely free service, but they offer a 7-day free trial that you can use to test the waters.
This service could be an excellent choice for businesses that need a professional phone number but want to use their existing devices.
After setting up your business number with Grasshopper, you can make and receive calls, as well as send texts.
There's also voicemail functionality, with transcriptions sent directly to your email.
An added advantage of Grasshopper is its ability to allow extensions, which can be an asset for larger teams or businesses with different departments.
Line2
For businesses that prefer a separate line on their existing device, Line2 might be the way to go.
While not completely free, it offers a 7-day free trial.
Line2 provides a second phone number on your mobile device, functioning as a full-featured business phone system.
It allows you to separate your business and personal calls, making it easier to manage your communications.
Notable features include call forwarding, custom voicemail, group calling, and even business texting.
International calling options are also available.
Skype for Business
Most people know Skype as a personal communication tool, but it also has a business option that can serve as a virtual phone line.
Skype for Business, while not a fully free service, does have a version that comes with Office 365, so if you already use that for your business, you already have access.
With Skype for Business, you can set up conference calls, video meetings, and even share screens with others, which makes it especially useful for businesses that work with remote teams.
Add a Business Line to Your Current Plan
Some cell phone carriers allow you to add a business line to your current plan with special pricing, so you won't end up paying as much as you would if you were to buy a separate phone line.
It's worth looking into if you're with a well-known carrier, especially if you're a long-term customer.
If you can't find anything on the website, contact customer service to inquire about bundled pricing for business customers.
Lifeline is a government program that helps people get cheap cell phone service, and small businesses might be able to use the program if they qualify.
Several cell phone providers partner with the program to offer affordable cell phone service with some limits.
Usually, you can have a certain number of minutes and a limited amount of data each month with your plan, which is often less than $10 a month.
If you don't expect to make or receive many business phone calls each month, this could work for you.
Ask Your Employer
If you don't own a business but instead want to learn how you can get a phone line that's separate from your personal phone for work purposes, ask your boss!
Some employers provide free cell phones for their workers to use if they frequently need to make or receive business calls for work and aren't always in the office to do it.
This is especially common for jobs that people can work remotely some or most of the time.
Employers can usually monitor these phones, so if you do happen to get one, make sure you're only using it for work purposes.
Check Local Resources
Your local community might have programs designed to help small businesses, so it's always a good idea to check what's available.
You can start by contacting your local Chamber of Commerce or Secretary of State to ask about any help for your business.
You'll usually need to qualify with a certain business revenue and other requirements, so not all businesses will be eligible.
But it never hurts to ask.
Get a Free or Affordable Phone System from Bitrix24
Bitrix24 is a company that caters to commercial customers.
It provides a free phone system for businesses that includes features like:
Inbound and outbound calls
Call recording and forwarding
Employee extensions
Call transfers
CRM system
You can "rent" as many phone numbers as you'd like for your phone system, starting at just $4 per month, but the system itself is free, even with all of its advanced features.
Ramp Up Your Business with a Free Business Phone Line
Hopefully, you can find a free business phone line with an option from this list that can keep your business running productively.
Free services are somewhat limited, but there are plenty of businesses that could still benefit from them to save a little money each month.
If you know of organizations or programs that help businesses get a free phone number, let us know in the comments.
Related Posts: