17 Best Places to Sell Used Golf Clubs
Updated on: by Amy Kennedy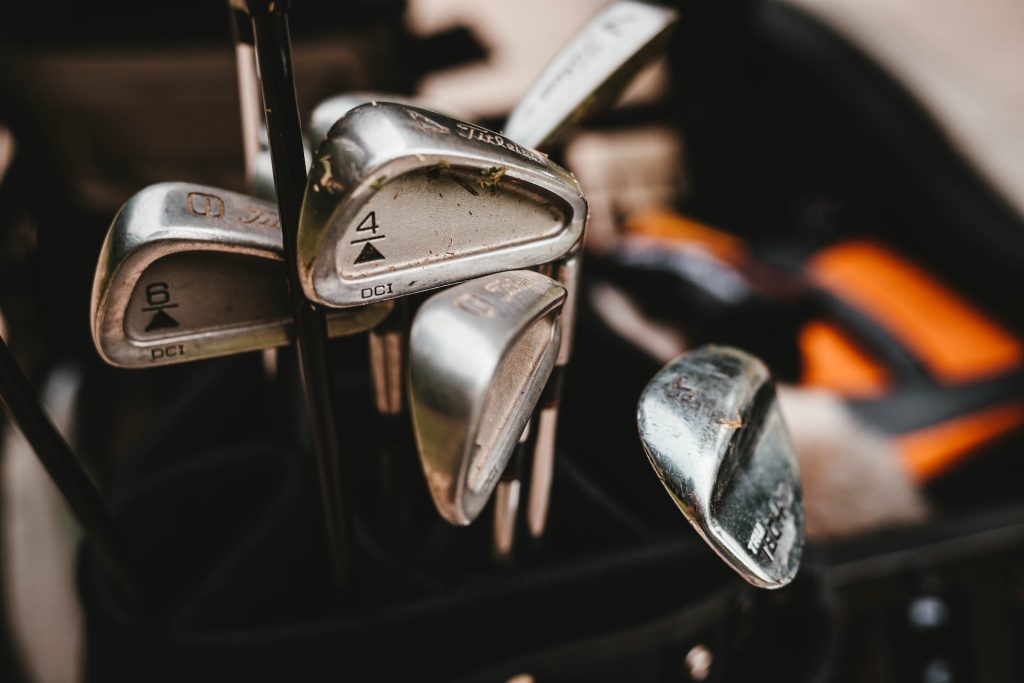 The fervor for golf often leads enthusiasts to constantly upgrade their gear, resulting in a collection of used clubs that could still find a purpose with someone else.
Need Easy Extra $350+/Month For Free?
Selling these pre-loved clubs not only declutters your space but also provides an opportunity to recoup some investment.
The digital age presents an array of platforms dedicated to catering to this niche market, ensuring that your clubs find the right buyer.
Here are some of the best places to sell your used golf clubs:
Introduction
Golf Galaxy stands as one of the leading names in the golf retail world, with its used club trade-in program being a significant attraction.
Features
With Golf Galaxy, you get the advantage of trading in your old clubs for store credit. This credit can then be utilized to upgrade to newer gear, making the process seamless and beneficial for regular golfers.
Moreover, they provide an online estimation tool to gauge the worth of your clubs before initiating a trade-in.
Benefits
Being a recognized brand, Golf Galaxy ensures transparent and trustworthy transactions. Their vast clientele and reputation mean that your clubs have a higher chance of being sold promptly.
---
Introduction
2nd Swing is a dedicated platform focused on buying, selling, and trading golf equipment, making it a hotspot for golf enthusiasts.
Features
The platform stands out for its user-friendly interface and detailed categorization.
It offers both buying and trading options for your clubs, and their website offers a trade-in valuation tool, giving sellers an idea of their club's market value.
Benefits
2nd Swing ensures quick payouts once your item is sold. Additionally, with their specialized focus on golf equipment, the targeted audience enhances the potential for a quicker sale.
---
Introduction
SidelineSwap caters to a broad range of sports equipment, including golf. It acts as a marketplace connecting buyers and sellers directly.
Features
Sellers can list their clubs with images, descriptions, and their desired price. The platform then matches potential buyers, facilitating the exchange through a secure payment gateway.
Benefits
SidelineSwap offers seller protection, ensuring that payments are held until the buyer receives the item. Their extensive user base across various sports also means your golf clubs can attract buyers from unexpected quarters.
---
Introduction
Golf Club Brokers specializes in purchasing used golf clubs, streamlining the process for sellers and offering competitive prices.
Need Easy Extra Cash?
Pinecone Research, a leading name in online survey panel honesty, absolutely guarantees $3 cash for every survey you complete!
Take advantage of their time limited New Membership drive and register NOW. Join today: 100% free!


Features
This platform provides free quotes for your golf equipment, ensuring transparency. Once an agreement is reached, they even cover shipping costs, making the selling process hassle-free for users.
Benefits
Golf Club Brokers boasts a quick turnaround time with payments often processed within a day of receiving the clubs. Their specialization in golf equipment ensures a thorough evaluation, guaranteeing a fair price for your gear.
---
Introduction
eBay, the global e-commerce giant, remains a popular choice for individuals wanting to sell used items, including golf clubs.
Features
With eBay's vast user base, sellers can reach an international audience. The platform offers multiple listing formats like auctions or buy-it-now options, giving flexibility to sellers.
Benefits
The robust feedback system on eBay helps instill trust among buyers and sellers. Moreover, their detailed categorization ensures that your golf club listings reach the right audience.
---
Introduction
Facebook's Marketplace has quickly emerged as a convenient local platform to sell items, and used golf clubs are no exception.
Features
Sellers can list items with ease, leveraging their personal network and beyond. The platform allows for direct communication between buyer and seller, facilitating negotiations and queries.
Benefits
Facebook Marketplace is free to use, and the emphasis on local listings means you can often bypass shipping hassles.
Plus, with the integration of user profiles, there's an added layer of trust and transparency in transactions.
Introduction
GlobalGolf is revered in the golfing community for its expansive range of equipment and its commitment to serving both new and seasoned golfers.
Features
Sellers can either trade in their golf clubs for store credit or cash. The website's trade-in center provides an approximate value, simplifying the decision-making process for sellers.
Benefits
GlobalGolf has a reputation for fair assessments, ensuring that you get good value for your used clubs. Plus, they frequently run trade-in promotions, allowing sellers to gain additional value on their trades.
---
Introduction
A specialist in used golf equipment, Swing'em Again Golf offers a seamless experience for those wanting to part with their pre-loved clubs.
Features
The platform has a straightforward quotation system. After detailing your club's specifics, you receive an offer, and if accepted, shipping instructions soon follow.
Benefits
One of the main attractions of Swing'em Again Golf is its prompt payment system. Once they receive and inspect your clubs, payment swiftly lands in your chosen method.
---
Introduction
Run by the Professional Golfers' Association, the PGA Value Guide is a trustworthy source for both buying and selling golf clubs.
Features
The guide gives sellers a clear estimate of their club's value. After getting the club's details, they provide a quote, giving sellers the option to trade in or cash out.
Benefits
The backing of the PGA name ensures a seamless and transparent process. Sellers can rest easy knowing they're working with a reputable entity in the golf world.
---
Introduction
A community-driven platform, GolfWRX is a haven for golf enthusiasts seeking to buy, sell, or even discuss the nuances of the game.
Features
The platform has a bustling classified section where members can list their clubs. Detailed descriptions, images, and direct member interactions define the selling experience here.
Benefits
Being a community-focused site, GolfWRX ensures genuine interactions. The possibility of connecting with fellow golf enthusiasts adds a unique dimension to the selling process.
---
Introduction
OfferUp is a general marketplace app, but its expansive reach ensures a place for golf club listings too.
Features
With an intuitive interface, listings can be created quickly, complete with images and detailed descriptions. Direct messaging allows immediate communication between buyer and seller.
Benefits
OfferUp's location-based listings make local sales a breeze. The platform's rating system instills trust among its users.
---
Introduction
Golf Avenue is dedicated to the world of golf, offering an extensive range of new and pre-owned equipment.
Features
The platform offers a hassle-free quote system for your golf clubs. With their vast catalog, they provide competitive prices for high-quality used clubs.
Benefits
Golf Avenue offers both payouts and store credits, allowing flexibility for sellers. Their commitment to golf ensures that your clubs get the attention they deserve.
---
Introduction
Another general marketplace, LetGo has carved a name for itself in local buying and selling, including golf clubs.
Features
Its user-friendly design ensures quick listing with images and descriptions. The in-app chat feature allows sellers to interact directly with interested buyers.
Earn Everything… nearly!
Join Opinion Outpost, one of the few faithful and honest survey panels and earn cash and gift cards for your opinion. Stack your points and redeem them: Simple! No hidden fees and completely free!


Benefits
LetGo emphasizes local exchanges, often eliminating shipping costs and complexities. Its large user base increases visibility for your golf club listings.
---
Introduction
A long-standing name in the world of online classifieds, Craigslist is still a go-to for many looking to sell items locally, including golf clubs.
Features
Craigslist's simplistic design aids in quick listing creation. Its vast category range ensures that your golf clubs find the right section.
Benefits
Being one of the pioneers in online classifieds, Craigslist boasts an expansive user base. Direct communication with buyers and the focus on local listings make transactions relatively straightforward.
---
Introduction
Specializing in used golf clubs, Golf Club Traders offers a platform dedicated to ensuring sellers get the best value.
Features
The platform emphasizes a simple selling process. After detailing your club's specifics, they provide an offer, covering shipping costs if the offer is accepted.
Benefits
Golf Club Traders stands out for its fast payout system. Once they inspect your clubs, payments are processed promptly.
---
Introduction
Reddit, the internet's front page, has a community dedicated to golf enthusiasts looking to buy and sell equipment.
Features
Sellers can post detailed listings with images and descriptions. Being community-driven, it encourages genuine interactions and fair transactions.
Benefits
The r/golfclassifieds community, though niche, ensures that listings are seen by dedicated golf enthusiasts. Direct interactions and feedback make for a trustworthy selling experience.
---
Introduction
Surprisingly, a simple Google search can lead to numerous local or lesser-known platforms and shops where one can sell used golf clubs.
Features
Google's vast reach can direct sellers to platforms best suited to their needs. It can also provide insights into current market trends and values for specific golf club models.
Benefits
Using Google ensures that you're not limiting yourself to just the popular platforms. Exploring various selling options can lead to better offers and a more customized selling experience.
Tips for Selling Your Used Golf Clubs
Here are some crucial tips that can enhance your selling experience, ensuring you get the best value for your used golf clubs while providing a smooth transaction for the buyer:
1. Know Your Clubs' Value
Before listing your clubs, conduct thorough research on their current market value. Platforms like the PGA Value Guide or even completed eBay listings can give you a good idea of what your clubs are worth.
Accurately pricing your clubs ensures a quicker sale and a fair return on your investment.
2. Clean and Photograph Well
Presentation matters. Ensure your golf clubs are clean and free of any major marks or dirt.
High-quality photos taken in good lighting can showcase the condition of your clubs and make your listing more appealing to potential buyers.
3. Be Transparent About Condition
Honesty is the best policy when selling items online. Clearly detail any wear and tear or defects your clubs may have. Being transparent about the condition not only builds trust but also reduces the likelihood of disputes or returns.
4. Offer a Detailed Description
Besides the condition, include information like the club type, brand, shaft type, grip condition, and any other relevant specifications.
The more details you provide, the easier it is for potential buyers to determine if your clubs are what they're looking for.
5. Consider Shipping Costs and Logistics
If you're selling online, think about how you'll ship the clubs. Determine if you'll offer free shipping (factoring the cost into the selling price) or charge the buyer separately.
Use sturdy boxes and sufficient padding to ensure the clubs arrive in the condition described.
6. Stay Safe During Local Transactions
If selling through platforms like Craigslist or OfferUp, meet buyers in public places and preferably during daylight hours.
It's also a good idea to inform someone close to you about the meet-up or even have someone accompany you.
7. Be Open to Negotiation
While you should have a firm idea of your clubs' worth, be prepared for potential buyers to haggle. Set a minimum price you're willing to accept and be open to offers close to that.
Sometimes, a little flexibility can lead to a quicker sale.
Conclusion
In the vast world of golf, finding the right platform to sell used clubs can make all the difference in securing a worthwhile deal.
From specialized golf shops to general online marketplaces, there's a myriad of options catering to various needs.
It's essential to consider the unique features each platform offers, ensuring that it aligns with your selling objectives.
As the golfing community continues to grow, these 17 places stand out as reliable and efficient avenues for both novice and seasoned sellers.
Related Posts:
Earn Everything… nearly!
Join Ipsos iSay, one of the few Faithful and Honest survey panels and earn prizes, gift cards and donations. Stack your points and redeem them: Simple! No hidden fees and completely free!