23 Best Places to Sell Used Items Online (Plus Offline Places to Sell!)
Updated on: by Amy Kennedy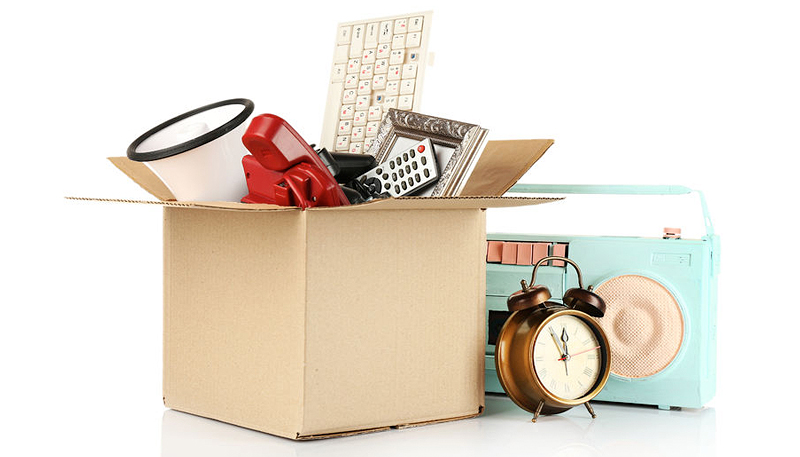 Whether you're looking for websites that buy unwanted stuff, or you want to sell your used items offline, we've got you covered with this article.
Need Easy Extra $350+/Month For Free?
Having items that you don't use just lying around the house doesn't help anyone.
Clutter gets in the way and sits there for no other purpose.
Plus, you don't make any money just leaving it there!
So, why not sell it?
There are plenty of markets just waiting for your used items, no matter how little you think people will want them.
Used clothing, furniture, electronics, and books are no problem.
You know what they say: one man's trash is another man's treasure!
Just a couple of decades ago, selling used items meant holding a yard sale or visiting antique shops or thrift stores to try to get rid of them.
We aren't even going to talk about those here.
But, we do have some better ideas for selling items offline by using the power of the internet!
And, of course, we're going to talk about the absolute best places to sell used items online.
What's the Best Place to Sell Used Items Online?
If you're looking for the very best place to sell used items online, you don't need to look any further than Amazon.
Most people that use the platform aren't even aware that you can sell your own items here.
But, if you look closely when you browse the site, some of the items you purchase may actually be from sellers other than Amazon.
Look up a product as an example.
Need Easy Extra Cash?
Pinecone Research, a leading name in online survey panel honesty, absolutely guarantees $3 cash for every survey you complete!
Take advantage of their time limited New Membership drive and register NOW. Join today: 100% free!


If the product has people who sell it other than Amazon, you'll see an option to buy it used or new from another seller.
So, there's absolutely a market for selling used items on Amazon.
The beauty is that you can sell a variety of things here and people looking for a bargain may just opt for your used item instead of a new one.
One of the easiest methods to do this is by using Amazon's Fulfillment By Amazon (FBA) program.
This program allows you to send Amazon several types of items, like video games, books, and phones, for Amazon to sell.
You simply send your stuff to Amazon, and it takes care of everything else.
But, you still get paid for it after Amazon takes out fees!
The only downfall is that the FBA program is restrictive in what it accepts.
There are rules regarding the packaging your item comes in, included accessories, and the type of item.
And, if your item doesn't have much value to it anymore, you won't make a lot.
It's a hit or miss for many.
Another option to use to get more out of selling on Amazon is by becoming an Amazon seller directly.
This gives you a bit more control over what you sell, so you can sell items in more categories here.
The most important thing to do to ensure your success, though, is to provide a very accurate description of your item's condition.
Amazon lets you choose what category your item falls under according to condition, such as Like New, Good, Fair, etc.
But you'll also have a comments area where you can explain more, in detail, about your item's condition.
Use it!
Sellers will be less likely to come back and demand a refund if their items are sent in the condition you stated.
They just want to know what they're paying for.
I will say, though, that Amazon works better for most people who have a used item flipping business, rather than selling random household items.
If you want to do that, I'd suggest eBay, which I'll talk about a little later.
If you're interested in becoming an Amazon seller, click here to get started!
Other Top Ways to Sell Household Goods Online
Where else can you sell used stuff online?
There are plenty of spots, and most of them specialize in certain types of products so that you can find the perfect place for your items.
BookScouter is the place to go if you have used books to sell.
All you have to do is enter your book's ISBN number into the search bar.
Then, BookScouter works its magic by searching the database for that book.
BookScouter will then show you several places that are looking to buy that book, so you can compare prices and find the best spot to sell.
Essentially, it's like a marketplace for you to find the place with the highest buying prices for your book so that you can get top dollar.
Earn Everything… nearly!
Join Opinion Outpost, one of the few faithful and honest survey panels and earn cash and gift cards for your opinion. Stack your points and redeem them: Simple! No hidden fees and completely free!


Once you find the right place, you can ship your book for free, and BookScouter will handle the rest.
It couldn't get much simpler!
This is the best spot to sell your old college textbooks that are sitting around collecting dust.
CoupRecoup is an excellent place for Groupon addicts to sell their unused deals that are about to expire.
If you have a habit of buying Groupon deals that you can't find time to use, then CoupRecoup can at least give you some of your money back.
The best part?
It's free!
Well, almost.
All you'll need to pay is PayPal fees associated with you getting your payment.
Upload your deal to the site, and when someone shows interest, he or she can email you about it.
You can then communicate with the buyer to work out a deal and finalize the details to get paid.
Couture Boutique is a site that accepts used luxury items, from accessories and handbags to luggage and shoes.
If you have designer items, this is where you should go to get the most bang for your buck.
You'll have a few options for selling used items here:
Consignment, which gives you up to 75% of your item's price, but you'll have to wait for it to sell.
Direct Purchase, which pays you immediately for your item based on the fair market value.
Buy Back, which allows you to resell an item you bought within 90 days of purchase and gives you payment immediately.
You can always request a quote from the site before you place your item for sale to get an idea of what option may be the best for you.
eBay is the 2nd-best option for selling used items online.
Much like Amazon, you can sell a variety of things here – and actually, you can sell even more here than Amazon.
Your options are virtually endless on eBay.
It can almost be used like an online garage sale.
eBay is technically an auction site, but you can also sell things for a fixed price if you choose.
As long as you're honest about your item's condition and sell it for a fair price, you'll do well here.
Many people have even learned how to make a living selling on eBay – even from selling used items.
This is, by far, the best place to sell unique items, like autographed pictures and old video games, for the best prices if you find the right buyers.
Gazelle's a good place to sell electronics, namely cell phones, and tablets.
When you add details about your device, you can receive an offer from Gazelle instantly.
Ship your device for free, as long as it's worth at least $1, and get paid by PayPal, Amazon, or a check.
Gazelle even has kiosks located around the U.S. that let you drop your device off and get paid right away.
I love Gift Card Granny for so many reasons, especially buying gift cards at discounted prices.
But, the site also lets you sell unwanted gift cards so that you can buy a different one that you'll use!
I get so many gift cards for birthdays and Christmas, some of which I'll never use.
So, it's great to have a place where I can at least get some money from them to put toward something I want.
The process is simple: enter the card's brand and remaining balance (yes, you can even sell what you have left on a card), and then choose to trade it in for something else, sell it immediately, or name your price and wait for it to sell.
iTunes, Amazon, and Best Buy gift cards are among the most popular here, but you can sell just about anything.
NextWorth is similar to Gazelle, but offers a wider variety of electronics that you can sell, like portable audio equipment, smart watches, and more.
Put in details about your item and NextWorth will give you an immediate quote.
You can ship your stuff for free using prepaid postage from NextWorth.
Once your items have been processed, you can receive a check or PayPal cash.
If you have no desire to keep your wedding dress hanging around after you've worn it, you can sell it on Sell My Wedding Dress.
There are no commission fees or selling fees here.
You'll only have to pay a listing fee, which ranges from $19.99 to $29.99.
You'll also be able to sell prom dresses and other formal gowns and accessories here!
Read More: 10 Best Places to Sell Your Wedding Dress Online to Get More Cash
Have tickets to a concert or event that you can no longer attend?
Sell them on StubHub!
It's simple to sell here.
You just have to provide an accurate description, and StubHub takes care of the rest.
You can set your prices and change them at any time.
Use the StubHub app to manage your listings on the go!
I've been a Swap seller for about three years, and I've consistently made money every month since.
This is a great place to sell used clothing.
You can pack up your own box and ship it to Swap using one of its printable labels.
You don't even have to pay for shipping until you start making money.
Or, request a box from Swap for a few extra dollars.
Make sure your clothing doesn't have stains, tears, or other defects, pack your box, and send it away!
Swap will process everything, including taking photos and placing your clothing on the site. It'll even price your items for you.
You can choose to get paid with PayPal or receive store credit for Swap.
Opting for Swap credit will give you more value for your sold items.
Swappa is another place to sell your used electronics.
Search for your item and find out how much it is worth.
You'll get quotes based on the exact details and condition of your phone.
You can then create an account and place it on the marketplace to sell!
Swappa does have some selling fees that are based on the selling price of your item, but no fees are taken for items worth up to $50.
You'll get paid via PayPal.
ThredUp is similar to Swap, but is a bit more selective in the brands and clothing it accepts.
This is a good place to use if you have high-end brands of clothing to sell.
All you do is order a clean out bag, fill it, ship it back to ThredUp, and let the company do the rest.
If ThredUp doesn't accept some of your items, you can donate them and request a tax donation receipt.
Have some jewelry to sell?
Perhaps an engagement ring from an engagement that never turned into a wedding?
If so, turn to True Facet to get some money back for your used jewelry.
You can choose to consign the jewelry for up to 75% of its value, or list it for up to 85% of its value.
Either option lets you get paid by check, PayPal, or credit to shop on TrueFacet.
Etsy is a vibrant online marketplace that brings together artisans, crafters, and vintage sellers from around the world. 
It has gained immense popularity for its focus on handmade and unique products. 
Whether you're looking for intricately designed jewelry, hand-stitched clothing, personalized home decor, or vintage collectibles, Etsy offers a vast selection of items created by independent sellers. 
The platform provides sellers with the tools to set up their own shops, list their products, and engage with a passionate community of buyers. 
With its emphasis on creativity and individuality, Etsy has become a go-to destination for people seeking distinctive and customized goods.
Letgo is a user-friendly mobile app designed for buying and selling used items locally. 
It enables individuals to declutter their homes or find great deals on second-hand products. 
Letgo covers a wide range of categories, including electronics, furniture, vehicles, sporting goods, and more. 
Sellers can easily snap a photo, create a listing, and communicate with potential buyers through the app's built-in chat feature. 
By focusing on local transactions, Letgo offers convenience and a sense of community, allowing buyers and sellers to meet face-to-face and exchange items in person. 
The app's intuitive interface and robust search functionality make it simple to browse and discover items of interest in your vicinity.
Poshmark is a thriving fashion marketplace that caters to individuals who love buying and selling new or gently used clothing, shoes, accessories, and beauty products. 
With Poshmark, users can create their virtual "closets" to showcase their personal style and fashion finds. 
The platform fosters social interaction and engagement. 
This allows users to follow each other, share their listings, and participate in virtual shopping parties. 
Poshmark also offers features like Poshmark Community Meetups and Poshmark Ambassador program. 
They promote networking and community building among users. 
Mercari offers a convenient and secure platform for individuals to list their products, connect with potential buyers, and complete transactions. 
Mercari's user-friendly interface and robust search functionality make it easy to browse through the vast catalog of items available. 
The app includes features like in-app messaging, seller ratings, and buyer protection, ensuring a smooth and trustworthy experience for all parties involved. 
Whether you're looking for a unique vintage find or hoping to sell your unused items, Mercari provides a convenient avenue for both buyers and sellers to connect and transact securely.
What Are the Best Places to Sell Used Items Offline?
Selling locally is a good option for people who are leery of selling online or have items that are too big to ship, like furniture.
Here are some of the top options you have for selling items locally using the internet to find you some buyers:
I have to mention Craigslist because, not only is it free for most buyers, I've known people who have had their items sell within just a few minutes.
It's by far the most active Classifieds site on the net, especially if you live in highly-populated areas.
You can list on Craigslist for free most of the time, except for some categories and localities (big cities do have some charges).
Buyers communicate with you through a secure messaging system so that you don't have to worry about giving your personal information to anyone.
The only downfall is that there is no rating system here.
You have to do your due diligence to weed out scammers and dishonest buyers.
Yes, eBay is even a great place to sell your used items locally, especially when they're too big to ship!
eBay has a pick-up only option you can use when you list items.
That way, local buyers can still buy your items without needing to worry about shipping.
So, if you have a used fridge or washing machine you want to sell, eBay is always another option for you.
Facebook groups are one of my personal favorite platforms for selling used stuff locally.
Search for local buying and selling groups to join.
Once you're in, you can create a post with some pictures, describe your items, and watch for notifications from interested buyers.
Then, find a safe spot away from your home to meet, exchange the item for payment, and you're done!
I find that Facebook is one of the quickest methods for selling your used items.
Clothing, kids toys, games, movies, and electronics usually sell very quickly in Facebook groups.
OfferUp is one of the best apps you can use to sell stuff locally.
It's available for both iOS and Android devices and lets you place ads and communicate with buyers directly through the app.
You set your price, describe the item, add some photos, and wait for interested buyers to contact you.
You can then set up a meeting place and payment details with the buyer.
One of the things that makes it stand out, though, is that it verifies the identity of buyers and sellers to provide a lot of trust, something that's difficult to find with local selling sites.
You and buyers can scan your ID, only for OfferUp to see, to verify that you're a real person.
Also, OfferUp has a rating system that can provide further trust and security for sellers and buyers.
If you're fortunate enough to live near a Plato's Closet, then you can sell your used clothing there for some quick cash.
Use the website to find a store near you.
Then, bring in your gently used clothing and accessories.
Plato's Closet will give you an offer and, if you accept, you can get your cash before you even leave, or opt for store credit and get some new stuff!
What if No One Will Buy My Stuff?
If you're having some trouble selling your used items, don't worry.
You still have options.
Freecycle is one of them.
You won't make money here, but you can donate your stuff that absolutely won't sell to people who may need them more than you.
At least they're going to a good cause, and you won't have them sitting around the house anymore!
Use Freecycle to post your unwanted items.
Local groups can find your ad and set up a time to collect your goodies for donation.
You can also try Listia, which is basically an online swapping marketplace.
You post the things you no longer want, others post theirs, and you can snatch up other things you want.
You'll get credits every time you give something away for free.
Then, use your credits to "buy" other things you want on the site through bidding auctions.
Listia even gives you 1,000 credits just for signing up, plus another 100 if you connect your Facebook account!
Conclusion: Best Place to Sell Used Items Online
Selling used things online or offline is a great way to clear up some clutter in your home and make a little from on it.
The best part is that no annoying yard sales have to be involved at all!
Hopefully, you find a helpful site on which to sell your used stuff from those we've mentioned above.
Which of the mentioned sites have you used to sell used items?
We'd love to hear your experiences in a comment below!
Happy selling!
Related Posts:
Earn Everything… nearly!
Join Ipsos iSay, one of the few Faithful and Honest survey panels and earn prizes, gift cards and donations. Stack your points and redeem them: Simple! No hidden fees and completely free!