10 Best Places To Sell Used Prom Dresses
Updated on: by Amy Kennedy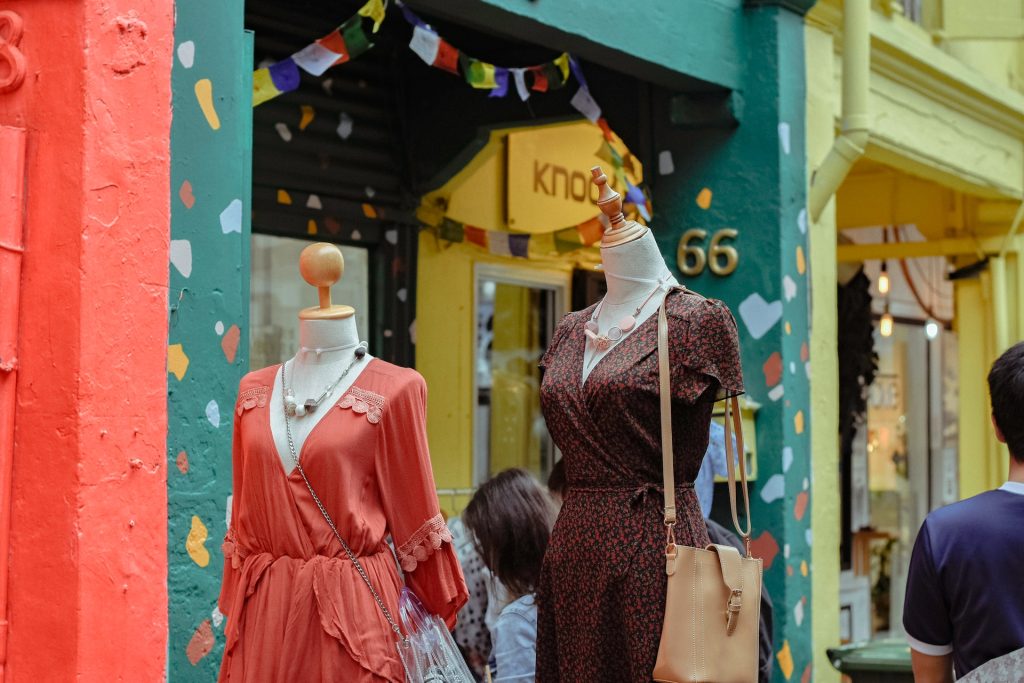 Prom dresses, often worn just once, can sit in closets collecting dust.
Need Easy Extra $350+/Month For Free?
Instead of letting these beautiful gowns go to waste, selling them can be a fantastic way to recoup some expenses while helping someone else shine on their special night.
For those looking to sell, the online world offers numerous platforms that make the process easy and profitable.
Here are the top 10 places to sell used prom dresses effectively.
1. Poshmark
User-friendly App
Poshmark stands out with its intuitive app, specifically tailored for modern mobile users. The platform enables sellers to effortlessly list their dresses, interact with potential buyers, and monitor their sales progress.
Its interface is reminiscent of social media platforms, making navigation familiar to many. This design approach not only simplifies the selling process but also makes it engaging and dynamic.
Social Selling Experience
One unique feature of Poshmark is its integration of social selling. The platform allows users to amass followers, share listings with their network, and even attend virtual 'Posh Parties', where sellers can showcase specific items to a targeted audience.
This interactivity amplifies the reach of listings, potentially accelerating sales.
Secure Transactions
Security is paramount on Poshmark. Their system, known as PoshProtect, ensures that sellers only need to ship their dresses after a buyer has made the payment.
Once the buyer confirms receipt and satisfaction with the item, the funds are released to the seller, minimizing the risk of fraudulent transactions.
Shipping Convenience
With Poshmark, shipping is a breeze. Sellers are provided with pre-paid, pre-addressed shipping labels. This streamlined approach removes the hassle of determining shipping costs and logistics, making the post-sale process as frictionless as possible.
---
2. Tradesy
Tailored For Designer Items
Tradesy is the go-to platform for those with designer prom dresses. It carves a niche for itself by specifically targeting a market segment that seeks luxury items but at more accessible prices.
Sellers with high-end gowns can tap into this audience, increasing the likelihood of fetching better prices for their dresses.
Transparent Fees
The fee structure on Tradesy is straightforward. Sellers are only charged a commission once their dress sells.
This transparent model ensures there are no hidden fees, allowing sellers to confidently calculate their potential earnings.
Return Policy Protection
Returns can be a concern for many sellers, but Tradesy alleviates this worry. If a buyer decides to return a dress, Tradesy handles the entire process, thus ensuring that sellers aren't left navigating the intricacies of returns and refunds.
Need Easy Extra Cash?
Pinecone Research, a leading name in online survey panel honesty, absolutely guarantees $3 cash for every survey you complete!
Take advantage of their time limited New Membership drive and register NOW. Join today: 100% free!


Direct Transfer Earnings
Convenience is key on Tradesy. Once a dress sells, the platform allows for direct transfers of earnings to bank accounts, eliminating any prolonged waiting periods and ensuring sellers have quick access to their funds.
---
3. eBay
Global Reach
eBay, as one of the pioneers in the online selling space, boasts a colossal user base spanning the globe. This vast reach means that sellers have a much higher probability of finding the right buyer, whether they are in the same city or on another continent.
The platform's diverse audience ensures visibility to a wide variety of potential buyers, maximizing the chances of a sale.
Flexible Listing Options
One of the standout features of eBay is its adaptability to different selling strategies. Sellers can opt for an auction-style listing, where buyers bid on the dress, or a fixed-price listing, where the price is set in stone.
This flexibility allows sellers to choose an approach that aligns with their selling objectives, be it a quick sale or fetching the highest price.
Seller Protection
eBay has a robust system in place to safeguard its sellers. From protection against fraudulent buyers to mechanisms that ensure sellers aren't unfairly penalized by feedback, eBay's infrastructure is designed to offer a secure selling environment.
Customizable Shipping Options
On eBay, sellers are in control of their shipping. They can set their shipping fees, decide whether to offer international shipping, and even offer pick-up options for local buyers.
This flexibility ensures sellers can design a shipping strategy that aligns with their logistical capabilities and preferences.
4. Depop
Youth-Centric Marketplace
Depop is a favorite among Gen Z and young Millennials. With its Instagram-like interface, the platform has become a hub for fashion-forward individuals looking to buy and sell unique pieces.
Selling a trendy prom dress here means tapping into a market that values both style and sustainability.
Eco-Friendly Focus
In line with its younger audience, Depop emphasizes the ecological benefits of second-hand shopping. By selling on Depop, you're not just making a profit but also contributing to a larger movement against fast fashion and its environmental repercussions.
Creative Freedom
Depop allows for immense creativity in how items are presented. Sellers often stage mini photoshoots, giving potential buyers a sense of how the dress might look in a real-world context.
This freedom can significantly elevate the perceived value of a dress, making it more appealing to potential buyers.
Safe & Secure Payments
Depop has integrated PayPal, ensuring that transactions are safe and secure. With buyer and seller protection in place, you can have peace of mind knowing that the financial aspect of your sale is safeguarded.
---
5. TheRealReal
Luxury Consignment Store
TheRealReal is for those with luxury designer prom dresses. As a consignment platform, it targets individuals who are keen on purchasing luxury brands at a fraction of the original cost.
The platform's emphasis on authenticity ensures that your genuine designer dress will be in high demand.
Professional Photography
One of the standout features of TheRealReal is that they offer professional photography for your items. Once you send your dress to them, they handle all the presentation aspects, ensuring that your dress is showcased in the best possible light.
Authenticity Guarantee
The platform prides itself on the authenticity of items. Their in-house team of experts authenticates every item, ensuring buyers have confidence in their purchases.
For sellers, this means that genuine items can fetch a premium price.
Hassle-Free Selling Experience
Selling on TheRealReal is almost effortless. They handle everything, from photography to pricing and even returns.
All you need to do is ship your dress to them, and they take care of the rest, depositing your earnings once your dress sells.
---
6. Vinted
Dedicated Fashion Platform
Vinted is exclusively for clothes, shoes, and accessories. By focusing only on fashion, it has carved out a niche for itself, attracting a community that's passionate about style.
Your prom dress would be in the company of like-minded sellers and discerning buyers.
Zero Selling Fees
One of Vinted's major attractions is that it charges no fees for sellers. This means that you keep all the profit from your sale, making it an economically appealing platform for many.
Swift Listing Process
Listing on Vinted is a breeze. With a few taps on your smartphone, you can have your dress up for sale. Their streamlined process ensures that even first-time sellers can navigate the platform with ease.
Buyer-Pays Shipping Model
On Vinted, buyers are responsible for the shipping cost. As a seller, this model ensures you don't have to factor in shipping costs when pricing your dress, and it streamlines the post-sale process.
7. Mercari
All-in-One Marketplace
Mercari is a broad marketplace that caters to a variety of items, from electronics to fashion. Its diverse listings ensure that a large audience is consistently perusing the site, increasing the chances of your dress catching someone's eye.
Flexible Pricing System
One of the best features of Mercari is its 'haggling' system. Sellers can set a price, but buyers have the option to make offers.
This interactivity can lead to faster sales, especially if you're willing to negotiate.
Earn Everything… nearly!
Join Opinion Outpost, one of the few faithful and honest survey panels and earn cash and gift cards for your opinion. Stack your points and redeem them: Simple! No hidden fees and completely free!


User Rating System
Mercari's robust user rating system ensures that both buyers and sellers have transparency. This accountability encourages trust, essential in second-hand marketplaces.
As a seller, accumulating positive reviews can significantly boost your credibility on the platform.
Predefined Shipping Options
To make shipping straightforward, Mercari offers predefined options based on the item's size and weight. This system reduces the complexity of calculating shipping costs and ensures both the seller and buyer have clarity on fees.
---
8. StillWhite
Bridal and Formal Dress Focus
StillWhite is a niche platform dedicated to bridal and formal dresses. If your prom dress is on the higher end or resembles a bridal gown, this platform might be the perfect fit.
Its specialized audience is looking specifically for formal wear, aligning perfectly with prom dresses.
Global Audience
StillWhite operates in various countries, opening up your dress to a global audience. This international reach can be especially useful if your dress has a unique style that might be more popular in a different region.
One-Time Listing Fee
Instead of taking a commission from sales, StillWhite charges a one-time listing fee. This approach means that once your dress sells, all the proceeds go directly to you without any deductions.
Secure Messaging System
To ensure safety and privacy, all communication between sellers and potential buyers happens within StillWhite's secure messaging system. This feature ensures personal information remains confidential and minimizes the risk of scams.
---
9. OnceWed
Specialized in Wedding and Formal Dresses
OnceWed is another platform focused primarily on wedding dresses, but formal prom dresses can find a home here too. Its audience, searching predominantly for wedding gowns, may also stumble upon the perfect prom dress – especially if it's luxurious and elaborate.
Inspiration & Listings Combined
OnceWed isn't just a selling platform; it also offers wedding inspiration, style guides, and vendor listings. This combination can mean that someone looking for wedding ideas might get inspired by a prom dress as an alternative or for another formal event.
Flat Listing Fee
Like StillWhite, OnceWed operates on a flat fee for listings, allowing sellers to retain the full sale price once their dress sells. This model can be especially economical for high-priced dresses.
Easy Communication with Buyers
Potential buyers can quickly and securely contact sellers directly through the website, streamlining the selling process and ensuring rapid communication.
---
10. Facebook Marketplace
Local & Broad Reach Combined
Facebook Marketplace offers the unique blend of local selling with the potential for a broader reach. While it initially shows listings based on geographic proximity, items, including prom dresses, can be viewed by anyone on Facebook.
No Fees Involved
One of Facebook Marketplace's significant advantages is the absence of listing or selling fees. Transactions are often handled directly between the buyer and seller, ensuring all proceeds from the sale stay with the seller.
Integrated with Social Profiles
Selling on Facebook means potential buyers can view your public profile, adding a layer of trust and transparency to transactions. Similarly, as a seller, you can check out the profiles of potential buyers, ensuring a sense of security.
Flexible Communication and Payment Methods
While Facebook doesn't handle payments for most regions, its integrated Messenger system makes communication between buyers and sellers swift and convenient.
Payments and shipping or pickup details are typically arranged directly between the two parties, allowing for flexibility.
Tips for Selling Your Used Prom Dress
1. Professional Photography
Having clear, high-quality photos can significantly increase the chances of selling your dress. Consider investing in professional photography or, at the least, ensure you have good lighting and a clean backdrop when taking photos.
Showcase the dress from multiple angles and include close-ups of intricate details or unique features.
2. Honest and Detailed Descriptions
When listing your prom dress, provide a thorough description. Mention the size, brand, color, material, and any alterations made.
Being transparent about any signs of wear or damage not only builds trust with potential buyers but can also prevent potential returns or disputes.
3. Set a Competitive Price
Research similar dresses on the platform you're using to get a sense of the going rate. Set a fair and competitive price, keeping in mind factors like brand, condition, and uniqueness.
Remember, it's better to price slightly higher and be open to negotiation than to undervalue your dress from the start.
4. Highlight Unique Features
If your dress has a unique design, embellishments, or features that stand out, highlight them in your description. Distinctive attributes can be a selling point and can set your dress apart from the multitude of other listings.
5. Offer a Try-On Option (If Possible)
For local buyers, consider offering an option to try on the dress before purchasing. This can be especially appealing as it ensures the dress fits and meets the buyer's expectations, reducing the chance of returns.
6. Keep the Dress in Pristine Condition
Store your prom dress in a garment bag and in a smoke-free, pet-free environment. Before taking photos or shipping it off to a buyer, consider having it professionally cleaned. A fresh and well-maintained dress is far more appealing to potential buyers.
7. Be Prompt and Courteous in Communication
Good customer service can significantly influence a sale. Respond to inquiries promptly and be courteous in your interactions.
Providing detailed answers to questions and being open to negotiations can leave a positive impression on potential buyers, increasing the likelihood of a sale.
Conclusion
There are numerous platforms catering to diverse needs, including selling used prom dresses.
Choosing the right platform can amplify your reach, connect you to the right buyers, and ensure a smooth selling experience.
As you embark on this journey, prioritize quality presentation, transparent communication, and set realistic prices.
By combining these practices with the ideal platform, you maximize your chances of finding a new home for your beloved prom dress.
Related Posts:
Earn Everything… nearly!
Join Ipsos iSay, one of the few Faithful and Honest survey panels and earn prizes, gift cards and donations. Stack your points and redeem them: Simple! No hidden fees and completely free!