28 Online and Local Places to Sell Musical Instruments and Equipment
Updated on: by Amy Kennedy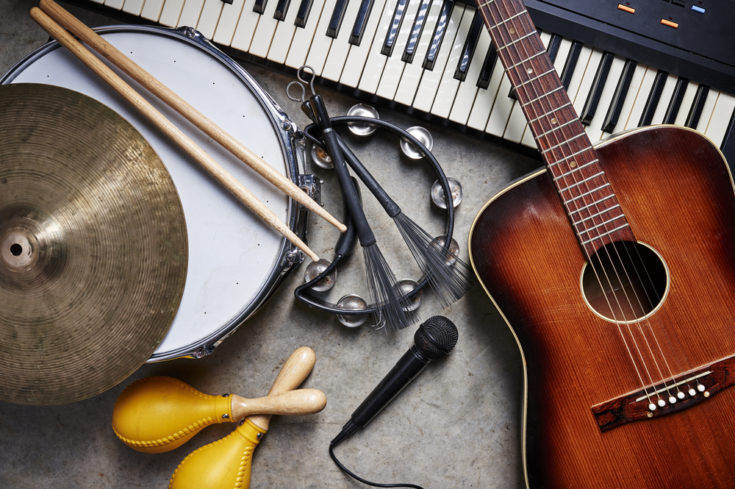 Are you looking to part ways with some of your musical instruments or equipment?
Need Easy Extra $350+/Month For Free?
Many music items can sell for a lot of money, depending on where you choose to sell them.
Let's look at some of the best places to sell your music for the best prices, both locally and online.
How to Sell Musical Instruments for Cash Near Me or Online for the Best Prices
Whether you're selling your musical gear or instruments to someone in person or shipping them to a company after receiving an offer online, these tips can help you make sure you're getting the most out of your equipment:
Keep your stuff excellent condition.
This kind of goes without saying, but it's still important to note that you probably won't have much luck selling stuff that it's in good condition.
That's not to say that you can't.
But you shouldn't expect top dollar for worn-down equipment, even if it's something that's typically worth a lot of money.
Do your best to keep your gear in the best condition possible.
Use cases for instruments.
Clean your instruments and gear religiously.
Perform maintenance on them as needed.
Be careful when loading up your gear for gigs. Use containers and mats in your vehicle to avoid bumping and scratching.
When you take care of your stuff from the get-go, you'll have an easier time selling it if and when it comes time.
Know its worth.
Before you sell, do some research to determine how much your gear is worth.
Find the same models on other sites that are already selling them or search eBay to see what they're going for.
You can also look up pricing or value guides for your instruments or gear to get an idea of what they're currently worth.
Need Easy Extra Cash?
Pinecone Research, a leading name in online survey panel honesty, absolutely guarantees $3 cash for every survey you complete!
Take advantage of their time limited New Membership drive and register NOW. Join today: 100% free!


When you look for places to sell to, having this information handy can ensure you don't get undercut with a lowball offer.
Sell as a set.
Sometimes, selling your instruments or gear separately can give you better pricing, especially if someone is really wanting just one piece and is willing to pay for it.
But, often, selling your related gear together could give you a better offer.
For example, selling an amp with an electric guitar as a pair could earn you more than if you were to sell them separately.
You can always ask about offers for your stuff separately and together, just to make sure you're getting the best price.
Compare offers.
Different places will have different offers for your instruments and gear, regardless of their value.
Some places value pieces higher than others, so you could end up with very different offers from different companies.
Don't feel like you need to settle on the first offer you get.
Most places will keep your offer on file for several days so that you can comparison shop.
Get offers from as many places as possible to make sure your stuff sells for the best price.
Sell to niche companies, if possible.
Do you think you'll get a better offer for your vintage guitar at a general music store than you would from a vintage guitar company?
Probably not.
Niche companies tend to pay more than generalized companies for two reasons:
They know more about what they're buying and how much the items are worth because that's what they specialize in.
They're more willing to pay higher prices because they want to keep their shelves stocked with stuff their customers come to them for.
Consider what kinds of companies would be the best places to sell your stuff to based on their niches.
Online Places That Buy Guitars and Other Musical Instruments and Gear
First, let's talk about online places that let you either sell your stuff on a marketplace or ship your equipment to the company for it to resell.
These are good options if you don't live near one of the local places or you just want to get a quick offer and get your stuff off your hands.
Reverb is an online marketplace made just for music lovers like you.
The site has tons of helpful tools for sellers to get their stuff sold securely and quickly to the right buyer.
There are plenty of shipping options, too, to make sure your items make it to their final destination safely and without putting a huge hold in your wallet.
With fees taken out for selling and payment processing, you still get to keep 92.3% of everything you make.
On eBay, you can sell stuff in a wide range of categories, and there are several music-related categories in which to sell.
If you want to sell online and know you have some valuable stuff on your hands, you could end up getting what your items are worth here using the site's auction method.
Or, if you'd prefer setting a purchase amount, you can always opt for a fixed listing.
The Music Zoo lets you send in your items you want to sell after filling out the online form and getting an offer from the company.
You can either sell your items, consign them, or trade them in for something else.
The Music Zoo accepts new, used, and vintage items.
This place is similar to Reverb in that you can list your items yourself to sell to others on the platform who are looking for used music gear.
According to the site, there are no selling or listing fees, so it's completely free to sell.
The downside is that you'll need to work out with your buyer how you want to get paid, and there are no seller protections through Streetwater.
Earn Everything… nearly!
Join Opinion Outpost, one of the few faithful and honest survey panels and earn cash and gift cards for your opinion. Stack your points and redeem them: Simple! No hidden fees and completely free!


You can list whatever music gear and instruments you have on hand on this online marketplace made just for musical items.
Music E-Trade takes just 2% of the final sales price, so there are no other listing or selling fees you need to worry about.
Cream City Music is a Wisconsin-based store that allows people to ship their equipment and instruments after getting an evaluation and offer.
You can fill out the online form for the company to contact you to learn more about what you have to sell.
Not only does Cream City Music buy separate pieces, but it will also buy full collections.
This is another site for vintage music instruments and gear.
You can sign up for free to gain access to the site's tools and marketplace for sellers.
Music Villa looks for used and vintage musical items.
You can call the company or fill out the online form with your contact information and some details about what you're looking to get rid of to receive an offer.
You can also consign or trade your items.
Chicago Music Exchange will make you an offer on the items you want to sell based on the details you fill out in its online form.
You can send in your gear and wait for the company to send you a check or PayPal payment.
Chicago Music Exchange also allows you to create a listing on Reverb for them to buy your items from you if it makes you feel more comfortable.
The latter option will also help you get paid quicker.
Sweetwater is a reputable online music retailer known for its vast selection of new musical instruments, equipment, and audio gear. 
While primarily focused on new products, they also provide a platform for selling used musical instruments and equipment. 
Sellers can list their items on the Sweetwater website, connecting with a large customer base. 
Sweetwater offers exceptional customer service, expert advice, and reliable support throughout the buying and selling process.
Gear4music is an online retailer specializing in musical instruments and equipment. 
Alongside their retail business, they accept trade-ins and purchases of used musical instruments and equipment. 
Sellers can submit their items for evaluation and receive offers from Gear4music. 
The platform covers a wide range of musical instruments and gear categories, providing sellers with an opportunity to reach a diverse customer base.
Musician's Friend is a well-established online retailer catering to musicians' needs. 
While primarily focused on new instruments and gear, they also provide a platform for selling used musical instruments and equipment. 
Sellers can list their items on the Musician's Friend website to connect with potential buyers. 
The platform offers a trusted environment and a wide customer base of music enthusiasts.
Pro Audio Star specializes in professional audio equipment and gear. 
They offer an extensive range of audio gear, including microphones, mixers, studio equipment, and more. 
While primarily focused on retail sales, Pro Audio Star accepts trade-ins and purchases used audio gear. 
Sellers can explore the website and contact Pro Audio Star for more information on selling their used equipment.
Where to Sell Used Music Equipment and Instruments Locally
Selling locally can be helpful if you want to avoid shipping costs and have plenty of music lovers that live near you.
Here are some places to sell:
Craigslist
Craigslist is one of the best places to sell just about anything locally, but you'll need to be really careful about using it.
Because it's mostly free to use, it does attract people who want to scam others.
If you do decide to use Craigslist, be sure to meet with buyers away from your home in a public and safe spot, preferably with another person with you.
Don't collect any checks that might bounce or online payments that might result in a refund.
Cash is best in this case.
Facebook
Facebook Marketplace is another free and simple place to sell almost anything you have, including your musical stuff.
List your items on the Marketplace, and others on Facebook can see them.
You can also share your listings to relevant groups.
For example, if you're a member of an instrument buying and selling group, you might be able to share your listing there for people who are looking to buy instruments to see.
Just check the group's rules first to make sure it's okay to do so.
Garage Sales
Set up a garage sale at your home or get together with friends or neighbors to do a street sale.
Not only can you find a home for your instruments and gear, but you may be able to make some money on other stuff you want to get rid of too.
Pawn Shops
The pawn shop might be a good place to sell your music items to if they have a high value that could make the pawn shop some good money when they go to resell them.
Go in knowing what your pieces are worth, so you don't get low-balled.
And be ready to haggle.
Most pawn shops will let you negotiate to an extent, as long as your offers are fair.
Music Stores
Music stores are probably some of the best places to try to sell your music gear near you because they know music and equipment well!
If you have one in your area, you should look there first.
Not all music stores are looking to buy stuff, but yours might be.
Flea Markets
If you have a lot of equipment to sell, then a flea market might be an option for you.
If you only have a few pieces of equipment or instruments to sell, you could ask someone you trust with a flea market booth to sell your items for you.
They could either pay you up front for the gear or pay you as they sell your items.
The Music Den targets people who love vintage music gear, so if you have anything that fits the bill, you can try to sell it here.
Although the company prefers you stop into its NJ store, you can also ship your items if The Music Den wants it badly enough.
Use the evaluation form online to start the process and get an offer for your items.
Sam Ash looks for guitars, amps, cymbals, keyboard, DJ gear, and all kinds of other instruments and gear, no matter the condition.
The company allows you to either sell or trade your stuff for something else.
You can start the process online to get a quote from the company before bringing it in, but ultimately, they'll want to see it to value its condition accurately.
There are locations in several states, including New York, California, and Florida.
Rogue Music is a company based in New York City that accepts sales, trade-ins, and consignments for your used gear.
You'll need to either call or email the company first before bringing in your instruments and equipment so that the company can determine if they're interested.
If you don't live nearby Rogue Music, you may be able to ship your stuff to them to sell or consign, but again, check in first.
Guitar Center has close to 300 locations across the United States, so you might be able to find one near you to bring in your gear.
The company requires you to show your stuff in person and does not allow shipping to sell.
Most stores allow you to get paid in cash for up to $500 worth of equipment or instruments, but more than that will require payment with a check or prepaid VISA.
Music Go Round also has several stores across the country, and you can bring in your items to sell at the one nearest you (or any you happen to be by).
You'll get paid with a company check on the spot after accepting your offer, but make sure you have a valid driver's license or identification card with you.
Selling Apps
There are lots of apps that let you listen to music for free – but did you know that there are apps that let you sell your music gear for free, too?
The apps below are ones you can download to your mobile device to find people to sell your musical gear and instruments to.
They aren't just for music, though, so you may need to do a little digging to find buyers who understand the value of what you're selling and are willing to pay for it.
Find the Best Spot to Sell Your Musical Gear and Instruments
The above list features plenty of options for you to find the right place to sell your gear.
Consider getting a few offers from different places to make sure you're getting the best rate.
And, if you decide to ship your gear, opt for shipping insurance, so that you'll be reimbursed if your items get lost or damage in the mail.
Some companies will require you to do so anyway, and it's for your own protection.
You can also choose companies with tracking tools, like UPS and FedEx, to make sure your items get there safely.
Now, it's up to you to sell!
Related Posts:
Earn Everything… nearly!
Join Ipsos iSay, one of the few Faithful and Honest survey panels and earn prizes, gift cards and donations. Stack your points and redeem them: Simple! No hidden fees and completely free!