20 Online And Offline Stores That Sell Good-As-New Used Clothes
Updated on: by Amy Kennedy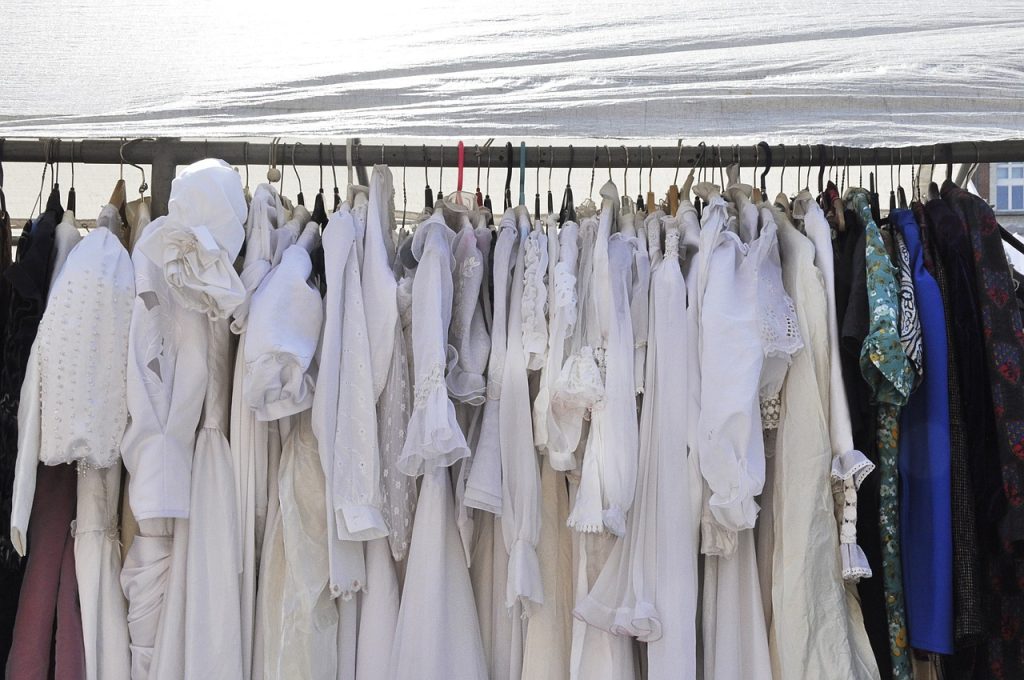 The fashion industry has witnessed a rising trend in purchasing used clothes, driven by environmental concerns and cost-effectiveness.
Need Easy Extra $350+/Month For Free?
Shopping for second-hand clothing provides an opportunity to reduce fashion waste while still enjoying high-quality fashion finds.
Whether you prefer the convenience of online shopping or the charm of browsing physical stores, this comprehensive guide will introduce you to 20 stores that offer a wide range of good-as-new used clothes.
Online Stores for Good-As-New Used Clothes
Shopping for used clothes online can be a convenient and rewarding experience.
Several online stores offer a wide range of good-as-new used clothes, ensuring that you find items that suit your style and fit your budget.
Below are some of the most popular online stores where you can find used clothes.
ThredUP is one of the leading online stores known for its vast selection of branded clothing and accessories.
The website offers an extensive inventory from well-known brands, including J.Crew, Anthropologie, and Madewell.
With a comprehensive quality control process, ThredUP guarantees the condition of the used items they offer.
Plus, their user-friendly interface makes it easy to navigate and discover a diverse range of clothing options, whether you're looking for a casual tee or a formal dress.
Poshmark is a prominent online marketplace that connects buyers and sellers of used clothing.
Its social platform nature allows users to interact with sellers, leave feedback, and join style communities, making the shopping experience interactive and personalized.
The platform hosts a wide range of clothing options from individual sellers, which means you're likely to find unique fashion pieces that can't be found elsewhere.
Poshmark's easy-to-use app also makes it convenient to browse and shop right from your mobile device.
For those who appreciate luxury and designer fashion, Vestiaire Collective is the go-to online store.
They provide a unique service where every item they sell is meticulously authenticated by their team of experts, ensuring that only genuine items make it to their website.
Need Easy Extra Cash?
Pinecone Research, a leading name in online survey panel honesty, absolutely guarantees $3 cash for every survey you complete!
Take advantage of their time limited New Membership drive and register NOW. Join today: 100% free!


Their global presence means they offer a curated selection of high-end clothing and accessories from various parts of the world.
So, if you're in the market for a pre-loved Chanel handbag or a classic Burberry trench, Vestiaire Collective is worth a browse.
Depop is an online marketplace that seamlessly combines social media elements with second-hand fashion.
Users can list their used clothing items for sale, creating a community-driven shopping environment.
The platform hosts a diverse range of clothing styles from vintage to streetwear, making it an excellent platform to find one-of-a-kind fashion pieces.
Plus, the app's interface feels familiar to social media users, making it intuitive and fun to use.
The RealReal is a perfect online store for luxury consignment shopping.
With a stringent authentication process run by a team of experts, The RealReal guarantees the quality and authenticity of the luxury items they sell.
You can find a curated selection of high-end designer clothing and accessories from brands like Gucci, Prada, and Louis Vuitton.
Moreover, they also offer fine jewelry, watches, and home decor items, making it a one-stop-shop for luxury pre-owned goods.
eBay is a well-established online marketplace that provides a wide range of used clothing options.
With millions of listings across various categories, you can find everything from vintage treasures to contemporary fashion.
When shopping on eBay, it's essential to check seller ratings and reviews to ensure a positive buying experience.
eBay's extensive network of sellers and comprehensive buyer protection program make it a trusted platform for buying used clothes.
ASOS Marketplace is an online platform that allows independent sellers to showcase their used and vintage clothing.
It offers a vast selection of unique pieces, providing a platform for small businesses and sellers to reach a wider audience.
Shopping on ASOS Marketplace not only supports independent sellers but also promotes sustainable fashion by giving clothes a second life.
Swap.com is an online consignment store that offers a large inventory of gently used clothing for men, women, and children.
Known for its affordable prices, Swap.com is an excellent option for budget-conscious shoppers.
Their speciality in family and kids' clothing makes it easy to find good-as-new items for the whole family, all under one roof.
Tradesy is an online marketplace that specializes in luxury and designer second-hand clothing.
They ensure the quality and authenticity of their items with a rigorous authentication process, making it a trusted platform for buying luxury used goods.
With a streamlined buying process and an easy return policy, Tradesy offers a secure and hassle-free shopping experience for luxury fashion enthusiasts.
Physical Stores for Good-As-New Used Clothes
While online shopping offers the convenience of browsing from the comfort of your home, nothing quite beats the joy of hunting for unique finds in a physical store.
These brick-and-mortar shops offer a wide range of used clothes, each with its charm and benefits.
Goodwill is a well-known option for offline shopping.
Their mission focuses on job training and community impact, so every purchase contributes to their charitable efforts.
Goodwill stores are organized and diverse, making shopping a breeze while providing a sustainable shopping experience.
Whether you're looking for casual clothes, formal attire, or unique vintage pieces, Goodwill likely has something to suit your style.
Earn Everything… nearly!
Join Opinion Outpost, one of the few faithful and honest survey panels and earn cash and gift cards for your opinion. Stack your points and redeem them: Simple! No hidden fees and completely free!


Buffalo Exchange, a popular thrift store chain, is recognized for its trendy and eclectic selection of used clothing.
Committed to sustainability and community involvement, Buffalo Exchange ensures that your purchases support crucial environmental efforts and local communities.
As you shop, you can expect a unique, curated experience that caters to various styles and sizes.
Crossroads Trading is a buy-sell-trade store specializing in fashionable used clothing.
Their inventory is curated to stay on top of current trends, making it an excellent place for fashion-forward individuals to find stylish second-hand pieces.
With fair pricing and a focus on excellent customer service, Crossroads Trading ensures a smooth and enjoyable shopping experience.
Plato's Closet is a retail store chain that buys and sells gently used teen and young adult clothing.
Their trendy selection and affordable prices make it an ideal shopping spot for young fashion enthusiasts.
With Plato's Closet, you can find contemporary styles at a fraction of retail prices, promoting a more sustainable approach to fashion.
Beacon's Closet is a renowned thrift store chain with a carefully curated selection of second-hand clothing and accessories.
They are committed to sustainability and support local fashion, ensuring that your purchases contribute to a larger cause.
With multiple locations, Beacon's Closet offers a unique retail experience, with a treasure trove of fashion finds from different eras and styles.
Housing Works is a nonprofit thrift store chain that provides support to individuals affected by HIV/AIDS.
Their stores offer high-quality used clothing while promoting social causes. Besides clothing, Housing Works also sells books, artwork, and furniture.
They also host in-store events and bookshops, creating a vibrant and engaging shopping experience.
The Salvation Army, a renowned charitable organization, operates thrift stores worldwide.
Their stores offer a wide range of used clothing options for all ages, from infants to adults, at affordable prices.
Shopping at Salvation Army not only supports their community initiatives but also provides budget-friendly fashion finds.
Oxfam is an international organization with charity shops offering second-hand clothing.
Their mission is focused on fighting poverty and promoting sustainable fashion.
Oxfam stores often feature unique finds and vintage pieces, making them an excellent destination for fashion enthusiasts with a social conscience.
Savers is a thrift store chain known for its large selection of used clothing and affordable prices.
They actively contribute to recycling and reducing textile waste, making them a great choice for environmentally conscious shoppers.
Savers' loyalty program and community involvement make shopping at their stores a rewarding experience.
Local Vintage Shops
Local vintage shops are hidden gems when it comes to finding unique, good-as-new used clothing.
Each store tends to have a curated selection of vintage pieces, each carrying its own story and charm.
From the golden era flapper dresses to the groovy prints of the 70s, these shops house a wide array of items, often offering clothing that's no longer in production.
They also typically provide a warm, personalized service, making your shopping experience memorable.
By exploring vintage shops in your area, you are not only likely to come across extraordinary fashion finds but also contribute to local business growth.
These shops are an excellent choice for anyone looking to create a distinctive personal style or for those who simply enjoy the nostalgic aura of the past eras.
Specialty Secondhand Stores
Beyond general used clothing stores, there are also specialty secondhand shops that focus on specific types of items.
These could range from high-end designer pieces to niche subcultures like rockabilly or goth fashion.
In these specialty shops, you're likely to discover meticulously selected items catering to a specific taste or era, making them a go-to place for enthusiasts.
The staff at such stores are often deeply knowledgeable about their niche, making them excellent resources for learning more about a particular style or era.
Engaging with these communities can also introduce you to a new group of people with shared interests.
Pop-Up Markets and Flea Markets
Pop-up markets and flea markets provide a unique used clothing shopping experience.
These events typically bring together multiple vendors, each offering their unique selection of items.
The wide-ranging assortment means you're likely to find anything from vintage clothing, designer pieces, to handmade items, all in one place.
Aside from shopping, these markets often foster a festive atmosphere with food vendors, live music, and other entertainment, making for a fun day out.
They also present an excellent opportunity to haggle, letting you exercise your bargaining skills.
Estate Sales and Garage Sales
Estate sales and garage sales can be a treasure trove of used clothing.
These sales typically occur when someone is looking to downsize or sell a large number of items, often including clothing.
Prices at these sales are usually very reasonable, and with the wide array of items available, it's like going on a treasure hunt – you never know what you might find!
To stay informed about these sales, look out for listings in your local newspaper or online platforms.
Clothing Swaps
Clothing swaps are events where people bring clothes they no longer want and exchange them for items brought by others.
This is a fun, social, and sustainable way to refresh your wardrobe without spending any money.
It also helps reduce clothing waste, promoting a more circular approach to fashion.
Some cities have regular swap events, or you could organize a smaller swap among your friends or community members.
Consignment Stores
Consignment stores sell used items on behalf of their original owners, who then receive a percentage of the sale price.
These stores are typically curated carefully, ensuring that they have high-quality items.
Shopping at consignment stores can be a great way to find excellent deals on high-end clothing, as these items are usually in good condition and sold at a fraction of their original price.
Conclusion
With the rise in popularity of purchasing used clothes, both online and offline stores offer a wealth of options for fashion enthusiasts.
The 20 stores mentioned in this comprehensive guide provide a diverse range of good-as-new used clothing.
Whether you choose to shop online or visit physical stores, you can find high-quality fashion pieces while contributing to sustainability.
Explore these stores and embrace the joy of second-hand fashion while reducing your environmental footprint.
Related Posts:
Earn Everything… nearly!
Join Ipsos iSay, one of the few Faithful and Honest survey panels and earn prizes, gift cards and donations. Stack your points and redeem them: Simple! No hidden fees and completely free!