7 Expert Tips to Help You Sell Old Clothes on Poshmark
Updated on: by Amy Kennedy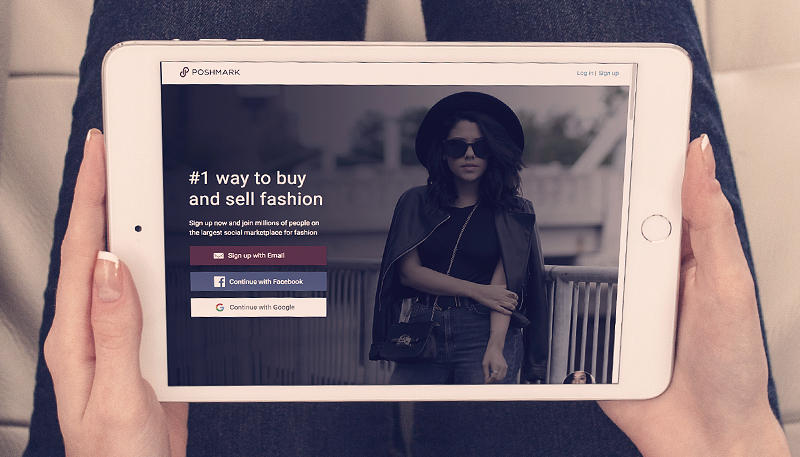 It's possible that you follow Instagrammers and bloggers who are totally successful selling items on Poshmark.
Need Easy Extra $350+/Month For Free?
I've seen several myself, and it made me want to look more into the app to see what it's all about.
After all, I've had success selling clothing on Swap.com for several years now, so I figured Poshmark would be similar.
I did some research and found that Poshmark may not be as simple as I thought.
But, if you have the time and fashion know-how you need to make it work, it can absolutely become a business for you.
Here's what I've learned – maybe it's the perfect opportunity for you, fashionista!
What is Poshmark?
Poshmark is an app that lets you sell clothing, shoes, handbags, jewelry, makeup, and more, right from your phone.
It's kind of like a social media network, too, because you can follow other users and share their listings.
The app is available on iOS and Android devices and makes the process simple!
Well, simple in the sense that you can do everything from your phone.
The problem with Poshmark is that it can be a major learning curve to understand how to maximize your earnings.
It's not quite as simple as selling on sites like Swap or ThredUp.
There seems to be more of a science behind it than other selling sites.
Poshmark is an ideal opportunity for fashion bloggers who already have an excellent following on their blogs and/or social media.
But, even without all of that, it's possible to learn the ropes – and work your way up them – to become a popular seller.
What Sells the Best on Poshmark?
Poshmark is all about fashion.
Need Easy Extra Cash?
Pinecone Research, a leading name in online survey panel honesty, absolutely guarantees $3 cash for every survey you complete!
Take advantage of their time limited New Membership drive and register NOW. Join today: 100% free!


Needless to say, desirable brands are going to sell better than cheaper brands.
The best selling items on Poshmark tend to be women's top brands, like Victoria Secret and Kate Spade.
You can sell all types of fashion items, though, from purses to shoes.
One woman who sold $5,000 worth of items on Poshmark in just about a month says that discounting items from desirable brands is one of her keys to success.
So, if you have an item that originally had a high price tag, sell it for a price as low as possible where you can still make a profit.
The better the deal, the likelier it is to sell, especially if it's a super popular brand item.
Tips for Making Money on Poshmark
If you think you're going to just set up an account, start selling, and make loads of money on Poshmark, you'll probably be disappointed.
Poshmark can take some time to learn what sells best and how to make your listings stand out so that others will want what you're selling.
So, I gathered up these tips from around the web from people who have had success selling items on Poshmark.
Optimize Item Headlines and Descriptions
You wouldn't go and post a blog without optimizing its title and content, right?
Think of Poshmark headlines and descriptions like search engine optimization for blog posts.
The better you do at clearly explaining your items in your titles and descriptions, the better your chances of having people click on your listings over others.
Your title and descriptions will max out at a certain number of words.
Don't skimp, though. Make sure you use the space you're given!
Poshmark lets you use emojis, which can help you get a point across while saving some extra characters.
You should also be sure to include the brand name in your item's headline.
In the description, be clear about any problems with the item (stains, holes, tears, true-to-size or not, etc).
Try to answer any potential question someone might ask about your item in the description.
Think about it from the buyer's perspective: what would YOU want to know before you purchased it?
Answer those questions so that you'll spend less time answering questions from others.
People are much likelier to buy something that they feel confident about than something they still have questions about.
Utilize the Photo Space You're Given (and Maximize It)
Just like eBay, you're allowed to place photos of your items in your Poshmark listings.
For the first photo, a lot of successful sellers suggest adding a professional photo of the item, like the one you'd find on the original brand's website.
If that's not possible, then be sure that your first photo is a stand-out one because this is what people will see first when they're searching.
Your lighting should show the colors accurately, and your photo should be free from clutter and anything else that might distract someone.
For the other photos, make sure you take close-ups of anything that's wrong with the item, like a snag or small stain.
Some experts even suggest using a photo collage app to maximize how many photos you can have in a listing.
Some pictures of you stylishly wearing the item could be a hit too!
Spend some time browsing Poshmark to get a sense for the photos you're most attracted to and likely to click on.
Earn Everything… nearly!
Join Opinion Outpost, one of the few faithful and honest survey panels and earn cash and gift cards for your opinion. Stack your points and redeem them: Simple! No hidden fees and completely free!


If you are drawn to those kinds of photos and styles, chances are many other people are too.
This is a good practice to get into to help you understand what photos can draw in more buyers to your listings.
Offer Suggestions for Styling Your Items
One of the most important things to remember about Poshmark is that it's all about the latest fashion trends.
Trendy looks and items will definitely sell the best.
You can make sure that people know how to use your items by styling them yourself or suggesting ways to style them in your descriptions.
You know how fashion bloggers create detailed tutorials and stylish photos detailing how to pull a look together?
You can – and should – do the same for your Poshmark items.
An infinity scarf, for example, can be worn in dozens of ways if you get creative.
Each way makes a look just a bit different.
Or, take a trendy top and show how you can dress it up or down to create varied looks for work, casual days, and more formal events.
It's important to note that there are no returns on Poshmark.
If a buyer purchases something she doesn't love, she's stuck with it.
That means that buyers are a lot more careful with their money on Poshmark and it may take some convincing to persuade them to buy.
So, persuade them!
Give them plenty of styling ideas, so there's no reason for them to walk away.
Be Careful When Negotiating
On Poshmark, buyers are allowed to negotiate with sellers to talk them down in price.
It's good to have a little wiggle room, but it's not good to get walked all over.
After all, you still need to make a profit or your all your selling efforts will be pointless.
You might have some items that you don't want to be talked down on in price.
If that's the case, then be sure to list them as 'firm,' meaning that there's no room for negotiation.
With items that have been sitting for a while with no bites, though, allowing other offers might help you get rid of them to make room for more items.
Basically, if an offer doesn't seem right to you, don't take it.
More than likely, the right buyer will come along who values what your items are worth.
Make Your Packaging Special
Would you be more likely to buy the same item, at the same price, from a retailer with sloppy packaging or one that packages it neatly?
I think it's safe to say that we'd all choose the latter.
That's because we want to know that our items we buy are cared for and that the seller values our business.
A shirt thrown sloppily in a bag and plopped in the mailbox isn't doing the seller any favors when it comes to having repeat customers.
In fact, it's a major turnoff!
When you sell on Poshmark, make sure you take time to see the whole deal through.
That means paying attention to your packaging and shipping methods.
Buyers don't want wrinkled clothing that they just spend $100 or more on.
They want neatly packaged, clean and wrinkle-free clothing.
Package your items so that they aren't bouncing around a box.
Wrap them in tissue paper and secure them with some nice ribbon or roll them and tie a ribbon around them before placing them in a bag or box.
Make sure you place cushion around them so that they don't bounce all over the place.
You can also spend a few dollars to print business cards or discount cards that help people remember where they shopped so they can come back again.
Taking a little extra time to focus on the very end of your buyer's shopping experience can be the icing on the cake that you need to make returning customers.
Offer Discounts Whenever Possible
When you have your own Poshmark closet, you can treat it like your own little shop.
That means that you can also offer discounts to buyers!
There are two main ways to give Poshmark buyers discounts.
One is through a private discount to interested buyers for your items.
In your Dressing Rooms, you can find buyers who have at least one of your items saved in their cart.
Offer a private discount to them that may be all they need to convince them to make a purchase.
The other discounting method is through discounted bundles.
You can set a discount when buyers purchase a specific number of items through you on Poshmark.
This keeps buyers shopping more with you instead of looking elsewhere for a similar item!
You can place the bundled discount on your listings, so buyers will know it's available and may have more incentive to shop with you.
Follow Users and Share Their Listings
As I mentioned, Poshmark is like a social selling site.
You can follow other sellers just like you would on social media.
You might wonder, though, why you'd want to follow your competitors.
But, on Poshmark, the more people you follow, the more chances you have for people to see your listings.
That's because Poshmark is all about having users share each other's items.
Think of it like LinkedIn.
The more you share, comment, and engage with other users and their posts, the more you start to get seen on the network.
Poshmark works that way too.
When you follow others, there's a good chance they'll follow you back.
When you have a lot of followers, you up your chances for your listings to get shared, which means more people will see them!
So, don't be afraid to engage with your competition.
Doing so can make you stand out on Poshmark.
Read Also: 19 Best Places to Sell Used Items Online (Plus Offline Places to Sell!)
Conclusion: How to Sell Clothes on Poshmark
Poshmark may not be the easiest selling place to get a hang of, but it's not impossible.
These tips should help you get started and head in the right direction.
After all, these are tips from experts who consistently make thousands of dollars per month selling items on Poshmark!
Remember to treat your shop like a business.
Treat your customers well and leave a good impression by seeing the sale through to the end.
In other words, treat your customers how you want to be treated as a customer!
When you do, you'll probably find it easy to keep your Poshmark customers coming back.
Have you tried selling on Poshmark?
What do you love or dislike about it?
Let us know in a comment!
Related Posts:
Earn Everything… nearly!
Join Ipsos iSay, one of the few Faithful and Honest survey panels and earn prizes, gift cards and donations. Stack your points and redeem them: Simple! No hidden fees and completely free!