20 Ways to Get Free Clothes from Your Favorite Stores (Online and Locally)
Updated on: by Amy Kennedy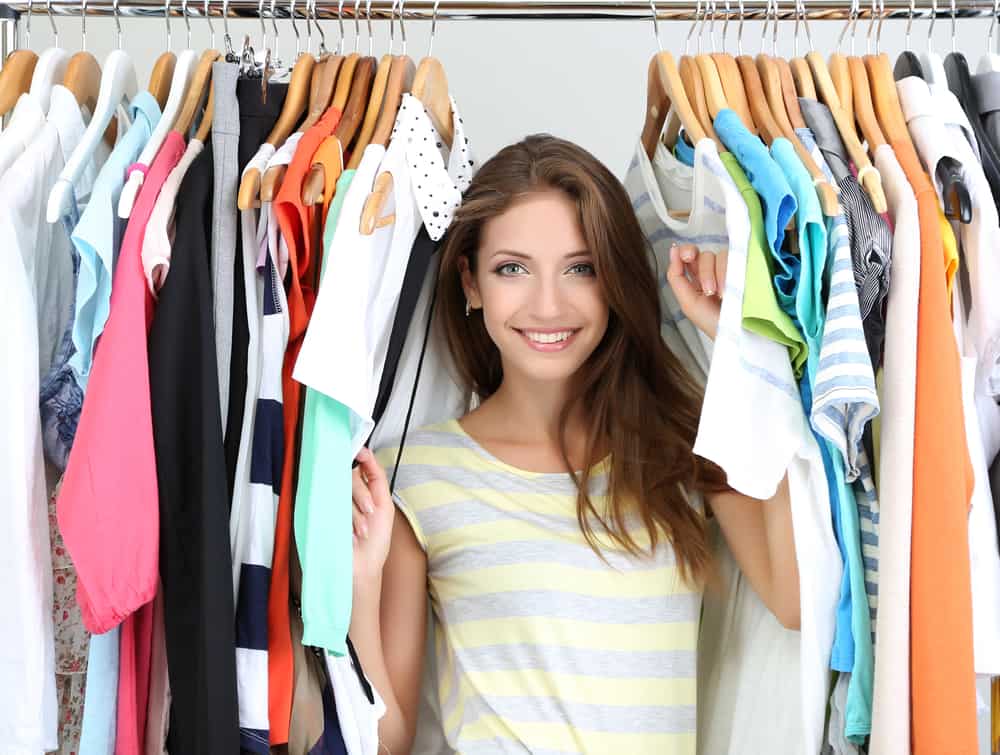 Clothes are absolute necessities, but they also can create significant expenses, especially for families.
Need Easy Extra $350+/Month For Free?
What if you could get clothing for free?
Even just one free shopping trip could save you a lot of money for you and your family.
Or maybe you want to learn ways to get free designer clothes to save on all your designer favorites.
This list might be able to help you do just that.
I've pulled together several ideas for getting free clothing in your neighborhood or online, even from your favorite retailers and brands.
What Do I Do If I Need Clothes and Have No Money?
First, I know there are some of you reading this that may have come across this post looking for ways to get free clothing for you or your family because you don't have enough money to afford them.
Unfortunately, this is a problem that's all too common in the world, and it's nothing to be ashamed of.
Many times, people don't know that help exists in finding clothing for free or cheap, but the truth is that there is a lot of help available in these cases.
You usually just need to tap into neighborhood resources to find them.
First, start with your local welfare office.
It's the best place to go when you need any kind of financial help, including money for clothing, food, or housing.
If your welfare office doesn't have a program that it helps with, it probably knows what resources are available in your community that can help.
Depending on your circumstances, you might qualify for help through the Salvation Army, Red Cross, and other similar agencies that help people in need.
Many communities also have clothing drives for families and individuals who need clothes, so keep an eye on announcements in the newspaper for those.
Churches also might be able to help, as they usually have resources saved to assist people in the community.
Need Easy Extra Cash?
Pinecone Research, a leading name in online survey panel honesty, absolutely guarantees $3 cash for every survey you complete!
Take advantage of their time limited New Membership drive and register NOW. Join today: 100% free!


People you know could point you in the right direction if they know of any places that can help you, so don't be afraid to tell your friends and loved ones that you're in need.
How to Get Free Clothes Online and Locally
The following list includes several ways to get free clothes online or locally, and you might even be able to snag clothes from your favorite stores and brands.
Search Craigslist's Free Section
Craigslist is mostly for people who want to buy or sell things for cash, but it also has a free section in each area where people can list items for free.
A lot of the time, you'll see free toys, free furniture, and free clothing, so it's possible that you can grab some clothes here.
You can also search outside of your area in surrounding towns if you don't mind driving a little bit to meet up with your seller.
Craigslist is free to use, so you won't need to worry about paying any fees to get free items.
Use Buying and Selling Apps
There are a few apps available for people to buy and sell stuff in their neighborhoods, including Nextdoor, OfferUp, and 5Miles.
The apps are free to use for buying and selling, so you can browse listings in your area without paying anything.
You won't always find stuff for free, but it's possible if you remember to check daily, as free items usually get claimed quickly.
And there are usually listings for cheap clothing, too, which can still help you save.
Read More: 22 of the Best Places to Sell Clothes Online (Plus Extra Ideas to Try!)
Browse eBay Sales
eBay is a great place to find clothing for cheaper than you can buy it in the store, even if it's brand-new with tags.
Lots of sellers focus solely on selling clothing, and many of them run occasional deals that can help you save if you buy multiple items from them.
For example, you might find a deal that lets you buy three items from a seller and get one free, helping you save overall.
Sometimes, eBay even has sitewide discounts or deals on specific item categories to help you save more.
You can also search for eBay promo codes for discounts, free shipping, and other ways to save, on places like Coupon Follow and Giving Assistant.
Read More: How to Make a Living Selling on eBay: Step-By-Step Guide 
Freecycle, much like it sounds, is a site people use to list and find free stuff in their area.
The site is divided into groups based on location.
You can find one in your area that's already open. If there's not one, you can start your own!
The site is free to use for everyone.
Look on Facebook Marketplace
If you have a Facebook account, you can use Facebook Marketplace to find free clothes from people in your area.
The Marketplace is free for people to use for buying or selling, and it's not uncommon to find people listing free things to give away, including clothing.
You can message sellers on their listings to learn more about their items and set up a meeting time and place that works for both of you.
Check Facebook buying and selling groups you're in too, as people can share their Marketplace listings in groups.
Search for Garage Sales in Your Neighborhood
A big item for garage sales is clothing, so if there are any going on in your neighborhood, be sure to check them out to see what you can find.
You might be able to negotiate with the owner to see if you can get a few items for free if you buy a bunch of others.
Look in the newspaper to find yard sales or go on your local Facebook groups where people advertise them.
Join Clothing Store Rewards Programs
See if the stores you shop with have a loyalty program you can join to get rewards when you shop (most do nowadays).
Earn Everything… nearly!
Join Opinion Outpost, one of the few faithful and honest survey panels and earn cash and gift cards for your opinion. Stack your points and redeem them: Simple! No hidden fees and completely free!


Usually, you'll just need to sign up for an account or the email newsletter to join the program, but they're free to join.
Use your account when you shop the retailer to earn points that you can use toward other purchases.
Share About Your Favorite Stores
Some clothing brands and retailers have referral programs that pay you to share about their company and products.
Depending on the program, you might be able to get a discount code or a cash amount each time you tell someone about the brand, and they shop using your invite.
This is an excellent method for bloggers and influencers to use, as they can tap into their audience to get cash for their shopping trips.
To find out if a store has a referral program, look in the website menu or at the bottom of the homepage for a link. If you can't find one, contact customer service.
Blog About Your Favorite Stores
Start your own fashion blog and you could end up with free clothing to talk about on your blog.
Plenty of fashion lovers do it!
Just look at Instagram, where fashion influencers have taken over.
Lots of brands partner with influencers with big followings on their blog or social media channels, so work on growing traffic and your audience before trying to get sponsorships.
Test Clothing Items
Did you know that some clothing companies have product testing programs for fans to test out clothing, shoes, and accessories in exchange for their feedback?
Several shoe companies pay product testers, for example.
Sometimes, you'll need to send the items back after testing; other times, they're yours to keep for free.
Use Trading Sites
Some sites are designed for trading clothes, which can give you an easy way to swap stuff you don't want for stuff you do want – all for free.
Swap.com is one of them that allows you to ship clothing you no longer want and get store credit for Swap to sell back on its site.
You can then trade in your credit to buy other clothing from Swap.
There's also Rehash, which works similarly by letting you find people you want to swap closets with and then exchange your items.
Get Cash Back When You Shop
Every time you shop online, you could be earning cash!
Reward sites like Swagbucks and Honey help you do it through their paid shopping.
Both of these companies have extensions to install on your browser. When you shop at a partnered store, they'll let you know when they have discounts available and how much cash back you can get.
Accept the offer and it'll automatically apply your savings to your cart and give you cash back in your account.
Then, turn around and use the cash back you earn to shop for clothes for free.
Enter Giveaways and Contests
Visit the websites of your favorite clothing brands and retailers or subscribe to their newsletters to learn about any new sweepstakes, contests, and giveaways they have going on.
You can also look for giveaways from your favorite fashion blogs or Instagram influencers.
Keep contest websites bookmarked, too.
Try Contestgirl, Sweeties Sweeps, and Online-Sweepstakes, to name a few.
Follow Brands on Social Media
Your favorite clothing brands probably have active social media channels.
Clothing brands are especially active on Instagram, where they can post pictures of some of their best pieces, show them off in stories, and host giveaways.
Following a brand helps you know when new promotions are happening, which means you'll be one of the first to know how to get deals on clothing, and maybe even a few items for free!
Sign Up for Store Credit Cards
Many clothing retailers have their own store credit cards that you can use to make purchases.
Their interest rates are often higher than non-store credit cards, but if you're smart about paying them off quickly, it won't make a difference.
These store cards usually come with excellent rewards programs, like getting cash off your next purchase when you get enough points saved up and exclusive discounts just for rewards members.
So, the more you shop with it, the more you can save toward future purchases.
Use Your Credit Card Rewards to Shop
If you have other credit cards that give points or cash rewards, you can use them to shop for clothing.
When you get enough rewards saved in your account, use them to go on a clothing shopping trip for free.
These types of credit cards work a little differently from each other, so the way you use your points may vary a bit.
Some cards let you turn points into a gift card, while others will let you deposit your accrued cash to your bank account or use it on a future statement.
Whatever way you choose, it still all adds up to free cash for clothes.
Become a Fashion Influencer
An increasing number of brands are reaching out to influencers for promoting their products.
If you have a good social media presence and know how to create engaging content, you can become a fashion influencer.
Brands often provide free clothing to influencers in exchange for promotion on their social media platforms.
As an influencer, you can share posts wearing these clothes, tag the brand, and write reviews or opinions about them.
This method may require some initial work to build a significant following, but once established, it can be a lucrative way to receive free clothes and even earn money.
Participate in Clothing Swaps
Clothing swaps are events where people bring clothes they no longer need and exchange them with others.
These can be organized in your local community, among friends, or you can find such events online.
Some websites and social media groups specialize in organizing these events.
It's a great way to refresh your wardrobe for free, get rid of items you no longer use, and even meet like-minded people in your community.
Plus, it's an environmentally friendly choice as it promotes reuse and recycling.
Volunteer at Clothing Drives
Many non-profit organizations, churches, or community centers organize clothing drives where people donate clothes for those in need.
If you volunteer at such events, you might have the chance to pick some items for yourself.
Besides getting free clothes, volunteering at these events is also a great way to give back to your community and help those less fortunate.
It's important to note that this method should be approached respectfully, always prioritizing the needs of those the drive is intended to help.
Look for Clothing Donation Organizations
There are a lot of organizations waiting to help people in need of things, including clothing.
Some of these organizations operate in specific localities while others are available nationwide or even globally.
You can find organizations with a Google search, but here are a few to start you off with:
Bottom Line
See how possible it is for you to find free clothing in your area and online?
These ideas are 100% legitimate ways to get free clothes.
Remember, if you're in desperate need of clothing, reach out to places in your community, like shelters, your welfare office, churches, and community centers.
People you know may also be able to guide you to the right places to get help.
Do you have other ideas for ways to get free clothing?
Drop a comment below and let us know about them.
Related Posts:
Earn Everything… nearly!
Join Ipsos iSay, one of the few Faithful and Honest survey panels and earn prizes, gift cards and donations. Stack your points and redeem them: Simple! No hidden fees and completely free!