Top 8 Ways to Earn Cash Just by Turning on Your Computer (It's Possible!)
Updated on: by Amy Kennedy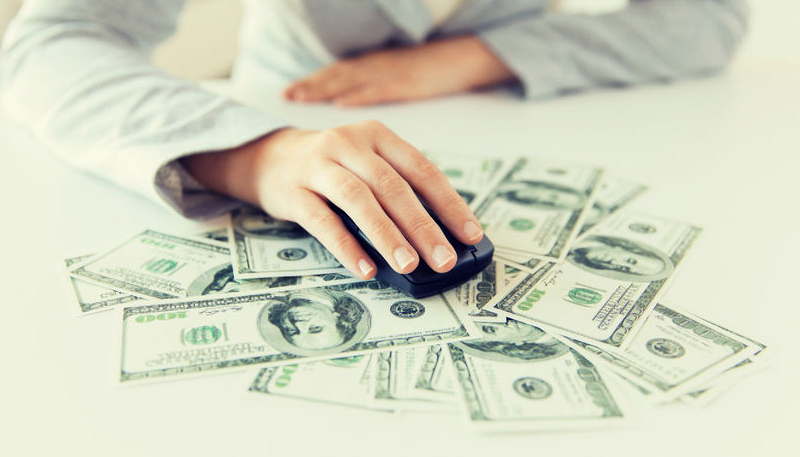 Here at Work at Home Adventures, we're all about providing different opportunities to make money outside of the traditional 9 to 5 job.
Need Easy Extra $350+/Month For Free?
This article definitely has a unique opportunity for anyone who has a powerful computer to make some easy money.
In fact, all you have to do is leave your computer running.
Then, walk away from it, make money, and repeat.
I'm going to talk about how to get paid for distributed computing.
In other words, you basically rent CPU power for cash.
Other people will use your computer to run software with remote access to it.
It's a unique way to get some money, and it's not as risky as it sounds.
Are you intrigued yet?
If so, read on to find out more about how this can work for you.
Make Money with Computer Processing
It sounds too good to be true: turn your computer on, leave it running, walk away, and get paid.
But it's not.
This is a legitimate way to earn money, and it's called distributed computing.
The process is pretty detailed and can be confusing for outsiders.
So, to make it easier for you, I'll explain it simply below:
How Does It Work?
Sometimes, people need more computing power to carry out important processes, like big data analysis and scientific research.
Need Easy Extra Cash?
Pinecone Research, a leading name in online survey panel honesty, absolutely guarantees $3 cash for every survey you complete!
Take advantage of their time limited New Membership drive and register NOW. Join today: 100% free!


They'll go to other people to purchase – technically, rent – computer power.
Think about Amazon, a company that rents out its servers to other businesses or individuals who need the space.
That's basically what distributed computing is.
You'll rent out some of your computer's CPU to people who need it.
The people who do this sort of thing benefit from having the CPU of multiple computers working together at one time for more power and space to carry out their actions.
You benefit by getting paid to literally do nothing else besides leave your computer on for them to gain access to.
How Do I Get Paid?
You'll typically get paid by the hour for the time in which you rent out your computer.
Some places pay via PayPal, while others will pay in another form of digital currency, like Bitcoin.
Large companies who rent out their computer CPU can earn more than you can for your personal computer.
That's because most business systems will have high-performance computers that can give more benefits to those who need it.
With a personal computer, you might expect to earn somewhere between $0.10 and $0.40 per hour.
It's not much, but at the same time, you don't need to do anything to earn that cash.
This is seriously a set-it-and-forget-it way to earn money.
Leave your computer running and walk away to take in your earnings.
Is It Risky?
When you use a trusted service, no.
Although this cash-earning method sounds pretty risky, there are a few trustworthy companies, which I'll outline in a moment, that can help keep you secure.
You can further your security by turning on a firewall with moderate to high levels to make sure no one has access to your personal information.
Plus, some companies offer extra security by going through their servers before reaching your computer to provide another layer of protection.
With that being said, it's not necessarily a bad idea to use a separate computer for distributed computing.
First, if anything shady did happen, your main computer and its files won't be compromised.
You can never be too cautious, and this could help put your mind at ease.
Second, using a secondary computer could give you more earnings.
You'll be able to leave it on all day long, if you choose, even as you use your primary computer.
Third, if one computer needs repairs, you'll always have a backup to use, so you don't have to miss out on your money from this method.
Places to Earn Cash by Leaving Your Computer Running
Below are some of the trustworthy companies to use if you're interested in making cash by using your computer this way.
Slicify used to be a top contender in this category because it provided an extra layer of security between your computer and those using it.
Unfortunately, the site is no longer around.
But, the others I mention here are valid options.
I've even added an extra way to make money just by leaving your computer on, just in case renting your CPU isn't quite what you had in mind.
Earn Everything… nearly!
Join Opinion Outpost, one of the few faithful and honest survey panels and earn cash and gift cards for your opinion. Stack your points and redeem them: Simple! No hidden fees and completely free!


On to the choices!
Golem Network is one of the most recent types of distributed computing networks to hop on board.
It also promises to be one of the best.
Since it's still in some alpha testing phases, all the kinks aren't worked out.
But, when it's finished, this site is predicted to be like one massive supercomputer that connects tons of personal computing systems together.
Your personal computer, of course, can be one of those within its system.
You can become a provider, offering your underutilized or unused CPU to requestors.
The company operates on a per-node or per-hour payment system.
You'll get paid in cryptocurrency, although the actual pricing the system goes by is difficult to find online.
As an added layer of security, you can benefit from an escrow system where the requestor can pay you a deposit before using your computer.
Gomez Peer is probably the simplest company you can get started with for this method of earning cash.
You can download the software, install it to your computer, and Gomez Peer practically does everything else.
So, if you're a beginner to this sort of thing, it may be your best solution.
But, it actually works a little differently than other methods that let random users utilize your computer's power and resources.
Instead, a program collects your computer's CPU data as you go about your business and use it like you normally would.
The JAVA program runs in the background of your computer, so it won't interfere with anything you do.
The information gathered will be used to see how popular websites perform on your computer.
That information will go to the companies behind the websites to give developers a better idea of how everyday computers respond to the websites.
So, you'll basically be letting Gomez Peer borrow your resources to help companies shape their websites around your computer performance information.
The app is secure, and it won't take hold of any personal or sensitive information.
You'll get paid for however long you're online daily, and your earnings will go to your PayPal account.
You'll get paid by the minute, and can even earn referral bonuses!
Unfortunately, you can only make up to $45 per month here, so it's not the best option for people who don't want their earnings capped.
When you sign up for MQL 5, you'll allow members of the team access to your unused computer resources for cash.
You'll need to download software to run on your computer, which will allow others to gain access to it.
Each MQL 5 agent gains access through a sandbox, which means he or she won't have access to anything other than the indicated directory.
You'll get paid via PayPal or WebMoney.
Honeygain is a platform that allows you to monetize your internet connection.
By installing their software on your computer or mobile device, you can securely share your unused internet bandwidth with their network.
Honeygain then uses this shared bandwidth for various purposes like data collection, web intelligence, and content delivery.
In return, you earn credits that can be converted into cash via PayPal. It's a passive way to earn money without any effort on your part.
FluidStack is a cloud platform that utilizes the idle computing power of your computer to power web applications and services.
By joining their network, you become a part of a distributed cloud infrastructure.
FluidStack rents your computer's resources, such as CPU and bandwidth, to customers who need computational power.
In exchange for providing your resources, you receive monthly payments based on the amount of compute power you contribute.
Payments are made via PayPal or bank transfer.
PacketStream is a proxy network that enables individuals to share their internet bandwidth with businesses in need of proxy services.
After signing up and installing their software, your computer becomes a residential proxy, routing internet traffic for PacketStream's clients.
The data transmitted through your computer is anonymized and secured.
In return for your contribution, you earn credits that can be converted into cash via PayPal.
The more bandwidth you share, the more you can earn.
LoadTeam is a platform that allows you to earn money by providing your computer's idle resources for tasks such as web testing and data processing.
By running their software, your computer becomes part of a distributed network that handles these tasks.
LoadTeam compensates you based on the duration and intensity of the tasks performed on your computer.
Payments are made in USD via PayPal, and you can track your earnings through their dashboard.
Another Option…
If the whole distributed computing thing seems too complicated for you, don't worry.
There are another very simple ways to get paid just to leave your computer on.
It's called My Cashware.
It's similar to the way you'd earn money from renting out your CPU, but it's not quite the same.
With My Cashware, you'll essentially earn money by turning your unused computer power into a mining space.
Mining is another term for creating virtual currencies, like Bitcoin.
All you have to do is run the software in the background of the computer.
You can still use your computer as it works, which is an additional bonus of using this program.
You'll also be able to log into the website to see up-to-date earnings and stats so that you know how much you're making.
And, you can even use the program on multiple computers to increase your earnings.
My Cashware also gives out referral bonuses where you can earn 20% of everything your friends make.
You may also be eligible for bonuses when My Cashware is able to trade its virtual currency for high prices.
You'll only need a minimum of $5 to cash out your earnings with PayPal.
Conclusion: Earn Money by Leaving Your Computer On!
See, it's possible even to earn some money with your computer just by leaving it on.
There's no work involved at all.
The most you might have to do is download a program to your computer that runs in the background and allows others to gain access to your unused CPU.
The companies I've listed above have good reviews around the web and have proven to be trustworthy by keeping your data safe.
But, always do your due diligence and check out everything before making an about whether decision if it's right for you.
What do you think of this interesting money-making idea?
Would you attempt it as a way to earn some extra cash?
Leave us a comment and let us know your thoughts!
Related Posts:
Earn Everything… nearly!
Join Ipsos iSay, one of the few Faithful and Honest survey panels and earn prizes, gift cards and donations. Stack your points and redeem them: Simple! No hidden fees and completely free!