The Ultimate Guide to Finding Real At-Home Jobs on Craigslist
Updated on: by Amy Kennedy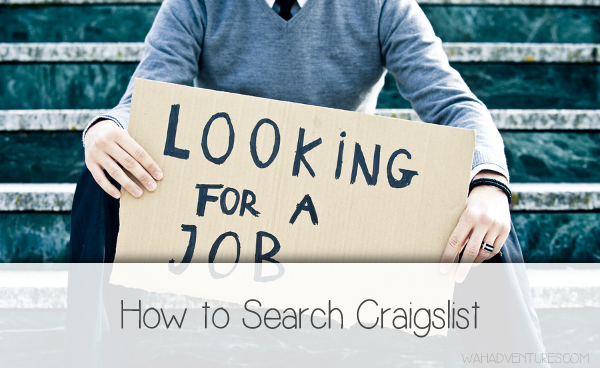 Need Easy Extra $350+/Month For Free?
With so many places online to find work from home jobs, would it surprise you if I told you that Craigslist is one people use?
It's true.
Craigslist work from home jobs exist, but it's a matter of knowing whether the ones you find are legitimate.
I personally like having a lot of tools in my toolkit when it comes to looking for new clients for my freelance business, and Craigslist is just one of those tools.
If you're searching for freelance clients or an employee job that lets you work remotely, Craigslist might also be a tool you decide to use.
This article is all about Craigslist and how to use it properly to find the job of your dreams.
Is Craigslist a Legitimate Place to Find Work from Home Jobs?
In a nutshell, yes.
But, as with any place you might search for remote jobs, Craigslist has its share of scams and untrustworthy people who post ads.
I will start off by saying that Craigslist is an excellent resource for many things, including finding work at home, but Craigslist is also packed with misleading ads.
Scams are found on almost any free job board, and Craigslist is no exception.
Both legitimate posters and not so legitimate posters like Craigslist because job ads are easy to post, easy to read, and easy for job seekers to apply to.
Most people can post for free, aside from a few large cities where there's a small charge for posts.
Scam posters are not miraculously going to leave, so it is the responsibility of the reader to not fall for these scams.
Perhaps one of the biggest mistakes people make is expecting to get rich or to find some way to make money that will be the "secret to success."
In reality, the secret to success is hard work, lots of learning, and developing a range of skills.
Need Easy Extra Cash?
Pinecone Research, a leading name in online survey panel honesty, absolutely guarantees $3 cash for every survey you complete!
Take advantage of their time limited New Membership drive and register NOW. Join today: 100% free!


When you are looking for a way to make money at home, you must ask yourself what type of skills and experience you have.
Any work you do whether it is in the real world or at home is going to require you to complete work that you are qualified and capable of doing.
The keys to succeeding with your job search on Craigslist are:
Being diligent about concerning ads
Only applying for jobs that fit your skills and interests
Knowing exactly how and where to search the site for legit jobs
All of that is what I'm going to teach you in this article, so you're in luck.
How To Search Craigslist For Legitimate Home Based Jobs
In order to find work at home on Craigslist, there are some search strategies that are helpful, whether you're looking for work at home data entry, programming, customer service, or just about any other remote job.
Search Cities
When looking for legitimate work at home on Craigslist, you can search several cities, which I advise doing, rather than looking just in your city and state.
Remote jobs are usually posted in cities rather than smaller towns because posters know that more eyes will get on their listings this way.
Don't stop with just one city.
The more areas you search, the more results you will find.
You'll want to go to an area with a decent population, like San Francisco, New York City, or Houston.
Sometimes it is best to search in areas that don't charge job posters, but still have a large population.
Some examples of these cities are: Jacksonville, Florida, Memphis, Tennessee, and Detroit, Michigan.
Also keep in mind that many employers seeking home workers may post in remote areas such as Alaska or places with a high unemployment rate.
Now, with each city, you will go to the Jobs tab.
Don't click on a particular job. Instead, just click on Jobs to view all jobs.
Once you are on the page viewing all jobs, you can use the Search bar to find home-based work by using key terms like "telecommute," "work from home," "work at home" or "remote".
Then, click on the Search button.
You will be shown the jobs that are specific for working at home based on your search criteria.
You can also narrow your search by searching for terms related to the industry you want to work in, like "remote writer" or "remote tech support".
If the area you're searching in doesn't have anything, you can change the city by using the pull-down tab at the top of the site.
Using the Telecommute Search Function
When you're searching for jobs, you might also notice over on the left side of the screen where it says "telecommute".
Telecommuting jobs aren't necessarily work at home jobs, but they can be.
Usually, this term means that at least some traveling will be involved, but that you'll also be able to work remotely for part of the time.
However, some posters use the term interchangeably with fully remote positions, so it's always a good idea to check that box and search the listings.
You might end up finding something that suits you!
Just be sure to read through the listing thoroughly to make sure its traveling requirements, if any, meet your needs.
Broadening Your Search
While also on a job search page, you'll see a box on the left side labeled "include nearby areas".
I like to check this box when searching because it'll widen your search to other areas outside of your specific location, which boosts your chances of finding something that meets your interests.
You'll notice several more listings, most likely, when you click it, so it'll take a little more time for you to go through, but it helps you not miss any jobs that might be perfect for you.
Earn Everything… nearly!
Join Opinion Outpost, one of the few faithful and honest survey panels and earn cash and gift cards for your opinion. Stack your points and redeem them: Simple! No hidden fees and completely free!


Use the Gigs Section
More recently, Craigslist has started offering a Gigs section by the Jobs section.
This section is perfect for freelancers who want to find clients or start their first gig.
Just like the Jobs section, you can browse gigs by type or view all gigs by clicking Gigs.
The section is broken into popular categories of freelance work, like writing, computers, and creative.
If you're not having any luck with the Jobs section, the Gigs section can also be perfect for finding some quick money-making tasks in the meantime.
Understand Key Terms
While you're browsing, you might get confused by the range of terms you find that describe different jobs on Craigslist.
Let's look at several of them:
Home-based job: A home-based job typically means that, while sometimes you can work from home, you might also need to do some traveling.
Telecommute: This and home-based can typically be used interchangeably. While a telecommute job might require some traveling, you can also do some work from home.
Home business: A home business is not the same as a work at home job. A home business is an actual business you run from home, like a creative agency, virtual assisting, or a multi-level marketing business.
Work from home: A work from home job, although often used interchangeably with "work at home" typically means that you'll work from your home office most of the time, but you also might be required to come on-site or travel once in a while.
Work at home: A work at home job generally means that you'll be working at home all the time for that job.
Gig: A gig is a little different from a job. It usually pertains to something quicker than a job and more flexible. You might be able to get a gig done in a few hours or a couple of days, while a job is more of a long-term income solution.
Remember these terms as you search to make sure you're finding the right type of job for your needs.
Filter Your Search By Specific Job Type
By utilizing the categories listed under the jobs section, you can narrow down your search to specific fields or industries.
For example, if you're interested in writing, you can directly search in the "writing/editing" category.
This method can help you to avoid scrolling through irrelevant job postings and make your search more efficient.
Consider Time of Posting
Job postings on Craigslist are organized in reverse chronological order, meaning the most recent posts will appear at the top.
Pay attention to the time of posting as more recent job postings are more likely to still be open and accepting applications.
Furthermore, businesses that post jobs outside of normal business hours might offer more flexibility, which is often an important feature of home-based jobs.
Be Aware of Potential Scams
Remember, if a job offer seems too good to be true, it likely is.
Be skeptical of postings that promise high income for minimal work or require payment for training or materials.
Legitimate companies will not ask for money up-front.
Always research the company and the job offer to ensure it's legitimate before proceeding.
Read More: The Best Way to Make Money by Selling Craigslist Freebies
Signs of a Craigslist Scam
(in other words, leave it alone!)
There are a lot of sketchy things to be on the lookout for on Craigslist when you're job searching.
Here are some of the most common tricks to avoid:
It Sounds Way Too Good to Be True
You'll probably come across several postings with all these promises of the perfect job and an amazing income.
Trust your gut and ignore the posts that sound too good to be true, because they're probably exactly that!
Be careful if the title of a job post states something to the effect of: $2,000 Weekly Guaranteed!!!!
Now, this is only one example of many misleading ads.
You must be a wise job seeker and use your best judgment.
Sure, there are jobs that pay $2,000 weekly, but for most jobs that pay this type of money, you are not going to see the employer posting this on job boards as the title.
People that earn a salary in this range have an education and professional experience that has allowed them the luxury of this type of salary.
They had to work very hard in order to become qualified to earn a substantial living.
There are some sales jobs that pay very well, and there are many sales jobs on Craigslist, but one common fact about legitimate high paying sales positions, they usually require professional sales experience and/or a college degree.
To summarize, a serious and legitimate employer does not have to "sell" you a job with fancy promises!
"It's So Fast and Easy to Make Money!"
Make Easy Money – Fast!
You'll see this a lot on Craigslist.
Anyone who has ever had a job knows that making money is rarely ever easy because there aren't many
You will not find any work at home that is simply easy money.
You may find work that is not real tedious or exhausting, but no type of work at home is going to be easy.
Keep in mind, you will have to work. You will have to complete some type of job to get paid.
The type of work at home you can find is similar to finding a job outside of the home.
If you have a college education and/or professional experience in a particular field, you will probably have a great chance of finding work at home in that field – if it is work you know can be done at home.
If you have little education or professional background, you can still find work at home, but you really need to look at your skills.
Can you write?
Can you type at a decent speed?
Do you have a pleasant phone voice and deal with customers over the phone?
If you answered yes, then you can probably find work at home.
But that certainly doesn't mean it will come easy and fast, even if you have the required skills.
Work is work.
Be Leery of Data Entry Work
The most common types of entry-level work at home are customer service, telemarketing, and writing, but there are several types of jobs you'll find on Craigslist.
Data entry is another common entry-level way to make money at home, but with this field, you must be very cautious.
Scam posters target people often with the promise of data entry work and then require you to pay money to get started or make big promises that'll never happen.
Scammers tend to use data entry as a lure because they know a lot of people are interested in the work.
Unfortunately, a lot of it on Craigslist is just plain trash.
Most companies looking for data entry workers will post their job listings on their websites or job search sites like Indeed, not on Craigslist.
Paying Money Up Front
This is so, so important: You should NEVER have to pay for a job you find on Craigslist!
Unfortunately, this is something I see a lot when browsing listings.
A poster will promise a huge paycheck and easy work but will require you to pay for something, like an application fee, training manual, or training software, to get started.
A legitimate post will not be one that states you must pay (anything) for work at home – at least, not to the job poster.
What job outside of the home would you ever pay to get?
Some jobs, on the other hand, will require you to get specific equipment, like a headset or a separate phone line for customer support work.
This is different.
You'll need to buy those on your own, not pay money to the job poster with a promise of the poster shipping them to you.
And never buy anything unless you've been approved to start work and have paperwork in your hands.
Avoid Flashy Ads
These are always a big sign to run.
Think about real job listings you've seen, either on job search websites, company sites, or in the newspaper.
Do they ever have a bunch of *** or !!! all over them?
Nope!
A lot of Craigslist postings do, though, because their posters know that all those symbols and words in caps will help their listings stand out.
Legitimate employers do not post flashy banner ads.
Once again, legitimate employers do not have to sell jobs to people with extravagant promises.
The job itself will do all the talking because it will deliver on everything it's supposed to.
As the old saying goes, "If it sounds too good to be true, chances are it is."
If you live by this rule when looking for work at home and keep your expectations realistic, you will have a better chance at landing your dream job.
Avoid Internships (Unless They're Paid)
I've recently started seeing a lot of "job" listings for internships or volunteer work.
These types of jobs are not jobs and shouldn't be classified as such.
It's laughable how many times I've seen a listing for a volunteer writer to work 10-20 hours per week unpaid, all so they can get "credit" with their name attached.
Credit doesn't pay the bills.
Internships, although they can give you some excellent professional work experience, are usually unpaid too.
However, you could be lucky enough to come across a paid internship, which is great.
Just make sure you'd be getting paid the same amount as someone who actually works in that field, so you don't sell yourself short.
Again, reading through Craigslist listings thoroughly is the key to making sure you know everything you need to before contacting the poster.
Keep an Eye Out for MLMs and Pyramid Schemes
Some job postings might look like job postings but could actually be for pyramid and multi-level marketing schemes.
Not all MLMs are scams, but a lot of them are – those are the ones we're addressing here.
These are "businesses" that recruit "business owners" to sell a product or service, but really the majority of the money they make is based on how many other people they can recruit as sellers underneath them.
These postings are often disguised well, so you'll need to put your detective hat on to spot them.
Look for any terminology within a post that indicates that you'll need a "team" to succeed with the job or any wording about having to sell products or recruit others.
Alternatives to Finding Remote Jobs on Craigslist
If Craigslist isn't treating you well in the job hunt (hey, it happens to the best of us) don't give up just yet.
There are a lot of other places you can use to find an at-home job:
Ad Hunt'r is a site that searches Craisglist for you, so you don't have to keep jumping around to other cities or using various search criteria to find what you need.
Instead, hop on the site, type in your search terms, like "graphic designer work at home" and then click Search.
The site will do the hard work for you and will pull up any Craigslist result it finds with relevancy.
If desired, it can search every location on Craigslist to make sure you don't miss a single listing that matches your interests!
Other Craigslist-Type Sites
There are a lot of other sites like Craigslist that might work out better for you depending on where you live and what you're looking for.
I personally like BackPage, Geebo, and Oodle.
Online Job Boards
Online job search sites, like Indeed and Simply Hired, are among the best places to search for at-home jobs.
All you need to do is search for keywords related to the jobs you want to find and then use the Location search function to look for "remote," "home-based" or other work at home related terms.
Indeed has, for years, been one of my favorites for finding freelance work related to my writing business because it has new listings all the time and a lot of remote-friendly job posters.
You can even set up alerts for Indeed to notify you when new jobs post that match your criteria.
Remote-Friendly Job Boards
With remote work becoming super popular all around the world, it's not surprising that there are now so many job boards dedicated solely to remote-only opportunities.
Here are some of the best:
Message Boards
Some message boards are dedicated to helping people find legitimate work from home jobs.
I love the boards over at WAHM.com, which are very active, categorized nicely, and have a lot of active members who are quick to help each other.
You can Google search message boards related to your industry, too, to find specific types of jobs.
Reddit
Reddit is another helpful place for finding remote work if you follow the right subreddits where people share jobs.
I like the Freelance for Hire subreddit, but you can also try r/WorkAtHome and r/WorkOnline.
Facebook
Facebook's job search seems to have mostly on-site work, but I have also found remote jobs through it, so it's another tool you might want to hang onto.
To access jobs on Facebook, sign into your account and click Jobs under the Explore tab.
You can search near you or broaden your search to other areas.
Making Craigslist Work for You
Craigslist can be your new source for finding your next at-home job when it's used correctly.
The key is to be diligent about how you search and know what to avoid so you can focus only on legitimate job postings that fit your needs.
Have you used Craigslist to find an at-home job?
How did it work for you?
We'd love to hear any successes or horror stories, so feel free to leave us a comment down below.
Related Posts:
Earn Everything… nearly!
Join Ipsos iSay, one of the few Faithful and Honest survey panels and earn prizes, gift cards and donations. Stack your points and redeem them: Simple! No hidden fees and completely free!