Top 47 Free Online Courses with Certification in 2023
Updated on: by Amy Kennedy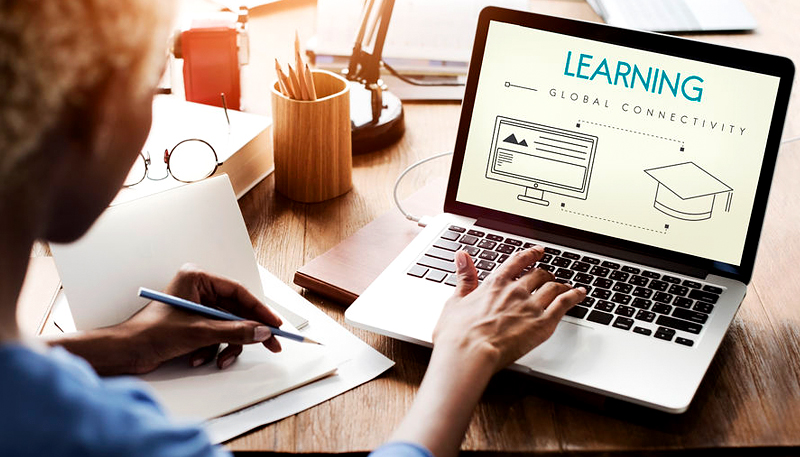 The internet is a wealth of information, no matter what it is you want to learn more about.
Need Easy Extra $350+/Month For Free?
You can find plenty of free information on blogs, websites, and online journals.
You won't always get recognized for taking the time to learn, though.
That's where a certificate can come in handy.
If you're looking to enter a new career or building your own business in your favorite niche, it can be helpful to continue your education with free courses.
It's even better when those courses offer certification that proves your knowledge to recruiters or potential clients you might work with.
Display them with pride in your resume or on your LinkedIn profile to show others where your skills and strengths lie!
We put together this huge list of free courses you can complete in your own time, at home, that have final exams to test your knowledge and earn your certificate of completion.
Free Online Courses with Certificate of Completion
Whether you're looking for easy IT certifications or a course that'll help you build a blog for your business, you'll likely find what you need below!
These courses are subject to change at any time, though, and may stop being offered for free with certification.
Fortunately, you can usually find free courses in a wide range of topic areas at any of the following online learning websites:
Keep them bookmarked and you'll never run out of places to keep learning for free.
Accounting and Finance Courses
If you ever wanted to learn more about keeping your own financed in check – or doing it for others – then this course is for you.
The course is designed for professionals who help people dig their way out of debt, teaching things like appropriate ways to contact credit card companies and the best strategies for paying off debt quickly.
You'll get a free Learner Record that's accessible on your dashboard.
Those beginning a career in accounting might find this course helpful.
Need Easy Extra Cash?
Pinecone Research, a leading name in online survey panel honesty, absolutely guarantees $3 cash for every survey you complete!
Take advantage of their time limited New Membership drive and register NOW. Join today: 100% free!


It covers subjects like profit and loss statements, accounting issues, and budgeting, and may even come in handy for those just getting started with business accounting.
Corporate Finance Institute (CFI) hosts this bundle of courses that are free to the public.
The bundle includes:
Accounting Fundamentals
Reading Financial Statements
Excel Crash Course
Fixed Income Fundamentals
Introduction to Corporate Finance
After completing the modules, you'll get a certificate.
Learn more about the various retirement programs available to United States workers that can help give them a solid financial future.
This free course is helpful for anyone who wants to know more about their options or help others do so.
This course from Alison's database helps you learn the underlying fundamentals and theories of accounting and procedures, especially for businesses.
You'll learn how to use and read financial statements, conduct organized financial reporting, and more.
This course comes from the Georgia Institute of Technology.
Participants work between 8 to 12 hours a week for 8 weeks to complete the course, after which they'll earn a certificate.
Concepts covered include portfolio management, company worth, and portfolio optimization.
Medical and Health Courses
Harvard University offers this free course that introduces basic neuroscience concepts, like bioelectricity and neuroscience's role in your home.
The course should take about five weeks to complete, but it's self-paced.
You'll earn a verified certificate when you complete this course from Harvard University, which talks about climate change over time and how it can impact health.
The course also delves into migration, infections, and how they might relate to climate change.
Students looking to learn more about clinical research can sign up for this free course that's expected to last six weeks.
This can be especially helpful for journalists who want to better understand the research they read to inform their articles.
Learn about race, social class, poverty, community, and other factors that influence the world's health, and vice versa.
This is a 12-week course offered by HarvardX's free course platform.
Are you interested in pursuing a nursing or medical career?
This course introduced you to all the basics of the body and how vital signs can signal important health issues that need to be taken care of.
The course starts on a rolling basis and lasts for about six weeks.
Johns Hopkins University provides this class for people who wish to learn more about the importance of primary health care and how it can relate to better healthcare for all.
It'll take about 15 hours to complete, but you can choose a deadline that coordinates with your schedule.
Information Technology Courses
If developing apps for Android is of interest to you, then this introductory course is a great one to start with.
It'll take about three months to complete and comes with several interactive quizzes to help test and reinforce what you've learned.
This course is taught by industry professionals to help you learn the ins and outs of computer science and its importance in today's world.
Java can be tricky even for the experts, but this course gives you the basics you'll need to move onto more in-depth information.
This course transitions into another course you can take called Object Oriented Programming in Java.
Earn Everything… nearly!
Join Opinion Outpost, one of the few faithful and honest survey panels and earn cash and gift cards for your opinion. Stack your points and redeem them: Simple! No hidden fees and completely free!


A/B Testing is a course from Google that instructs you how to use split-testing to learn more about the performance of an ad, website, app, and more.
This is an intermediate course, so it's a good idea to have at least some knowledge of how testing works.
Learn about a variety of computer languages, the basics of computer programming, and the foundations of computer security in this comprehensive program for beginners taught by Harvard.
It's a self-paced course that lasts 36 weeks.
Intermediates in the game development world can learn about graphics creation, game design, and game development programs using real games that have had success in today's world.
Business Courses
It definitely takes good leadership skills to run a successful business, so if you're considering taking a leadership role in the near future, this course might help.
Learn about types of organizations, their structures, and how departments are organized in this four-module class.
Freelancing isn't for everyone, and this Skillshare course might help you decide if it's the right choice for you.
If so, you'll learn concepts like building a brand, creating an eye-catching portfolio, pitching, and marketing.
Learn various ways to grow your business in a sustainable way.
The course should take about three hours and covers five modules.
Angel investors are people that help fund businesses as they grow and they're an essential piece of a successful startup.
If you're looking to start a business or haven't had luck growing your current one, this angel investing course might set you on the right path.
This beginner's course is about four weeks long.
You'll learn the basics of successful project planning and organizing, delegating tasks, utilizing resources, and minimizing risks.
It's imperative to learn about copyright in the business world, so this course is perfect for anyone who wants to delve into their own business or a business career.
The course focuses on copyright law, how copyright started, and how it applies today.
Humanities Courses
This is one of several religion courses HarvardX's free course site offers.
Each is about four weeks long and covers some of the history of each religion, its place in society, and important concepts.
Justice covers social and criminal justice issues that have affected, and continue to affect, the world.
The course also covers philosophical concepts related to each issue.
If you're interested in pursuing an educational degree or field, this Children's Studies course can be a good springboard.
Learn about behavior, child development, social learning, and more.
Cities are incredibly important parts of society with their economical and industrial contributions.
This course covers aspects of their crucial roles and how they might change in the future.
Discover various aspects of psychology and how they relate to behavior, learning, and more.
This course focuses on women in society and their history of fighting for equality, leading up to the present day and how things have changed.
Key concepts include the importance and growth of the feminist movement, women in the workforce, and discrimination.
Digital Marketing Courses
Using SEO effectively is one of the best ways to bring more people to your business site through your content.
This free SkillShare course covers a lot of topics for the beginner.
HubSpot is an excellent place to go for free resources, and its content marketing course has a highly requested certification from recruiters in the biz.
The course is lengthy, but it covers just about anything you'll need to know about using content to up your marketing game.
Email marketing can be a great way to pull people into your website and sell your services or products.
This free course from HubSpot Academy gets you a certificate at the end that you can display in your resume or on your LinkedIn profile.
The University of Illinois offers this digital marketing course to teach beginners how to use various online tools in their marketing strategies.
Google Analytics is a program that helps you learn about the traffic that comes to a website.
It's a crucial piece for marketers to learn because it gives insight into the audience that tends to visit and shop.
With this course, you'll learn more about using it properly, which can be great for your own marketing purposes or those of your clients.
Promoting an online business can be much different than marketing a brick-and-mortar business.
This course defines some of the differences and helps marketers build a solid online marketing plan for their business.
Blogging and Social Media Courses
There aren't many blogging courses that result in certification, but this one does.
It comes from eMarketing Institute and includes a free eBook, course modules, and certification.
Combining social media with blogging is a great way to boost your blog's audience and potentially make you more money with blogging.
HubSpot's certification course is one of the best ones you can take.
It's also a good one for those wishing to become social media managers.
Learn more about social marketing with this training from Hootsuite, a leader in the social media world.
Online Marketing Institute offers this excellent course for blogging beginners that covers topics like:
Writing awesome content
Analyzing traffic
Using images and video properly
Optimizing content for Google
Researching keywords
This free Udemy course touches on everything from the anatomy of a great blog to using popular blogging platforms like WordPress and Blogger.
Arts & Lifestyle Courses
Those with basic knowledge of graphic design can benefit from this course, which goes a bit more in-depth with basics like framing, grids, and more.
This 12-hour course teaches budding photographers how to correctly use a digital camera and style eye-catching photos.
Color is the foundation of every work of art, and this course explores it in an interesting way.
Learn why colors look different when they're paired with other colors, why some colors evoke specific emotions, and more.
Whether you love reading literature or need a bit more help in your current literature classes, this free course might help.
Learn important techniques for analyzing literature and setting up a complete story.
Learn how to grow healthy, organic food in a way that positively impacts the environment, too.
Gardening beginners and experts alike can benefit from this beginner's course to organic foods.
Whether you want to learn more about music for yourself or to teach it to others, you'll enjoy this music theory course.
It's a five to six-hour course that ends in a certification that you can add to your resume or LinkedIn profile.
Read More: The Ultimate Guide to Creating Successful Online Courses
Conclusion: Get Free Certifications Online with Courses
Expanding your knowledge is always a good idea, whether you want to solidify concepts you've already learned or continue your education.
Continuing education is especially helpful for professionals who wish to keep climbing their career ladder or start a business of their own one day.
The classes we mentioned above are only the tip of the iceberg; there are literally thousands of free courses you can find online in almost any subject area.
Are you finding some you want to take but they don't offer certification?
No problem!
You can still indicate that you've taken these courses your resume or professional profile (just be honest!).
Have you taken any online courses for free certification? Which ones?
Leave us a comment below and let us know!
Related Posts:
Earn Everything… nearly!
Join Ipsos iSay, one of the few Faithful and Honest survey panels and earn prizes, gift cards and donations. Stack your points and redeem them: Simple! No hidden fees and completely free!