37 Places to Find Free Online College Courses for Senior Citizens in 2023
Updated on: by Amy Kennedy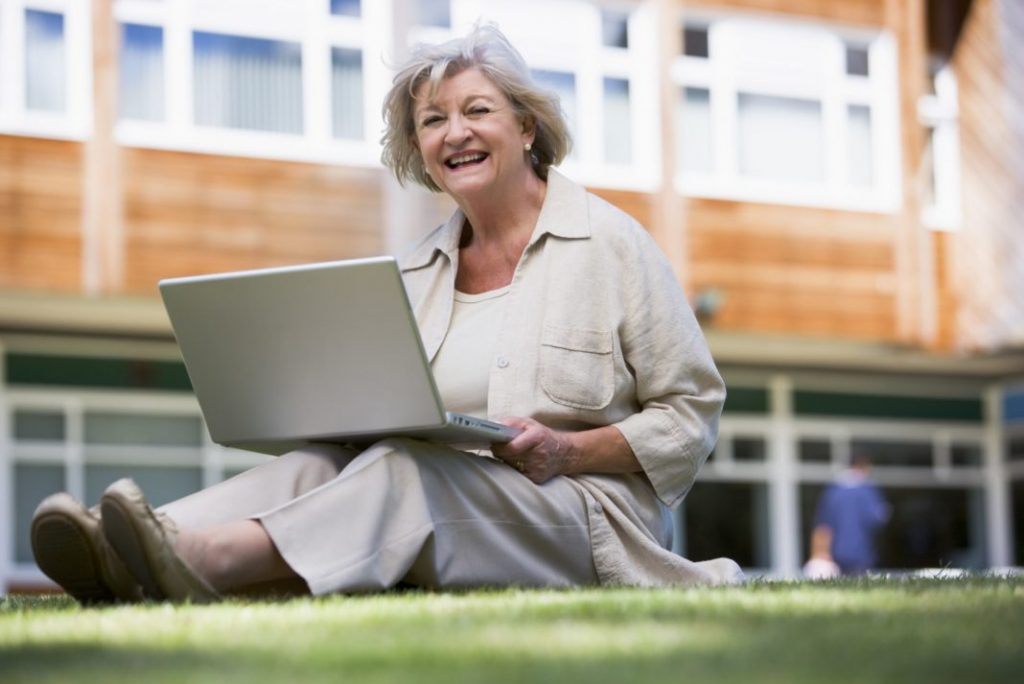 You might be a senior citizen by age, but it's never too late to learn.
Need Easy Extra $350+/Month For Free?
In fact, some senior citizens begin a whole new career once they reach retirement age.
Or they start a business or decide they want a promotion.
Learning through online courses can help them achieve that.
Even if you're retired, you might still want to dig into learning something that's always been of interest to you, but you never had the time to learn it.
You may not know it yet, but you're about to find out that there are several websites and places where you can go as a senior to get free online courses to expand your learning!
These sites want you to keep learning and growing.
Can Senior Citizens Attend College for Free?
Yes, they can!
Some colleges and universities offer free education programs to seniors who can prove their age.
Others have free courses for seniors to take, while others might offer steep discounts to seniors.
Either way, you can get a cheaper education and learn the things you've always wanted to learn.
But there is plenty of free information floating around online, too, for you to take advantage of, and this guide will show you several top websites to find it.
The great thing about learning online is that you can go at your own pace.
You don't have to worry about being at school at a specific time, either, because most free online courses are ones that you can log into whenever you have time to complete them.
Places to Find Free Online College Courses for Senior Citizens
The following websites are perfect spots for finding free college courses and training in a variety of subject areas.
Udemy lets people with special skills and expertise teach online and sell their courses to the world through the platform.
Need Easy Extra Cash?
Pinecone Research, a leading name in online survey panel honesty, absolutely guarantees $3 cash for every survey you complete!
Take advantage of their time limited New Membership drive and register NOW. Join today: 100% free!


However, there are also a lot of courses listed here for free.
Some of them are mini-courses that give you an overview of a subject while others are full courses that people offer to anyone who wants them.
You can learn things like creating tables in Excel, how to be productive when working from home, and how to work with HTML.
Yes, you can learn through Yale!
Like some other highly respected universities and colleges, Yale offers some free courses to anyone who wants to take them.
They include educational materials and pre-recorded lectures for you to make the most of your free class.
If you want to learn coding, try Codecademy.
This course is completely interactive to hold your interest and keep you learning.
You can sign up for the free Basic plan to access the basic courses, content, and features.
FutureLearn features free courses in healthy dieting, becoming a lawyer, digital skills, and more.
Even courses that aren't free allow you to try them for a limited time so that you can get an idea if it's something you want to continue with.
Use Google Digital Garage to learn everything you can about having an online business, digital marketing, search engine optimization, advertising, and more.
These free resources range anywhere from one hour to several hours.
The Fundamentals of Digital Marketing course is one of its most popular, giving those who complete it a free certification.
Find courses for independent learning (learning at your own pace without a professor) from this site, which has classes on chemistry, Chinese language, business, STEM, and more.
Experts drop courses on Alison for people like you who want to learn.
There's a lot to explore here in a range of subject areas, and some courses even have certifications and diplomas upon completion.
Class Central is somewhat of a curated list of tons of courses from all over the web.
The site links to free courses it finds from other places, like Coursera, UC San Diego, and Harvard University.
It currently has courses from more than 1000 universities, so it's pretty likely that you'll be able to find something you want to learn about.
This site provides a huge list of free courses available on the web, broken down into different categories so you can easily find what you're looking for.
Memrise is an app that helps you learn languages.
There are currently 22 of them available to learn.
This app is all about teaching you language in real-life situations, so you will know how to say things you need to say if you travel.
The Massachusetts Institute of Technology (MIT) created this site to give people who want to learn the chance to learn.
Its free courses focus on subjects like humanities, society, and energy.
Stanford is another top university that offers free online courses on its website.
Learn everything from child nutrition to algorithms.
Some courses give you CME Credit (Continuing Medical Education), which can be helpful if you're interested in moving up or starting in a medical field.
Earn Everything… nearly!
Join Opinion Outpost, one of the few faithful and honest survey panels and earn cash and gift cards for your opinion. Stack your points and redeem them: Simple! No hidden fees and completely free!


If you're interested in learning a language, you can visit BBC Languages to get you started.
While you won't learn a full language enough to become fluent in it here, it's a great place to learn common phrases and grammar techniques if you plan to travel.
Everyone wants to say that they've went to Harvard, and when you take a course through the University, you kind of can!
Harvard has some free courses available to anyone to take through its Extension School.
If quick video content is more your style of learning, then Ted Ed is for you.
This site features all kinds of informative videos in different categories, like health, social studies, and business, and many of them are less than 10 minutes long.
Coursera is one of the most popular course sites on the web.
Although many of them are paid courses, there is a full section of free courses you can sign up for.
They change from time to time, so keep checking back to see what's new.
Lifehack Free Classes includes a few free courses that focus on productivity, motivation, and learning strategy.
Sign up for any or all of them that interest you.
Academic Earth hosts courses from universities like New York University, Harvard University, and the University of Notre Dame.
You can click through to the university's page to get your free courses.
As the name states, this site is all about video lectures from professors at various universities.
You can browse the categories to find a lecture that looks interesting to you.
The cool thing about this site is you won't be stuck in a course you need to complete.
Instead, you can learn about something completely new each day.
LinkedIn is a professional networking site that is part social platform, part professional resources.
LinkedIn Learning is its educational portion that features courses you can take to keep improving your professional skills.
Some courses are free, and there's also a one-month free trial that lets you look around before committing.
Khan Academy is mostly a place to find learning resources for grades K-12, but you can also learn tons of new things from this site.
Many lessons are also geared toward college students.
It's free, and it contains so many courses for math, science, history, and more.
The site is supported completely through donations, so if you do have anything to spare, it would be a great place to give back to.
This site has a library of close to 3000 free online courses for you to choose from in life sciences, engineering, and more.
There are even highly discounted master's degree programs you can join if you don't mind paying a little for them.
edX hosts a bunch of free online courses from top universities and colleges from all over the country.
Learn a new language, study psychology, dabble in economics, and browse through several other categories to find your perfect skill.
Learn a language for free with Duolingo.
The site currently offers several languages, like Spanish, Japanese, and Danish.
What's great about Duolingo is that it adapts to the way you learn, so it keeps up with how fast or slow you want to move along.
It's also available in an app if you want to use it on your mobile device.
OpenLearn is an initiative by The Open University that provides free courses on a wide range of subjects. 
They offer high-quality, open educational resources for learners around the world. 
OpenLearn courses are designed to be flexible and self-paced, allowing you to study at your own convenience. 
Their courses cover various disciplines, including arts and humanities, science, technology, business, and more. 
Whether you want to explore a new topic or enhance your existing knowledge, OpenLearn offers a wealth of learning materials to cater to your interests and goals.
iTunes U is an educational platform provided by Apple. 
It gives access to a vast collection of free educational content from top universities, colleges, and educational institutions worldwide. 
Through iTunes U, you can access a wide range of courses, lectures, and educational materials on various subjects. 
The platform allows you to download the content and learn at your own pace. 
With iTunes U, you have the opportunity to learn from renowned experts and institutions, expanding your knowledge across different fields of study.
National Geographic Learning offers free online courses that focus on photography, exploration, storytelling, and conservation. 
Their courses are designed to help learners deepen their understanding of the world and develop essential skills. 
National Geographic Learning provides engaging and interactive resources, including videos, articles, quizzes, and assignments, to enhance the learning experience. 
By participating in their courses, you can gain insights into photography techniques, learn about different cultures and environments, and discover the importance of conservation efforts.
Saylor Academy is an online platform that offers free courses covering a wide range of disciplines. 
Their courses are self-paced and accessible, allowing learners to study at their own convenience. 
Saylor Academy provides comprehensive learning materials, including readings, multimedia resources, assessments, and certificates of completion. 
Their course offerings span subjects such as business, computer science, mathematics, humanities, and more. 
Whether you're looking to acquire new skills or expand your knowledge in a particular area, Saylor Academy offers a diverse selection of courses to meet your learning needs.
Other Ideas for Finding Free Online Classes for Retirees
The online course sites above are perfect for finding learning opportunities in just about any industry.
But there are a few more general ideas you can try, too:
Your Favorite Course Creators
If you've already scoped out someone online who's creating courses that you want to try but don't necessarily want to pay for, keep digging.
Many course creators give away free mini-courses or training that offers similar information as their course but maybe not quite as in-depth.
Usually, they'll offer the mini-course if you sign up for their email list.
Look around the site to see if you can find an email course signup link.
If your search isn't turning up anything, you can always email the course creator to see what they have available as far as free courses or a discounted course for seniors.
Your Health Insurance Company
Health insurance companies sometimes have free courses or trainings that revolve around your health.
For instance, you can usually find some type of information about staying active or eating healthy.
Some also have free public health courses, wellness courses, or even trainings that help you learn more about health insurance and its benefits.
If you're not sure what kind of learning benefits, if any, you have, contact your health insurance provider.
Local Hospitals or Provider Networks
Similarly, local hospitals and provider networks sometimes have trainings or courses related to healthcare and wellness.
Look on the hospital or network's website to find out more information, or ask your doctor about any upcoming programs.
You might even be able to get free fitness classes through your local hospital.
YouTube
YouTube has all kinds of free videos that cost you nothing to watch, so it can be an excellent resource for learning just about anything you want to.
Use the search bar to find what you want to learn, and you're almost guaranteed to find several videos that can teach you something.
Community Centers
If you search for "free classes near me" or something similar, you might come up with community centers.
That's because they often host free trainings or courses to help people in your community learn.
And if they don't have anything available right now, they might still be able to connect you with other places in your area that do, so it's worth giving them a call.
Churches
The churches in your area might host classes or be able to point you to resources in your community that do.
If you're a member of a church, you might also qualify for funding from the church to go back to school or complete a course you've been wanting to take.
Libraries
Many libraries offer free courses and training programs for their communities.
Visit your library to ask for a list of upcoming events you can attend.
Some libraries might also have classes online for free.
Community Colleges
Do you have a community college nearby?
You might be able to take a class or two for free.
Some community colleges allow seniors to sit in on a few classes for free.
If yours doesn't, you could still qualify for special tuition prices for senior citizens.
AARP offers health insurance, shopping, and all kinds of benefits for senior citizens.
It also has a resource library filled with free courses, events, training, and other stuff to help you learn what you want to learn.
Browse the site to also find in-person workshops that can help you learn everything from computers to job networking.
Get Started with Your Free Courses
Before you begin applying for free courses, make sure you have a reliable computer and internet connection.
If you live with others who could be a distraction to you while learning, try to find a quiet area of your home to learn in and consider investing in a set of headphones that can block out noise.
Also make sure you have a notebook handy to jot down notes as you learn.
You can also use Google Docs or have a Microsoft Word document ready if you prefer typing overwriting.
Finally, be sure to see if a course has a certificate of completion that you can download or order after you've completed the course.
Some courses might charge a fee for a certificate, but that fee is often minimal compared to paying full price for a course.
And it could be worth it to have a certificate if you plan on continuing work or starting a business!
If you know of other places for seniors to find free courses, be sure to let us know in a comment.
Related Posts:
Earn Everything… nearly!
Join Ipsos iSay, one of the few Faithful and Honest survey panels and earn prizes, gift cards and donations. Stack your points and redeem them: Simple! No hidden fees and completely free!