The Ultimate Guide to Creating Successful Online Courses
Updated on: by Amy Kennedy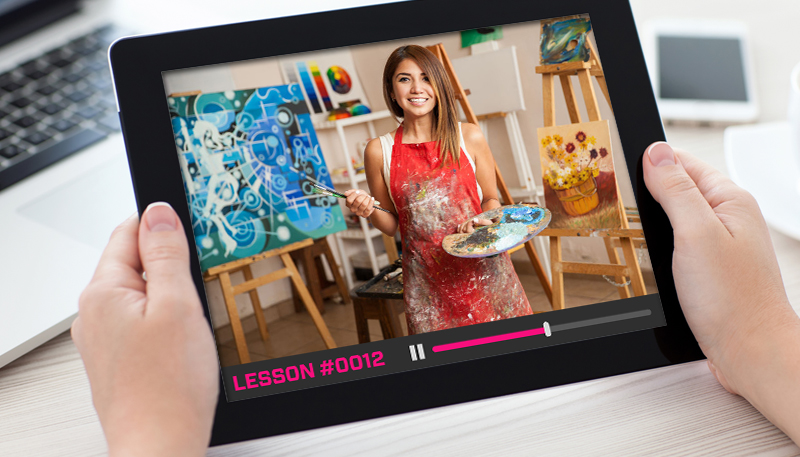 There are quite a few ways to earn money by teaching online.
Need Easy Extra $350+/Month For Free?
We've outlined several online tutoring companies here on Work at Home Adventures.
Some people even find their own students to tutor through freelance marketplaces or their own websites.
There are a few different avenues you can take if you're passionate about teaching but don't want to be stuck in a traditional classroom.
Or, maybe you just want some extra money in addition to your regular teacher's salary.
Perhaps you're not a teacher at all, but you have knowledge that you want to share with others.
These are the people we're going to target today.
This post is all about online courses and how you can use them to your advantage to share your expertise with others and also make money.
Bloggers often talk about making hundreds to thousands of dollars every month with their blogs.
However, they don't always divulge how they actually make that money.
One of the biggest ways for bloggers to make money is through the courses they create and sell to their followers.
I'm sure you've seen them advertised as a pop-up when you visit the site that asks for your email address for exclusive access to the course.
Or, as a link on the top of the site enticing you to purchase a course to learn the exact procedure that blogger makes to earn money every month.
Online courses are a lucrative business nowadays; that is 100% clear.
But, not everyone knows where to start or how to make a course that people actually want to buy.
Fortunately, that's what I'm going to talk about today so that you can learn the ropes and get started on the path to online course success.
Need Easy Extra Cash?
Pinecone Research, a leading name in online survey panel honesty, absolutely guarantees $3 cash for every survey you complete!
Take advantage of their time limited New Membership drive and register NOW. Join today: 100% free!


How to Make Millions Online by Creating Courses
It sounds far-fetched: Someone creates an online course about something they know how to do well so that others can learn some of the tricks.
Said person ends up $1 million richer in a year because of the profits from his successful course.
Can teaching people things online really yield that much of a profit?
YES!
The thing is, people, want to learn, especially when it comes to something that might potentially make them more money.
That's why you see so many successful courses about making money blogging, learning how to become a freelance writer, or becoming a successful real estate investor.
When it comes to making money, people are all ears.
One great example of this is Rob Percival.
He launched a course in 2014 about coding.
According to Fast Company, coding is one of the most in-demand skills right now.
Companies want people with legitimate coding skills, so Rob's course acted like a gateway for people who wanted to learn, or become better at, coding and landing their dream jobs.
In the first month of that course, he got $15,000 from it.
After that, things just kept moving up from there.
Courses are a funny thing: once they gain some momentum, they kind of just market themselves.
So, even if your course launch doesn't quite go as planned, the work you do marketing it could help it take off eventually and become a form of passive income for you.
Here's what you need to know about creating online courses that could potentially make you hundreds to thousands of dollars every month.
Read Also: 10 Best Ways to Make a Million Dollars in a Year (Plus Real-Life Examples!)
Figure Out What You're Good At (And What You're Passionate About)
Obviously, the first – and most important – step to creating courses is finding something you know well and are passionate about.
Without that, you basically have a course with no personality, teaching something that you aren't even an expert in.
The good news is that you don't need a special college degree or even professional experience with the subject you want to teach.
It just has to be something that you consider yourself an expert in (and, preferably have some sort of proof to back it up!).
Even people who haven't been to college for graphic design but have taught themselves how to create amazing vectors and illustrations can create courses on the subject because they have proof that they know how to design.
Don't feel like you need to be a legitimate expert in a field to start an online course.
In fact, I know a few people who had only blogged about a year or so before creating their first online courses.
Some of them have never taken a course themselves, but instead, taught themselves everything they could by immersing themselves in the blogging world.
They just became so awesome at it that they grew successful blogs.
People can see when a blog is successful because of the blogger's following and interaction with the website.
BAM – immediate proof that the blogger knows what she's doing and could absolutely teach others the tricks of the trade.
Whatever it is you want to do, just make sure you have a lot of passion for it.
Earn Everything… nearly!
Join Opinion Outpost, one of the few faithful and honest survey panels and earn cash and gift cards for your opinion. Stack your points and redeem them: Simple! No hidden fees and completely free!


The information in your course should display that passion easily because your course subscribers will feed off it.
Make Sure It's a Marketable Idea
Unfortunately, not everything you're passionate about or have a lot of knowledge in is something that others will feel as passionate about.
Step #2 is almost as important as Step #1: You need to make sure your idea is something that others want to learn about.
Even better is when other people feel like they need to learn what you're teaching.
Your course should fill a pain point in your audience.
The best way to do that is to think about the audience you currently have, whether it's through your social media channels, website, LinkedIn, or wherever you have a presence online.
Later, this is the audience you'll be marketing to.
What problem does that audience have that you can solve?
If your blog is about parenting, your audience probably wants to soak up everything they can about things like homeschooling, parenting teenagers, getting through the Terrible 2's, etc.
If your social media accounts are all about your life as a web designer, then your audience would probably love to know more about building a web design business, finding jobs, and even specific design tutorials.
The best way to learn what your audience needs?
That's easy – ask them!
Send out a poll on Twitter. Put out an email newsletter asking for responses.
You can even hang out in Facebook groups in your industry and pay attention to the questions other people ask.
Those are the questions you need to try to solve in your course.
In a nutshell, your course topic should be a perfect blend of something you're passionate about, have a lot of knowledge about, and is marketable to your audience.
Hosting Courses Online
Hosting your courses online couldn't be simpler, thanks to the plethora of course-creating and hosting platforms that have popped up in recent years.
Udemy is, by far, one of the most popular places for hosting online courses.
The platform has courses in just about every topic you can imagine.
Here's a glimpse of the variety of courses you can find here:
Inspirational Screenwriting
Learn 3D Modeling
Complete Java Masterclass
How to Build a Shopify Dropshipping Business
Crucial Concepts in Dog Behavior and Training
Colored Pencil Drawing Course
How to Buy a House
As you can see, almost anything goes. If you can teach it, you can host it on Udemy.
The site even has helpful resources you can use to create a course that grabs attention, and you'll have the support of the Instructor Support Team if you have any issues.
Udemy will even market your courses for you to reach more students!
Udemy is only one of the many platforms you can choose from though.
Teachable is another popular platform that allows you to build a website for your course and tweak its visuals to make it look like you want.
Thinkific also helps you build your course by designing it the way you want to, and you can even start for free until you begin making sales.
With the free plan, you won't pay anything per month and will instead just pay a 10% transaction fee on your course sales.
Start Small
Where you ultimately decide to host your course is up to you, but I suggest testing out a few of your top contenders to see what works the best and then sticking with one to grow your course business.
In fact, your first course is going to be mostly trial and error.
You'll learn, based on how many people buy your course and the feedback they give you, what you can do better next time.
It's important to stick to one course at a time and work on making that the absolute best you can before striking up another one.
As a beginner course creator, you'll still need to figure out if you've gone in-depth enough with your material, whether your subscribers like your visuals, if you've hit the pain points you intended, etc.
Once you perfect that course and get a good momentum of sales going, you can start thinking about adding onto the course, creating an updated version, or even starting a whole new course to grow your biz.
Market Yourself and Your Courses
Marketing courses are the backbone of their success.
You can't expect to create a course, let it sit there, and then magically have a thousand people buy it in the first week.
It doesn't usually work that way.
As I mentioned, Udemy will market your courses for you to its already-there subscriber base for an extra cost.
This may be worth it to you if you're not into doing a bunch of marketing or don't really know where to start.
However, you should still learn some marketing tricks as soon as possible to get the most out of your course, whether it's marketing through your blog and social media channels or working with other bloggers through an affiliate program.
Even if your course platform does some of the legwork for you, you're the one who has personal access to your network and audience.
Therefore, you have the perfect group of people waiting for something like your course to help them; they're right in front of you!
You're the best person for the marketing job.
Use the audience you have and don't be afraid to reach out to others for help.
I've personally helped out some bloggers with promoting their courses for free to my audience in exchange for free access to the course.
It's a win-win if you choose this route.
You won't lose any money marketing because you'll just give some of your favorite bloggers free access to your course.
Then, they'll write up a post, email blast, social media post, or whatever you both agree on to promote your course.
You get free marketing, and they get a free course that they can learn something from.
It's simple, but it works.
And, it could just land you on the fast track to becoming a course-creating expert and the next big success story!
Plan Your Course Structure
Creating a well-organized course structure is crucial for delivering a seamless learning experience. 
A clear and logical course structure helps students navigate through the content easily and understand the progression of topics. 
Start by breaking down your course into modules or sections, and then further divide them into lessons or subtopics.
Within each lesson, outline the key points you want to cover and the learning objectives you want to achieve. 
This helps you stay focused and ensures that your content aligns with the goals of the course. 
Additionally, consider using a consistent format, such as introductory videos, main content, practice exercises, and summaries, to provide a consistent learning experience for your students.
By planning your course structure meticulously, you provide a roadmap that allows students to grasp the concepts effectively and progress through the material smoothly. 
This also enables them to review specific sections easily and reinforce their learning.
Create High-Quality Video Lessons
Video lessons are a popular and effective medium for delivering course content. 
Creating high-quality videos helps capture your students' attention, enhances their engagement, and improves their overall learning experience.
To create professional-looking videos, invest in good equipment, such as a quality camera and microphone. 
Ensure adequate lighting to maintain clarity and visibility. Structure your video lessons with a clear introduction, main content, and conclusion. 
Consider using visual aids like slides or screen sharing to reinforce key points.
Moreover, pay attention to your delivery style. 
Speak clearly and confidently, maintain an appropriate pace, and use gestures and facial expressions to convey your message effectively. 
Edit your videos to remove any distractions or errors, ensuring a seamless viewing experience.
Offer Interactive Discussions and Q&A Sessions
Interactive discussions and Q&A sessions play a vital role in fostering a sense of community and engagement within your course. 
These opportunities allow students to interact with you, their peers, and the course material itself.
Create discussion forums or platforms where students can ask questions, share insights, and collaborate with each other. 
Actively participate in these discussions, providing guidance, answering queries, and facilitating meaningful conversations. 
Encourage students to share their thoughts, experiences, and additional resources related to the course topic.
Additionally, schedule live Q&A sessions where students can join and ask questions in real-time. 
These sessions can be conducted through video conferencing tools or webinar platforms. 
They offer a valuable opportunity for students to receive direct feedback and clarification on course concepts.
Build Your Brand as an Authority
Establishing yourself as an authority in your course topic builds trust and credibility among your audience. 
This not only attracts more students but also enhances the perceived value of your courses. 
Building your brand as an authority requires consistent effort and strategic actions.
Firstly, focus on creating high-quality content that showcases your expertise. 
Deliver valuable insights, practical tips, and in-depth knowledge in your courses. 
Aim to go above and beyond what students expect, providing them with actionable information and real-world examples.
In addition to your courses, leverage other platforms to demonstrate your expertise. 
Write blog posts, publish articles, or create videos related to your course topic. 
Share your insights on social media, engage in relevant discussions, and participate in industry events or conferences. 
Establish yourself as a thought leader by providing valuable content and actively contributing to the community.
Conclusion: Learn How to Create Online Courses
Creating successful online courses requires some work and testing to see what will bring in the money for you.
But, once you hit your stride, your course should make money for you without you having to do too much work besides some marketing.
Then, you can start launching more courses and have a steady income from high-quality courses alone (not to mention, build your name up as an authority figure in your industry!).
Have you ever created an online course?
If not, what's holding you back?
Let us know your thoughts in a comment below!
Related Posts:
Earn Everything… nearly!
Join Ipsos iSay, one of the few Faithful and Honest survey panels and earn prizes, gift cards and donations. Stack your points and redeem them: Simple! No hidden fees and completely free!