49 Top Free Software Download Sites: Get Full Version Software for FREE
Updated on: by Amy Kennedy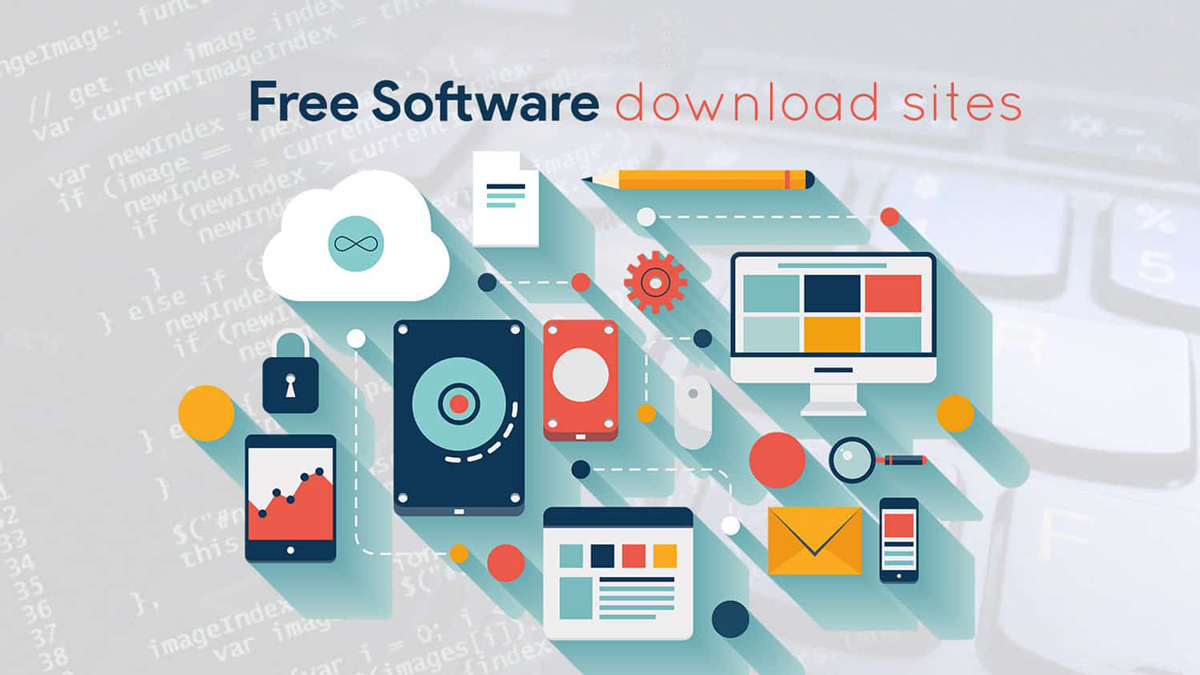 Buying software for your computer can get expensive, with most software costing $20 or more, depending on the type it is.
Need Easy Extra $350+/Month For Free?
You might be surprised to know how much software is actually free – and some of it you might even like more than their paid versions!
This guide is going to point you in the direction of free software download sites that offer plenty of software to add to your computer at no cost.
Is It Safe to Download Free Software? Are These Sites Legit?
You might be wondering if the sites I'm about to list are even legal and safe to use.
The good news is that, yes, they are.
Still, you should use caution anytime you're downloading software from any file download websites.
Although these sites are known for offering plenty of free software that's safe to use, you may sometimes find the occasional software that isn't safe.
Sites like these do as much as possible to test software they put on their sites before they're available for downloads to make sure that they don't contain viruses, spyware, and other stuff you don't want on your computer.
They also only offer software that developers release for free, so there's nothing illegal you need to worry about.
Read More: This App Pays YOU to Download It (Plus 3 Others That Will Too!)
Top Free Software Download Sites
You can use the following sites to get free versions of software, from office software to games to photo editing software and more.
100 Downloads
100 Downloads has tons of free download – way more than 100! – available for those you want no-cost software for their computers.
You can download everything from CD burning software to free communication software here.
7-Zip
7-Zip is a free file compression software that lets you compress files to make them smaller and unzip compressed files to add to your computer.
Adobe Acrobat Reader
Adobe Acrobat Reader is the most well-known software for reading PDF files, and it's available as a free download.
You can't, however, edit or create PDF files with Adobe Acrobat Reader. You'll need the full version of Adobe Acrobat to do that.
Need Easy Extra Cash?
Pinecone Research, a leading name in online survey panel honesty, absolutely guarantees $3 cash for every survey you complete!
Take advantage of their time limited New Membership drive and register NOW. Join today: 100% free!


Avast
Avast has been around for a long time to provide free antivirus software to computers.
The free version gives you everything you need for regular PC virus scans and around-the-clock protection against threats.
If you like it, you can always decide to upgrade to premium security for an annual fee.
AVG
AVG offers both free antivirus software and VPN services to keep you and your data safe.
The software comes with free virus scanning and protection for your computer, internet, and email.
Upgrading to the paid version can protect you against hacks, payment fraud, and more.
BytesIn
BytesIn lists popular software, essential software, and categories of other software that you can download at no cost.
Chromium
Chromium is a free, open-source browser to use for browsing the web.
The browser is meant to be fast, secure, and give internet users a simple, user-friendly way to browse the web.
CNET Downloads
CNET Downloads is formerly Download.com, and has grown to be one of the best, most popular places to find free software on the web.
You can browse through multiple categories, like video software, browsers, and educational software to find what you need.
DC++
DC++ is an open source software that allows people to share files with each other without restrictions like file size limits.
Unlike a lot of free software, it doesn't even bombard you with ads.
Digital Trends
The Digital Trends Downloads section features tons of free software for anyone to download.
You'll find stuff like a free AVI player, free Windows restoration software, and free productivity tools to keep you on track with work.
Donation Coder
Donation Coder has been around since 2005 to provide free software to all users.
The catch is that you can choose to donate whatever you can and want to, but there's never an obligation to do that if you want to download its software.
Download 3000
You can find plenty of software to download at Download 3000.
Some of the categories here include Development Tools, Internet, Education, and Graphics, and Video.
Download Crew
Download Crew only offers software that's been individually reviewed and tested by experts to make sure that it's safe to use on your computer.
Its reviews of software can also help you decide if the downloads are something you want to use or not.
FileHippo
FileHippo is one site that tests its software before it's available on the site for download.
Software categories here include Learning, Desktop, Social & Messaging, and Security & VPN.
Filehorse
Filehorse features free software for Windows and MAC plus free web apps that you can download for your browser or to use on your computer.
You'll find everything from common downloads like iTunes to games like GTA Vice City here.
Filepuma
On Filepuma, you'll find tons of software downloads for no cost.
There are several categories you can browse through, including business software, utilities, education, productivity, and internet and network.
There's also a section for reviews and roundups of software selections.
Patch My PC
Patch My PC is a user-friendly software that simplifies the process of installing and updating multiple programs on your Windows computer. 
Earn Everything… nearly!
Join Opinion Outpost, one of the few faithful and honest survey panels and earn cash and gift cards for your opinion. Stack your points and redeem them: Simple! No hidden fees and completely free!


It provides an extensive catalog of popular software applications, including web browsers, media players, productivity tools, and more. 
Patch My PC scans your system, identifies outdated software, and allows you to update them with just a few clicks. It also supports silent installations and can be used for bulk software deployment. 
Patch My PC is a convenient and efficient solution for keeping your software up to date without hassle.
Chocolatey 
Chocolatey is a popular package manager for Windows that enables you to automate software installation and management. 
With Chocolatey, you can easily install, update, and uninstall software from the command line or through a user-friendly interface. 
It offers a vast collection of software packages, ranging from development tools to productivity apps, making it a powerful tool for system administrators and power users.
AlternativeTo 
AlternativeTo is a unique platform that suggests free software alternatives to popular commercial applications. 
It helps you discover similar software based on user recommendations and votes. Whether you're looking for an alternative to a paid software or seeking new tools for specific tasks, AlternativeTo provides a curated list of options. 
Each software listing includes user reviews, ratings, and a direct link to the official website or download source. 
Visit AlternativeTo to explore alternative free software solutions.
Free Downloads Center
Free Downloads Center links to tons of popular software, like Evernote and the Safari browser, for you to find everything you need in one spot.
There's also lesser-known options here in categories like audio and video, internet tools, and productivity.
Foxit Reader
If Adobe doesn't work out well for you for reading PDF files, you can try Foxit Reader.
This reader is known for being fast and simple to use, and you can even do stuff like fill out PDF forms and sign them without paying extra.
It also integrates with cloud storage tools so you can save files and share them with others.
Freeware Files
Freeware Files has all kinds of free stuff for your PC or MAC, including free graphics and design programs, free drivers, and free games.
The site also has a daily section that features new and updated software, so you always know what's new to download.
GIMP
If you've ever tried to use Photoshop and other graphics design programs only to be left completely confused, then you'll love GIMP.
It's a free graphics program that lets you do many of the things Photoshop does but without the cost of the program.
This program has been around for a long time and remains one of the top ones of its kind.
Giveaway Download
Giveaway Download lets you enter free giveaways for computer software and games.
You can visit the site to see if any giveaways are currently active and enter them in just a couple of minutes.
Giveaway of the Day
Giveaway of the Day is a site that gives you a completely free download every single day.
Just visit the site and see what's available for the day.
Each offering is a fully licensed software that you'd usually have to pay for, so you might end up finding something you've really wanted but haven't wanted to buy.
Internet Archive
Internet Archive is a digital database of free stuff, like movies, books, and of course, software for your PC or MAC.
You can search for something in particular that you want to download or browse the categories on the site to find what you need.
Kaspersky
Kaspersky is one of the newer free antivirus software available on the web, but it's also growing quickly in popularity.
This one has been named the best free antivirus program in several online roundups because of its ability to keep both your PC and Android device protected and because of its effective scanning and encryption tools.
KeePass
Do you have trouble keeping track of all the passwords you use for different sites on the web?
There are a lot of programs available to help, but not all of them are free.
KeePass is, though, and its simple interface makes it easy to store passwords and recall them for future use.
All your passwords stay locked with your master password, too, so you won't have to worry about someone else finding them on your computer.
Legit Torrents
Torrent sites are usually known for being illegal or offering illegal software.
But this one is legal, scouring the web only for legal torrents that you are allowed to download for free.
You can use Legit Torrents to search for something specific or just browse the latest uploads to see if anything interests you.
LibreOffice
LibreOffice is where you can download a free suite of office products, similar to what you'd use with Microsoft Word but without the annual fee.
The suite is also compatible with several file types, including those that Microsoft products use, so you can share and collaborate on stuff with others who use different programs.
LinuxTracker
If you use Linux for your operating system, you can find free stuff to download on LinuxTracker.
The main site lists all the latest uploads in one section plus the top uploads in another section.
You can also use the Categories section in the sidebar to find something more specific.
Major Geeks
Major Geeks features all kinds of software for whatever you need.
Everything is organized by category, but you can also search for software by name if you prefer.
Miro
Miro is a super cool collaborative whiteboard that's all web-based, so it updates in real-time to help you work on stuff together – but remotely.
And it's all free.
Well, for three boards, it is anyway.
After that, you'll need to upgrade, but if you decide to do so, it's only $8 per month.
MPC HC
MPC HC is a free media player that you can download right from the website without registering or downloading anything else.
It also comes with no extra download offers for stuff like toolbars or other programs you don't want.
Ninite
Ninite is another site that lets you get free software, but it offers something unique for visitors.
You can simply click on everything you want to download to checkmark them, and then you can download everything all at once instead of waiting for multiple separate downloads.
OpenOffice
OpenOffice is similar to LibreOffice, giving you another option for a free, full suite of products that are similar to Microsoft Office programs.
This one is also compatible with several other file types, including the Microsoft Office file types, so you can work on a variety of projects.
SnapFiles
You can download full files of programs and software for free from SnapFiles.
I like browsing through the Top 100 section to see what downloads are the most popular, but there are several other ways to search for programs on the site.
Soft32
Use Soft32 to get free software for Windows, MAC, and your mobile devices.
The site offers categories like Photo & Design, System Utilities, and Mp3 & Audio.
Softonic
Softonic lets you download free stuff for Windows, MAC, Android, and iPhone.
There's even some games for free here in addition to software programs.
Softpedia
Softpedia is the encyclopedia for everything free downloads.
It includes thousands of downloads for Windows, MAC, Android, and Linux.
SourceForge
SourceForge is the place to go if you're looking for open-source software focused on business and productivity.
Although it's mostly focused on stuff like e-commerce and finance software, you can also find some games and other software for personal use.
Thunderbird
If you want an easy to use email client that costs no money, try Thunderbird.
This email client is organized and simple, allowing you to keep track of all your emails in one handy spot.
Tickcoupon Giveaway
Tickcoupon Giveaway offers free downloads that are available only for a limited time.
There are usually several on the site at one time.
Techspot
Techspot rounds up several free software for download on its site.
The site updates its listings every day with software in a number of categories.
Tor
Tor is an open source software that's available for free to anyone who wants to keep their information private online.
Tor prevents apps and codes from tracking what you do online, protects your connections, and basically keeps you in a safe bubble while you browse.
Tucows Downloads
The Tucows Downloads website is a place for you to find thousands of downloads, all for free.
You can browse the categories, look through featured or newest software, or use the search bar to find a specific title.
VideoLAN
VideoLAN is a 100% free-to-use media player.
Use it for watching videos or movies or listening to your favorite tunes.
Vuze
Vuze works with Windows, MAC, and Linux computers to download torrents quickly and easily.
As always, be careful when downloading anything, as not everything may get checked before being available for download.
ZDNet
ZDNet has a huge library of free software downloads, from educational software to entertainment software and everything in between.
Conclusion: Top Free Software Download Sites to Get Full Version Software
We hope that this guide helps you find the software you need for your PC or MAC.
Remember to take some time to do your research on anything you download before you download it.
Even on these sites, not everything is safe.
It's possible for some software to contain hidden security issues that can wreak havoc on your computer.
Be sure to have an antivirus software installed as well as malware and spyware checkers.
These can protect your computer from potential issues with fault software that can harm your computer or become a threat to your identity.
Do you have other free software download sites that you use frequently?
Let us know about them in the comments.
Related Posts:
Earn Everything… nearly!
Join Ipsos iSay, one of the few Faithful and Honest survey panels and earn prizes, gift cards and donations. Stack your points and redeem them: Simple! No hidden fees and completely free!