This App Pays YOU to Download It (Plus 3 Others That Will Too!)
Updated on: by Amy Kennedy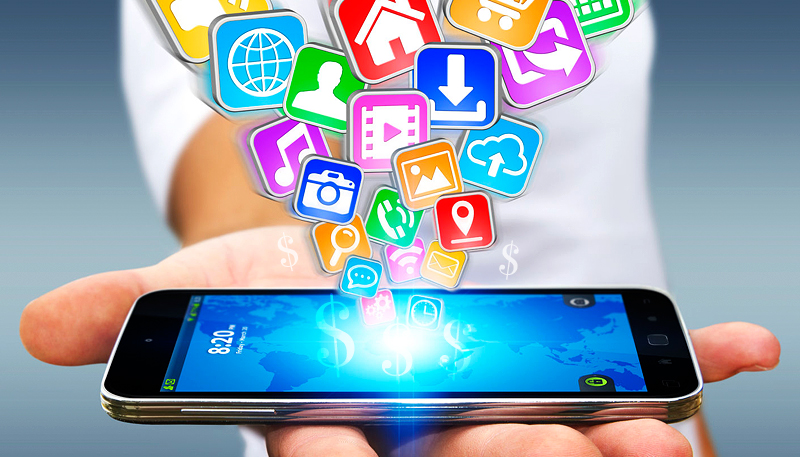 There's almost an app for everything nowadays.
Need Easy Extra $350+/Month For Free?
In fact, a lot of businesses are starting to create their own apps because they know that apps are where the future of technology lies.
In 2017 alone, people downloaded about 197 billion apps from mobile app stores like Apple's App Store and Google Play.
Companies know that breaking into the app industry can be a huge advantage for them to one-up their competitors who don't have apps.
It's no wonder, then, that some companies are even going as far as to pay you to use their apps!
Well, sort of.
The one I'm going to talk about today is called Smart Panel.
The reason this company wants to pay you to download its app is because, by keeping the app installed, the company can get valuable insights into the things you do on your mobile device and internet.
Smart Panel is, of course, a market research company.
Is it kind of making sense now right?
Want to find out how you can make money just by downloading this app? Read on!
What is the Smart Panel App?
Smart Panel is a company in the network of VertoSmart, also known as Verto Analytics, which is a family of research-focused efforts that provides insights on marketing trends, consumer products, and more.
Verto Analytics is a well-known and respected company that's been in the industry for years.
Smart Panel is all about market research.
Through its app, it collects important data from you, like:
How you use your mobile device
What types of sites you visit on the internet
What types of apps you tend to use most
How you interact with family, friends, co-workers, etc. via your mobile device
How your mobile device hold up to your use
Any issues/bugs you face with your mobile device or service provider
That's not the full list of things the app collects from participants, but you get the picture.
Need Easy Extra Cash?
Pinecone Research, a leading name in online survey panel honesty, absolutely guarantees $3 cash for every survey you complete!
Take advantage of their time limited New Membership drive and register NOW. Join today: 100% free!


Basically, once you have the app installed, Smart Panel can get a whole bunch of insightful information from you that can help shape the future of the internet, mobile web, mobile devices, and more.
The app isn't only for smartphones; you can also install it on your tablet or other Internet-connected mobile devices.
You can even use your PC to make some money using the browser extension!
Who Can Join Smart Panel?
Smart Panel is currently open to people who live in the United States, India, United Kingdom, and Germany.
You must be at least 18 to join.
Here are the current requirements for devices that can run the app or browser extension:
Desktops or laptops: Windows: 7, 8, 8.1, and 10
Phones or Tablets: Android 4.0 – 7.1.1 or iOS 7 – 11
Update 6/2023: 
Their current study is limited to the US and UK (no more German or Indian panel).
Smart App for PC and Mac is an actual app to download – not a browser extension.
Smart App is compatible for Android 4-9, iOS 7-12, Windows 7, 8, 8.1, and 10 (Vista and XP are not compatible), Mac OS 10.10-10.14. They do their best to keep up with the latest versions, so these numbers change often.
How Does the App Work?
One of the great things about this app is that you don't have to do anything with it besides install it.
The app runs seamlessly in the background of your device or browser.
As you do your normal activities on your device or browser, the app will collect data.
You won't have to answer questions like you would with a survey panel.
You'll need to be connected to the internet for the app to work correctly, either via your mobile data subscription or Wi-Fi.
If you don't have any internet connection, the app will wait to upload your most recent data when you're back in an internet-connected area.
The website states that the app may use up to 3 MB of data every month to upload your information to the Smart Panel servers.
Basically, once you have the app installed, your job is done.
The app doesn't pop up notifications asking you for information or to do anything specific on your device.
Instead, it stays in the background doing its thing while you get paid just to have it installed.
How Do I Get Paid and How Much?
Smart Panel won't make you tons of money, so let's get that out of the way first.
You will, however, make money for doing absolutely nothing other than downloading and keeping an app installed on your mobile device or browser.
You can't really beat that!
Just for signing up and installing the app, you'll get an easy $5.
Think of it like a "thank you" just for trying out Smart Panel and giving it the benefit of the doubt.
After that, you'll receive another $5 for each month you keep it installed and working properly.
So, all this for a whopping $65 in a year?
Nope, not quite!
The best part about this money-making method is that the longer you keep the app installed, the more money you can make (unlike similar apps that pay you the same amount even if you have it installed for two years!).
You'll get bonuses after certain lengths of time that you stick with the app.
Earn Everything… nearly!
Join Opinion Outpost, one of the few faithful and honest survey panels and earn cash and gift cards for your opinion. Stack your points and redeem them: Simple! No hidden fees and completely free!


After 90 days, you'll get an extra $5.
After six months, you'll get $10.
Nine months of having the app installed warrants a bonus of $15.
And every three months after that you keep the app installed, you'll get another $15.
So, including your $5 sign-up bonus, your base pay of $5 per month for 12 months ($60), plus your bonuses, you're looking at $110 for keeping the app on your device all year.
That works out to just over $9 a month for doing nothing but installing an app.
Even better: keep that app installed for another year, and you'll get the $15 bonus every 3 months, bringing your total to $120 for each year after the first (or $10 a month!).
Once you have the app installed for at least 30 days, you can redeem what you've made.
So, even if you decide you don't want to continue using it, you can still collect your sign-up bonus and first-month pay after 30 days.
Choose between Amazon gift cards or PayPal cash for your rewards.
You don't have any minimum amount you need to reach to redeem them.
Are There Other Ways to Make Money with Smart Panel?
Yes! Downloading and installing the app aren't the only money-makers here.
Smart Panel also acts like a regular survey panel, but you will have to have the app installed to get any survey invites.
This company also doesn't send out a lot of survey invites.
They get sent occasionally when Smart Panel needs more in-depth information about what its panelists typically do with their mobile devices and web browsers.
You will get paid for these opportunities, too, and Smart Panel will let you know how much you'll get awarded when it sends you the invite.
You might also have the opportunity to participate in longer focus groups, which tend to pay more than a regular survey.
Update 6/2023: They started sending out more paid survey opportunities. To balance that, their loyalty bonuses are capped at $10 now, though there are more opportunities to earn (lately payments have been $3-$10 per survey)
How Do I Protect My Privacy?
Another thing I love about Smart Panel is its dedication to your privacy.
I know that downloading apps like this that are around for the sole purpose of collecting data about what you do on your phone can be somewhat concerning.
There are similar apps that I'd be concerned about too.
But Smart Panel isn't one of them.
I looked over the Smart Panel privacy policy, FAQ section, and did some other research around the web.
If there's one thing that's clear, it's that Smart Panel is very transparent with everything, from the amount you make to what it does with the information it collects.
If you don't believe me, check the website for yourself.
Right there on the home page is a graph of the money you can expect to make in your first 24 months keeping the app installed, all spelled out clear as day.
The privacy policy is very similar.
Smart Panel requires its participants to get a VPN installed before they use the app.
A VPN is a virtual private network, which helps encrypt any data that gets sent to Smart Panel.
I don't know of a single market research panel that makes its participants do this to ensure that they keep themselves protected.
Not only that, but the panel is clear in stating that it only collects anonymous data. No personal information makes its way to Smart Panel or third parties that it shares its information with.
Smart Panel isn't interested in learning more about you, personally; instead, it wants to know about what you do.
Therefore, there's no reason to collect any of your identifying information.
I urge you to check out the Privacy Policy for yourself to get a better idea of what Smart Panel is looking for when it collects your data and how the company protects your personal information.
Signing Up for Smart Panel
Signing up to become a member of Smart Panel is easy.
Visit the Smart Panel website. Read through the helpful information on the home page that tells you what it's all about.
Click the link that says "I'd like to sign up."
You'll need to answer a series of questions about yourself and the device(s) you'd like to use for the panel. Your answers will help qualify you for a spot in the panel.
Once you're accepted, Smart Panel will send you a link to download the app or browser extension. Download it and keep it installed.
Smart Panel doesn't always have open spots, and instead allows people to join when it has a need for more participants through the year.
You can still apply at any time, and the company will let you know when a spot is open and you've been accepted.
Other Ways to Make Money Downloading Apps
Although Smart Panel is definitely one of the best ways to make money just by downloading an app, it's not the only way.
I wanted to give you a few of the other good options to try out, just in case there aren't any spots open in Smart Panel or you decide it's not the best option for you.
Or, you should even be able to run these apps along with Smart Panel (given that they don't conflict with each other) to maximize your earnings.
These apps also run on your mobile device for market research purposes, but they're all a little different from each other.
The Nielsen Computer & Mobile Panel is a division of Nielsen, one of the top market research companies in the world that used to primarily focus on TV and the way people watched it.
This branch deals with – you guessed it – computer and mobile internet usage.
You can sign up for the panel and wait for Nielsen to send you further instructions about downloading the app.
Then, download the app and install it on your phone or mobile device.
You can earn up to $50 each year just to keep it installed.
Nielsen will collect data about your mobile usage without you needing to do anything with the app.
Like Smart Panel, all data is sent anonymously, so you don't have to worry about third parties knowing who your activity is connected to.
Read More: Nielsen Digital Voice Review – A Safe Way to Win Rewards?
MobileXpression is another company that wants to learn all about what you do using mobile internet.
This panel seeks to learn more about mobile internet trends by paying attention to the websites you tend to visit most.
It's important to note that the software you'll need to install for MobileXpression isn't quite as keen on keeping your information private as others.
There is a chance that some of your personal identifying information will make its way to MobileXpression and its partners along with your internet activity.
So, steer clear of this one if that's an issue for you.
As a member, you'll be eligible for weekly sweepstakes prizes, like cash, gift cards, and techie prizes like Kindles.
All you have to do is keep the app installed.
SavvyConnect is the app for SurveySavvy, one of the most popular survey websites on the net.
In addition to making money through SurveySavvy by giving your opinions in a variety of surveys, you can also earn money each month by keeping the SavvyConnect app installed on your device.
You'll earn $5 per month to keep the app installed, and you can earn even more by installing it on multiple devices.
As you use the mobile web on your device, the app will collect information related to your activity and report it back to its market research partners.
AppOptix
AppOptix is a mobile research panel operated by Strategy Analytics.
By joining the panel, you can earn rewards for simply keeping the app installed on your device.
The app collects data on your mobile usage, such as the apps you use, websites you visit, and how you interact with your device.
The data collected is used to gain insights into mobile trends and consumer behavior.
AppOptix ensures the privacy and anonymity of your data, so you don't have to worry about your personal information being compromised.
You can earn gift cards, sweepstakes entries, and other rewards by participating in this program.
Panel App
Panel App is a market research app that rewards users for sharing their location data.
By installing the app on your mobile device, you allow Panel App to collect anonymous location information, which helps businesses understand consumer behavior and improve their products and services.
As a member of Panel App, you can earn points for keeping the app installed and participating in occasional surveys.
These points can be redeemed for various rewards, including gift cards for popular retailers.
Panel App respects your privacy and ensures that your personal information remains confidential.
AppBounty
AppBounty is a mobile app that allows you to earn rewards by downloading and trying out other apps.
Once you install AppBounty, you can browse through a list of available apps and choose the ones you're interested in.
When you download and use those apps for a specified duration, you earn credits.
These credits can be redeemed for gift cards, virtual currency, or other rewards depending on the available options.
AppBounty provides a variety of apps to download, so you can explore different categories and find apps that suit your interests.
It's a fun way to discover new apps and earn rewards at the same time.
Read More: Best 11 Websites That Pay You Cash to Test Mobile Apps
Conclusion: Get Paid to Download Apps
Ready to download some apps?
This is definitely one of the easiest ways to make money using your mobile device.
Some apps will pay you to play games, watch videos, or download other apps.
These ones simply pay you just to download them.
You don't have to do anything else but let them run!
Have you used Smart Panel or any of the other apps I mentioned above?
Let us know in a comment how you liked them!
Related Posts:
Earn Everything… nearly!
Join Ipsos iSay, one of the few Faithful and Honest survey panels and earn prizes, gift cards and donations. Stack your points and redeem them: Simple! No hidden fees and completely free!