35 Ways to Get Free Bible Books by Postal Mail or Online in 2023
Updated on: by Amy Kennedy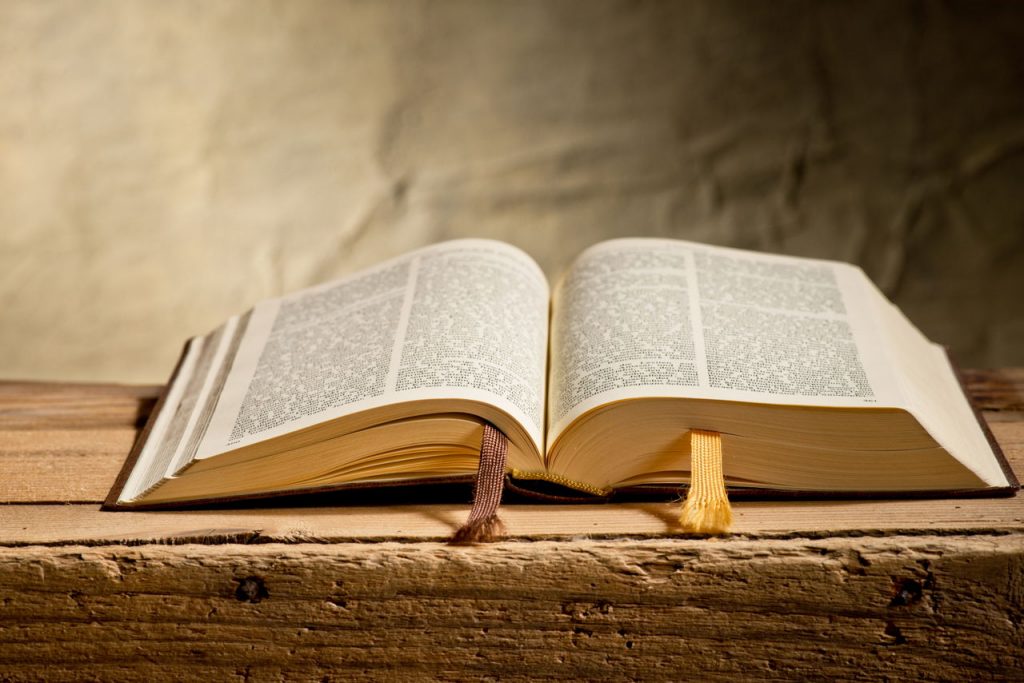 The Bible is a go-to resource for Christians, which is why it's important for you to have one if you want to continue to study the word of God.
Need Easy Extra $350+/Month For Free?
But not all people or families have extra money to spend on a Bible.
Sure, you can probably access a Bible when you go to church, as most churches have them sitting in the seats or pews.
You can also read the Bible in most hotel rooms, as one usually is tucked away in a drawer.
But maybe you want your own copy.
If you don't have a Bible and can't afford to get one, then this post can help you.
We've put together 31 legitimate ways to get a free Bible shipped through the mail or as a digital copy online, so you'll always have access to the scriptures.
How to Get Free Bible Books by Postal Mail
First, we're going to talk about ways to get a Bible through the mail.
The following places let you fill out a form online to have a Bible shipped to your home, no questions asked.
Of course, these places mostly rely on the honor system, meaning that you should really only request one if you don't have any other means of getting one.
Many of these places rely on donations from people who donate Bibles to help others in need, all so they can read the Bible when they choose.
So, do the right thing and only request your free Bible if you really have no other way of getting one.
Living on a Dime is a blog about saving money and making money, but it also has a page devoted to getting a free Bible.
All you need to do is add the Bible to your online shopping cart and then add the promo code listed on the website to get it for free.
These free Bibles come from donations people give to the site to help those in need.
Request a free King James Version Bible from this church, which is located in Newton, MS.
Need Easy Extra Cash?
Pinecone Research, a leading name in online survey panel honesty, absolutely guarantees $3 cash for every survey you complete!
Take advantage of their time limited New Membership drive and register NOW. Join today: 100% free!


The church will even send Bibles to those located outside of the United States as long as you provide a telephone number for shipping.
Just fill out the online form to receive one.
MyFreeBible is a site that lists a bunch of places to get a physical copy of the book or a digital copy.
It also has a request form to fill out to get a pocket edition of the Bible, which is perfectly sized to tuck away in your purse or pocket.
The program is supported by donations of others.
This organization has sent free Bibles to people globally for years, and you can still go through it to get one for yourself.
Just use the contact page to fill out your information.
If you're looking for Bibles for your organization, school, etc., you might also be able to place a bulk order with the company to get them donated.
If you're looking for a study Bible to help you learn as you read, you can send for one here.
Just fill out the quick form with your information to get a free Bible that includes shipping costs.
Orders must be within the United States.
If you're in the United States, you can request a Bible for free from this website.
These Bibles are for nursing home patients, inmates, and homeless people.
The site also has a resource for getting an inexpensive Bible if you don't fall into one of the above categories to be eligible for a free one.
Fill out your name and address information to get a free physical Bible shipped to your home, no questions asked.
There is fine print noting that, if you fill out the form, you're also agreeing to receive emails from the company.
However, if you don't want them, you should be able to unsubscribe once you start receiving them.
WayFM offers a free New Living Translation HelpFinder Bible that's a little different than regular versions of the book.
This one is particularly helpful in helping you understand how God views specific issues you might have in life.
If you're looking for something a little different to go along with your Bible study, then this might be the right Bible for you.
Fill out the short form online with your name and address information to get a Bible sent to your home.
This one will also set you up with emails from the organization, which you can unsubscribe from through the emails you receive if you don't want them.
The Spread the Word Campaign comes from the Family Broadcasting Corporation to help give people in need a Bible.
The organization normally accepts requests from people in any country, but currently has U.S. submissions closed to allow people outside of the U.S. to also get free Bibles.
This site makes it clear that if you can afford to buy a Bible, you should not request a free one to make it fair for people who really can't afford one.
If you need a free one, fill out the form. Make sure you answer the question about your reason for requesting one.
This organization sends free Bibles to Canadians in need.
Add the books that you want to your cart on the site and checkout to receive them for free.
How to Get a Free Bible Online
If you don't need a print copy of the Bible sent to your home, or you just want a way to also access the Bible when you don't have your copy with you, these digital versions can help.
Earn Everything… nearly!
Join Opinion Outpost, one of the few faithful and honest survey panels and earn cash and gift cards for your opinion. Stack your points and redeem them: Simple! No hidden fees and completely free!


Some of them are displayed for free on websites while others are downloads or apps.
Either way, they're perfect for an easy way to read the Bible even when you're away from home.
Bibles4Free
I mentioned this site as a place where you can get a Bible mailed to you, but you can also view the full Bible online here.
Just click this link to see a full view of the Bible index where you can click on the books and chapters you want to read.
It's best to view on a computer, but you can still access it from your phone or tablet.
Bible.com is one of the best places to get a downloadable Bible for free that you can take with you wherever you go.
The site even offers several different versions of the book so that you can choose which one you want to download.
Plus, you can even highlight parts , make notes, and more.
You just need to download the app from the website!
This site has a simple text version of the Bible available on its website.
You can use the search function to find specific topics or parts that you want to read, or use the navigation bar to skip directly to a book or chapter.
Want to listen to the Bible when you're in the car or relaxing at home?
Head to this site, which offers audio versions of the book, some of which are completely free to download.
There are also free hymns on the site that you can listen to.
The Bible App comes from YouVersion, a Christian company that makes both this app and a version for kids.
The app is available in several languages, giving people all over the world access to it.
You can use the app to compare different versions of the Bible, take notes, highlight information, share passages, connect with friends, and more.
Bible Study Tools is a resourceful website that has tons of information and tips about studying the Bible if you ever need any help.
But there's also a free digital version of the book available on the website.
You can either search for a specific section of the bible or use the Browse button to go directly to the book you want to read.
The Blue Letter Bible website also lets you search for specific information in the Bible if you're looking for a topic or story.
But you can click on the QuickNav button at the top to head to any book in the Old or New Testament that you want to read online.
This is another popular Bible app that's available in the App Store and Google Play.
Download it for free to access the book in several languages, search the Bible by keyword or phrases, download text to read or listen to at another time, and more.
StudyLight has a few ways on its website for you to read the Bible.
First, you can search for a phrase, book, etc.
You can also go to the Read the Bible section and choose where to start reading from. The site will take you there.
There are also Daily Devotionals and a Daily Reading Plan to help you move through the Bible.
Bible Gateway has the book broken down into books and chapters for easy reading at your own pace, or use the search tool to find what you need.
Click on Read the Bible to find reading plans, audio Bibles, and other helpful resources.
As the name suggests, the Online Bible is a fully digital Bible that you can read on your devices wherever you go.
There's a mobile version for Apple and Android devices, a Mac version, and a Windows version that you can download for your PC or laptop.
Each version contains multiple translations, a search feature, and other helpful tools to help you read and learn.
This church offers free digital Bibles to those who need it, just by entering your information in the online form.
You will need to sign up with your email address to take advantage of the offer but you can choose whether or not to sign up to the church's weekly emails.
Bibles for The World is an organization that aims to distribute Bibles globally, often in areas where it may be difficult to obtain one.
They believe in spreading the gospel to every corner of the Earth. You can request a free Bible by filling out a form on their website, and they will mail a Bible to you.
In Touch Ministries, led by Dr. Charles Stanley, provides a platform where you can order a free Bible.
You'll need to fill out a simple form on their website with your mailing address.
They also provide digital resources and broadcasts to help deepen your understanding of the Bible.
For those based in Australia, the Bible Society Australia gives away free Bibles.
They have a form on their website where you can request a Bible to be mailed to you.
They aim to make the Bible accessible to everyone and support Bible literacy across Australia.
The Pocket Testament League provides free Gospel of John booklets, which are smaller, easy-to-carry versions of the book of John from the New Testament.
While it's not the entire Bible, it provides an essential part of the Bible's teachings. To receive one, you simply need to sign up on their website.
Other Ways to Get a Free Bible
Finally, here are a few more ways to get a Bible for free that don't fit neatly into the other categories.
Ask Your Church
One way you might be able to get a free Bible if you haven't had luck with other methods is to ask your church.
Most churches have Bibles available for people to use during service.
But if you're really in need of one, your church would probably be happy to give you one or to find one for you to have.
Ask Family and Friends
Your family and friends might be another option to ask about a free Bible.
Even if people you know don't have one to give away, they might know someone who does or where they could get one from.
You never know – some people might also buy you one if you're in need.
Check One Out at the Library
Some libraries keep their Bibles in their reference section, making them unable to be checked out.
But others might have a few copies that you can check out with your library card.
You can also check with your library to see if they have any older Bibles they took off the shelves to make room for new ones.
They might be willing to give you one if so.
Hotels
No, you should not just take the Bible that's sitting on the end table or in a drawer of your hotel room.
But you can ask the hotel staff if it's okay to take it or if they have any extras they'd be willing to give you.
Some hotels would be happy to give away a Bible to someone in need.
Yard Sales
If you find a Bible at a yard sale, it's probably already pretty cheap.
But if you really can't afford the money to spare for it, you can always ask the yard sale owner if you can get it for free.
It doesn't mean they'll agree, but it's worth a try.
Thrift Stores
You probably won't find a free Bible in a thrift store, but it's possible that you can haggle with the store owner to get it for free.
Even if not, it should be really cheap.
Most books at thrift stores are under $5, with many just $1 or $2.
Religious People Who Visit Your Home
Have you ever had religious groups or individuals show up at your home to talk to you about God?
Sometimes they'll offer to give away a Bible if you're interested in learning about religion.
Jehovah's Witnesses, for example, sometimes do this.
If they don't have any Bibles to give away, you can express your interest in having one. It's possible that they can get one for you.
How to Get a Free Study Bible by Mail or Online
Every Christian should be able to access free Christian literature so that they can continue learning about God and His teachings.
That's exactly why the above organizations offer Bibles for free, either by mail or online.
They want to help as many people learn about God as possible.
If you know of anywhere else where you can get a free Bible, let us know in the comments below.
Related Posts:
Earn Everything… nearly!
Join Ipsos iSay, one of the few Faithful and Honest survey panels and earn prizes, gift cards and donations. Stack your points and redeem them: Simple! No hidden fees and completely free!