25 Ways to Get Free LEGO Sets Locally or by Mail
Updated on: by Amy Kennedy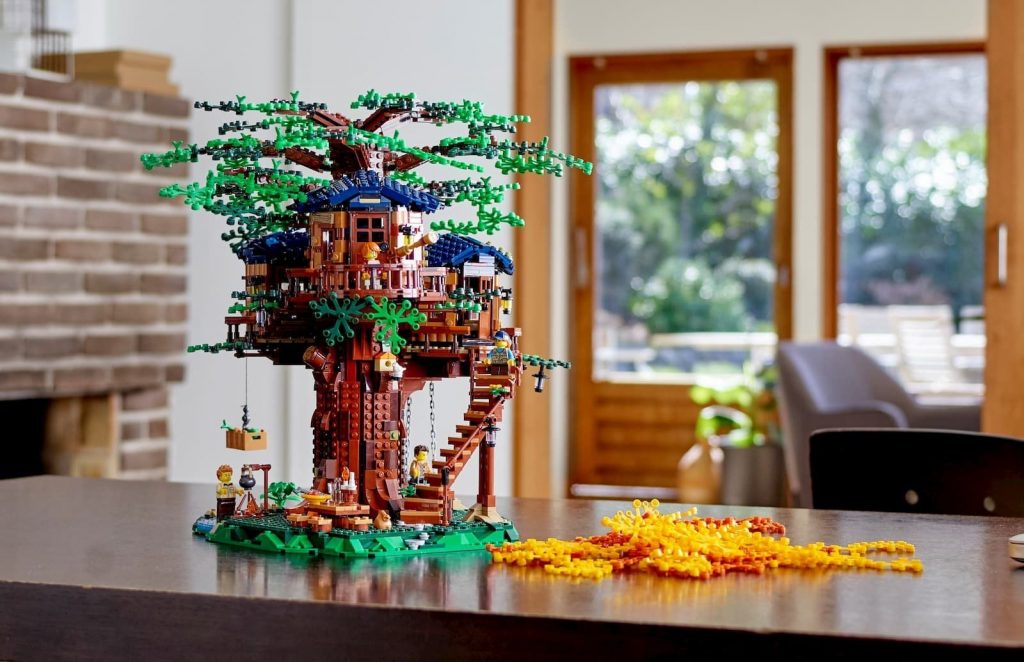 I can't think of a single kid who doesn't love to play with LEGO.
Need Easy Extra $350+/Month For Free?
In fact, I also don't know any adults who don't love piecing together bricks to create something totally unique!
There's just something about LEGO, one of the most popular toys of all time, that continues to stand the test of time and be loved by all generations.
With new sets and minifigures being released every year, LEGO knows how to keep its fans happy and keep creating stuff that everyone loves.
With that said, LEGO sets can be expensive (although totally worth their price tag for the endless number of hours you can spend enjoying them).
For people or families on limited budgets, buying new LEGO sets doesn't always fit into the equation.
That's exactly why I dug around to find 23 legitimate ways that you can get free (or virtually free) brand-new LEGO pieces and sets!
Everyone should be able to enjoy playing with LEGO.
How to Get Free LEGOs Online, Locally, or by Mail
Ready to score some new LEGO to add to your collection? Here's how to do it:
Visit a Local LEGO Store
Your first stop should be a LEGO Store if you have one nearby.
Not only are these places treasure troves for people who love LEGO, they're also great places to get free LEGO if you're lucky.
LEGO Stores host occasional events during which they give out prizes to people who visit.
Some host LEGO building contests, too, where you can win free LEGO pieces or sets.
Many LEGO stores also host free events for kids to come build together and walk away with a free mini build set.
Call ahead and see what your local store has going on for upcoming events!
The LEGO website lets you become a VIP member to get access to exclusive deals, events, and rewards.
Need Easy Extra Cash?
Pinecone Research, a leading name in online survey panel honesty, absolutely guarantees $3 cash for every survey you complete!
Take advantage of their time limited New Membership drive and register NOW. Join today: 100% free!


If you're a true LEGO fan, then you won't want to pass this up, because it's absolutely free to join.
Once you're a member, you'll get exclusive deals and discounts, members-only gifts, VIP-only specials, and early access to some LEGO sets and releases.
You'll also get reward points for every purchase you make with LEGO, which you can save up to get free stuff from the company!
Find Free and Discounted Stuff on the Website
Bookmark the Offers page on the LEGO website to go straight to some of its best deals.
The company will use this page to let you know about offers for discounted minifigs, sets, and more.
But you'll also learn about free stuff you can get when you make a purchase, which LEGO offers once in a while, especially near the holidays.
For example, a holiday deal for 2020 allowed buyers to get a free ice skating rink playset with a purchase of $150 or more, which is easy to do when you're holiday shopping!
LEGO has gift cards you can buy that are good to use on the LEGO website or in LEGO Stores.
If you really want LEGO sets and prefer to pick them out for yourself, you could ask people who want gift ideas for a birthday or holiday to buy gift cards for you.
They're available in physical and electronic gift cards, so your friends and family can even send them to you quickly through email.
Use the Wish List section of the LEGO website to start your own LEGO wish list of stuff you want.
You can add to it as you find new stuff from LEGO you want to add to your collection.
Just point people in its direction (you'll get a link to share with others) when it's time for gifts for your birthday, Christmas, etc.
They can buy straight from your wish list, so you'll always end up getting something you want.
Get Free Replacement Parts from LEGO
LEGO makes it easy to get replacements for LEGO pieces you were missing in a set by having a section of its website dedicated to getting you the parts you need.
Go to the customer service area and click the Missing Bricks or Broken Bricks buttons depending on which one applies to you.
Fill out the quick form with your information and some information about the set you're referring to, and LEGO will send you what was missing or broken for free.
Head to a LEGO Store in Costume on Halloween
According to this TIME article, you can visit a LEGO Store on Halloween – dressed up in full costume, of course – and get free candy and a LEGO keychain (although what they're giving out may change from year to year).
Who knows – you could even end up with a free minifig or a small building set just for stopping in!
I suggest calling your local store first to make sure it's participating.
Keep an Eye on LEGO Giveaways and Contests
LEGO's website sometimes runs special giveaways and contests for visitors to win free LEGO.
You might also find stuff like this in physical LEGO Stores, which sometimes host LEGO building contests for fans to win prizes.
Lastly, search for LEGO-focused blogs.
Many of them run occasional giveaways of LEGO sets for their visitors and fans.
Look for the LEGO Truck
I had no idea this was a thing, but apparently, there's a LEGO truck that goes around and drops off free LEGO to children in certain areas.
One was going around Houston, for example, to promote a new LEGO Store opening in a local mall.
I'm not sure how you'd find out if a LEGO truck was going to be in your area, but I assume something like this would be announced in the LEGO email newsletter if one will be coming to a spot near you.
You can sign up on the LEGO website.
Get Free LEGO Braille Blocks
LEGO has new Braille blocks that it's giving out to schools and other educational institutions for students who use Braille.
Earn Everything… nearly!
Join Opinion Outpost, one of the few faithful and honest survey panels and earn cash and gift cards for your opinion. Stack your points and redeem them: Simple! No hidden fees and completely free!


Currently, the company gives these for free in select countries to qualifying institutions.
You can learn more about LEGO partners in your country that can help you get the blocks by visiting this page.
Get LEGO Sets in the Mail for Cheap Prices
This isn't technically free, but it's a good way to spend a lot less on brand-new LEGO kits.
NetBricks is a rental service for LEGO, giving you a new set bi-monthly, monthly, or up to three times per month, depending on the subscription you choose.
The service can save you as much as 80% off retail prices of LEGO, so it's worth it if you love using them but don't usually build a set more than once.
With the Unlimited plan, you'll get up to 3 sets per month (send one back and get another one), and it costs just $69/month to get XL sets, like those with 1,000 or more pieces!
Keep an Eye on LEGO Black Friday Deals
Around Black Friday (the Friday right after Thanksgiving in the United States) each year, LEGO is known to put out some special deals that usually feature a free gift with a qualifying purchase.
If you're a LEGO newsletter subscriber or VIP member, you probably get news for these deals sent to your email.
If not, subscribe!
You can also visit the website on Black Friday to see what is available.
Review LEGO Sets on Your Website or Social Media Channels
Start reviewing LEGO sets that you already have on your website or social media channels, and you just might catch the attention of LEGO.
If you grow a large enough audience that comes to you for your reviews, you might consider reaching out to LEGO's PR team to see if there are any review opportunities available for a free set that you can review and feature.
Become a LEGO Blogger
Talk about LEGO all the time on your blog, grow your audience, and you never know what might happen.
You could end up with a LEGO sponsorship or special deals from LEGO to share with your followers and enjoy for yourself.
As someone who blogs about LEGO, you might also get opportunities for free product giveaways, and might even score some free stuff for yourself.
And, as you grow your blog, you can try to make money with it through advertisements, affiliate links, and other monetization strategies, which means more money to buy more LEGO!
LEGO has an affiliate program through which you can earn money by promoting LEGO sets and products.
This is a good program to join if you have a website about LEGO, post about LEGO on social media, or blog about LEGO.
The affiliate program is set up through Linkshare.
Sign Up for Newsletters of Stores That Sell LEGO
Plenty of stores sell LEGO products, like Walmart, Kohl's, and Sam's Club.
Sign up for the email newsletters of stores you shop frequently to get updates when LEGO products go on sale.
Many stores will email you their upcoming circulars to browse for LEGO deals.
Join Reddit
Reddit has so much information for just about anything you could possibly want to learn and finding out how to save money on LEGO is something it caters to also.
Join subreddits like r/legodeal and r/legodeals to learn which stores are having LEGO specials or where you can go to get free or discounted sets.
Visit a Bricks & Minifigs Stores
Bricks & Minifigs is a physical store that has locations across the United States.
Head to the website to find one near you.
These stores allow you to buy, sell, and trade your LEGO, so you can always swap what you have for something else for free.
Find Free Sets on Craigslist, Facebook, or Selling Apps
Head to your favorite selling sites, like Facebook Marketplace or Craigslist, or apps like Letgo or OfferUp, to see if there are any LEGO sets in your area selling for free or cheap.
If you're a member of buying and selling Facebook Groups, you may be able to ask other members if anyone is giving away LEGO sets for free (just check the rules of the group first).
On Craigslist, browse the Free section.
Toys N Bricks should definitely be on your list of LEGO-related websites to follow if you want to learn what sets are on sale and how to save money on LEGO.
The site also features giveaways, contests, sweepstakes, and other ways you can get LEGO for free, including specials from LEGO with free stuff along with a qualifying purchase.
Brothers Brick is another awesome LEGO-focused site that's all about LEGO news, tips, and more.
I especially love its Gift with Purchase section that directs you to all of its posts about free gifts you can get when you make a qualifying LEGO purchase.
It's an easy way to see what deals are available and how to save on brand-new LEGO sets and minifigs.
Join Reward Sites
Reward sites like TopCashback, Swagbucks, and InboxDollars feature offers that you can complete to get free stuff.
Sometimes, you might find offers for free LEGO samples, so it's worth signing up with a few reward sites and keeping an eye on their offer pages.
Use the sites for other stuff, too!
The more you use them, the more rewards you can rack up to get free cash and gift cards to help you buy more LEGO without spending money out of pocket.
BrickLink is like an eBay for LEGO sets and minifigures, so it's an excellent place to keep an eye on if you're looking for discounted or next-to-nothing sets.
You can even sell your sets or upload your full LEGO inventory if you're ready to part ways with what you have.
Then, use the money you get to buy brand-new sets from the site. It's almost like getting new LEGO for free!
Participate in LEGO User Groups (LUGs)
LEGO User Groups (LUGs) are communities of LEGO enthusiasts who come together to share their love for LEGO.
These groups often organize meetings, events, and exhibitions where members can showcase their creations and participate in collaborative builds.
By joining a LUG, you can connect with fellow LEGO fans who might be willing to give away or trade LEGO sets and pieces.
LUG members often have surplus LEGO elements or sets they are willing to share with others. Participating in LUG activities and engaging with the community can increase your chances of receiving free LEGOs.
To find a LUG near you, you can visit the LEGO User Groups website.
Enter LEGO Giveaways and Sweepstakes
LEGO occasionally runs giveaways and sweepstakes on its website, social media channels, and in partnership with other organizations.
These giveaways provide an opportunity to win free LEGO sets, minifigures, or other LEGO-related prizes.
Keep an eye on the LEGO website and follow their official social media accounts to stay updated on any ongoing giveaways.
Additionally, search for LEGO-focused blogs, YouTube channels, and social media accounts that host their own LEGO giveaways. Participating in these giveaways can increase your chances of receiving free LEGOs.
How to Get Free LEGO Sets
How incredible are all these ways to get free LEGO sets?
LEGO itself offers several ways for you to save on LEGO pieces and sets through its physical stores and online store with sales, contests, special events, and more.
But I've also highlighted other websites and tips that can help you get free LEGO to boost your collection.
If you know of any tricks I missed, please leave a comment down below. Your fellow LEGO enthusiasts will appreciate it!
Related Posts:
Earn Everything… nearly!
Join Ipsos iSay, one of the few Faithful and Honest survey panels and earn prizes, gift cards and donations. Stack your points and redeem them: Simple! No hidden fees and completely free!