Top 18 Ways to Get Free Shoes from Your Favorite Companies
Updated on: by Amy Kennedy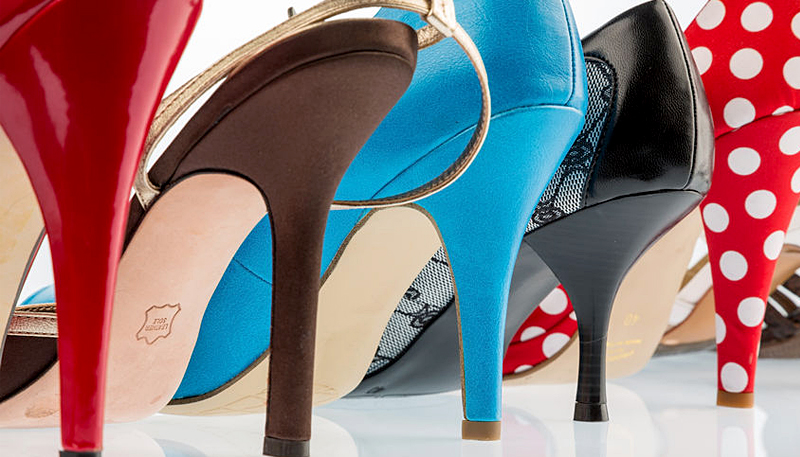 You might see a lot of bloggers writing reviews on products that they get to test for free.
Need Easy Extra $350+/Month For Free?
Usually, companies give them products in exchange for their honest opinions on their blogs.
It works out well for both parties.
The blogger gets free stuff and the company gets valuable feedback and some advertising!
Shoe product testing works a little differently, though.
Many big shoe brands offer product testing programs to their customers, but more as a way to evaluate how well their shoes are performing on real people rather than as a form of advertising.
As a shoe tester, you won't have to review the shoes on social media or a blog, but will instead need to fill out some information about the shoes you wear that goes directly back to the company.
Here's more information about shoe testing and how it all works.
How Do Shoe Tester Jobs Work?
So, you want to test shoes for free? Who doesn't!
You can get free pairs of shoes from some of your favorite shoe companies.
But, this type of testing job works a bit differently than others.
With some review-type programs, you get to keep the items you get.
But, as a shoe tester, you're usually required to send the shoes back once you wear them for a specific length of time.
Why?
Because that's how the company evaluates the wear and tear on your shoes!
You'll need to qualify to be a tester for most companies, depending on how long you plan to wear your shoes each day and what types of activities you do (running, walking, sports, etc.).
Need Easy Extra Cash?
Pinecone Research, a leading name in online survey panel honesty, absolutely guarantees $3 cash for every survey you complete!
Take advantage of their time limited New Membership drive and register NOW. Join today: 100% free!


The company will use this information to match you with opportunities for new products that meet your needs.
You wear the shoes you're sent for a length of time determined by the company, which is usually several weeks.
After that, you'll complete information about the shoes that includes your thoughts and suggestions for improvement.
The company will then examine your shoes to see where the most wear and tear is to figure out what they may be able to improve on.
So, you wearing the shoes has the potential to impact future designs!
By examining where most people end up wearing out their shoes the fastest, the companies can make tweaks and improvements to keep them lasting longer.
All shoe testing programs work a little differently, so this is just a general overview.
Some of them may offer free shoes to keep depending on their needs at the time.
Still, if you get offers for testing opportunities frequently from these companies, you'll basically always have free shoes to wear!
A Note About Adidas Product Testing
I wanted to first talk about Adidas testing.
Since this is such a popular brand of shoes, one of the questions we get asked is, "Does Adidas have a product testing program?".
From what I've found, the answer is no.
From a little digging, I did find something that seemed legit at first glance, known as ProductTesting.
This site claims to send free, high-price items for consumers to test, all for free.
Adidas shoes is one of the products you can supposedly get.
But, after doing some research into this company, I wouldn't recommend it.
I can't say that it's a scam because some people have received items from it as promised.
But, I wouldn't feel comfortable giving my personal information to this company.
Most reviews by people who have signed up have said that they've gotten several spammy emails, texts, and calls after giving out their information and never got the item they originally wanted.
Adidas doesn't have its own product testing program as of the date of this article, and it doesn't seem that ProductTesting is a safe alternative to recommend.
Fortunately, there are a few other brands that do have their own programs, so you can be sure your information is safe!
ASICS Roadtest and FrontRunner
The ASICS testing programs are currently available in New Zealand  as the Roadtest program and the United Kingdom as the FrontRunner program.
The New Zealand program seems to be under some reconstruction at the moment, but its website states that it's coming soon.
To be a tester for the FrontRunner program, you'll need to be a runner.
ASICS wants frequent runners to test out their running shoes and provide feedback.
You'll also need to spend some free time in running shoes and go places with them so you'll have the opportunity to talk to others about your ASICS shoes!
The program doesn't always accept new members, but you can sign up for emails to alert you to new openings.
Once you become a member, you'll be in the program for a year.
And, as a member, you're basically an ASICS ambassador who gets to test out new shoes, share them with your social media followers, and have the chance to be featured on the ASICS website and other publications!
Earn Everything… nearly!
Join Opinion Outpost, one of the few faithful and honest survey panels and earn cash and gift cards for your opinion. Stack your points and redeem them: Simple! No hidden fees and completely free!


The Brooks Wear Test Program gives you a chance to try out new Brooks shoes for a while before Brooks evaluates them.
You must be at least 18 years old to enter the program and live in the continental United States.
You also have to agree not to share any information or photos of the shoes you receive, because they usually aren't released to the public yet since you'll be a part of the testing phase.
This company looks mostly for active people who will be using the shoes for the majority of the day.
Runners and athletes may have an easier time qualifying for the program.
Brooks pays for shipping the shoes to you and for you to send them back.
In most cases, you'll wear the shoes for 90 days before having to send them back to give you plenty of time to test them out.
United States residents who are active in outdoor activities and sports can apply to become a part of Columbia's testing team.
You'll test the fit, style, feel, and durability of shoes throughout the testing process.
Columbia tests various types of shoes throughout the year, like running shoes and hiking boots.
You'll receive invitations for programs you're a good match for via your email.
You can choose to either accept or deny the program and denying participation won't harm your chance to participate in future programs.
Columbia offers on-site testing that will only be for a day, but it also has long-term testing for two weeks to two months where it will ship shoes to you.
You'll complete a log that asks you about your thoughts on wearing the shoes.
There will also be a mandatory online survey at the end of the program for you to fill out.
At the end of the testing period, you can ship your shoes back to Columbia with the prepaid shipping it sends you, so the company can check out the durability and wear of the shoes.
Columbia also has an apparel testing program that you can apply for using the same application.
New Balance created a brand-new wear test program that's still accepting applicants.
Once you sign up, you won't be guaranteed a pair of shoes, but New Balance will notify you when your profile matches well with one of their upcoming shoe tests.
You can choose to participate or not, which makes it a great program for those who want to pick what pairs they get.
This program also gives you a lot of opportunities to provide feedback through your Product Testing account.
Answer questions and give your thoughts related to how your shoes felt through the testing process, how they stood up to wear and tear, and more.
Tests for this program usually take between 4 and 6 weeks and you'll be eligible for more tests if you follow all rules and give excellent, detailed feedback each time.
You must be at least 18 years old and live in the continental United States to be a member.
And, you can even sign up your kids for the Junior Tester program!
Your child must wear between infant size 3 and grade school size 6 to be eligible.
Want to get free Nike samples of shoes?
You can sign up for the Voice of the Athlete program, which is Nike's product testing program.
The sign-up process is pretty in-depth for this program because Nike looks specifically for people who run or are active in some other way.
You'll need to provide information about the type of running or exercise you do, how often, etc.
Once you become a member, you'll get sent invites to new testing opportunities that you match with.
If you accept, Nike will send you the shoes for free.
You'll test them for a few weeks and then send them back to Nike for free so the company can evaluate your wear and tear on the shoes.
Nike even allows kids to join in the fun, but parents will need to sign up for them.
If you live near one of the Nike testing locations, you can apply to be an on-site tester, but most people choose to be an at-home tester.
Red Wing Shoes makes work boots and shoes that are durable, safe, and long-lasting for heavy duty work.
As a product tester for Red Wing Shoes, you'll get to test out some of its shoes first hand!
Red Wing Shoes pays for all costs to send the shoes to you and for you to send them back.
And, the website for the program even says that you'll get compensated for doing a good job throughout the test, and may even get to keep your boots!
The main thing this company wants is your feedback while you wear them. The more detailed and helpful, the better.
However, there are some restrictions with this program.
It only accepts people who wear certain shoe sizes.
For women, that's 8M and 10M, and for men, that's 9M, 11M, and 13M, since these are the only sizes they test with.
And, you also must live within 60 miles of the Minneapolis and St. Paul, Minnesota area.
Reebok testing is similar to other programs in that you'll test the shoes you're given for about 3 to 6 weeks and then have to send them back.
Specifically, Reebok looks for athletes – runners, football players, bodybuilders, etc.
As long as you can be considered an athlete, you may qualify for the program.
You also must be at least 18 years old to apply and be a resident of the continental United States.
You'll need to keep detailed logs of everything you do in the shoes as you wear them and you'll be required to wear them for a minimum number of hours each week.
You also can't share anything about your products on social media, blogs, etc.
Reebok says that you'll get compensated with a free Reebok product as a thank you after completing a successful testing trial.
Saucony makes several types of shoes for both men and women, from athletic to casual.
It also has a testing program that you can apply for on its website.
The application will ask you about the types of activities you do daily, if you participate in any races, and what brands you typically wear.
The company, like others, does tend to want people who are very active, especially those who run regularly.
Under Armour, a popular athletics brand of shoes and apparel, accepts both adults and children (with a parent signup) to its Field Testing program.
Under Armour typically accepts those who can be considered athletes to test both shoes and apparel.
And, it accepts people from countries other than the United States, although it doesn't specifically state which ones are okay.
When you qualify for a test, you'll get an email from Under Armour.
You can choose to participate or not by logging into your portal and accepting or declining.
Like most of the other programs, you'll test the product for a few weeks and provide your detailed thoughts and suggestions before sending it back to Under Armour for free.
Other Ways to Get Free Shoes
If the product testing companies aren't quite what you're looking for, then check out the other ideas below.
They're also great ways to potentially get free shoes from your favorite companies!
Get Really Good at a Sport
Let's start with the kind of far-fetched, but still possible, one.
Athletes can get sponsored by athletic wear companies, including shoes.
Take Air Jordans, for example.
The line is based on the incredible basketball player, Michael Jordan, but made for Nike.
Even if you're not as huge of a star as Michael Jordan, that doesn't mean you can't get a sponsorship.
There have been high school and college sports players who've been able to get sponsored by some of the biggest names in the business.
So, if you do any sort of sport that requires special shoes (most do!), and keep working at it, then there's always a chance that you could get free shoes from a company that makes them for your sport.
You'll, of course, have to get on the company's radar first.
If you're feeling lucky, you could always pitch to a company directly, telling them about your accomplishments in your sport and how you'll make their shoes stand out on the field (or court, or wherever you play and train).
Be Honest with Companies
Most companies want to hear your real opinions about their products and services.
That's why it's usually easy to find contact information on company websites with several different ways to get a hold of the company.
When you're honest with businesses about your experiences – whether they're good or bad – you help that company continue to do better.
In most cases, those businesses will reward you with some type of incentive for taking the time out of your day to tell them your thoughts.
Have you recently bought a pair of shoes that you loved or didn't love?
Reach out to the company!
There's no guarantee that you'll get something for free, but there's a chance you could get a coupon, gift card, or even a free pair of shoes for your time.
You just never know, so it's worth a try.
Be sure not to ask for anything free when you do contact the company, though.
Remember that your main point is to let the company know what you thought – anything else is a bonus!
Start a Shoe Blog
Blogs – especially those with a specific niche – can be excellent forms of online income when you start building an audience large enough to make money from.
Your shoe blog can focus on everything having to do with shoes and feet, like finding the right size shoe or styling shoes with different outfits.
Or, you can go a little broader with it and create a fashion blog or athletic blog with shoes as a sub-topic.
Once you start getting traffic to your blog, you might be able to reach out to shoe brands for product reviews, sponsored posts, and other types of content where you could get free shoes from the companies.
At this point, your blog should also start making you money, which gives you more income to spend on the shoes you love.
It's a win-win!
Become a Social Media Influencer
Going along with the blogging thing, you can also beef up your social media accounts to display your love of shoes.
In fact, this is a necessary step to take if you want a blog that succeeds.
Your social media accounts can pull in people from all over the world to get more traffic to your blog.
However, social media can also stand out on its own as a form of income.
Just look at the many Instagram influencers who get paid to post photos on their Instagram accounts of products and services they love.
That could be you too.
If you don't want to start a blog, you could set up shoe-focused social media accounts.
Start posting about shoes you already own and brands you love to build up your accounts and get more followers.
Eventually, with consistent posting, you might become enough of an influencer that you get noticed by shoe brands that want to work with you!
Try Affiliate Marketing
Whether you want to stick with a blog, social media, or both, affiliate marketing can work for you to make money and get free products.
Affiliate networks like Share-A-Sale and Commission Junction partner with companies in a variety of industries, including shoes and apparel.
When you promote these brands on your blog or social media accounts, you'll get a commission or flat fee when someone uses your links to purchase their products or services.
All programs are different, but many brands have some big incentives for their top promoters.
In some cases, you might get bonuses for hitting a certain number of sales.
Other brands are willing to ship free products to high-performing influencers for review or as a "thank you" for bringing in more business.
Either way, it's a great way to get some extra income and get friendly with your favorite shoe brands at the same time.
Join Influencer Networks
Influencer networks are sites that match top influencers (bloggers or social media influencers) with brands who want to work with them.
They have a lot of the same perks as affiliate marketing, like connecting to your favorite brands, getting free products, and getting paid for promotions.
Some influencer networks work with shoe brands for sponsored post campaigns.
There's no guarantee that these types of campaigns will always be available, but you can join some networks and browse their offerings once in a while to see what's new.
There are a lot of influencer networks out there, but these are especially good for fashion influencers who want to work with shoe brands:
Activate is an influencer network by Bloglovin', a company that helps bloggers find and collaborate with each other.
Activate has campaigns in a variety of industries, but sometimes offers campaigns for fashion and beauty products, so it's possible that you can work with shoe brands here.
Some campaigns have set prices, while others allow influencers to set their own quotes based on the scope of the project.
Some brands send out free products, some compensate you with cash, and others do both!
So, you could end up with a brand-new free pair of shoes plus money to promote them on your blog and social media channels.
Beauty and fashion influencers can make a name for themselves on iFabbo, a network that comes from Sway Group, which is responsible for The Sway, another network on this list.
iFabbo is specifically for beauty and fashion influencers, though, so you can be sure that any brands searching for influencers are in those industries.
Each campaign is targeted to fit seamlessly in your niche, so it should never feel like you're being dishonest to your target audience.
Most campaigns on iFabbo pay very well for your time and work, and many of them also give free products for you to review.
Style Coalition comes from LaunchMetrics and helps brands create custom branded content through the use of influencers just like you.
Influencers must have engaged audiences and use a consistent, unique voice for their content.
This network does require a minimum reach of 100,000 followers spread across your blog and social media channels, so get those numbers up before you apply.
Most of the campaigns here are fashion and beauty related, but there are also some food and other lifestyle brands that work with the network.
In addition to paid campaigns and free products for review, you can set yourself up with ads and other forms of monetization to make more money with your shoe-related blog.
Style Collective is more than just an influencer network, but it is one of those too.
It's also a great place for influencers to learn more about their craft and how to work with brands to develop engaging content.
Utilizing its resources, you might learn more ways to work with your favorite shoe brands and possibly get a continuous source of new shoes for free.
As an influencer with Style Collective, you'll have access to the Education Library with tons of helpful resources.
You can also work directly with more than 100 partnered fashion-related brands for product reviews, sponsored campaigns, and more.
Brands can even seek you out directly with your profile on the site!
The Sway is the owner of iFabbo.
This influencer network has been around for years and has a variety of (mostly) women-focused campaigns.
Although many of its fashion-related campaigns go to iFabbo, not all of them do.
And, as a member of The Sway, you can also have access to iFabbo's campaigns.
The Sway hosts a pool of over 100,000 influencers, so it's true that campaigns are very selective.
You must apply to the ones you're interested in, and usually, it's only top influencers with large audiences that get accepted.
Don't get discouraged, though, because there are always new campaigns popping up that might be perfect for you and your audience.
Each application gives you a space to explain why you're perfect for the gig, and if you niche down to shoes, you might be one of the best fits for any shoe-focused campaigns.
Pitch Directly to Shoe Brands
Pitching to your favorite shoe brands can be scary.
But it can also be one of the best ways to ensure you work with brands you love and get the shoes you want!
Once you start building your audience to where you're getting steady traffic and getting decent engagement on social media, you should have enough going for you to convince some brands to work with you on sponsorships.
That could include FREE shoes in exchange for reviews or sponsored posts!
Enter Giveaways
If nothing else works (or you don't have the time to start your own blog – after all, it is like a full-time job!), then why not enter blog giveaways?
Bloggers are always giving away stuff from brands they work with, and that includes shoe companies.
You can browse databases like Giveaway Monkey and Just Sweep to find current giveaways in almost any niche.
Conclusion: How to Get Free Shoes from Your Favorite Companies
In most cases, you don't get to keep your free shoes forever when you sign up for a product testing program.
But, if you're a member of a few different programs, you may qualify for several tests that can keep you in new shoes all year!
Just be sure to uphold your end of the agreement by wearing the shoes you need to test for the full length of time.
In other words, don't schedule yourself for more than one test during any period, or you may not be able to fulfill your obligations.
Have fun with your new shoes!
Do you know of any other shoe testing programs that we missed?
Please let us know in a comment below!
Related Posts:
Earn Everything… nearly!
Join Ipsos iSay, one of the few Faithful and Honest survey panels and earn prizes, gift cards and donations. Stack your points and redeem them: Simple! No hidden fees and completely free!