How to Live Rent Free: 16 Legit Ways to Save Money on Rent
Updated on: by Amy Kennedy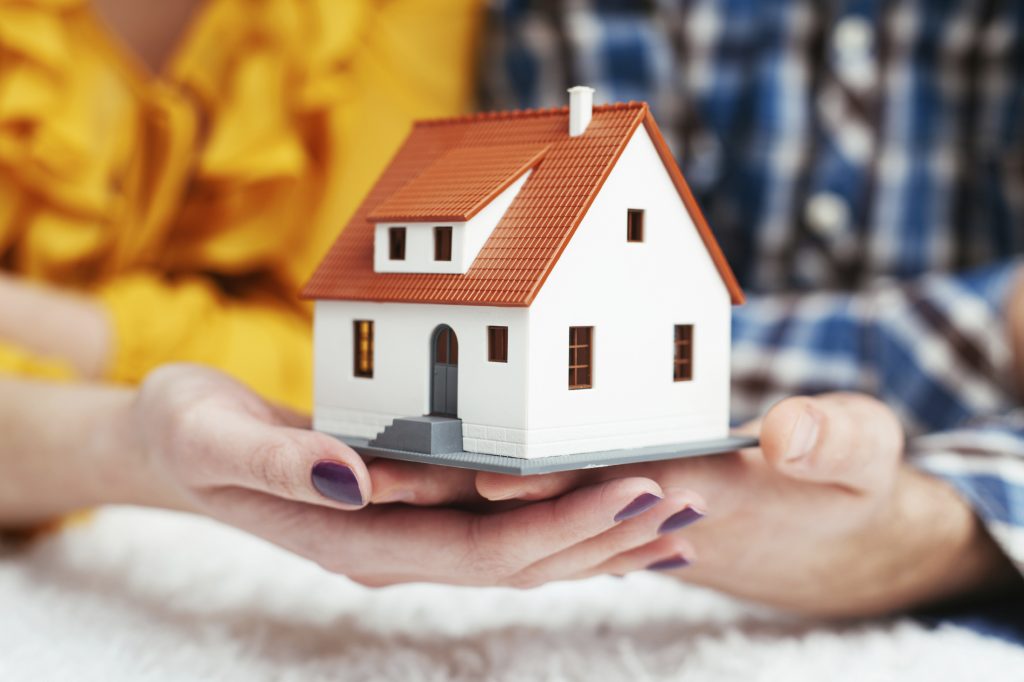 How great does it sound to have options that would let you live rent free for a year or longer?
Need Easy Extra $350+/Month For Free?
Rent is, after all, one of the biggest expenses you'll have.
It can even cost more each month than owning a home!
Fortunately, there are some ways that you might be able to live rent free so you can start saving money ASAP.
These ideas might even help you save enough money to own a home one day, if that's something that's in your future goals.
Or, use your savings toward one of your other goals, like paying for college without going into debt or saving money for your retirement.
Whatever the goal, living rent-free can certainly help you attain it.
Where Can I Live for Free?
The benefits of living rent-free are virtually endless.
But I do want to share some advice before you get too far in your quest for rent-free living.
Whether you're paying rent or not, it's always a good idea to get renters' insurance.
This insurance protects your belongings in the case of personal property loss (like from a flood or fire) and covers costs you'd need to pay if your place becomes uninhabitable.
This is an extra cost you'd need to spend each month, but it's worth every penny to make sure your stuff stays protected in an unwelcome event.
Also, whatever deal you make with another person to live rent-free, make sure you uphold your end of the bargain.
If you promised work, extra chores, or some kind of other benefits, follow through with your promise.
If you don't, you'll not only lose your chance to continue living rent-free, but you could also burn some important bridges in the process, which can make it difficult for you to find a similar living situation in the future.
Now, let's get onto the different ways you can potentially live without paying rent:
Need Easy Extra Cash?
Pinecone Research, a leading name in online survey panel honesty, absolutely guarantees $3 cash for every survey you complete!
Take advantage of their time limited New Membership drive and register NOW. Join today: 100% free!


The Cheapest Way to Live: Bunk Up with Relatives
First things first – and perhaps, the most obvious way to live rent-free – is to bunk up with your relatives or friends.
This could be a sibling, your parents, an aunt or uncle, a cousin, or whoever else in your family might not mind having another person in their household.
The thing is, not all relatives or friends are going to willingly let you live with them without you paying your way in some way.
It could be difficult to convince someone to let you live rent-free unless you're really in a bind financially.
Even if you do have a willing family member, you will probably still need to contribute something to the household to help.
That could be something like cooking meals for the household, doing all the cleaning, babysitting or pet-sitting, or buying groceries for the people in the house.
In other words, make sure you're repaying the favor of living rent-free and not taking advantage of it.
Not having to pay rent is a huge benefit to you, so it's only fair to give back to the person who's helping you out by contributing to the household in any way you can.
Even though the person is probably someone you're close with, it could still be a good idea to have a written contract in place to protect you both.
In it, outline everything that you're going to do in exchange for free rent. You can both sign it and save a copy for your own records.
Become a House Sitter
House sitting is an excellent way to live rent-free in someone else's home!
Being a full-time house sitter can provide you with all-year housing without having to pay rent or a mortgage.
As a house sitter, you'll spend time in another person's home, usually while they travel for business or vacation.
Some people need house sitters for a few days or weeks, while others may need them for months at a time, especially for vacation rentals.
The house owner will not only allow you, the house sitter, to stay in their home for free, but they'll also sometimes pay you some money in addition to your house sitting.
You may need to find a few clients each year to make sure you have a steady place to live in, so planning ahead really comes in handy for this gig.
Get Roommates
Finding roommates could help you get rid of your monthly rent costs.
Roommate situations aren't for everyone, but they can work to help you live without paying rent.
Say you have a rent payment of $1,000 per month, but you find two roommates who are willing to rent out rooms in your home for $500 per month.
Those payments can cover your rent cost completely.
However, you'll need to let your roommates know the plan because not everyone will be okay with paying their way while you live rent-free.
If you do decide to go this route, make sure you are contributing financially in some other way.
For example, you might offer to pay for all the utilities (trash, water, sewage, electric, etc.).
Or, you can cover the grocery bills each month.
Make it worth the while of your roommates by offering something you can do that's fair for everyone.
Sublet Your Apartment
Subletting your apartment is similar to finding roommates, but you could even sublet for more than what you pay in rent to give you extra every month!
With subletting, you'll basically rent out your rental, just like you would for a house you owned.
In turn, you can charge more for rent than what you pay, putting you in the plus zone.
Subletting isn't always allowed by landlords, so make sure it's something you go over with your landlord first before you do it.
Earn Everything… nearly!
Join Opinion Outpost, one of the few faithful and honest survey panels and earn cash and gift cards for your opinion. Stack your points and redeem them: Simple! No hidden fees and completely free!


And, realize that you'll need to manage the person you sublet to rather than your landlord, so you'll be on the hook for any damages or problems that arise.
If you plan to sublet, make sure you go through a full process of finding a good renter, so you don't get stuck with someone who doesn't keep up with cleaning or letting you know about repairs.
Find Income-Based Housing
Income-based housing can be a house or apartment where residents can get lowered or free rent.
It's not often that you find completely free income-based housing, but if your income is low enough, it's possible that you qualify for it.
You can always check with housing authorities in your area to see if any of this kind of housing is available.
You can also check with your local department of welfare to see if any programs are available for housing assistance.
Some areas offer vouchers for housing to help people pay their rent if they can't afford to make full payments.
If your income goes up, you may not be eligible, but these programs could help people who are in a temporary bind financially.
Rent Space on Airbnb
You could end up getting back what you pay in rent if you rent out space in your home to people on Airbnb who are looking to rent space in your area.
Airbnb is a helpful place for people to find places to rent while they're traveling or on vacation.
If you get a steady stream of people renting your space, you could end up lowering your rent bill or getting rid of it altogether.
Of course, you'll want to check with your landlord to make sure it's okay to do this, as some landlords may be hesitant to have another person in the space beside you.
Read More: Best Way to Pay Off Your Mortgage by Renting Extra Rooms in Your Home
Become a Nomad
Don't love paying rent?
Why not live in a cozy vehicle instead?
I'm not talking about living out of a tiny car.
But if you can afford to get a van that has spaces for sleeping, it could be an awesome opportunity for you to save on rent and travel while you're out it.
More and more people are choosing the nomad life to break out of the chains of traditional living and save money while seeing new places.
If you're more of an adventurist than a stay-in-one-spot type of person, then this could be right for you.
You can even set up a digital mailbox for yourself for a minimal fee to still be able to get mail without having a physical address.
Try Anytime Mailbox to do this!
Barter Your Services
Does your landlord need something that you can provide as badly as you need a rent-free space?
You might be able to barter for a trade.
Trade a service you can offer for the chance to have free rent.
For example, if the home or apartment you're in needs a lot of work, and you know how to make repairs, you might offer to fix things up in exchange for six months living rent-free.
You can also offer whatever other services you can provide, including providing repairs to the landlord's other tenants, doing his or her accounting or bookkeeping, or even creating a website for your landlord's business.
Enter the SpareRoom Rent-Free Contest
SpareRoom is a site that lets you post ads for rooms that you have for rent, kind of like a much smaller Airbnb.
The company also pays rent for people who win its contests!
Every month, one winner gets their rent paid for one month.
And every year, one super lucky winner gets their rent paid for the whole year.
It only takes seconds to enter by clicking the link above and registering with your email address or Facebook account.
Become a Live-In Nanny
If you have a love for kids and know how to take care of them, you could become a live-in nanny that not only gets to live in the home for free, but who also gets paid to help.
Live-in nannies may do more than just take care of kids, like provide transportation for the kids, make family meals, and help with homework.
A lot goes into the job, but you can also get a free place to live while spending time with kids you adore!
Work Exchange Programs
Work exchange programs, also known as cultural exchange programs, offer the opportunity to work in various capacities in exchange for accommodation and sometimes meals.
These programs allow individuals to immerse themselves in different cultures, learn new skills, and make meaningful connections.
Here are a few popular work exchange programs:
Worldpackers

: Worldpackers connects travelers with hosts worldwide who offer accommodation in exchange for volunteering in areas such as eco-projects, hostels, social impact organizations, and more.

HelpX

: HelpX provides a platform for hosts to offer food and accommodation to travelers in exchange for a few hours of work per day. Work opportunities range from organic farming to housekeeping, gardening, or animal care.

Workaway

: Workaway connects travelers with hosts in various countries who offer accommodation and meals in exchange for volunteering on projects such as organic farms, hostels, community development initiatives, or language teaching.
These programs often require a small membership fee to access host listings and may have additional guidelines or expectations outlined by hosts.
They provide an excellent opportunity to experience a new culture, contribute to meaningful projects, and reduce accommodation expenses while traveling.
Volunteer or Work on Organic Farms (WWOOF)
WWOOF (World Wide Opportunities on Organic Farms) is an international network that connects volunteers with organic farmers.
Volunteers work on the farm in exchange for accommodation, meals, and an opportunity to learn about organic farming practices.
Here's how WWOOF typically works:
WWOOF

: WWOOF operates in various countries worldwide and requires individuals to become members of the specific national organization of the country they wish to volunteer in. Membership grants access to the host listings and program details.
Volunteering on organic farms through WWOOF provides a unique opportunity to learn about sustainable farming practices, connect with nature, and live a simple, community-oriented lifestyle.
Each farm has its own requirements and expectations, so it's essential to communicate with hosts to understand the specific tasks involved and the duration of the commitment.
Become a Live-in Pet Sitter
If you enjoy the company of animals, becoming a live-in pet sitter can be a great way to save on rent while experiencing the joy of caring for pets.
Many pet owners seek trustworthy individuals to look after their furry friends while they are away.
Here's how you can get started:
TrustedHousesitters

: TrustedHousesitters is a platform that connects homeowners with pet sitters. As a live-in pet sitter, you stay in the homeowner's property and take care of their pets while they are traveling.

Rover

: Rover offers opportunities to pet sit in your local area, either at the pet owner's home or your own. While you may not live rent-free in your own home, you can earn money by providing pet care services.
Before becoming a live-in pet sitter, ensure you have the necessary experience and references to demonstrate your ability to care for animals responsibly.
Building a positive reputation as a reliable pet sitter can lead to more opportunities in the future.
Become a Campground Host
For nature enthusiasts and those who enjoy camping, becoming a campground host can provide a unique living arrangement where rent is often waived in exchange for managing the campground.
Campground hosts assist visitors, maintain facilities, and ensure the smooth operation of the site.
Here's how you can become a campground host:
National Park Service: The National Park Service operates a volunteer program where individuals can apply to become campground hosts in national parks. Each park may have specific requirements and expectations, so it's essential to research and apply to the specific park of interest.

State and Local Parks

: Many state and local parks also offer campground host opportunities. Research the parks in your desired location and check their websites for information on volunteer programs and campground host positions.
As a campground host, you'll have the chance to enjoy the beauty of nature, meet fellow outdoor enthusiasts, and play a vital role in providing a positive camping experience for visitors.
Work Abroad
If you are able to work internationally, you could end up with free housing as part of the job.
Missionaries, for example, often get free housing through their organizations to complete their missions abroad.
There are also many countries that pay teachers who come to teach English to students in those countries and offer them free housing as a benefit of the job.
The jobs even sometimes come with moving stipends to help you move to another country without having the bulk of the financial burden fall on you.
You can search GoAbroad for opportunities like these. Job search sites and Google searches can also yield results!
Buy a House Instead and Have Others Pay Rent
Finally, you can consider buying a house, becoming a landlord, and having others pay the rent for you.
Renting usually costs more than a mortgage because homeowners use rental costs to not just pay off their mortgage, but also give them a little extra money each month.
As a landlord, you can do the same.
Get a home that has a low mortgage payment, charge the tenant more than that cost, and you not only have your mortgage payment covered, but you'll also have extra that you can put toward your primary residence.
Of course, you'll only want to take advantage of this idea if you're in a good enough financial position to own a home.
Remember that owning a house comes with a lot of responsibilities beyond just the mortgage, including homeowner's insurance, property tax, and money for repairs and upgrades.
How to Live Rent Free
Have you ever lived rent-free?
It's not something you hear about often, but it definitely can become a reality for you if you try one of the ideas above to get free rent.
If you've ever lived rent-free using one of these ideas or another way, we'd love to hear about it below in the comments.
Related Posts:
Earn Everything… nearly!
Join Ipsos iSay, one of the few Faithful and Honest survey panels and earn prizes, gift cards and donations. Stack your points and redeem them: Simple! No hidden fees and completely free!