Best Way to Make Money with PayPal Donations: An Easy Guide for 2023
Updated on: by Amy Kennedy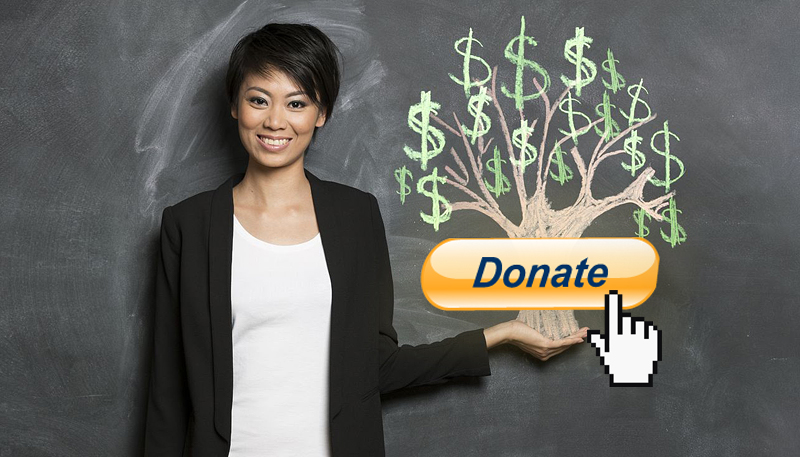 There is nothing wrong with asking for donations when you run a website or do something online that others enjoy.
Need Easy Extra $350+/Month For Free?
If you're getting several visitors to your site every day, they obviously love your content.
If they love it enough, they might be willing to help you keep your website on the web through donations.
But, I get it.
Asking for donations from complete strangers to keep your site running can seem a bit intimidating and needy, right?
Still, you may be surprised by how much of your audience loves what you do enough to donate, even if it's just a dollar or two here and there.
In fact, Wikipedia and its huge database of helpful information runs solely on visitors' donations alone!
Can you imagine a world without Wikipedia?
Although your site may not be Wikipedia-level, you have your own audience that your content means something to.
Every little bit helps when it comes to running a website, so I've put together this helpful guide for those who are considering adding a PayPal donation button to their sites to get some money toward their website costs.
Who and What is the PayPal Donate Button For?
Just about everyone has a PayPal account these days.
And if you don't, you're missing out on one of the quickest, easiest ways to get paid online.
It's secure, so you don't have to worry about strangers having access to your bank account numbers.
And it's lightning fast. Most payments go through instantly.
So, those who want to accept donations on their websites toward their running costs will likely find a PayPal donate button the easiest way to do so.
This handy little "button" is nothing more than a special code that you place on your site.
Need Easy Extra Cash?
Pinecone Research, a leading name in online survey panel honesty, absolutely guarantees $3 cash for every survey you complete!
Take advantage of their time limited New Membership drive and register NOW. Join today: 100% free!


The code creates an image that looks like a button. It also links directly to your PayPal account.
When someone clicks the button, they'll be taken to the PayPal website, where they can then choose how much they want to donate.
The money will transfer from their account to yours once they complete the process.
It'll all happen instantly, so you'll see the money in your account right away.
The PayPal donate button is most commonly used by website owners who run a not-for-profit website.
In other words, they aren't making money by selling products or services.
The websites that typically use the PayPal donate button are either educational, informational, or entertaining.
The website owners may have some ads or other forms of monetization on their sites, but donations can help cover the costs of web hosting and website upkeep.
A lot of website owners and bloggers love what they do, but they do it for free for the benefit of their audience.
The donate button can be the perfect way to allow others to help you out with costs, without feeling like you're pushing them to do so.
Using a PayPal Donate Button on Your Blog or Website
There are some other ways that you can use the PayPal donate button instead of your blog, which we'll talk about in a moment.
But, this is definitely how it's used most often.
You may have come across blogs that you read with a PayPal donate button.
It's usually located on the sidebar, but some bloggers place one at the end of each blog post or up near the top of the page.
Wherever you place it, you'll want to make sure it's in a spot where your readers will see it easily.
Are There Fees Involved?
It's important for me to add that, if you place a PayPal donate button on your site, you won't receive all of what's donated.
But, you'll get most of it.
Just like other PayPal transactions, there are some fees involves, but they're pretty low.
Your donations will all be subject to a 2.9% transaction fee, plus $0.30 for each transaction.
You won't have any monthly fees or hidden fees, though.
The only fees you need to worry about are ones taken from your transactions.
So, for a $100 donation, you'll have a $3.20 fee taken out, leaving you with $96.80.
For a $1 donation, you'll get to keep about $0.67. It obviously works out better with larger donations, but it is what it is.
On the bright side, you'll never have to pay to use the donate button.
Instead, it comes completely out of your donations.
But, remember that the money you receive, unless you're working for a nonprofit organization or charity, is tax deductible, so make sure you take that into account when figuring out your earnings.
How to Setup a PayPal Donate Button
Depending on what platform you use for your website, there are different ways you can add a PayPal donate button.
First, you can get the code yourself from PayPal and add it manually.
This is a good option for people who know basic code and know how to add code without bothering other parts of their website.
Earn Everything… nearly!
Join Opinion Outpost, one of the few faithful and honest survey panels and earn cash and gift cards for your opinion. Stack your points and redeem them: Simple! No hidden fees and completely free!


PayPal has a step-by-step guide for people who want to do it this way.
This option also lets you customize the size and appearance of your donate button so that it works well within your site's theme.
You can even add your own image to use for the button, rather than PayPal's default donate button.
If you use WordPress, you can use a PayPal donation button plugin to add the code automatically for you.
The plugin uses a shortcode so that you can quickly and easily add the button wherever you want it on your site, like in a sidebar widget or a blog post.
Getting Visitors to Donate
You have your button all set up and ready to go, but where do you go from there?
How do you entice your audience to donate?
Usually, just leaving a button marked "Donate" isn't going to make others want to donate.
You need to give them a reason to want to.
The best way to do that is by letting them know what their donation means to you and how it can help your site.
And, be creative about it!
For example, I've seen a couple of blogs say something like, "A cup of coffee a day helps me bring my informative posts to you! Can you spare some change?".
Something fun and witty is likely to get more attention than begging people for donations.
Take Wikipedia for example.
Every once in a while, the website will pop up a bar at the top when I visit that explains why Wikipedia needs donations to keep running.
It mentions that Wikipedia is dedicated to never having to run an ad on the site.
Therefore, it needs the help of donations so that it doesn't have to.
Then, it goes on to say that, "If everyone reading right now gave $3, our fundraiser would be done within an hour. That's right, the price of a cup of coffee is all we need."
Explaining why a donation can help and what your donators' money is going to can go a long way.
And, it always helps to let them know that huge donations aren't necessary.
Many people feel much more comfortable giving small amounts to people they don't know.
Where Else Can I Use the PayPal Donate Button?
If you don't have a website, don't worry.
You can still get donations through PayPal through other methods.
Are you a gamer with a vast following of people who love watching your gaming live streams?
Maybe you send out informative emails about getting started with photography.
Or, perhaps you create live Facebook crafting tutorials.
All of these things are helpful to your audience and you're missing out if you're not setting up a way for others to donate some money as a thank you for your time and free help.
YouTube
If you're gaining quite the following on YouTube, either by videoing your talents, vlogging your day, streaming your games, or whatever you love doing on YouTube, then you can place a PayPal donate link on your channel.
To do this, go to your PayPal account.
Click on Send & Request at the top of the page.
Then, click on "Get Your PayPal.Me Link".
If you don't yet have one, PayPal will offer you a few choices for what you want your link to be.
You can choose PayPal.me/YourName, for example, or choose something else.
Choose "Friends & Family" for donations (but you can always switch this later if you want to use your link for people who purchase goods and services from you.
Copy your link and head over to your Channel on YouTube.
Click on Customize Channel.
On your header, you'll see an "edit" icon. Click on it and then click Edit Links.
Then, you should be able to add whatever social media links you want.
You can also add your PayPal.me link along with "Donate" or whatever text you want for your donation link!
It might be a good idea to put in the comments of your videos that, if people would like to donate to keep your channel running, they can head to your channel page and grab your PayPal donation link to do so.
Email
You can also add the PayPal donate button in most email platforms that accept HTML codes.
To do this, go to the PayPal Create a Button page.
Go through the steps to create your button and customize it how you'd like it.
Then, click on Email and select the code.
Right-click to copy the code, and you can then paste it into your email.
I've seen people do this in their email signatures, too, so that it's always there and you won't have to continuously go back and get your code every time you send out an email.
If you use an email marketing program to send out email newsletters, check the help section to find out how to add HTML code into your emails.
Facebook
If you operate a Facebook page on which you provide helpful information, tutorials, etc., you may want to have a PayPal donation button set up simply so that people who enjoy your work can help give you a little cash for all the time you put into it.
To do this, again head to the PayPal donate button creation page.
Fix all the settings according to your needs and create your button.
Then, like you would for placing the code in an email, click on the Email tab and copy that code.
You can then paste that code as a status and your donate link will appear to your followers.
Alternatively, you can use your PayPal.me link pasted into a status, too, or create a custom image for your Facebook Cover that has the URL on it.
Just be careful when posting your donation link as a status, though.
You can potentially annoy your followers by asking for donations too often.
How Else Can I Get Donations?
If your other methods of getting donations aren't working for you, there's always another one to try that doesn't involve PayPal.
GoFundMe is a popular crowdfunding site that lets you raise funds for just about anything.
You can share the story of your website – or whatever it is you do – on your donation page and set up a fundraising goal.
A GoFundMe page can be shared on your social media channel, in emails, or on your website so you can get some attention for your cause.
Anyone who wants to donate can, even anonymous users who find out about your cause.
Be sure to detail why you're raising money and what specific things your donators' money will go toward so there's a level of trust there.
Also, a few updates go a long way.
To show others that you're credible and will use the funds appropriately, post some occasional updates letting donators know how grateful you are and what your plans are for the cash.
Your funds can go to your bank account or PayPal account, depending on what you choose when you set up your page.
Some More Ways!
Crowdfunding For Creative Projects
One popular way to raise money through PayPal donations is by using crowdfunding platforms.
These platforms allow individuals or groups to showcase their creative projects, such as films, music albums, art installations, or video games, and seek financial support from the public.
By creating a compelling campaign and sharing it with your network and online communities, you can encourage people to donate to your project via PayPal.
Platforms like Kickstarter and Indiegogo provide tools to showcase your project, set funding goals, and offer rewards to donors.
Use PayPal's crowdfunding tools to securely collect and manage donations.
Nonprofit Fundraising
PayPal donations are an excellent resource for nonprofit organizations to raise funds.
If you run or work for a charitable organization, you can leverage PayPal's donation features to collect money from individuals and corporations.
Create a dedicated donation page on your website, outlining your organization's mission and impact.
You can embed a PayPal donation button on your website to make it easy for visitors to contribute.
Additionally, promote your cause on social media platforms and through email campaigns, providing a direct link to your PayPal donation page.
Ensure you comply with any legal requirements for nonprofit fundraising in your jurisdiction.
Live Streaming And Content Creation
If you're a content creator, especially in the realms of gaming, vlogging, or live streaming, you can monetize your efforts through PayPal donations.
Platforms like Twitch and YouTube offer features that allow viewers to contribute directly to their favorite creators.
By enabling PayPal donations, you provide an additional way for your audience to support your work. Engage with your community, provide unique content, and offer special perks or shoutouts to those who donate.
Be transparent about how the donations will be used and express gratitude to your supporters, fostering a strong connection with your audience.
Conclusion: How to Make Money with PayPal Donations
Setting up the donation button for PayPal is simple.
Actually getting the funds may not be.
Usually, it's big bloggers and trending social media stars or YouTubers who are able to raise funds the easiest.
But, that doesn't mean it's not worth a shot.
You may have a very tight-knit following that loves what you do so much that people are willing to spare a few bucks to keep it going.
Don't be pushy, and instead let them know what your plans are for the donations and how they can help you keep doing what you're doing.
Do you use a PayPal donation button for anything?
Please let us know your experiences in a comment below!
Related Posts:
Earn Everything… nearly!
Join Ipsos iSay, one of the few Faithful and Honest survey panels and earn prizes, gift cards and donations. Stack your points and redeem them: Simple! No hidden fees and completely free!