30 Easy Ways to Earn Free PayPal Money Online (Without Surveys!)
Updated on: by Amy Kennedy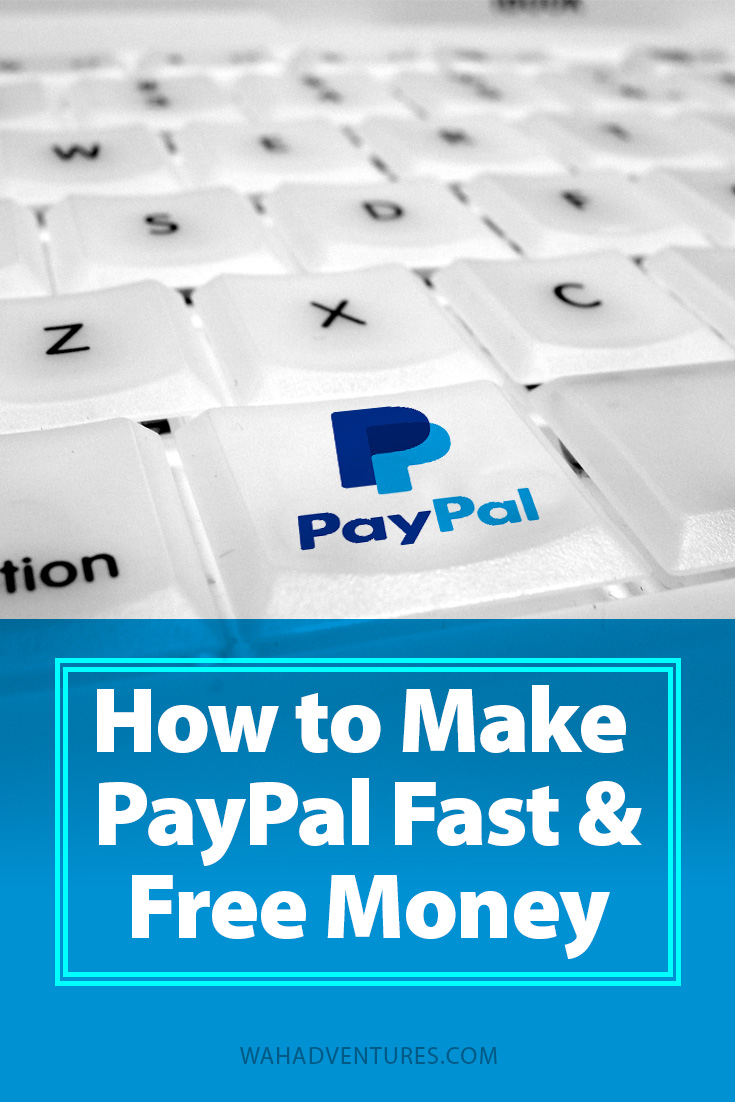 I get why you love using PayPal.
Need Easy Extra $350+/Month For Free?
It's easy, fast, and secure.
You can use it to get paid instantly from stuff you do online!
I use PayPal daily myself, both for my professional and personal use, so I know how convenient it is.
I'm all about helping others find ways to earn PayPal funds.
So many companies have caught on to how popular PayPal is, so to draw people into using their services, they add PayPal as a payment method.
Many think that you need to take a slew of surveys online to get quick PayPal cash.
Once upon a time, that may have been true.
But, not anymore!
Everyone can earn PayPal cash in what seems to be an infinite number of ways.
Listen to music online, sell stuff, tutor, play games, write or edit articles, and more.
Freelancers, especially, utilize PayPal to run their businesses and keep track of their clients' funds.
So, now it's your turn. I've rounded up some of the best ways for you to earn free PayPal cash online – no surveys involved!
How to Make Free PayPal Money Online!
Free PayPal Cash from Writing
I won't say it's necessarily easy to earn cash from writing online. But, it absolutely can be done (especially if you're a great writer!).
With professionals and businesses needing content for their websites, the number of writers needed for content keeps growing.
I mean, who doesn't have a website nowadays?
Need Easy Extra Cash?
Pinecone Research, a leading name in online survey panel honesty, absolutely guarantees $3 cash for every survey you complete!
Take advantage of their time limited New Membership drive and register NOW. Join today: 100% free!


And, not everyone has the time or skills to write their own content, so they outsource it to writers who do it for a living.
I've decided to hone in on writing for this post because, if you have the knack for it, it really is one of the best ways to make PayPal cash online.
Most clients will agree to use PayPal to pay you, since it's fast and secure for them, too.
There's no bank information involved, only e-mail addresses, to pay and get paid, so it keeps everyone's information safe.
Here's how you can get started.
How Do I Start Writing Online?
Writing isn't for everyone. If you don't love to write, then this definitely is not the job for you, because you'll be doing a lot of it!
You can choose to make a full-time income writing, or use it as more of a side hustle. It's possible to do either one and earn some decent income.
It's important to have at least a few samples of work under your belt that you can show potential clients.
If you've never written anything for a client yet but have a blog, your blog can act as your portfolio for now. (If you don't have one, now's a great time to start a blog!).
If you don't have a blog, write a couple of samples in the niche you want to focus on, like parenting, health, finance, blogging, etc.
Even if it's not published anywhere, a sample will give potential clients a good sense of your writing skills to see if they want to work with you or not.
Where Can I Find Writing Clients?
Everyone seems to get their start with writing for cash in different ways.
There are content mills, which are like marketplaces for clients to hire writers for their articles.
The pay for content mills is usually very low, but they can still get your feet wet so you can learn more about writing for the web, what clients like and don't like, etc.
And, they'll get you some experience so you can build a portfolio.
You can also try freelance marketplaces, like Upwork and ClearVoice (review).
These are like a step up from content mills.
You'll have an in-depth profile where you can showcase client reviews, your past work, your skills and certifications, and more.
If you continue to impress clients, you'll easily keep a high rating, which will attract even more clients.
How Much Can I Make?
This largely depends on how often you're writing, what type of content you produce, and what type of clients you land.
But, successful writers make enough to earn a full-time income (and then some!).
As of November 2020, Indeed lists the average pay rate for a freelance writer in the United States at about $25 per hour.
Of course, this is for freelance writers who are writing as their main income source.
Certain types of writing, like book writing and copywriting, can demand even higher salaries than writing simple blog posts.
So, the world is your oyster when it comes to freelance writing.
You can make your business as small or as large as you want, depending on how much time you are willing to devote to it.
Giveaways – Make Free Money Online

I bet you didn't know that you could earn up to $7312 from companies giving away cash (some of which do it through PayPal!).
It's true! If you don't mind signing up for some websites, you can earn cash just by completing a quick sign up form that takes a few seconds of your time.
Just remember that some websites have a minimum cash out balance that may be more than the sign on bonus, so you'll need to continue to use the site to cash out.
Earn Everything… nearly!
Join Opinion Outpost, one of the few faithful and honest survey panels and earn cash and gift cards for your opinion. Stack your points and redeem them: Simple! No hidden fees and completely free!


Some that can earn you the most money are:
You can also keep an eye out for blog giveaways (which I go into detail about in this post).
Bloggers often give away free gift cards and PayPal cash because they're so easy to give away electronically with no shipping costs to worry about!
It's simple. You find a giveaway on a blog, enter the required information and do a few required tasks (usually like commenting on the blog post or visiting a Facebook page), and you get entered into the giveaway.
Just remember to keep a list of those you enter so you can check back to find out who won (some will e-mail the winners, but others just post their names on the site).
Here are a few of my favorite blog giveaway roundups to find current giveaways:
Freelancing for PayPal Cash
If writing isn't quite your thing, that's okay.
There are plenty of other freelancing opportunities that you can dabble in to earn PayPal cash!
Take a look at some of these freelance marketplaces, where you can connect with clients in need of a variety of services:
Browse the categories for each and get a feel for what's available.
Then, you can figure out what services you may be able to provide based on your skills!
For example, Upwork has categories for data entry, customer and technical support, IT and networking, design and creative, and much more.
All of the above marketplaces pay with PayPal as an option once the client approves your work.
Alternatively, you can post gigs on Fiverr for your services.
This is a great way to earn cash on your own terms by outlining everything in your gig.
Freelance web and graphics designers do especially well offering their services on Fiverr!
Mobile Apps That Pay PayPal Cash
You may be surprised how many mobile apps pay you cash, and many of them do it through PayPal!
In fact, I recently wrote a post that included 93 Android and iPhone apps that pay you to use them!
Some are strictly for earning gift cards, but most of them pay quickly with PayPal once you earn enough points or rewards.
Here are a few of my favorites to get you started:
Cash-Earning Websites
If you don't want to take surveys, you can still earn PayPal cash quickly with other rewards websites.
Some pay as fast as a few hours (or instantly)!
Swagbucks (review) is my absolute favorite way to earn PayPal cash.
You can watch videos, play games, earn cash back from shopping, and more.
Once you have enough for a PayPal gift card, you can redeem it and it will show up in PayPal instantly!
Slice the Pie (review) is another simple way to earn PayPal money.
You'll review music and fashion (but mostly music!) for money, and can cash out your earnings when you reach $10.
Slice the Pie pays out twice a week on Tuesdays and Fridays, so you can get your money quickly after you redeem!
Microworkers is a microtask website that allows you to earn cash from small tasks, like data entry, quick transcription, research, and more.
Once you earn $9, you can cash out with PayPal.
You can withdraw every Sunday and Wednesday, and it only takes up to 72 hours to receive your money after withdrawal.
Quick Rewards is a GPT site that offers some similar ways to earn cash like Swagbucks.
Here, you can shop to earn cash, play games, complete offers, watch videos, and more.
The site has several gift cards that you can redeem your account balance for, and PayPal cash is one of the options.
On Ebates (review), you can earn money for shopping online, which is likely something you do anyway.
You'll get a percentage of your purchase back, depending on what store you buy from and its offer.
Not only does Ebates pay you to shop, but it also gives you $10 just for signing up!
You get paid via PayPal four times per year from Ebates as long as your account balance is $5 or more.
Qmee is similar to Ebates in that you get paid to shop online. But, instead of getting cash back for purchases, you'll get paid simply for the act of shopping.
Qmee is actually a browser extension that pops up related products when you search for a product online.
You'll get paid even if you don't click on a product, but clicking will give you better rewards.
The best part is that you only need a cent in your account to cash out with PayPal!
If you want a few more places to earn PayPal cash quickly, check out this post!
Selling Your Stuff
If you're really in need of cash, you can even sell your stuff online to earn PayPal cash!
Many online sales websites, like Etsy and Ebay, link your account with PayPal so you can get paid hassle-free and quickly.
If you have some stuff to get off your hands, check out these posts with tons of places to sell your new or used items you don't need:
Do Transcription Work
Transcription isn't for everyone. But, fast typists who are excellent multitaskers can do well with it.
It's one of the most common ways to make money online, too.
And, there are even several entry-level transcription jobs around the internet that you can start without any prior experience!
TranscribeMe (review) and Rev are two popular companies for online transcription work, and they also pay with PayPal.
It's 100% free to get started with these companies, but you may have to prove your skills with quick assessments before you start.
Earn Money Writing Book Reviews
If you're looking to earn money by writing book reviews, there are various opportunities available online. Here are some options to consider:
Freelance Writing Platforms: Explore freelance writing websites where you can offer your book review services to clients. These platforms provide a secure payment system for transactions, ensuring a hassle-free process.
Book Review Websites: There are dedicated platforms where you can write and publish book reviews. Some of these websites offer compensation for your reviews, providing an avenue to earn money for your writing skills.
Writing Contests and Competitions: Participate in book review contests or competitions that offer cash prizes. These events allow you to showcase your talent while having the chance to earn income from your reviews.
Online Platforms for Selling Reviews: Certain platforms act as marketplaces where you can sell your book reviews directly to interested buyers. This can be an alternative way to monetize your writing skills and earn money.
Blogging and Self-Publishing: Consider starting your own blog or self-publishing platform to share your book reviews. By generating traffic and monetizing your blog through various methods like advertisements or sponsored content, you can earn money from your reviews.
Trade in Toner and Ink Cartridges for Cash
Do you print documents and photos from your home printer frequently?
If you have any unused ink or toner cartridges lying around and you'd rather have the cash for them, you can get cash back just by turning them in to Toner Connect.
Toner Connect pays you in PayPal cash (or check, if you prefer) for unused ink and toner cartridges.
Maybe you've gotten a new printer and still have some unopened cartridges laying around from your old one.
Don't let them go to waste! Send them to Toner Connect and get money for them.
This site even pays you via PayPal before you send your cartridges. Make sure you ship them quickly and the money will be yours to keep.
The company does have some important shipping rules to follow, though, so make sure you read through them before sending off your stuff.
For example, you need to place your items in a bigger box than necessary and place packaging material around them to make sure nothing moves or gets crushed.
There are also some things the company won't accept, like opened cartridges and toners from generic brands.
Tutor Online
Chegg pays you to tutor students remotely whenever you're available to tutor via your dashboard.
Your reputation builds the more you tutor and get rated highly by your students, which can give you even better earning potential.
Chegg pays weekly via cash deposited directly into your PayPal account!
Telephone Mystery Shopping
Call Center QA is a mystery shopping company that offers telephone mystery shopping so you won't even have to leave your home to do it!
You'll make calls to businesses posing as a customer and asking questions.
After each call, you'll fill out a brief survey detailing your experience.
The company pays $5 per call and feedback survey. You get paid via PayPal within seven business days of completing your call.
Get Started with Affiliate Marketing
Affiliate marketing is one of the best ways to make money online once you learn how to do it well.
You can earn passive income, meaning that the money keeps rolling in even when you aren't doing anything!
Sound good?
If you have a blog, you can get started with affiliate marketing right away.
Basically, you place referral links to products, services, or websites you love. When someone signs up or purchases something using your link, you get paid a commission or flat fee, depending on the program.
Some affiliate marketing platforms pay you with PayPal.
Shopify and Gumroad are two you can start with!
Test Websites
Do you like sharing your opinions but you aren't a fan of online surveys?
A good alternative for you might be testing websites.
With this gig, you'll head to websites given to you in assignments, browse through them, complete the instructions you're given, and speak your thoughts into a microphone.
Your ideas and feedback will go back to the client who owns the website so that they can learn about what you think is great about the site or needs improvements.
And you'll get paid to do it!
These tests usually last about 20 minutes and pay around $10, but the pay and time may vary depending on the client and their needs.
UserTesting is a popular place to find this kind of work that pays with PayPal, but here's a full list of legit companies that pay you to test websites.
Do Quick Tasks
Microtasking with Amazon Mechanical Turk can be a fun way to fill in some spare time with legitimate paying work.
When you microtask, you can choose from a variety of gigs that are usually quick and easy to do.
Plus, you can choose to do only those that align with your interests and skills.
A downside to Amazon Mturk is that it only pays via direct deposit and Amazon Payments, so you'll need to opt for other microtasking sites that offer PayPal payments to get paid this way.
Fortunately, we have a bunch of them listed in this post (and you might even find gigs that pay more!).
Shop Online
Shopping online can actually make money for you!
Use sites that are designed to reward you for making purchases through them by giving you cash back and rewards.
It'll help you save some money because you'll be getting cash back when you make a purchase.
Several of them offer PayPal payments as one of their reward options when you turn in your cash back or reward points.
A few of my favorites include:
Take a Walk
Have you heard that there are some apps that pay you to lose weight?
Sweatcoin is one of them – and sometimes you can get lucky enough to find a PayPal reward in the catalog to get paid that way.
Sweatcoin is an app that pays you for the steps you take.
The more you walk, the more you can earn.
Although the rewards rotate once in a while and won't always have PayPal included, it does come around sometimes along with Amazon gift cards.
So hang onto your sweatcoins and keep checking back often to score that PayPal cash.
You can read more about finding PayPal cash in the catalog here.
Try New Games with Mistplay
If you have a device that supports Google Play, you can download Mistplay, an app that rewards you for trying new games on your smartphone.
You'll receive rewards both for downloading and playing games, and you might be eligible for extra rewards when you hit certain milestones on games.
The app turns your rewards into gift cards of your choice when you browse the catalog.
PayPal is an option.
Here are some more ways to get paid to play games!
Complete Odd Tasks Around Your Neighborhood
Do you have a lot of skills that can come in handy to others?
Put them to use and get some money in that PayPal account when you use apps like TaskRabbit and Gigwalk.
TaskRabbit helps you find people near you who need help with tasks like landscaping, handyman work, painting, shoveling – you name it.
When the job is done, you'll get paid.
With Gigwalk, you can find quick gigs to do around the town, like mystery shopping at a store or taking photos of something.
You can link your PayPal account to the app to get paid for your time.
When you review calls for Humanatic, you can get paid with PayPal.
This site lets you sign up as an independent contractor who listens to phone calls between customer service representatives and customers to make sure that reps are handling customer queries and complaints well.
Humanatic pays to verified PayPal accounts only, so make sure yours is verified before you get started.
Become a Virtual Assistant
Virtual assisting is a great way to do what you love and get paid how you want online.
As a virtual assistant, you'll technically be your own business owner and can help out clients doing tasks you enjoy doing.
As a business owner, you're in charge of how much you earn and how you get paid.
If you want to only get paid for your work with PayPal, you can send invoices to your clients through the PayPal system or another invoicing system that integrates with PayPal.
If you're not interested in starting a virtual assistant business on your own yet, you can also try working with these other virtual assistant companies.
The downside is that you'll need to adhere to their payment structures, but some of them do pay with PayPal.
Process Voter Registrations with SigTrack
Data entry experts can sign up for free with SigTrack to start working as independent contractors.
For this gig, you'll need to be a United States resident and know your way around a computer, but otherwise, there isn't any special experience you'll need to get started.
You'll be processing voter registrations and petition signatures for this company.
The work is flexible and often seasonal, so there will be times through the year that the site may shut down new registrations.
You'll get paid weekly via PayPal.
Sell Your Clothes with ThredUp
Got a bunch of clothes in your closet that you don't wear anymore?
Why not sell them to ThredUp, a company that looks for gently worn clothes to resell online?
With ThredUp, you'll need to be pretty picky about what you send in.
This company looks mostly for popular brands and clothing that doesn't look worn down in any way.
Once you've gathered a bunch of stuff to send in, you can order a kit from the company to ship everything in.
ThredUp will take photos of each item and place it on the site along with a price and description of size and brand.
You'll get paid a percentage of the final selling price which varies depending on the selling price.
You can choose to hang onto your pay to buy other stuff on the site, or cash it out to Stripe or PayPal.
Unlock Your Phone
You use your phone every day, right?
Why not let it make some money for you as you use it?
You can do that with SlideJoy, an app that sits on your phone and pays you every time you unlock your screen.
It does that by placing ads on your lock screen.
You can choose to interact with the ads or not – either way, you'll still get rewarded!
If you're feeling gracious, you can opt to donate your earnings to a charity of your choice, but if you want to keep your earnings yourself, then PayPal cash is the method of payment.
Rent Your Home on Airbnb
Renting your home – or even a room in your home – to travelers can be a great way to get some extra money in your pockets.
Airbnb lets you do just that with its easy-to-use setup that lets you list your space and have others rent it when they need a place to stay.
The best part is that you can offer PayPal as a payment option to get the proceeds from your rental directly into your PayPal account.
You'll usually get your funds within one business day after the company releases your payment for a rental.
Sell Your Books
If you have a bunch of textbooks left from college that are collecting dust in your closet, then opt for selling them on Bookscouter – especially if you want some PayPal money quickly.
You can type in the ISBNs for each book you want to get rid of, compare prices from book vendors, and ship your books in to get paid.
Although Bookscouter won't pay you directly for your books, many of its vendors do pay with PayPal.
Just check with the vendor before sending your books in to make sure PayPal payments are an option.
Refer People to This Site
You know how you can become an affiliate for some websites or brands and make money sharing your link with others?
Well MoneyFree is a website that focuses only on making money with your affiliate link.
It's an interesting concept, but apparently it works.
By using your unique link and referring people to the site, you'll earn cash – PayPal cash, that is.
The catch is that just to get $1, you'll need to refer 100 people.
But if you have a huge network – especially if your network is filled with people who love making money in interesting ways – then this could work for you.
Share your link wherever you go – social networks, Reddit, online forums, etc. – to have the best chances of boosting your referrals.
Find Dogs to Walk
Doggie lovers will enjoy this method of receiving PayPal money!
Find dogs to walk or petsit on Rover, an app that matches people like you with dog owners.
When you list yourself on the site, you can also set your services and your rates for those services.
When you've successfully helped out the dog and its owner, you can get paid via a check or PayPal cash!
Sell Your Music on DistroKid
Are you an indie artist looking to sell some of your music to the masses?
If so, try DistroKid, which lets you upload your songs to places like Spotify, Amazon Music, TikTok, and more, for people to listen to and use in their own projects.
When your music sells, you'll receive 100% of the royalties!
In addition to PayPal cash as a payment option, you can also get direct deposit, wire transfers, echecks, and more, so there are plenty of ways to get paid if you ever change your mind about PayPal.
This service does cost $19.99 to upload unlimited music (that's how DistroKid gets paid) but it's a small price to pay to receive all of your royalties without any fees getting cut.
Sell Your Own Products
Do you have a website of your own?
You could consider selling products on your website and making PayPal an option for payment.
You can find products to sell in almost any niche, whether they're digital products you create yourself or dropshipped items from other stores around the world.
Take a look at some other websites in your niche that are selling stuff (chances are, many of them are!) to get some inspiration for what you might be able to sell on yours.
Here's a helpful article from PayPal about setting up PayPal Checkout on your website.
Add a PayPal.Me Button to Your Website
If you have a website but aren't interested in selling stuff on it just yet, there's still another way you can get some PayPal cash from your visitors:
Add the PayPal button to your website!
It can act as someone of a donation button for people who love visiting your site and learning new things from your content.
You might be surprised by how many people are willing to give you a few bucks just as their way of saying "Thanks for the website."
I've seen a few bloggers, for example, who write something like, "Thank me by buying me a cup of coffee" to encourage people to click the button and donate a couple of bucks when they're feeling generous.
You may not get tons of money doing this, but it's something!
Looking for More?
There are easily thousands of ways you can earn quick PayPal cash online, and Work at Home Adventures continues to keep you up to date with them!
I suggest checking out these other posts, where you'll find plenty of ways to earn fast PayPal cash online.
Good luck!
What ways do you make PayPal money online?
Let us know in the comments!
Related Posts:
Earn Everything… nearly!
Join Ipsos iSay, one of the few Faithful and Honest survey panels and earn prizes, gift cards and donations. Stack your points and redeem them: Simple! No hidden fees and completely free!