Key Copies Near Me: 40 Places to Get Duplicate Keys Made (2023)
Updated on: by Amy Kennedy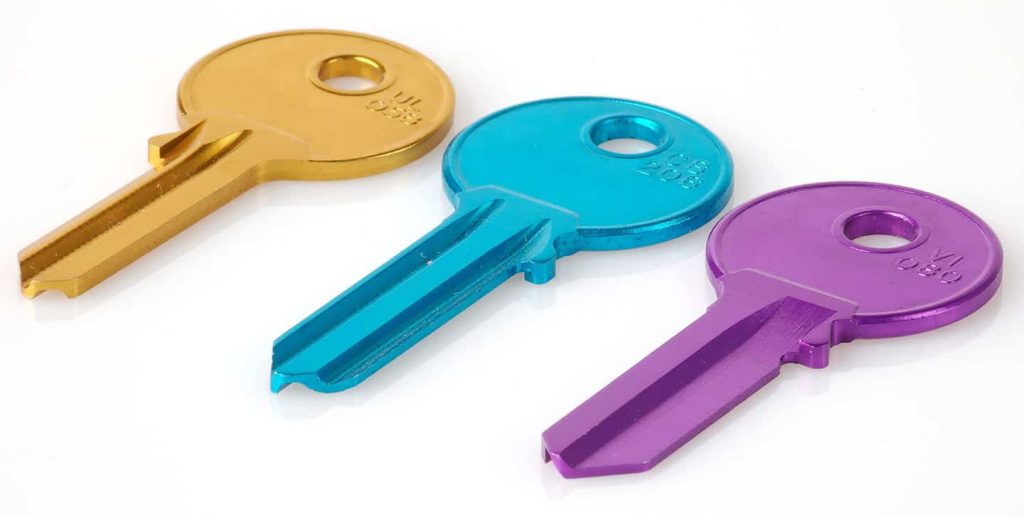 Need Easy Extra $350+/Month For Free?
Keys aren't the most used household items, yet they are among the most misplaced. Let's be realistic; folks like stay-at-home moms don't even use their keys for days.  
Fabricated as it may look, Americans lose over 20 million keys yearly. AAA insurance helps over 4 million Americans out of car locks per annum. That's without adding data from other established and small-scale insurance providers and locksmiths. 
The truth is you are not immune to this mishap. Regrettably, most people don't have the patience to search for lost keys. Also, many of the lost keys are never found. The long-term and immediate solution is getting a duplicate, and the following are our top key copies near you. 
KeyMe is a 24/7 team of knowledgeable and insured locksmiths serving clients in all corners of the United States. The locksmith firm has over 2000 kiosks scattered in America. Easily find a nearby kiosk by entering your location or zip code. 
Arrival time is mostly 29 minutes on average. KeyMe uses ultramodern key duplication technologies. 
Interestingly, they even keep a digital key copy for future use.  
Service prices are as follows: 
Transponder and fob keys: $69.99 to $89.9

 

Non-transponder car keys: $19.99 

 
Kroger, the legendary grocery retail store operator and the biggest employer in the United States, also offers key duplication services. Founded by Bernard Kroger in 1883, Kroger is available in over 35 states.  
You can get car or house keys replicated in Kroger's 2720 grocery stores. 
Not all kiosks offer key duplicates. Find a kiosk offering key copies near you using Kroger's store locator.  
Services vary from store to store, but price ranges from $3 to $20, depending on the key type. 
Giant Eagle, the top-leading Food retailer and supermarket chain founded in 1931, has a salient reputation for offering top-notch and affordable key copying services. The company has 216 established supermarkets and 264 Get-Go convenience stores in Maryland, Pennsylvania, Indiana, Ohio, and West Virginia.  
Use the store locator feature on the official website to find a KeyMe kiosk near you. 
You know Walmart as a top-tier multinational retail corporation with a large chain of grocery stores, discount departments, and supercenters. But did you know the store has Minute Key Kiosks, offering a large variety of key cut and copy services? 
The Minute Key kiosk offer machines that copy your keys in minutes. They aren't available in all Walmart stores, though.  
Need Easy Extra Cash?
Pinecone Research, a leading name in online survey panel honesty, absolutely guarantees $3 cash for every survey you complete!
Take advantage of their time limited New Membership drive and register NOW. Join today: 100% free!


Car, drawer, house, padlock and key duplication services cost between $2 and $6. 
Home Depot, the Atlanta-based retailer, is the rekeying vendor recommended by MoneySmartFamily. Its reputation as a credible retailer in the United States has earned them an integrity badge as a firm with some of the best rekeying stores. 
Home Depot has a well-trained and experienced in-house team to handle all key replication projects. Service costs for older car and house keys range from $2 to $5. 
Lowes is more than the home improvement company Americans love. In its 2197 hardware and home improvement stores, you can still get instant, professional lock rekeying and key copying services. 
Lowe's locations have MinuteKey self-serve kiosks. Use the store locator to find the best key copy machine near me.  
You'll pay around $2 to $5 per key copied. 
Imagine a technology that automatically copies your house or car key in minutes. You walk into a kiosk, and a high-end machine copies your lost key?  
Bed Bath and Beyond, the famous retailer store operator, has KeyMe kiosks in most of its stores. It lets you design your copied keys within minutes. 
Still, you get 25% off your first service if you share your email address. 
Misplaced or lost your keys? Stop by any of Meijer Inc. stores to get a duplicate in minutes. The major benefit of Meijer is that you can have your keys duplicated while still doing your shopping. 
Meijer has several MinuteKey kiosks all over the United States. You'll be served by a specialist who handles custom design, brass, UltraLite, and standard keys. 
Find a store next to you by checking Meijer's store locator. 
The Texas-based 7-11 convenience store is the one-stop for almost everything. 7-11 stores have everything you need, from beverages and pharmaceuticals to gasoline and groceries. 
Even during those unfortunate days when you lose your keys, 7-11 stores have got you covered.  They have a qualified in-house team ready to copy your keys in minutes. 
Albertsons is United States' second biggest supermarket chain, with more than 2250 stores. It has one of the best online stores where Americans order groceries and other items and have them delivered to their doorsteps. 
Albertsons doesn't offer specialized key-cutting services. But, they have several KeyMe kiosks in the majority of locations.  
Contact their representatives for all your duplicate keys near me needs. 
Sears sells both standard and brass keys. Similarly, you can cut Keyless keys from the automotive locksmith Keyless kiosks available in different store locations. 
At the keyless kiosks, you can get copies of remote keys, smart keys, transponder keys, and chip keys.  
Easily locate sears locations near me with the Keyless kiosk by clicking the official keyless shop locator. 
Kmart is the jack of all trades, offering what you need at your convenience, including home décor, electronics, bedding, toys, furniture, and clothing.  
The American retail firm has many locations, with a team to copy your keys in some stores. Get copies of your custom design, standard, bottle opener, and high-performance keys at store locations with KeyMe Kiosks. 
FoodMaxx is among the big names in the American grocery store landscape. They stand out for great deals, online shopping, and an amazing selection of products and services. 
And if your office, car or home cars got lost, FoodMaxx has key machines near me. Visit the nearby FoodMaxx store to get your specialty keys, padlock keys, access cards and fobs copied.  
Publix has KeyMe kiosks in most 1300 stores scattered throughout America's southeastern region. The reliable one-stop key-copying kiosks offer instant keys copying services.  
Most Public KeyMe kiosks are in stores in Tennessee, Alabama, Virginia, Georgia, Carolina, and Florida. 
If you've got used to shopping for your meat products, vegetables, fruits and other groceries from Save Mart, you'll likely fall in love with their key copying services. 
The key cutting and duplication team at Save Mart delivers nothing less than accurate and practical key copies. Whether it is an access card, padlock keys, specialty keys, office, home or car keys, find a store near you now. 
H-EB Grocery Company is a force to reckon with in the private supermarket chain industry. With over 340 stores, the grocery firm allows you to shop at your pace and convenience. 
Earn Everything… nearly!
Join Opinion Outpost, one of the few faithful and honest survey panels and earn cash and gift cards for your opinion. Stack your points and redeem them: Simple! No hidden fees and completely free!


Additionally, you can have your keys made at a nearby store with MinuteKey kiosks. They offer quick, efficient copying services for UltraLite, standard, brass, and custom design keys. 
WinCo Foods has, since 1967, supplied Americans with bulk food sections at the most affordable prices. They have stores in Washington, California, and Nevada.  
Misplaced or lost your keys? WinCo Foods has KeyMe kiosks in most locations. You can get duplicate copies of your office and home keys at these kiosks. 
Fry's marketplace, a division of Kroger multi-department stores, has 123 locations in the US. The store stocks and sells virtually everything human needs, including home goods, groceries, electronics, and outdoor living items. 
One of its major services is the provision of high-quality key copying services. Get duplicate keys near me at its many KeyMe Kiosks in Arizona. 
O'Reilly Auto Parts has offered premium spare parts and quality auto services since 1957. Owing to its commitment to delivering services clients love, the company has opened over 5000 locations in the US.  
Recently, the company acquired VIP Auto Parts and Checker Auto Parts stores. In addition to auto spare parts, O'Reilly Auto Parts offers self-serve kiosks and rekeying services. 
The American Drugstore Chain, RiteAid has over 400 stores across the U.S. In addition to its high-quality pharmaceutical services, RiteAid stores have KeyMe kiosks. 
You can find a RiteAid kiosk offering quick and efficient key copying services around you. Search and filter the results on the store locator's page for quick and relevant results. 
Safeway, the 1915-born American supermarket chain, has stores disseminated around Mid-western and Western regions of the U.S. You can find other stores in the mid-Atlantic areas of the East Coast. 
Its primary operation area is the sale of general merchandise, food, and grocery items. They as well offer rekeying and key-cutting services targeting clients in those areas. 
AutoZone has, over the last 4.3 decades, offered best-in-class auto spare parts and customer services. It's currently the main distributor of premium auto accessories and replacement parts in the United States. 
They have more than 5000 certified stores in the U.S. You can easily find a store offering key-cutting services near you. 
This auto spare part store likewise offers quality key-cutting services. NAPA Auto Parts is available in over 6000 locations in the United States. They have more than 15,000 AutoCare facilities, offering the highest quality auto repair and maintenance services. 
You'll also find a KeyMe kiosk in most of these AutoCare facilities. It could be a self-care machine or a human-operated shop. 
At 103 years, Woodman's market remains one of the leading regional supermarket chains in the United States. At this supermarket, you get everything at fair fairs, ranging from food products, housewares, clothing, groceries, and more. 
And if you mistakenly lose or misplace your keys and need a replacement, Woodman's Market has several KeyMe stores to take care of your needs. 
Jewel-Osco is one of the biggest supermarket chains operating within Northwest Indiana, Illinois, and Eastern Iowa. The regional supermarket chain has 188 fully-operation stores offering value-added merchandise to customers. 
Alongside its many other services, Jewel-Osco offers key cutting services. Check the KeyMe kiosk locator page for directions to the closest store near you. 
Ace Hardware is one of America's best hardware retailers corporative. Most hardware stores operating under Ace Hardware branding are independently owned.  
The majority have an in-house team offering key duplicates. Visit the website to search for the best stores near you.  
Car and house key cutting prices by most Ace Hardware stores range from $8 to $12 per duplicate key. 
VIP Tires & Service has been every New Englanders' favorite destination for professional automotive services and quality tires. Since 1926, the firm has dedicated itself to offering the lowest prices, best-in-class services, and dozens of amazing free services. Free services include brake inspections, alignment checks, and safety inspections. 
The firm also offers warranties and rekeying services. Explore the key-cutting shop locator page to discover the best KeyMe kiosks near you. 
The American automotive aftermarket service chain Pep Boys has operated since 1921. Founded by Emanuel Rosenfeld, Maurice Strauss, Moe Radavitz, and Graham Jackson, the firm has over 9000 service bays scattered in 35 states. You're getting top-quality tires, batteries, and other auto accessories. 
Alongside these products, you get customized auto repair and maintenance services. Also, if you lose your car keys, you can get a new copy at a budget-friendly price. 
Acme Markets has established itself as one of Albertsons' best subsidiary supermarket chains. The chain has 161 actively operating stores in the U.S.  
Stop by these stores to grab your favorite liquor, fresh produce, deli, bakery items, beer, meat products, seafood and wine. 
Inside the Acme stores, there are KeyMe Kiosks. Not all stores have these kiosks, so do thorough research before scheduling a visit. 
The Food Emporium is a grocery store chain that has been active since 1919. Its 13 stores are sparsely distributed across New Jersey and New York. 
In most of its stores, the Food Emporium has KeyMe Kiosk. Check with the store first to know if they have a rekeying kiosk. The user-friendly kiosks support cutting locker, home, and mailbox keys. 
This American supermarket chain has stood out for its weekly deals on liquor, fresh garden produce, bakery items, and meat products. 
Its 128 grocery stores are distributed in Vermont, Maine, New Hampshire, Massachusetts, and Rhode Island. 
Many of these stores have user-friendly KeyMe kiosks for customers to make new keys. 
If you live in Southern California, you've likely shopped in the Kroger-owned supermarket chain Ralphs. As the best-of-its-kind supermarket in this region, Ralphs has 189 stores. 
While not all stores have a KeyMe kiosk, the majority have. The best part is that the KeyMe kiosks are user-friendly and offer instant cutting of office, mailbox, house, and locker keys. 
Locally operated, Ruler Foods is a no-nonsense discount grocery store in Tennessee, Indiana, Kentucky, Missouri, Ohio, and Illinois. The supermarket has a reputation for offering low prices on its products, including trusted Kroger brands. 
Ruler Foods isn't entirely about product sales but also about service delivery. You can get keys cut fast and accurately at its KeyMe kiosks. Find a KeyMe kiosk near you by filtering from its 50 store locations. 
Food 4 Less represents several grocery store chains in Metropolitan Chicago and Southern California. The biggest store owner is Kroger. With 112 locations, Food 4, there is a store near you if you check around.  
Besides selling merchandise, Food 4 Less specializes in the photocopying of keys. A quick store search will help you find the best KeyMe locations near you. 
If you're a Southern Nevada and California resident, you've likely heard about or stopped by one of Vons' supermarket chain stores. Owned by Albertsons and headquartered in Fullerton, California, Vons operates multiple stores under the Pavilions and Von's banners.  
Vons is among the biggest retailer of drugs and food items, operating 325 stores across the targeted locations. An additional 26 stores owned and operated by the supermarket chain are found in Southern California. 
It's not uncommon to find KeyMe kiosks in the Vons stores. But before visiting, make sure your selected store is listed among those with key-duplication kiosks. 
There are 118 King Soopers stores distributed across Wyoming and Colorado. King Soopers is not a household name around these places, but if you're a keen shopper, you've likely seen its banners or hopped into one of the stores. 
The brand is still young and building a reputation, but that doesn't limit it to the modes of operation common with small-scale supermarkets. They have a variety of kiosks in the stores providing different services. 
The most highly sought-after kiosks are the KeyMe kiosks. 
Winn-Dixie is a one-stop supermarket catering to every resident's pharmacy, grocery, and liquor store needs. The store offers a pleasant online shopping experience and affordable pickup and delivery services. 
Winn-Dixie has over 546 stores across Mississippi, Florida, Georgia, Louisiana, and Alabama. Stop by the stores to shop or get your keys cut professionally at the KeyMe Kiosks. 
A subsidiary of Kroger, Smith's is the last highly recommended supermarket offering key-cutting services. 
Smith's has more than 142 food and drug specialized stores across Wyoming, Utah, Arizona, Nevada, New Mexico, Montana, and Idaho. 
Almost all these stores have a Key-duplication kiosk. However, don't assume every store has a KeyMe kiosk. Rather, use the kiosk locator to know which stores near you have a place to make new key copies. 
CVS Pharmacy is a well-known chain of pharmacies and convenience stores with locations across the United States.
In addition to pharmaceutical services, select CVS Pharmacy stores offer key cutting services.
You can use the store locator on their website to find a CVS Pharmacy near you that provides key duplication services.
Please note that not all CVS Pharmacy locations may offer key cutting, so it's recommended to check the specific store's services before visiting.
Walgreens is a prominent pharmacy store chain with numerous locations throughout the United States.
Alongside their pharmaceutical services, certain Walgreens stores also provide key cutting services.
To find a Walgreens store near you that offers key duplication, you can visit their website and use the store locator tool.
Remember to verify the availability of key cutting services at the specific Walgreens store you plan to visit, as not all locations may offer this service.
Conclusion 
We don't always have lost or misplaced keys. But when these rare mishaps face us, we are left with many questions and issues to worry about. It's not always a good idea to break into your car or home by damaging the locks. 
Instead, the safe way to resolve a missed or misplaced key issue is by copying the keys. Check out our top recommendations for the best places to replace your keys in the U.S. 
Related Posts:
Earn Everything… nearly!
Join Ipsos iSay, one of the few Faithful and Honest survey panels and earn prizes, gift cards and donations. Stack your points and redeem them: Simple! No hidden fees and completely free!