Practical Ways to Make Money from Your Photography Skills Online
Updated on: by Amy Kennedy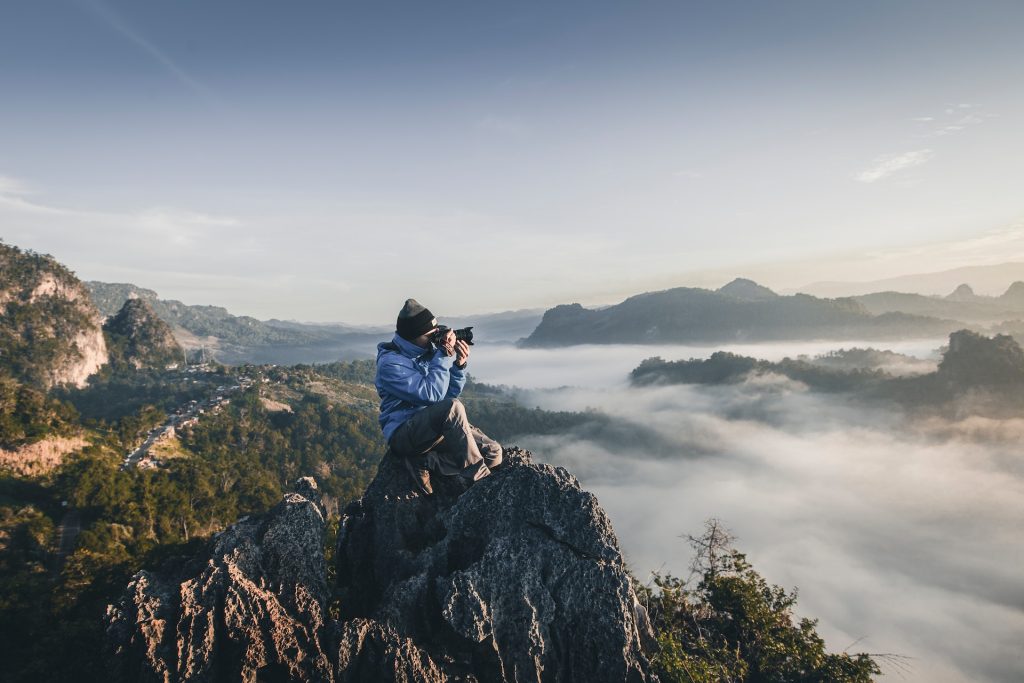 Are you passionate about photography?
Do you wish to turn this passion into a profitable venture?
The good news is that the digital world offers abundant opportunities for photographers to monetize their skills.
In this article, we will guide you through various practical ways to make money from your photography skills online.
Understanding Photography as a Business
Embarking on the journey to earn from your photography skills online involves more than just an understanding of aperture and composition.
It's about developing an entrepreneurial mindset and treating your photography as a thriving business.
Here are some key aspects to consider:
Identifying your Niche
The field of photography is vast, with numerous niches, each with its unique requirements, opportunities, and challenges.
These could range from event photography and wildlife to food photography or fashion.
Your niche could be determined by your interest, expertise, or the demand in the market.
Identifying your niche can help you tailor your marketing efforts, create a strong portfolio, and develop specialized skills, setting you apart from the competition.
Selling a Vision
Photography is not just about clicking pictures; it's about capturing a moment, telling a story, selling a vision, a perspective, or an emotion.
When clients hire you, they're not just paying for your time and equipment but also for your unique perspective and creative abilities.
This understanding is vital when pricing your work and marketing your services.
Marketing and Branding
As with any business, branding and marketing are essential aspects of running a successful photography business.
Create a unique brand identity that resonates with your target audience.
This could involve creating a catchy logo, choosing a specific color palette, or maintaining a consistent style in your images.
Moreover, devise a robust marketing strategy to reach your potential clients.
This could involve search engine optimization (SEO) for your website, social media marketing, email newsletters, or participating in photography forums and communities.
Professionalism and Customer Service
Maintaining a high level of professionalism can help build trust and a strong reputation.
This can be reflected in your communication, meeting deadlines, and delivering quality work.
Moreover, providing excellent customer service by understanding your clients' needs, being responsive, and handling complaints effectively can lead to repeat business and referrals.
Managing Finances
Understanding the financial aspects, such as setting competitive yet profitable pricing, budgeting for equipment, and managing taxes, is crucial for the sustainability of your business.
Utilize accounting software to keep track of income and expenses, and consider consulting with a financial advisor if needed.
Monetizing your Photography Skills
Transforming your passion for photography into a lucrative venture doesn't have to be a daunting task.
Here are various practical ways to monetize your photography skills online:
Selling Stock Photos
The digital world we live in today has created an ever-growing demand for quality images.
For photographers, stock photography has emerged as a notable way to meet this demand and earn a passive income.
What is Stock Photography?
Stock photography involves selling the rights to use your images to online platforms like Shutterstock and Adobe Stock.
These platforms then license your photographs to customers for various purposes such as marketing materials, websites, magazines, and more.
Excelling in Stock Photography
To thrive in the stock photography market, producing high-quality, unique images is a must.
Your pictures need to cater to the needs of businesses, marketers, and publishers.
This requires researching trending themes, investing in proper lighting and composition, and focusing on subjects with commercial appeal.
Selling Prints or Merchandise
As photographers, the art we create has significant value, and one way to monetize this is through selling prints or merchandise.
Selling Prints
Art enthusiasts and decor lovers often seek unique, high-quality physical and digital prints.
With the rise of digital art, offering high-resolution downloadable images that customers can print themselves is a profitable venture.
Merchandising Your Art
Apart from prints, venturing into selling merchandise featuring your photographs can add an additional revenue stream.
This could be anything from t-shirts, mugs, or calendars to phone cases and home decor items.
Websites like Etsy and Redbubble allow you to create and sell custom merchandise featuring your photography.
Freelance Photography
In the dynamic world of photography, freelancing offers a platform to diversify your projects and maintain a steady income stream.
Exploring Freelance Platforms
Platforms such as Upwork and Fiverr connect photographers with clients who require photography services for events, product shoots, real estate, and more.
Success as a Freelance Photographer
To be successful as a freelance photographer, it's essential to create a compelling profile that showcases your skills, experience, and portfolio.
Collect reviews from happy clients to boost your credibility.
Delivering high-quality work on time and maintaining professional communication with clients will further enhance your reputation and chances for repeat bookings.
Photography Blogging and Vlogging
Sharing your photography experiences, insights, and tips through blogging or vlogging is another viable way to monetize your skills.
Earning Through Blogging and Vlogging
By creating engaging content, you can earn through various channels such as ad revenue, sponsored content, and affiliate marketing.
Regularly posting interesting and relatable content that resonates with your audience is key to building a loyal follower base.
Increasing Your Blog's Visibility
Leveraging SEO strategies can significantly boost your blog's visibility and attract more traffic.
Tools like WordPress can help you set up your blog, while platforms like YouTube are ideal for starting your vlogging journey.
Teaching Photography
If you have a high level of expertise in photography, sharing your knowledge with others can be a rewarding way to monetize your skills.
Creating Photography Courses
Platforms such as Udemy and Skillshare allow you to create, host, and sell your own photography courses.
These courses could range from teaching basic photography skills for beginners to imparting advanced techniques for more experienced photographers.
Success in Teaching Photography
The success of your course largely depends on the quality of your content, your teaching style, and the marketing efforts you put into attracting students.
Remember, a well-structured and comprehensive course that effectively addresses students' learning needs will likely gain more traction.
Benefits of Monetizing your Photography Skills Online
Flexibility
One of the most significant benefits of monetizing your photography skills online is the flexibility it provides.
You can work on your own schedule, choosing the projects you want to work on and determining your own rates.
Whether you're a night owl or an early bird, you can tailor your work hours to fit your lifestyle.
Passive Income
Online platforms offer avenues for generating passive income, particularly through stock photography and online courses.
Once your photos or courses are uploaded and approved, they can continue to earn money for you with minimal effort, providing a steady stream of income over time.
Global Reach
The internet allows you to reach a global audience, vastly expanding your potential customer base.
Regardless of where you're located, clients from all over the world can access and purchase your work.
This not only increases your earning potential but also exposes your work to diverse markets and cultures.
Low Startup Costs
Compared to opening a physical photography studio, the costs associated with starting an online photography business are relatively low.
You'll primarily need a good quality camera, editing software, and a reliable internet connection.
As you grow, you can consider investing in better equipment, professional website design, or advanced editing tools.
Creative Control
When you sell your photography online, you retain full creative control over your work.
You're free to explore different themes, styles, and techniques without being bound by the specific requirements of traditional clients.
This freedom can lead to more fulfilling and creative work, further enhancing your skills and portfolio.
Continuous Learning
Monetizing your photography skills online provides ample opportunities for learning and growth.
You'll learn to adapt to market trends, understand the business aspect of photography, improve your marketing skills, and master the art of online selling.
These skills are transferable and valuable, not just for your photography business, but for your broader professional development as well.
Essential Tools for Online Photography Business
Successfully running an online photography business requires the right blend of technical skills, marketing prowess, and state-of-the-art tools.
Here are some essential tools and strategies that can boost your online photography business:
Professional Website
In today's digital era, having a professional website is not optional. Your website serves as your online portfolio, where potential clients can view your work and understand your style.
Platforms like Wix, Squarespace, or WordPress make it easy to build a visually appealing website even without coding knowledge.
Ensure that your website is user-friendly, loads fast, and is optimized for mobile devices.
Don't forget to include a 'Contact' page for potential clients to reach out to you.
Active Social Media Presence
With billions of active users, social media platforms can significantly enhance your online visibility and provide a channel to showcase your work.
Create profiles on platforms popular with photographers, like Instagram, Facebook, or Pinterest, and post regularly.
Use relevant hashtags to increase the reach of your posts, and engage with your followers through comments, messages, and stories.
Also, consider using paid promotions to reach a wider audience.
Photo Editing Software
Being proficient in photo editing is a must for any serious photographer.
Softwares like Adobe Photoshop and Lightroom offer advanced editing features to enhance your photos and create a unique style.
Also, consider learning to use graphic design tools like Canva for creating promotional materials, blog banners, or social media posts.
SEO Tools
Search engine optimization (SEO) is crucial for increasing your website's visibility in search engine results.
Tools like Google Analytics, Moz, or SEMRush can help you understand your website's performance, research keywords, and devise effective SEO strategies.
Continuous Learning
The field of photography is continually evolving, with new techniques, technologies, and trends emerging regularly.
Enroll in online courses, attend workshops or webinars, and follow photography blogs and forums to keep your skills up-to-date.
Platforms like Coursera, Skillshare, and MasterClass offer a wide variety of photography-related courses.
Real-life Success Stories
Success stories of photographers who made money online can provide inspiration and valuable insights. For instance, check out this interview with a freelance photographer who has turned his passion into a profitable online business.
Selling your Photography Skills Safely Online
Selling your photography skills online can be an exciting journey, but it's crucial to ensure you're doing it safely.
Here are some tips to help you navigate the process securely:
Protect Your Work
To prevent unauthorized use of your images, it's important to copyright your work.
You can do this through watermarking your images or registering them with a copyright office.
Also, use low-resolution images for online display and only provide high-resolution versions to customers after purchase.
Use Reputable Platforms
Sell your photography through reputable online platforms like Shutterstock, Adobe Stock, Etsy, and Udemy.
These platforms have measures in place to protect both sellers and buyers, ensuring transactions are safe and secure.
Secure Your Website
If you're selling your work through your own website, ensure it is secure.
Use SSL encryption to protect sensitive data and regularly update your website to protect against vulnerabilities and threats.
Clear Payment Methods
Use trusted payment methods and platforms like PayPal, Stripe, or direct bank transfers.
Avoid sharing personal financial information through insecure communication channels.
Detailed Terms and Conditions
Be clear and detailed about your terms and conditions for selling your work.
This should include the usage rights for your images, refund policies, and any other relevant information.
It's beneficial to have a lawyer help you draft these to ensure you're fully covered.
Beware of Scams
Beware of potential scams.
Be cautious with offers that seem too good to be true, requests for free work as a 'test', or buyers who insist on unusual or insecure payment methods.
Always verify the legitimacy of potential clients or buyers before proceeding with a transaction.
Maintain Privacy
Do not overshare personal information online. Limit the amount of personal details you share on your website and social media profiles.
Be careful while dealing with unknown clients and avoid giving out unnecessary personal information.
Conclusion
The digital era offers a plethora of opportunities for photographers to monetize their skills.
Whether it's through selling stock photos, offering freelance services, or teaching photography online, the potential to earn from your passion is immense.
Now it's your turn to share! Have you made money from your photography skills online?
Do you have any tips or experiences to share with fellow photographers?
Feel free to leave a comment below.
Related Posts: