25 Best Sites That Let You Make Money Online with Your Photography
Updated on: by Amy Kennedy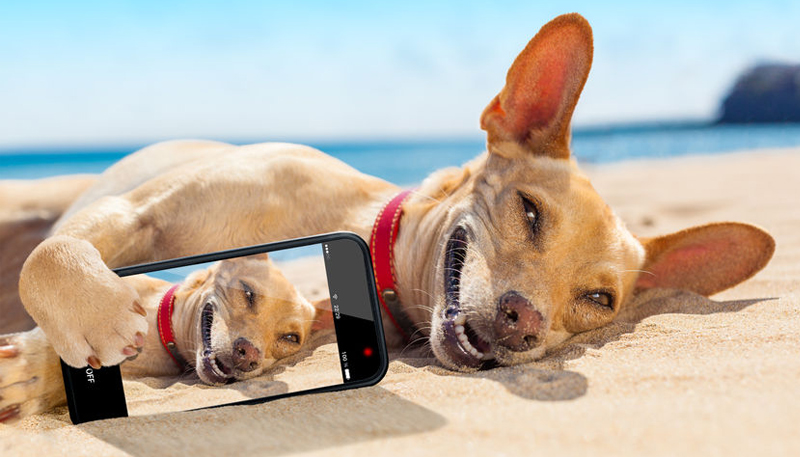 Whether you're a beginner or professional photographer, you can make money from your craft online – without ever stepping foot into a studio.
Need Easy Extra $350+/Month For Free?
Plenty of stock photo sites will pay you a portion of the proceeds that other people pay for your photos, and I'm listing them all here for you.
Most sites pay a percentage of your sales, so you can earn a passive income by keeping your photos on the sites!
If you want to learn how to make money selling photos online, I urge you to take a look at this post and find the best site for you.
Can I Really Sell Pictures for Money?
Yes, you can submit pics for cash online!
In fact, some people quit their day jobs and sell their photos online.
Granted, those who have the best success know what types of photos others really want to buy, and they also have amazing photography skills.
So, I suggest before quitting your job that you brush up on your photography skills, invest in a high-end camera, and study up on the types of photos that are popular online.
You can usually do this on several stock photo sites by seeing how many downloads different photos have.
For example, Fotolia by Adobe has a part of its site dedicated to the most popular photos of all time, so you can see what sells best there.
Usually, landscapes, portraits, and business photos (laptops, coworking, etc.) are very popular on stock photo sites.
If you narrow in on targeting those types of photos, you have a good chance of earning steady income from your passion!
How to Get Started
First things first – get yourself a great camera!
Most places will not allow you to sell photos taken on your smartphone.
You need a professional camera, like a digital SLR, to take the photos that get accepted by stock photo sites.
Then, browse some photography websites for beginners.
Need Easy Extra Cash?
Pinecone Research, a leading name in online survey panel honesty, absolutely guarantees $3 cash for every survey you complete!
Take advantage of their time limited New Membership drive and register NOW. Join today: 100% free!


Learn new tips and tricks and practice them in your spare time.
Lighting and angles are especially important skills to focus on.
When you feel like your photography skills are up to par, start applying for some of the below stock photo sites.
Remember that some sites only want exclusive photography, meaning that they won't allow you to sell your uploaded photos anywhere else.
If you get rejected, don't feel dejected!
Some sites are extremely difficult to get accepted for.
Just keep trying.
Where Can I Sell Photos Online?
Looking for the best website to upload photos to sell?
I have quite the list for you!
Pay attention to each site's requirements, as they each have ones that can influence whether or not it's a good place for you.
And, commissions are important, as this is how you will make money.
Some sites give you higher commissions than others, so keep that in mind.
Now, onto the list!
1. Your Own Website
It's totally possible to sell stock photos on your own website.
People who do this tend to sell subscriptions to the stock photos they sell and add more photos for members to access every month.
Alternatively, you can place individual photos or picture packs on your site for people to purchase, rather than buy a subscription.
If you're not thrilled about starting your own site, you can use Shopify to sell stock photography, which sets up the whole buying process for you.
You can earn up to 60% commissions at 123RF as a contributor, depending on your contributor level.
Your level depends on the 12-month licenses that downloaders of your photos have.
Even at the lowest level, though, you'll get 30% commissions, which works out to almost $0.22 per download.
It's somewhat low in comparison to other sites, but you can increase this amount by having a lot of photos for download.
The process to sign up with 500px isn't quite as strict as some, so this may be a good place for beginners to start.
And, this site even has a community in which you can submit photos from your smartphone – no fancy camera required!
You can earn $34 per digital photo, or $149 for a photo that can be printed at a higher resolution.
Or, you can earn more for submitting your photos to the Prime collection (non-smartphone photos), up to $249 per print-ready photo.
Alamy is one of the most transparent stock photo selling sites, giving contributors 50% of their sales.
And, the site states that they take photos of all categories, as its customers love seeing a wide range of photos.
Alamy states that the average license fee for its photos is $90, which means you'll get an average of $45!
BigStockPhoto requires that you complete a contributor tutorial before uploading any photos to the site.
Earn Everything… nearly!
Join Opinion Outpost, one of the few faithful and honest survey panels and earn cash and gift cards for your opinion. Stack your points and redeem them: Simple! No hidden fees and completely free!


But, aside from that, it doesn't appear that it's extremely difficult to get accepted here.
The site has a review team that reviews all photos individually, so it's possible that some get approved and some don't.
You'll earn 30% of your sales here, which will vary depending on the type of license or size of photo that a customer purchases.
You can apply for this site and submit three images with your application.
The review team will either accept or deny your application, usually within the same day.
Once approved, you can submit photos immediately to start selling them.
The commissions here range from 20% to 50%, depending on license.
You can also earn more by referring friends to the site for $5 a piece.
Once you have $50 in your account, cash out with PayPal!
Crestock isn't as well-known as some other stock photography sites, but it's still a good place to try.
Your selling account is free here and you can upload all the photos you want.
The review team will check out each one to ensure it meets site's standards.
Your commission will range from 20% to 40%. It increases with the amount you sell since you joined the site.
If someone downloads an image with a subscription, you'll get between $0.25 and $0.40 per photo, which also increases when you have more downloads.
You'll receive between 25% and 50% of sales from your photos at Dreamstime, one of the most popular stock photo sites that's been on the web since 2000.
And, you can even sell non-exclusive images here!
You'll earn a bit less for them, but this is a good way to rack up some extra cash from a popular site.
You can earn up to 60% commission, which will come from those with a subscription purchasing one of your exclusive photos.
Etsy is a place to sell all kinds of homemade and vintage items.
But, some people have also found success selling digital things, like WordPress themes and stock photography!
So, you can always try to sell some photos here through your Etsy account.
Instead of earning commissions, you'll receive the full price for your photos (minus any Etsy fees for your account).
You can also sell your photos as prints or printed on physical products through Etsy.
Fotolia is Adobe's stock photography website.
This site is strict with its vetting process to keep in line with the Adobe name.
But, if accepted, you'll gain a lot of exposure here and you'll have a great place to store your online portfolio.
You'll get 33% commissions for all photos, but make sure you have a signed release if your photos contain people or private property.
If you're a stock photography lover, you've surely heard of Getty Images.
iStock is a sister site of the photo giant, and you can use the link above to become a contributor to either site.
When you apply, the editors will choose what site to place your photos on.
iStock pays a little less, with commission starting at 15% for photos.
On Getty, commission ranges from 25% to 45%.
You'll also get more if customers decide to purchase a license for your photos.
You can get paid with Payoneer or PayPal.
Instaprints offers a bit of a different way to get paid for your photos.
Here, you can turn your favorite photos into products, like throw pillows, tote bags, and canvas prints for people to use on their products.
Your photos will come from Instagram and you can choose how much you want to see each one for, depending on the print size.
You'll earn exactly what you set your prices for!
You'll then get paid via PayPal on the 15th of each month.
Photo Moolah is another unique way to earn some cash for your pictures online.
Instead of getting a set commission for photos you sell, you can enter your photos in contests.
If you win, you'll get cash prizes!
You can level up by entering and winning more contests, which can give you even higher earnings.
PhotoDune reviews each photo from contributors individually to ensure that they adhere to the site guidelines.
As an "author," you can set your own prices for your photos here!
That's a great thing, but you'll need to make sure they're competitive so that people will still want to pay for them instead of choosing cheaper photos.
PhotoShelter offers an e-commerce site for people to sell their stock photos through.
You can sell individual photos for single use or multiple licensing options.
And, you can even sell your photos as prints using one of several partnered printing labs with PhotoShelter.
The site offers several methods of payment, like Stripe and PayPal, for your convenience.
RedBubble is a place for photographers and artists to sell products with their photos on them.
You can sell your photos for whatever price you want.
You'll usually earn around 17% of the retail price, but you can set the retail price for as high or low as you want to go to earn your desired profit.
RedBubble handles everything about the creation and shipment of products your customers buy, so you'll never have to handle any inventory.
Shutterstock is a huge name in stock photography, so it's likely that this site will have the most difficult process to sign on as a contributor.
But, your photos also stand the best chance of reaching the largest audience here.
Here, you'll earn royalties for each photo that gets purchased or downloaded, but the rate will vary depending on how many lifetime downloads you've had on the site.
Commissions can range from 20% to 30%, with the highest tier coming after you've had at least 10,000 downloads.
Or, earn up to 38 cents per download from people who download your pictures through a subscription.
On SmugMug, you can create a full portfolio for your professional photography to sell online.
Once you create your site on the platform, you'll gain access to tools that can help you sell and a full e-commerce site.
You can choose to sell either digital downloads of your photos or your photos on products – or a combination of the two!
You'll get 85% of the profits from whatever you sell, giving you one of the best chances to earn from your photos.
You can even create coupons to help sell your work and market your business.
This is a good solution for anyone who doesn't want to fuss with a full website, but still wants a spot on the web for a good portfolio and store.
Snapped4U lets you sell your photos from events quickly and easily.
Did you take photos of a wedding?
Were you hired by a school to take athletic photos for football games?
Upload them to this site and sell them to the people who attended the event!
You can have a different URL for each of your galleries so that you can share the photos with the right people.
The site transfers your earnings via PayPal every two weeks.
Snapwire lets you make money in one of two ways:
Upload your photos you already have to the site for others to purchase and download, or
Businesses and individuals can submit their photo needs and you can take photos that meet their requirements. Earn money if yours is chosen! You'll earn 70% of the revenue for this option and 50% for the previous option.
You can also use the Snapwire app to upload photos and do anything else you'd normally do on the site.
It's available for both iOS and Android devices.
You can earn between 50% and 75% in royalties for the photos you upload to Stocksy.
Your photos must be exclusive to Stocksy to get approved.
And, you'll need to have a signed release for any recognizable person you have in your photos.
The site mentions that international talent is in high demand right now, but anyone from the world is welcome to apply.
Pixpa is an all-in-one platform that enables photographers to showcase, share and sell their images online easily.
Photographers can not only create a stunning portfolio website, publish a blog and create an online store, they can also sell their images as prints or digital downloads.
You can accept payments directly into your Paypal or Stripe account connected with your bank.
Pixpa does not charge any commissions on your sales, so you can keep all the profits to yourself.
You can try out Pixpa free with the 15-day free trial.
Adobe Stock is another platform where you can sell your photos online.
As a part of the Adobe Creative Cloud, it allows photographers to upload and sell their images to millions of users across the globe.
It offers contributors a 33% commission for photos, which can be increased depending on the popularity and quality of your photos.
Zazzle is a unique online marketplace that allows you to sell your photos not only as digital prints but also on a variety of physical products like mugs, t-shirts, posters, and more.
You can set your own royalty rates on Zazzle, and they will adjust the final price to include your royalty, giving you control over how much you earn.
Fine Art America is a platform that caters specifically to artists and photographers who are looking to sell their work.
In addition to selling digital downloads, you can also sell your images as physical prints, home decor, and other products.
You can set your own prices, and Fine Art America handles the logistics of printing, packaging, and shipping.
Conclusion: How to Get Paid for Photos
So, there you have it: start making money from your photos online today!
Be sure to continue brushing up on your photography skills so you can stay competitive in the industry.
And, don't quit your day job just yet.
Wait until those royalties start flowing in steadily before you make any sudden moves.
Be sure to thoroughly read any contracts and rules before uploading your photos, too, to make sure that you're not violating the terms on other sites.
Once you've done your homework, feel free to apply to as many sites as you wish to meet your stock photography needs! Good luck!
Do you know of more sites to add to this list?

If so, please leave us a comment!

We'd also love to hear about your photo-selling experiences on any of these sites.
Related Posts:
Earn Everything… nearly!
Join Ipsos iSay, one of the few Faithful and Honest survey panels and earn prizes, gift cards and donations. Stack your points and redeem them: Simple! No hidden fees and completely free!