You Can Earn $700 a Week Recycling Used Wood Pallets For Money!
Updated on: by Amy Kennedy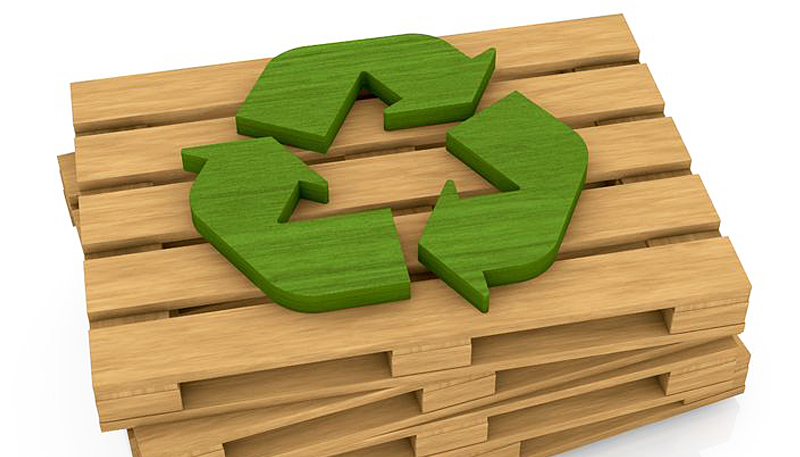 You know those wood pallets you find at work or you see near dumpsters of local businesses or homes?
Need Easy Extra $350+/Month For Free?
Well, you can sell them (provided they're unclaimed, of course!)!
Many people sell used pallets because they're usually easy to get their hands on and don't require much effort to sell.
Selling new and refurbished pallets is currently a market worth almost $17 billion in North America.
And, there are about 1.3 billion pallets available, which means that you can probably find used pallets to sell pretty easily!
People buy used pallets to use the wood for other projects, and some people recycle the pallets themselves, turning them into incredible furniture and décor items.
Some businesses may also want them to save money instead of buying new pallets.
Whatever the reason, there's absolutely a market for buying used wooden pallets, and you can get your share of the pie.
Everything You Need to Know: Wooden Pallets Recycling for Cash
Selling used wooden pallets can become a business venture more than just side income if you dedicate yourself to the process.
You don't typically need any expensive equipment or expert skill level to get started selling, and once you begin, you can learn more about the process along the way.
But, this information can get you started in your business so you can start earning cash quickly.
What Will You Need?
To start with, there isn't much you'll need besides a car, truck, or trailer with which to load some pallets, heavy-duty gloves, and some tools to fix your pallets.
That's what makes this business one of the best to start because it won't cost you much to begin with.
Of course, as your business expands, you'll probably want to set yourself up with a large truck or trailer to haul more pallets at once.
You might even consider a van if you want to start delivering used pallets to businesses or individuals for extra fees.
The biggest expense for a while will be your gas getting back and forth to the places at which you pick up pallets to sell, and later for delivering pallets.
Need Easy Extra Cash?
Pinecone Research, a leading name in online survey panel honesty, absolutely guarantees $3 cash for every survey you complete!
Take advantage of their time limited New Membership drive and register NOW. Join today: 100% free!


Here are some ways you can save money on gas as you build your business.
You can also find ways to strategically stack your pallets in your vehicle to fit more at a time and save gas on excessive trips.
Once you get into the groove of buying pallets and where to find them, you'll learn if this business venture is the right one for you.
Until then, try not to get too hasty by buying a large truck or trailer.
Stick with what you own and work your way up as your business grows.
Where Can You Find Used Pallets?
The good thing about this type of business is that it's fairly easy to find wood pallets if you live in an area with a lot of businesses.
If you live in a rural area, it may be a little more difficult.
But, if you have a large truck that can hold a lot of pallets in one trip, you may be in business.
Some of the best places to find used pallets are stores and businesses that sell large items or that need large supplies to create items.
For example:
Department stores

Furniture stores

Factories and warehouses

Tire shops

Shopping malls
You can also ask other local businesses that you think may use wood pallets to see if you can take them off their hands.
However, never go to a business and take wood pallets you see sitting by the dumpster or outside the store.
The business may already have a partnership with someone to remove the pallets.
Take a few minutes to talk to the business owner and ask if it's okay for you to remove the pallets for free.
Many businesses pay to have their wooden pallets hauled to a recycling center, so you could be saving them some money!
You can also search on Craigslist and buying/selling Facebook groups for used pallets.
Not many people advertise their free pallets, but some do.
If you don't see any ads for them, post an ad yourself explaining that you'll haul off any stacks of used pallets for free.
You'll likely get some bites since you're also doing the individuals or businesses a favor.
Should You Repair Broken Pallets?
The quick answer is, "Yes!"
Often, used pallets come broken with missing wood planks or nails.
It typically happens when they fall or get bumped during shipping or after items are removed from the pallets.
Fortunately, they're super easy to repair with some nails and a hammer.
If you spend a few minutes repairing broken pallets, you can likely get a lot more out of them than you would if they were broken.
After all, if you bought a stack of pallets from someone, you probably wouldn't want to have to fix them all too, right?
That's your job as the seller and it can definitely help your profit.
Make sure each pallet is sturdy. Add a few nails if needed. And, replace any missing or broken wood planks.
You can use any wood pallets in rough shape to repair the others by taking apart their planks and using them as replacements.
How Much Do You Get for Recycling Wood Pallets?
How much you make selling recycled wood pallets depends on how much time you can devote to your business and the need for them in your area.
Earn Everything… nearly!
Join Opinion Outpost, one of the few faithful and honest survey panels and earn cash and gift cards for your opinion. Stack your points and redeem them: Simple! No hidden fees and completely free!


Of course, the condition of your pallets matters too.
The typical cost per pallet is about $0.50 to $4, with most of them averaging about $2 each.
If you're lucky, you may find businesses in your area that will order a specific weekly amount, like 50 each week.
50 each week at $2 a piece is $100 per week, and that's just from one client.
So, it's totally possible to earn, at minimum, $400 per month, even when you're just starting your business.
As you grow your business and can pick up more loads, you can make closer to $100 or more per day, depending on how many clients you found in your area.
As you can see, recycling and selling used pallets can definitely rake in profit, but you have to know how to find the right places to sell to.
Remember: You're in Business for Yourself!
If you're serious about turning your wood pallet sales into a legit business venture, then you'll need to treat it like one.
That means learning everything you can about the business side of things to bring in more customers and help them trust you.
Business Taxes
Business taxes are one of the trickiest things to learn when starting any business of your own.
The way you do them will depend on how you registered your business.
If you'll be the only employee, you can typically get away with running a sole proprietorship, meaning that you're the only person who gets paid at that business.
However, if you want to bring in anyone else to help, you'll need to look into turning your business into a partnership, LLC, or another type of business that meets your goals.
No matter what way you choose, you'll need to pay taxes on your business income.
That includes federal, state, and local taxes.
You'll also probably need to learn about sales tax, too, and how to file that for your state.
The IRS does a good job explaining federal business taxes, but you'll need to visit your state and locality's websites to learn more about their tax requirements.
Local Business Laws
When you set up a business in your town, even if you plan on running it from home for a while, you'll need to learn about the laws your town has for running a business.
Some towns forbid certain businesses to be run from home and will, instead, require you to have a commercial address for it.
Others aren't quite as strict but may still require you to obtain a business license to run your business.
States also have their own laws about forming businesses, naming your business, etc.
You can learn more about how to do it and what you'll need by visiting your state's Secretary of State website or giving its office a call.
Marketing Yourself
One of the most important parts of running a business is knowing how to grow that business through marketing.
If people don't know about you and what you do, then your business won't get very far, right?
Fortunately, with this type of business, word of mouth can be an excellent marketing system that requires minimal effort on your part.
You might encourage your current customers to tell others about you by offering them a discount on their next pallet purchase.
You can also host giveaways on social media, inviting people to share your posts and giving a lucky fan some pallets for free for participating.
This business can also thrive from low-cost ads placed in the newspaper or free ads posts on Facebook Marketplace or Craigslist.
You have the power of using both the internet and local resources to market yourself, so it shouldn't be too difficult to get a solid customer base and continue to build it.
Maintaining Inventory
Since you now have a legitimate business set up, you'll need to make sure you're doing your part to keep up with inventory.
When you're first starting out, you'll probably have some dry spells where you have little to no pallets to sell.
As you become more familiar with finding used pallets and knowing where to go to sell them, you'll find that your business starts evening out a bit.
The key to keeping things consistent is maintaining your inventory at a steady pace.
You'll want to have a good mix of some of the more popular sizes of pallets, plus an inventory of odd sizes that people might be specifically looking for.
And, you'll need lots of pallets!
This will help ensure that you don't keep running out because you'll have a steady supply to go around.
Unfortunately, pallets are susceptible to mold growth when they're sitting in a warehouse unused.
This is something you'll need to keep in mind as you expand and house more pallets.
It's important to keep your storage area as dry as possible to prevent moisture from molding and warping the wood. Use a dehumidifier if needed.
You can also treat the pallets with mold-preventing chemicals to keep them mold-free.
Where to Sell Used Pallets
The question you have now is probably "How can I find out who buys pallets near me?"
First, start out with local businesses and factories that you think might be interested in your pallets.
You may even have local businesses that make handmade items or furniture who could use the wood or want to turn pallets into décor items.
Get creative and don't count anyone out, because they just may be the perfect person or business to turn into a client!
Manufacturing companies are good places to start.
You can always call their headquarters to find out if there's any interest in your pallets.
If that doesn't work, don't worry, because there are other options:
This website has a full directory of companies that buy and sell used pallets all over the world, so you can find one local to you no matter what country you live in.
Plug in your zip code or city and state and then search for Broker/Distributor/Wholesaler to find a buyer for your pallets.
This directory can likely find you some long-term clients that you may be able to sell pallets to weekly or monthly!
Local Schools and Colleges
Another option for selling pallets locally is finding local schools to sell to.
Technical and vocational schools are perfect, especially if they have woodworking or furniture programs.
These schools may have the budget for some pallets to use for students, although the budget is probably much lower than other local businesses.
But, they also may not be as picky about their pallets either, so it could be a good chance to sell some in your inventory that aren't in the best shape.
Don't forget about colleges near you, too.
They might have a need for pallets for certain technical courses.
Local Factories
There's always a chance that small businesses might have a need for your pallets, but you're probably better off going with large factories instead.
After all, these are the places that you'll find a lot of wood pallets in already!
It's possible that factories near you have a shortage or will be willing to pay your better rates for pallets than what they're paying for suppliers.
Or, they might even be willing to pay you a fair price to take the pallets off their hands.
You can always give them a call to see if they have a need before stopping over with your supply.
Pallet Brokers
There are several pallet brokers all over the United States that are willing to take your pallets off your hands – usually in bulk – for a fair and competitive price.
These brokers are in business for themselves to also make a profit on pallets, so it's kind of like using a middleman if you can't find another avenue.
Still, you could end up with a decent profit if you call around to compare prices first.
The only problem with brokers is that you may not have any near you.
You'll need to drop off the pallets to a physical location because, in most cases, the company won't come to you to pick them up.
However, you can do a search on Google to see if any brokers exist in your area, or at least within a decent driving range.
Search for something like "[your town/county/state] wood pallet broker" to find places near you.
I always suggest giving them a call first to find out about their prices and requirements.
Ask them if they accept damaged or broken boards and what sizes they accept before you head over with your pallets.
Just like being a good place to find used pallets, Craigslist and websites like Craigslist are the perfect places to sell used pallets!
First off, in most cases, it's free to list on Craigslist. And, it's super simple to put up an ad with a few quality pictures and a quick description of what you're selling.
Craigslist is popular and gets a lot of traffic in many locations, so you can likely find a buyer for your used pallets.
And, it attracts a lot of different people. You could find anyone from artists to woodworkers looking for used pallets for their craft.
A quick search in my area pulled up several results for used pallets, from single pallets around $5 to stacks of $100 or more.
And, if you really want to go above and beyond with your used pallet business, you can even use these sites to sell things you make from pallets, like furniture.
Avid Pallet provides several pallet services, from recycling to heat treating and more.
And, it will even recycle used pallets for you and will pay you for them, if your pallets are worth it.
The company specifies that the type, size, and grade of your pallets matter, which sounds like it depends on what the company needs most at the time.
You can always send in the information of your pallets to the company and it will let you know if your pallets are in-demand and worth any money for the company.
This company is best to use when you have a lot of pallets to load up, as it sends a truck to you.
It usually focuses on large warehouses and factories, but it may be worth a call to see if your pallets are worthy.
Kamps Pallets is a provider of pallet services and is a pallet broker, meaning that you can sell your pallets to the company!
The good thing about Kamps Pallets is that it will even buy broken or damaged pallets.
If you have several of those in your inventory that you haven't yet gotten around to fixing, then this company is an option for at least making some money from them.
Kamps Pallets typically picks up pallets in bulk orders of 400 or more, but will pick up 100 or more large pallets at a time. 48×48 and 48×45 are among its most in-demand pallet sizes.
If you're interested in selling your pallets to Kamps Pallets, you can contact the company through its website.
Recycle.net has wooden pallet recycling listings to match buyers and sellers interested in wooden pallets.
You can add your listings for free or browse listings in your area to find local buyers.
You can only post up to 5 listings per month, so it's best to create bulk listings rather than sell small stacks at a time on Recycle.net.
This network helps buyers and sellers interested in recycled pallets find what they need all over the United States and Canada.
Once you click your country, you'll be taken to the database of listings for each state or province.
From there, you can search the available listings.
There seem to be a lot of listings for most areas for wanted pallets, and they're updated frequently.
You can list details about your pallets for free to place on the exchange.
Gruber Pallets is another company that allows you to sell your pallets for cash.
It looks for the most common pallet sizes, like 42 x 42 and 48 x 42, but you can always bring other sizes there and see if the company has a need for them.
There's no need to repair pallets before dropping them off here (although that can potentially give you a better price).
Gruber Pallets will accept most pallets that aren't damaged upon repair, so they can repair them for resale.
The company does say that you can get paid more for large quantities of pallets – 400 or more – rather than small ones, and that neatly stacked pallets will also yield a better price than disorganized ones.
Prime Woodcraft's focus is on environmental sustainability and applying that philosophy to pallet services including pallet recycling and manufacturing.
These services include buying pallets from the public with the goal of reselling or re purposing them. With so many industries requiring them, there are almost 500 different kinds of pallets.
These vary by dimension, the number of nails, thickness, and type of wood. With its focus on sustainability, Prime uses environmentally friendly methods that utilize every bit of wood received.
This is a company for Australians to use to sell their pallets.
Smart Recycling has a location in Melbourne where you can drop off your pallets to sell.
The company accepts the following pallet sizes:
Standard Australian Pallets – 1165 x 1165mm
Export Pallets – 1100 x 1100
Euro pallets (EPAL) – 1200 x 800mm
Some are allowed to have some damage or missing boards, but Smart Recycling requires Euro pallets to be in good condition without missing pieces or damage.
Local Construction Companies
Local construction companies are an excellent target market for selling used pallets, as they frequently rely on pallets for transporting materials and equipment to their job sites.
These companies understand the practicality and cost-effectiveness of using pallets in their operations. To approach construction companies, compile a list of local companies involved in residential, commercial, or industrial construction projects.
Reach out to them directly through phone calls or emails, emphasizing that you have used pallets available for sale. Highlight the benefits of using these pallets for their transportation needs, such as cost savings and environmental sustainability.
Inquire if they are interested in purchasing the pallets or if they can recommend other potential buyers within the construction industry. Building relationships with construction companies can lead to repeat business and referrals to other contractors or subcontractors.
Scrap Yards
Scrap yards and recycling centers that handle various materials, including metals and wood, may also be interested in buying used pallets.
These facilities often dismantle the pallets to salvage metal components or recycle the wood. To explore selling your pallets to scrap yards, research local scrap yards or recycling centers in your area.
Check their websites or contact them directly to inquire if they accept pallets and offer compensation for them. Some scrap yards may have specific requirements regarding the condition and size of the pallets they accept.
When contacting scrap yards, ask about their purchasing process, including whether they offer pick-up services or if you need to deliver the pallets. Inquire about their pricing structure, as it may depend on factors such as size, condition, and material.
Selling pallets to scrap yards contributes to recycling efforts and environmental sustainability.
Social Media Marketplace
Utilizing social media platforms, such as Facebook Marketplace, can be a convenient and effective way to connect with potential buyers for your used pallets.
Facebook Marketplace allows you to create listings with detailed descriptions, photographs, and pricing information.
Additionally, many local communities have dedicated buy-and-sell groups where you can post your pallets and reach a targeted audience.
To sell your pallets on social media, capture clear and appealing photographs of the pallets you want to sell. Craft a descriptive listing that includes relevant details such as quantity, dimensions, condition, and special features.
By leveraging social media platforms, you can tap into a wide user base and connect with individuals or businesses in your local community actively seeking used pallets.
More Ways to Make Money with Used Wood Pallets
There's more to making money with wood pallets than just recycling them for cash if you're looking to really maximize your profits with your business.
Wood pallets are incredible for turning into other things people might want!
It'll take some time to transform them into other things, but you could also end up with a better profit than you would just selling them as-is, especially if you live in a smaller town without factories, pallet brokers, and other companies interested in buying them.
Here are a few ideas for transforming your wood pallets into other cool stuff people will want to buy from you:
Use Them to Craft
If you hang around Pinterest a lot, you've probably seen a lot of DIY wooden pallet projects.
I've seen everything from custom paintings on pallets to garden paths made from boards to a wooden pallet mug hanger.
There are so many things you can use pallets for to create something new to sell.
The best part is that DIY crafts can bring in a whole new audience for your business, essentially giving you two full customer pools to market to.
Make Furniture from Pallets
Furniture is an excellent choice for pallets, especially if you have several to share.
Wooden pallets can make everything from couches to coffee tables to porch swings, and just about anything in between.
Making furniture with pallets will take more time than, say, a decorative wall hanging, but you can also charge a lot for custom furniture.
People often will pay more for handmade furniture than they would for something from a store because it's unique; no one else will have a piece just like the one you made.
Be sure to factor in the hours you spend on each project and any additional materials you had to buy when you price your furniture.
Break Them Apart for Firewood
Wood pallets have a lot of wood in them.
What do people need to make fires?
Wood, of course!
Many people pay a pretty penny for firewood for camping or their fireplaces in the winter.
Recycled wooden pallets can work just as good as pricey firewood, though, if they haven't been treated.
The best part?
Breaking apart pallets for firewood is a fairly straightforward and quick process that doesn't require tons of effort.
You'll get several pieces that you can sell in small and large bundles to meet the needs of your customers.
It's a good idea to sell your driest boards for firewood, since damp wood doesn't work so well to build fires.
If you have a lot of inventory, be sure to use your oldest pallets that have had plenty of time to dry out to break into firewood.
Or, Sell Pieces Separately as Scrap Wood
Alternatively, you can use the separated pallets to sell for bundles of scrap wood.
It's not uncommon for people to want to buy scrap wood for a variety of purposes, like creating their own DIY projects.
You can offer an additional service for cutting custom pieces from your pallets for an extra cost.
Turn Them into Vertical Planters
People who want fresh herbs, fruits, and vegetables but don't have a lot of room to plant them in a traditional garden often go for vertical planting instead.
With vertical planting, you grow plants in a standing garden rather than in the ground.
A lot of herbs can be grown this way, and some smaller fruit and vegetable plants can also work in this type of garden.
Wooden pallets are perfect for creating a vertical garden when you stand them up on their end.
The under boards work to hold plants, while the top boards keep them in rows and act as a nice decoration.
Turning pallets into vertical planters couldn't be easier, either.
You'll need to treat them with a mold-resistant coating or paint to make sure watering plants doesn't affect them.
Then, paint or finish them however you want and sell them.
You can even offer to customize them to your clients' needs with names, specific designs and colors, etc., for a higher price.
This post by Design Sponge shows you how to create these beautiful DIY planters.
Read More: 
Top 6 Sites That Pay Cash for Recycling Cardboard Boxes!
Earn $900 a Week Recycling Old Tires for Cash! Everything You Need to Know.
9 Best Places to Recycle Old Car Batteries for Cash
Conclusion: Get into the Used Pallet Business!
Selling used pallets is definitely a valid business choice.
People can earn a part-time or full-time income each week, depending on how in-demand the business is in their area and the availability of pallets.
The best thing to do before you take it on as a business venture is start small.
Find out what's available in your area and if enough people are interested in buying your used pallets. If so, you can likely grow your business!
What do you think of this interesting business opportunity?
Let us know in a comment below!
Related Posts:
Earn Everything… nearly!
Join Ipsos iSay, one of the few Faithful and Honest survey panels and earn prizes, gift cards and donations. Stack your points and redeem them: Simple! No hidden fees and completely free!