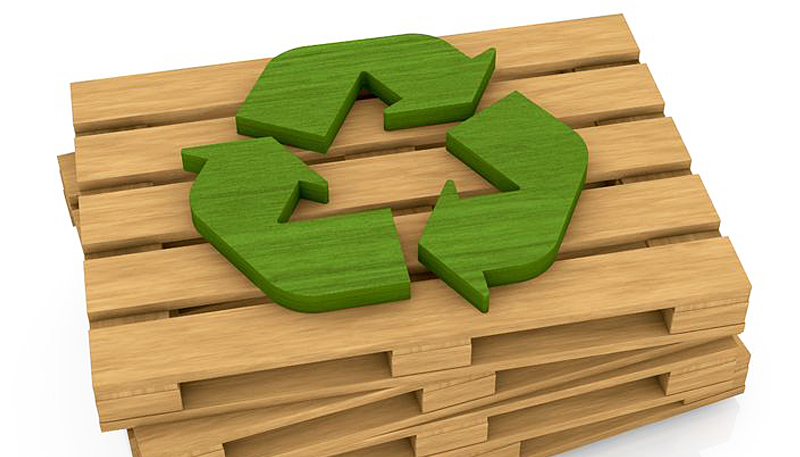 You know those wood pallets you find at work or you see near dumpsters of local businesses or homes?
Need Easy Extra $350+/Month For Free?
Well, you can sell them (provided they're unclaimed, of course!)!
Many people sell used pallets because they're usually easy to get their hands on and don't require much effort to sell.
Selling new and refurbished pallets is currently a market worth almost $17 billion in North America.
And, there are about 1.3 billion pallets available, which means that you can probably find used pallets to sell pretty easily!
People buy used pallets to use the wood for other projects, and some people recycle the pallets themselves, turning them into incredible furniture and décor items.
Some businesses may also want them to save money instead of buying new pallets.
Whatever the reason, there's absolutely a market for buying used wooden pallets, and you can get your share of the pie.
Everything You Need to Know: Wooden Pallets Recycling for Cash
Selling used wooden pallets can become a business venture more than just side income if you dedicate yourself to the process.
You don't typically need any expensive equipment or expert skill level to get started selling, and once you begin, you can learn more about the process along the way.
But, this information can get you started in your business so you can start earning cash quickly.
What Will You Need?
To start with, there isn't much you'll need besides a car, truck, or trailer with which to load some pallets, heavy-duty gloves, and some tools to fix your pallets.
That's what makes this business one of the best to start because it won't cost you much to begin with.
Of course, as your business expands, you'll probably want to set yourself up with a large truck or trailer to haul more pallets at once.
You might even consider a van if you want to start delivering used pallets to businesses or individuals for extra fees.
The biggest expense for a while will be your gas getting back and forth to the places at which you pick up pallets to sell, and later for delivering pallets.
Here are some ways you can save money on gas as you build your business.
You can also find ways to strategically stack your pallets in your vehicle to fit more at a time and save gas on excessive trips.
Once you get into the groove of buying pallets and where to find them, you'll learn if this business venture is the right one for you.
Until then, try not to get too hasty by buying a large truck or trailer.
Earn Everything… nearly!

Join e-Poll, one of the oldest survey panels and earn cash - paid via PayPal - gift cards for Amazon, Best Buy, iTunes, Starbucks, and Walmart, plus Retail e-vouchers.
The surveys are aimed at entertainment-related research, covering such things as personal TV watching habits, give feedback on new TV commercials or to review DVDs that are sent to your home.
For USA residents aged 13+. No hidden fees and completely free!


Stick with what you own and work your way up as your business grows.
Where Can You Find Used Pallets?
The good thing about this type of business is that it's fairly easy to find wood pallets if you live in an area with a lot of businesses.
If you live in a rural area, it may be a little more difficult.
But, if you have a large truck that can hold a lot of pallets in one trip, you may be in business.
Some of the best places to find used pallets are stores and businesses that sell large items or that need large supplies to create items.
For example:
Department stores

Furniture stores

Factories and warehouses

Tire shops

Shopping malls
You can also ask other local businesses that you think may use wood pallets to see if you can take them off their hands.
However, never go to a business and take wood pallets you see sitting by the dumpster or outside the store.
The business may already have a partnership with someone to remove the pallets.
Take a few minutes to talk to the business owner and ask if it's okay for you to remove the pallets for free.
Many businesses pay to have their wooden pallets hauled to a recycling center, so you could be saving them some money!
You can also search on Craigslist and buying/selling Facebook groups for used pallets.
Not many people advertise their free pallets, but some do.
If you don't see any ads for them, post an ad yourself explaining that you'll haul off any stacks of used pallets for free.
You'll likely get some bites since you're also doing the individuals or businesses a favor.
Should You Repair Broken Pallets?
The quick answer is, "Yes!"
Often, used pallets come broken with missing wood planks or nails.
It typically happens when they fall or get bumped during shipping or after items are removed from the pallets.
Fortunately, they're super easy to repair with some nails and a hammer.
If you spend a few minutes repairing broken pallets, you can likely get a lot more out of them than you would if they were broken.
After all, if you bought a stack of pallets from someone, you probably wouldn't want to have to fix them all too, right?
That's your job as the seller and it can definitely help your profit.
Make sure each pallet is sturdy. Add a few nails if needed. And, replace any missing or broken wood planks.
You can use any wood pallets in rough shape to repair the others by taking apart their planks and using them as replacements.
How Much Do You Get for Recycling Wood Pallets?
How much you make selling recycled wood pallets depends on how much time you can devote to your business and the need for them in your area.
Of course, the condition of your pallets matters too.
The typical cost per pallet is about $0.50 to $4, with most of them averaging about $2 each.
If you're lucky, you may find businesses in your area that will order a specific weekly amount, like 50 each week.
50 each week at $2 a piece is $100 per week, and that's just from one client.
So, it's totally possible to earn, at minimum, $400 per month, even when you're just starting your business.
As you grow your business and can pick up more loads, you can make closer to $100 or more per day, depending on how many clients you found in your area.
As you can see, recycling and selling used pallets can definitely rake in profit, but you have to know how to find the right places to sell to.
Where to Sell Used Pallets
The question you have now is probably "How can I find out who buys pallets near me?"
First, start out with local businesses and factories that you think might be interested in your pallets.
You may even have local businesses that make handmade items or furniture who could use the wood or want to turn pallets into décor items.
Get creative and don't count anyone out, because they just may be the perfect person or business to turn into a client!
Manufacturing companies are good places to start.
You can always call their headquarters to find out if there's any interest in your pallets.
If that doesn't work, don't worry, because there are other options:
This website has a full directory of companies that buy and sell used pallets all over the world, so you can find one local to you no matter what country you live in.
Plug in your zip code or city and state and then search for Broker/Distributor/Wholesaler to find a buyer for your pallets.
This directory can likely find you some long-term clients that you may be able to sell pallets to weekly or monthly!
Local Schools
Another option for selling pallets locally is finding local schools to sell to.
Technical and vocational schools are perfect, especially if they have woodworking or furniture programs.
These schools may have the budget for some pallets to use for students, although the budget is probably much lower than other local businesses.
But, they also may not be as picky about their pallets either, so it could be a good chance to sell some in your inventory that aren't in the best shape.
Just like being a good place to find used pallets, Craigslist and websites like Craigslist are the perfect places to sell used pallets!
First off, in most cases, it's free to list on Craigslist. And, it's super simple to put up an ad with a few quality pictures and a quick description of what you're selling.
Craigslist is popular and gets a lot of traffic in many locations, so you can likely find a buyer for your used pallets.
And, it attracts a lot of different people. You could find anyone from artists to woodworkers looking for used pallets for their craft.
A quick search in my area pulled up several results for used pallets, from single pallets around $5 to stacks of $100 or more.
And, if you really want to go above and beyond with your used pallet business, you can even use these sites to sell things you make from pallets, like furniture.
Avid Pallet provides several pallet services, from recycling to heat treating and more.
And, it will even recycle used pallets for you and will pay you for them, if your pallets are worth it.
The company specifies that the type, size, and grade of your pallets matter, which sounds like it depends on what the company needs most at the time.
You can always send in the information of your pallets to the company and it will let you know if your pallets are in-demand and worth any money for the company.
This company is best to use when you have a lot of pallets to load up, as it sends a truck to you.
It usually focuses on large warehouses and factories, but it may be worth a call to see if your pallets are worthy.
Kamps Pallets is a provider of pallet services and is a pallet broker, meaning that you can sell your pallets to the company!
The good thing about Kamps Pallets is that it will even buy broken or damaged pallets.
If you have several of those in your inventory that you haven't yet gotten around to fixing, then this company is an option for at least making some money from them.
Kamps Pallets typically picks up pallets in bulk orders of 400 or more, but will pick up 100 or more large pallets at a time. 48×48 and 48×45 are among its most in-demand pallet sizes.
If you're interested in selling your pallets to Kamps Pallets, you can contact the company through its website.
Recycle.net has wooden pallet recycling listings to match buyers and sellers interested in wooden pallets.
You can add your listings for free or browse listings in your area to find local buyers.
You can only post up to 5 listings per month, so it's best to create bulk listings rather than sell small stacks at a time on Recycle.net.
This network helps buyers and sellers interested in recycled pallets find what they need all over the United States and Canada.
Once you click your country, you'll be taken to the database of listings for each state or province.
From there, you can search the available listings.
There seem to be a lot of listings for most areas for wanted pallets, and they're updated frequently.
You can list details about your pallets for free to place on the exchange.
Conclusion: Get into the Used Pallet Business!
Selling used pallets is definitely a valid business choice.
People can earn a part-time or full-time income each week, depending on how in-demand the business is in their area and the availability of pallets.
The best thing to do before you take it on as a business venture is start small.
Find out what's available in your area and if enough people are interested in buying your used pallets. If so, you can likely grow your business!
What do you think of this interesting business opportunity? Let us know in a comment below!
Related Posts:
Want more money?

Easy Extra Cash! Join the famed Vindale Research site and earn rewards by doing nothing more than sharing your experience of using the internet. Guaranteed 100% free membership.