10 Best Places to Find Remote Medical Billing and Coding Jobs
Updated on: by Amy Kennedy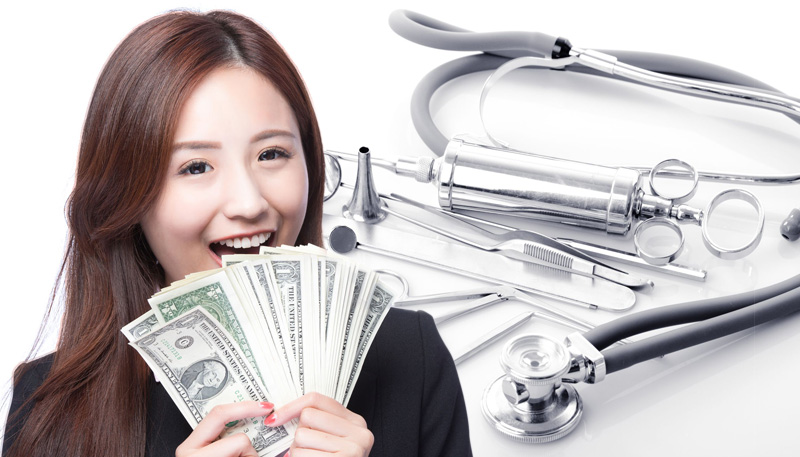 Some work at home job listings will have you believe that jumping into a work from home career with medical billing or coding is simple.
Need Easy Extra $350+/Month For Free?
While it is attainable, it's not necessarily something you can decide to do and get started with quickly.
These careers require special knowledge of the medical field, certification, and training.
To begin a work from home career in medical billing or medical coding, you'll likely need to look into a degree or certification program first.
If this type of job is something you think you're interested in pursuing, I encourage you to read this article.
I'll discuss the differences between the two jobs, how much they make, how to avoid scams, and what companies hire remote medical coders and billers.
What is Coding for Medical Professions?
Medical codes are small snippets of information that tell a patient's medical team what procedures he's had done, where he's been, what medications he's taking, and his diagnoses.
It's almost like a story of the patient's medical history using small codes.
A medical coder is a person who takes the information from hospital or doctor visits and turns them into codes.
The work is serious, because small mistakes can lead to huge mess-ups on a patient's file, showing such inaccuracies as incorrect medications or diagnoses.
It's the responsibility of a medical coder to have a high-level knowledge of medical procedures and diagnoses so that she can relay that information properly through coding.
Medical coders typically work closely with physicians and insurance companies to ensure that they have accurate information.
They may need to double check with a diagnosing physician about certain information, or explain information to the insurance company.
Medical Coding from Home Salary
Medical coders, according to PayScale, have a median hourly wage of $17.61 and may make up to $55,000 per year or more.
This number doesn't necessarily reflect freelance medical coders, though.
Freelancers often have the ability to be flexible in their work, setting their rates, and taking on as many clients as they have time for to earn a higher salary.
Need Easy Extra Cash?
Pinecone Research, a leading name in online survey panel honesty, absolutely guarantees $3 cash for every survey you complete!
Take advantage of their time limited New Membership drive and register NOW. Join today: 100% free!


It's possible, as a freelance medical coder, that you earn more than the average medical coder, depending on how well you market your business.
What is Medical Billing?
Medical billing and medical coding are actually two different jobs that often get mistaken for the same thing.
Many of their tasks may overlap, but they each have different duties.
Both of them, however, need to have at least some knowledge of what the other one does.
Medical coders decipher information from a physician or hospital visit and turn it into codes for procedures and diagnoses.
Then, the medical biller must check over those codes, gather insurance information from the patient, submits information into the system, and then bills the insurance company or patient if no insurance coverage is available.
Medical billers typically stay in contact with insurance companies often, acting as a liaison between the patient and the insurance company.
They may also have to contact hospitals or physicians from time to time to ensure that the codes they're billing for are accurate.
Medical Billing from Home Salary
Medical billing typically pays a bit less than coding.
According to PayScale, a medical biller earns a medium hourly wage of $15.59 and her annual salary can hit up to $44,000 or so.
Again, freelance medical billers may earn more than this, depending on how many clients she has and what her rates are.
What Do You Need to Get Started as a Remote Medical Biller or Coder?
To start working with most companies or clients, you're likely going to at least need certification.
Some even require a Bachelor's degree to get started.
Two places to research about certification for medical billing or coding are:
AHIMA: AHIMA is a good place for those looking for a medical coding career to start. It offers several certification programs, such as Certified Coding Specialist (CCS) and Certified Coding Associate (CCA).
AAPC: AAPC offers both medical billing and coding certification programs. You can earn your Certified Professional Coder (CPC), Certified Intake Coder (CIC), Certified Professional Biller (CPB), and more here.
If you'd like to consider a degree program in this field, it's in your best interest to find one that culminates in obtaining certification for medical coding and billing.
This way, you'll have both certification and a degree under your belt!
Of course, you're planning to work from home, so it's imperative that, when you're ready to begin, you have:
A designated work desk with ample space for books, notepads, your computer, and phone
A dedicated phone line for work purposes
A reliable computer with a broadband internet connection
A headset
If possible, a separate room for your home office that's free from background noise and distractions
But, remember that it's not typical to be able to get your certification and jump right into an at-home career.
Most companies will start you in an in-office position first before they let you work from home.
Those who work from home usually have at least a couple of years of experience in a professional setting.
How to Avoid Scams
Several types of work from home jobs get hit by scammers trying to profit off those desperate for a work from home job.
Unfortunately, medical coding and billing are among the work from home careers that scammers target.
Most of the scams look similar, so once you start seeing them (and know what to look for) you'll probably spot them easily.
Scammers will try to sell you something to help you start your career.
It may be a book, a course, or some type of "package" that guarantees that you can get started in a medical billing or coding career fast – even without any certification or knowledge.
Legitimate medical billing and coding companies will not require you to pay for anything to start a job.
And, they won't make it seem like an easy thing to do, either.
They'll have detailed requirements, expectations, and rules for the job.
Also, don't fall for websites that claim you can earn your medical billing or coding certification in a short amount of time, like a month.
Earn Everything… nearly!
Join Opinion Outpost, one of the few faithful and honest survey panels and earn cash and gift cards for your opinion. Stack your points and redeem them: Simple! No hidden fees and completely free!


Instead, your training for your certification will usually take between six months and a year.
Who Hires Remote Medical Coders and Billers?
The following companies hire remote medical billers and coders.
Be aware that they do require experience.
Adecco occasionally has openings for remote medical billing specialists to provide services to its clients.
You must be able to work for any employer in the U.S., but it's not mentioned that you have to live there.
The positions are usually temporary, based on the client's needs, but you may be eligible for extensions, depending on your performance.
The pay for this role varies between $15 and $19 per hour, depending on experience.
You must have at least 1 to 3 years of experience with medical billing, strong customer service skills, and experience with the Microsoft Office suite.
You'll work during normal business hours for most positions and may qualify for overtime.
Aviacode looks for contract coding professionals to work from home and has a variety of positions available, depending on your area of expertise.
Most positions require at least two to three years of professional coding experience plus certification.
Aviacode also has its own internal assessments that may be a requirement to pass before beginning work.
Only legal US residents may work with Aviacode.
Conifer Health Solutions sometimes has openings available for remote medical coders.
You can search the job listings for "telecommuting" jobs to find ones currently hiring.
These jobs may require some travel to an office, rather than being fully remote.
You must have certification for the positions and an active registered nursing license may also be a requirement.
GeBBS Healthcare Solutions is another company that occasionally seeks remote medical coders.
You can find these jobs listed on the Careers page by searching "coder".
Most coding positions with this company require at least two years of relevant coding experience that matches the type of coding you'll be doing for that particular job.
You'll also need to complete a background check, assessments given by the company, and hold at least one active certification from AHIMA.
As an employee with this company, you'll benefit from paid time off, 401(k), life insurance, a medical insurance plan, and around-the-clock technical help, if needed.
HealthPro Medical Billing hires Remote Pathology Coders for full-time or part-time positions.
You'll need a CPC or equivalent certification through AHIMA or AAPC and at least three years of experience in pathology coding. You also must have worked in the field within the past year.
Additionally, you'll need to pass the ICD-10 exam, which AHIMA and AAPC also provide.
This company only hires residents of the US who can pass a background check.
iMedX seeks full-time and part-time experienced medical coders.
Professional Ambulatory, EIM, IP, and Clinic coding experience is preferred, but not a requirement.
You'll need the minimum of a high school diploma or GED, but you must have completed a certification program.
The company actively seeks those with a CCS, RHIA, RHIT, or CEMC credential.
You'll also need at least three years of coding experience and thorough knowledge of CPT and ICD coding systems.
Lexicode provides medical coding services for clients.
The company has several types of medical coding positions, so you can likely find one that matches your areas of coding expertise, such as inpatient or ambulatory coding.
You'll need at least one year of experience, and specific certifications from either AAPC or AHIMA.
Some positions may also require extra credentials, depending on the type of coding.
The positions are full-time and offer good benefits, like retirement savings, insurance, and paid time off.
Maxim Health Information provides several medical coding jobs with benefits, even for those who work from home.
Benefits include direct deposit, flexible schedule, a health insurance plan, and 401(k).
You reportedly need at least three years of experience for these positions, plus a certification.
nThrive offers various services to clients in the healthcare industry, including medical coding and billing.
Positions may be either part-time or full-time, earning a variable hourly wage, depending on your skills and experience.
You must have at least two years of coding experience and your high school diploma or GED.
You'll also need a certification, which will depend on the exact position you're applying for.
The Coding Network is a leading provider of coding services for physicians and hospitals.
You can find a variety of coding jobs here, from pulmonary coding to wound care coding.
Scroll through the list and check the jobs that you're interested in applying for.
You can fill out an application and send in your resume for more than just one job at a time.
The website states that all applicants, at a minimum, must live in the United States and have an active coding certification. CPC-A certification is not accepted here.
Conclusion: Remote Medical Billing and Coding Salary
Remote medical coding and billing isn't the easiest field to break into.
But, where there's a will, there's a way!
You typically don't need college experience to start your career in medical billing or coding.
Of course, a college program may help you understand anatomy, radiology, and other things that a high-level knowledge of may come in handy for these jobs.
However, certification is a must.
AHIMA and AAPC are definitely worth looking into so that you can start your dream career as soon as possible.
We want to hear from those in the field already!
How did you get started and where do you work now?
If you're looking to begin a career as a medical billing specialist or coder, what do you find to be your biggest challenges?
Let us know in a comment below!
Related Posts:
Earn Everything… nearly!
Join Ipsos iSay, one of the few Faithful and Honest survey panels and earn prizes, gift cards and donations. Stack your points and redeem them: Simple! No hidden fees and completely free!