Click4Surveys Review – Why You Should Avoid This Website at All Costs
Updated on: by Amy Kennedy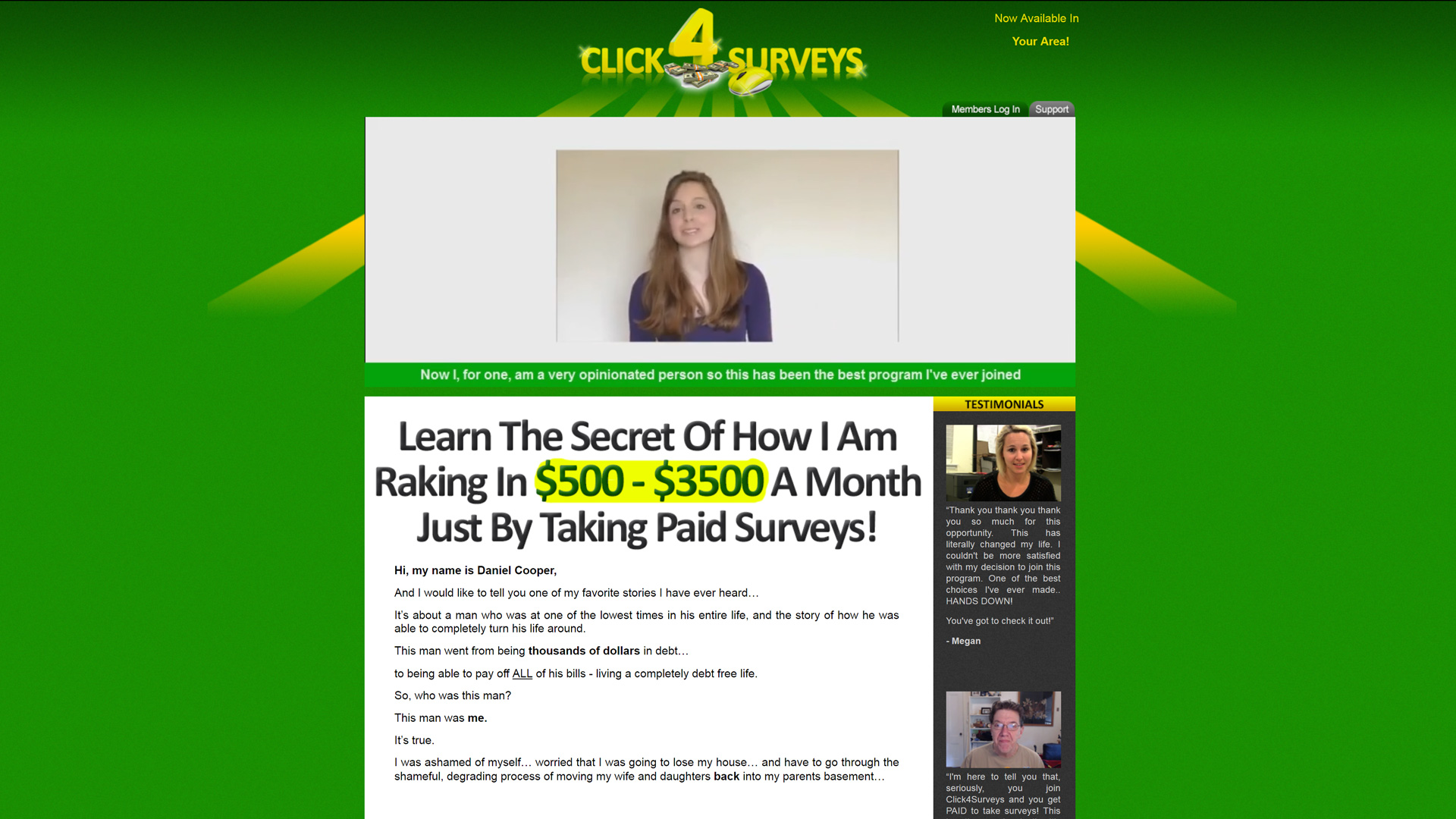 There is always someone who has to try to ruin it for everybody else.
Need Easy Extra $350+/Month For Free?
Paid surveys are not a "get rich quick" scheme, but many offer legitimate ways to earn some cash and rewards every month.
Sites like Click4Surveys take advantage of people wanting to use their spare time to earn money, and abuse the system.
Here is why you should not go anywhere near Click4Surveys, and which paid survey sites you should choose instead.
What is the Click4Surveys scam?
The website uses a lot of hyped-up language and glowing testimonials to promote their "service" – apparently while only using your spare time while eating your breakfast and after putting the kids to bed, you'll soon be able to quit your job!
Clearly, this is not true.
While they never really tell you exactly what you're in for, the basic reality is that they take your money while directing you to various scams.
At the heart of the model are their links through to other survey websites.
Those websites are not scams – but you certainly do not have to pay to join!
You have paid Click4Surveys to find your survey sites that you could easily find yourself using a Google search – or you could save even more time and sign up for the best sites recommended here!
False Claims
Click4Surveys use a lot of very exciting language to entice you to sign up.  Surely, they couldn't tell straight up lies, right?  Unfortunately, in this case – pretty much wrong.
Projected earnings.  This site claims to pay you $5 – $75 per survey.  If there has ever been a survey that pays $75, I want to hear about it – although I imagine it would take days of work.  Companies do pay millions for market research – but those dollars are spread over millions of people, and that's after the market research companies take their cut. These earnings are simply not realistic.
Test quiz is unrealistic.  This website offers you a "test quiz" to see how easy it is going to be to fill in surveys.  Apparently for $15 you only need to answer about 11 questions.  This is so unrealistic as to be pretty much a lie.  For every company I have tried, you would be lucky to earn 15 cents for a quiz that short – sometimes the pre-qualifying questions are more detailed than that!
Testimonials are faked.  Whether or not someone actually sat down and wrote the words used in the testimonials, there are some areas where it is easy to see these are not honest reviews.
Firstly – some of the images used are actually stock images, searchable on Google or similar.  Secondly, even the small print on their own website basically says they are not reliable:
"FTC disclosure: The persons found in the testimonials/ endorsements on this page have received monetary incentives to publish their opinions about Click4Surveys.  These persons were part of an initial trial group that received free access to the Click4Surveys program along with monetary payment for voicing their opinion about their experiences."

Need Easy Extra Cash?

Pinecone Research, a leading name in online survey panel honesty, absolutely guarantees $3 cash for every survey you complete!
Take advantage of their time limited New Membership drive and register NOW. Join today: 100% free!


Privacy Problems
The principle behind market research is that your opinion is valuable, and so is your information.
Companies are paying for the privilege of knowing some details about who you are and what you think about their products and services.
Here, Click4Surveys want you to pay.
Click4Surveys never actually tells you exactly what it plans to do with the information you enter.
There are no privacy policies available, and the website will ask you for some pretty personal stuff – including payment details so that you can pay them a membership fee!
They do have this very confusing disclaimer in extremely small print on the bottom of their site:
"ClickBank is a registered trademark of Keynetics Inc., a Delaware corporation.
Click4Surveys.com is not affiliated with Keynetics Inc. in any way, nor does Keynetics Inc. sponsor or approve any Click4Surveys.com product.
Keynetics Inc. expresses no opinion as to the correctness of any of the statements made by Click4Surveys.com in the materials on this Web page"
Keynetics Inc. is obviously very keen to distance themselves from Click4Surveys. You should too.
Why You Should NOT Join
Even if your information is safe, and if you can look past the false claims and way over-hyped advertising – there are still reasons you should not join.
Here are some of those reasons:
Uses third party survey sites.  Click4Surveys does not actually offer its own surveys, it just links you to other sites.  Even then, the survey sites they link are really not going to give you the best rewards for your money.  At the bottom of this page I have included my top 5 survey sites that are really worth your time.
Individual sign up.  Even though you've paid a fee, you still have to sign up to each paid survey site separately.  That is a lot of work, especially when you can't trust the Click4Survey recommendation that they will be the best way to earn rewards!
Different payout rates.  Because the sites are all different and you are not being paid by Click4Surveys directly, that means that every dollar (or more like cent) that you make on each survey site will come under different rules.  For example, each site has a minimum cash out balance, sometimes as high as $50!  For each site you would have to individually earn a minimum before you could cash out.  Some reward you in points instead of cash, and some only offer entries into sweepstakes.  Not only are you earning cents at a time, but they are also divided between the different companies – meaning you might take years before you can cash out on all of them.
Pay to join.  This is the biggest red flag – survey sites want to pay you for your opinion, it shouldn't be the other way around!  Google searches will achieve the same results, or you could save time by joining the 5 top companies suggested here.  Plus – who knows how your payment details are really being used?
How to Spot a Scam
Not all survey sites are scams!
Far from it – there are some legitimate opportunities that are worth your time, as long as you have realistic expectations.
Here are some ways that you can tell if a paid survey site is not worth your time:
You have to pay to join
The earnings are unrealistic
They try really hard to convince you to join
No clear idea of what they are actually offering
No privacy policy
Click4Surveys has about 445 words in the tiny, hard-to-read disclaimer at the very bottom of the page – that's longer than most legitimate sites need to tell you about themselves!
Yet in pages of writing, you really never learn exactly what you're receiving for your money.
Click4Surveys also has many different pop-up "opportunities" to join different schemes – from investing in shares to hosting affiliate websites and more.
They share the same quality of huge promises of financial gain but very little information as to the real product.
What to expect from legitimate survey sites.
Even though this site is basically a scam, there are legitimate sites out there!
If you join these sites, you will not become rich.
You will not be able to quit your job, simply by clicking a few opinion polls over your breakfast.  In fact, the hourly rate truthfully is quite low.
However, you will earn real cash and rewards in time.
You really can fill them out while sitting in front of the TV, or in your spare time when you would otherwise not be earning anything at all.
You can earn enough gift vouchers and prizes to give people presents, to treat yourself, or to have as some extra spending money.
Read More: Top 10 Legit High Paying Online Surveys
Where Do You Go from Here?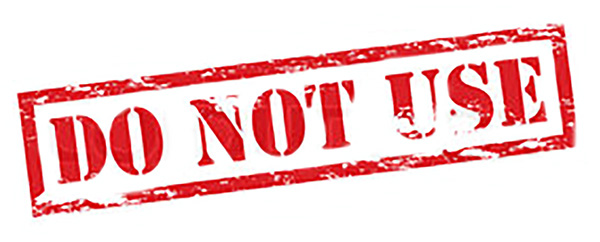 Funnily enough, the heart of Click4Surveys is actually a pretty good idea.
You really should find more than one legitimate paid survey site to sign up for, as each site often specializes in different areas.
You should set up a dedicated email address for paid surveys, so that your regular email does not become overloaded with invitations.
Earn Everything… nearly!
Join Opinion Outpost, one of the few faithful and honest survey panels and earn cash and gift cards for your opinion. Stack your points and redeem them: Simple! No hidden fees and completely free!


You should give each recommended site a go to figure out if it's a good fit for you.
Just please don't pay a site money without knowing exactly what it will do in exchange – it won't cost you a cent to click these links and sign up, and you know they have been tried and tested.
Keep your expectations realistic, no matter how many "testimonials" and flashing banners with so-called "proof of earnings" are put in front of you.
Click4Surveys is unfortunately not going to deliver on its promises, but don't let that put you off:
Sign up with the right paid survey companies, and you could start earning today.
Related Posts:
Earn Everything… nearly!
Join Ipsos iSay, one of the few Faithful and Honest survey panels and earn prizes, gift cards and donations. Stack your points and redeem them: Simple! No hidden fees and completely free!