Best Free Online Surveys – Top 12 Legit High Paying Sites
Updated on: by Amy Kennedy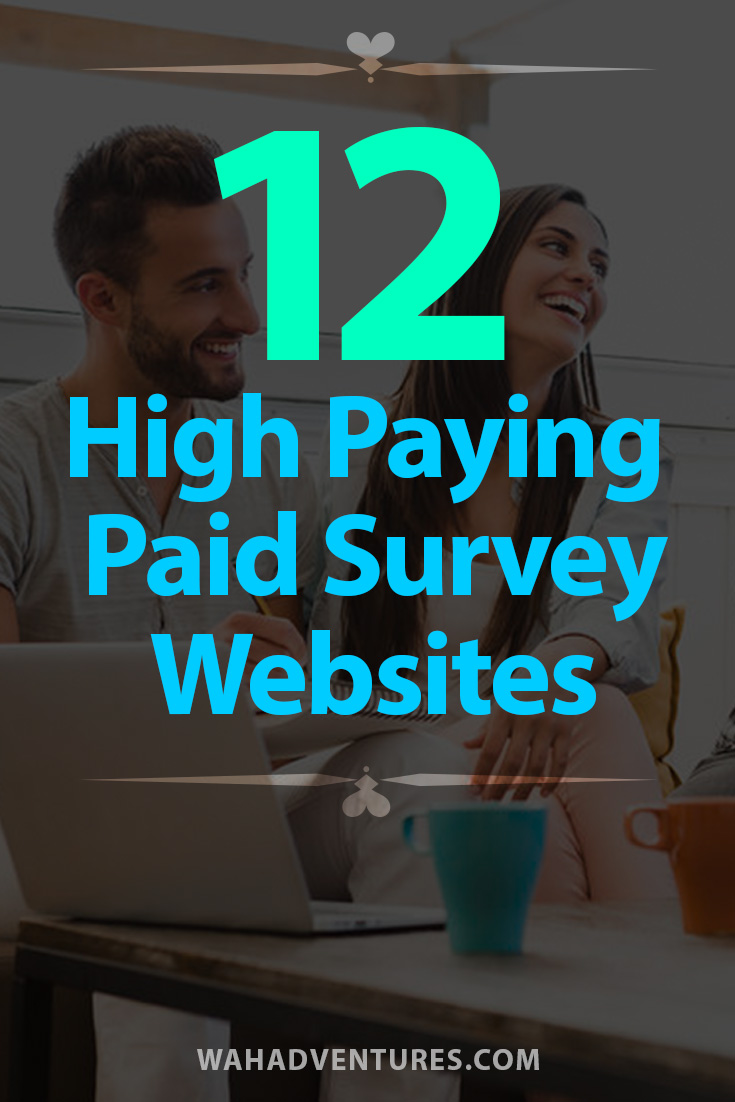 There is so much false information about making money online that it's hard to find the facts.
So that's why I put together a list of the best market research sites that give the highest cash and best rewards for nothing more than your opinions.
When not studying hard at college I needed to find a worthwhile way to do something useful, this is when I found online survey sites AKA: Rewards for time.
Since college I have been through many different life stages including both full-time and freelance employment, raising a family, traveling, building a home and more.
But even at the busiest of these stages I always found time to make extra cash or earn rewards through simply completing online surveys.
Sure, it has not made me a millionaire but the rewards I do receive are a great way to treat both myself and the people around me –kids, family, friends– without the need to spend my own money.
My favorite rewards –that are just as easy for you to get– are vouchers for stores that I already love to shop at, vouchers for the cinema, or cash, so that I can buy whatever I like for the kids, friends or even myself.
You may think that the rate of return is not worth the effort but, as with most things in our lives, it depends on how you look at it!
You, like me, can complete online surveys while watching TV, waiting at the doctor's office, when a friend is running late to a meet-up or wherever you have an Internet connection and a few minutes to spare.
It's not like I am doing anything else with that time!
So why waste it?
Exactly!
Plus, it's great to have the opportunity to see your opinions in action as you influence the everyday products seen on the shelves of your local shops.
When you find the right sites, legitimate, trustworthy, no scam sites, paid surveys are an easy way to turn spare time into great rewards.
Free to join and simple to participate in, they offer a wide range of opportunities that can benefit you.
Safely.
You can test new products or influence the packaging and pricing of items you regularly buy, and these are just a few examples of the advantages you can gain by simply taking part in online surveys.
Let's look at why good quality paid survey sites are definitely worth signing up for.
How Can I Find The Best Sites?
You don't have to, because through doing my own intensive research I can now list the Top 12 recommended companies that will give you the highest return on your time.
Happy clicking!
12 High Paying and Legitimate Online Survey Sites (all are free to join):
1. Swagbucks
Swagbucks leads the safe and legitimate survey site market via one big difference that makes it stand out above the rest: it offers the widest range of money-making opportunities out of any site I have ever used.
Swagbucks is affiliated with some of the world's most famous brands, and has an A+ rating from the Better Business Bureau, so you just know it's trustworthy.
Swagbucks members can watch videos, use coupons, shop with cash back in the form of points, and have many other options – all earning you points.
Another stand-out feature about Swagbucks is that it has one of the best referral programs around – as well as cash bonuses!
So if someone signs up using your referral, you will receive 10% of their earnings for as long as you both are members.
Members are able to redeem points, called SB, on a huge range of options including vouchers, PayPal deposits and charitable donations.
There is no minimum amount needed in order to redeem your SB points.
So all in all the downsides to joining SwagBucks seem to be non-existent.
Join SwagBucks here or read the review.
2. Vindale Research
VIndale is a top class trustworthy website that offers a number of ways for its members to earn extra cash, including watching videos and clicking affiliate links sent via email.
It is available across multiple platforms: mobile, tablet and desktop computer, which makes it much easier to complete surveys on the go.
There are Android, Apple, PC and Mac apps and software available.
Vindale only offers cash as a reward scheme, which might be a negative or a positive depending on your preference.
The cash out limit is quite high, and when you do cash out it can take up to 5 days to receive payment – although it may seem fairly slow that is much better than some other sites.
Vindale Research is good for frequent, easy-to-complete opportunities to earn and build your money account.
While you will definitely see rewards from this company, it is probably better that you use it with other sites so that you are making the most of your opportunities.
Vindale Research also sends a lot of email, so a separate dedicated email account will be essential.
Join Vindale Research here or read the review.
3. Ipsos I-say
Ipsos I-say is an up-and-front moneymaking opportunity, and their members are again able to use it on a range of devices.
Ipsos I-say puts an emphasis on building a community, which allows its members to create their own polls and discussions.
Ipsos I-Say has a range of options available, with a 1,100-point minimum balance required before being able to redeem any points, that's about $10, depending on how you cash it in.
They also offer a Sweepstakes for new members, and encourage referrals with really great incentives.
Ipsos I-Say may not send as many invitations as some other sites, but their biggest point of difference is how they reward loyalty – rates of pay increase depending on how active a member has been, and how long they have held their membership.
This is another example of a great site when used in conjunction with other sites that will offer more surveys to complete.
Join Ipsos I-Say here or read the review.
4. MyPoints
With surveys being only a small slice of the pie MyPoints offers a wide range of different opportunities to earn, earn, earn.
MyPoints members can shop through links on the website to earn points, watch videos, complete simple surveys and follow email links.
There are coupons to use, a search bar to download, and games to play – there are so many ways to earn!
There is no standard conversion rate of points-to-rewards, and MyPoints sometimes runs exciting special "deals" where members can redeem certain vouchers for a lower number of points.
There is a wide range of reward options, and points expire within a year of the account being inactive.
MyPoints is a site where you can really choose how much time you want to invest in all the different money-making options, but –as stated– the surveys are not really the main focus.
However, even with so many different choices it is always worth signing up to additional sites so you that will get a regular supply of reward making surveys.
Join MyPoints here or read the review.
5. InboxDollars
Starting out as a simple cash-back rewards system for online shoppers InboxDollars has grown to include paid surveys and other market research tools.
They also offer product testing and online focus groups to supplement the surveys on offer.
Reading emails will also earn you points, and members are regularly offered discounts.
InboxDollars has a very strict policy on completing surveys carefully, so carelessly speeding through is not tolerated.
You have to be in an environment where you can concentrate.
For those who do carefully earn their points there is a $30 minimum cash out amount.
InboxDollars generates a large volume of emails so a separate, dedicated account is essential.
They also have an emphasis on paid trials – but be careful, because if you don't cancel your trial before the stated period, you may be liable for ongoing costs.
Although not offering the highest paid rates available InboxDollars gives a good variety of solid earning options.
Join InboxDollars here or read the review.
6. E-Poll
It may not be the coolest looking website, but if you are a USA resident aged 13+ then E-Poll might be the online venue you have been looking for.
It certainly appears to have just about every kind of reward option available; you can get cash – paid via PayPal – gift cards for Amazon, Best Buy, iTunes, Starbucks, and Walmart, plus Retail e-vouchers.
You can also donate to charities and enter into monthly sweepstakes of $250. That's quite the list.
Prizes take what can be termed an above average time of 6 to 8 weeks to process.
To earn points members take online surveys and more importantly for our younger audience, teen surveys. The online surveys are aimed at entertainment-related marketing research, covering such things as personal TV watching habits.
You may also get the chance to give feedback on new TV commercials or to review DVDs that are sent to your home.
Redeeming points starts at a low count of 3750 ($5). Interestingly points increase in value as you accumulate them, so:
7250 points = $10
10,500 points = $20
16,250 points = $25
18,750 points = $30
Members can get between 100-1000+ points per survey depending on their length and complexity.
Create a dedicated e-mail account for this site, so that your personal e-mail doesn't get swamped with surveys, offers and more.
So have a look round E-Poll and see if it fits your needs. With redeeming options starting at $5 it can't do any harm to give it a go!
Join E-Poll here or read the review.
7. Pinecone Research
The only question that arises with Pinecone Research is not should you sign up, but can you?
Pinecone research is very exclusive, and any sign-up is only available via banners and the occasional invitation to apply.
It's very rare for any would be member to get the panel opened up via the website.
If you are given the opportunity, Pinecone Research has one of the highest rates of payment for survey completion, and even offers product testing to some of its exclusive members.
There is no minimum to cash out, so members can receive cash payments after their first survey. No waiting.
Not surprisingly one of the most common complaints by would be members is the inability to sign up, the other being that surveys are infrequent.
So, although not perfect (What is?), I readily recommend that if you are lucky enough to be offered a chance to sign up – grab it, with both hands.
But also be sure to supplement this membership with other top paying sites.
Join Pinecone Research here or read the review.
8. CashCrate
If it's cash or cash back that you crave, then CashCrate could an online portal that really meets your needs.
CashCrate is presently offering new members a $1 reward for simply signing-up but do be careful to uncheck any billing that you don't wish to partake in! Be methodical and sign up carefully. Double, triple check, and then they'll be no surprises.
Boasting over 6 million members worldwide CashCrate is obviously an established platform through which you can make cash.
There's even a Payment Wall that you can surf to see who is getting paid real cash. I think that's kind of a fun way to prove they are legitimate.
One thing that really sticks out at CashCrate is the generosity of their referral program. It truly provides the opportunity to establish an extra income stream, and it pushes you to be proactive in helping them expand:
Whatever you referrals earn you get 20% and then an additional 10% of what your referral's referrals make.
When the number of new members you are connected to is large enough this can even increase to 30% of your referral's earnings and 20% of what their referrals pull in.
Extra cash bonuses are also offered. All-in-all it seems to be a pretty neat and tidy sum of cash making opportunity.
Being a Get-Paid-To (GPT) platform, earning money and rewards is just a matter of doing . CashCrate offers numerous easy ways to earn:
Earn money for taking online surveys.
Complete offers and get paid when you try new products, signup for free websites and/or services.
Get cash back on the purchases you make at hundreds of different online retailers.
You can also earn prizes and points while you socialize and play games online with fellow CashCrate members.
There is also the chance to be entered into contests.
In order for a check or PayPal payment to be made a minimum balance of $20 is necessary.
Payments take a reasonable 3-4 weeks to receive.
If you are aged thirteen years or over then you can join CashCrate and start counting the money: So, what are you waiting for?
Join CashCrate here or read the review.
9. Toluna
Toluna is a site that highlights a vibrant community of users who create their own mini-surveys and polls, allowing regular members to get opinions from a large database of people.
Toluna have a specific app to make completing surveys even easier.
It is available for both Android and Apple devices.
In addition to the usual cash-and-vouchers approach Toluna has an interesting initiative called "Gifties", where you can use a small number of points to buy a chance to win an item that is actually worth much more than the actual Giftie purchased.
If you win, you have managed to buy a great item at a very low price – if you lose, however, your points are gone.
Toluna also holds regular sweepstakes.
Toluna is yet another great, trustworthy site that can easily supplement your online earnings.
Join Toluna here or read the review.
10. Global Test Market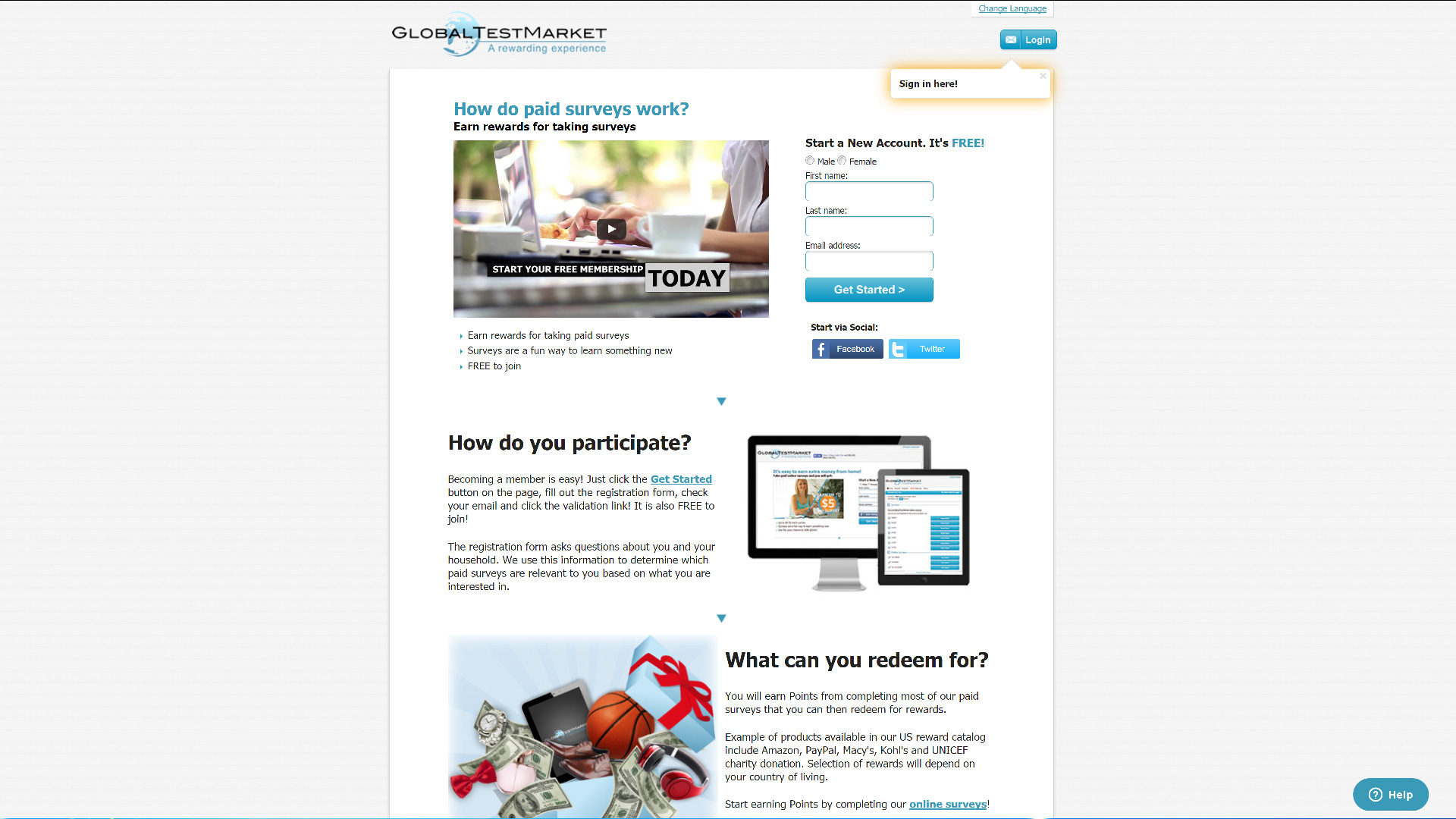 Global Test Market focuses on paid surveys where it works with some of the leading global brands to provide (mostly!) interesting, relevant surveys.
It is not uncommon for members to be asked to complete a survey about a product from a major brand that has yet to be released for general sale.
That means you get the chance to use something other people have yet to see!
Members accumulate points for taking surveys but must wait for a minimum balance of 1,200 ($50) before cashing out.
However, once enough points have accumulated there are a large number of point-to-reward options.
Members are also entered into a sweepstakes on completing surveys – so of course, the more surveys you complete, the higher the chances of winning.
Global Test Market is a really great option for survey takers, but with its relatively high minimum balance threshold ($50) I advise using other sites at the same time so as to spread out your earnings.
Join Global Test Market here or read the review.
11. My Survey
My Survey is a well-respected legitimate site that primarily focuses on online surveys.
Loaded up with cutting edge technology they offer such things as webcam-surveys that actually monitor viewer's facial reactions to visual cues, pretty cool!
They also make their website available on multiple platforms such as mobile, tablet or desktop and have both Android and Apple apps.
They also offer the occasional chance to test what may well be some of your favorite products!
Brilliant.
My Survey Points are worth different amounts of cash based on what you choose to redeem them for – for example, a $10 charity donation might cost 1,100 points, while a $10 PayPal donation will cost 1,200 points.
There is a minimum balance requirement of 1,100 points before you can redeem them.
My Survey is a trusted, reliable survey site that is worth signing up for as part of a range of survey-taking options.
Join MySurvey here or read the review.
12. Opinion Outpost
Opinion Outpost specializes in being a paid survey site, and what is more, they do it really well.
Members are more likely to qualify for surveys quickly – and if they are screened out of any particular group due to not meeting a certain criteria, it tends to happen fast – so that you can move on to the next money making opportunity without wasting time.
Most people have one or two invitations emailed per day – some will earn you points, while others are in exchange for sweepstakes entries.
Surveys from Opinion Outpost will normally earn you between 5 – 30 points depending on their complexity, and there is a 100-point minimum cash out which is presently set at $10.
Opinion Outpost offers a wide range of rewards but also does this via an impressive instant deposit into PayPal if that reward is selected – some other companies can take weeks to deposit your cash.
It is certainly worth becoming a member of Opinion Outpost for the surveys, but  – as with other sites – this one alone will not provide you with the best earning potential.
As with similar sites, it is best used with other paid survey opportunities.
Join Opinion Outpost here or read the review.
Why is Market Research Important?
You might not have realized it, but you have influence over the people trying to sell you things!
Major companies are interested in your opinions because they want to sell as much of their product as possible, which means making their product as appealing as they can.
Experts can do this a number of ways but their marketing know-how means nothing if the end result does not appeal to people like you.
Before the internet – yes there was such a time! – the only place to conduct research was within small focus groups, and by offering surveys in person or by phone.
Now that there are websites devoted to linking up major brands with huge groups of consumers it is easier than ever before for companies to get opinions from a large group and for you to access rewards for completing what are essentially hassle free, easy tasks.
How Can They Afford to Pay You?
Major companies with their numerous brands can spend tens of millions of dollars on research.
Survey websites simply provide a service where these companies can join up with people – just like you – who are looking to earn extra money from companies who not only want, but also need the public's opinions.
Company A decides on the kind of people whose opinions they are interested in (Perhaps single, university-educated women or married men with an interest in sport?), and then allocate an agreed upon budget to fund the project.
The online survey provider does the rest of the work for them i.e. market research.
The money to pay you comes from the client's – in this case Company A's – budget, divided up between those members who take the survey (after the website has taken its cut of course!).
Other ways that sites get money to pay you is by posting affiliate links – links that will give the website a percentage of profits when members make any purchases through that link.
Most websites also feature advertising that will also generate income for them.
There are lots of legitimate market research websites that use this system to pass profits on to their members.
To get some of these rewards for yourself, all you have to do is sign up and start answering questions. It really is that easy.
However, before you do that it is very important to be sure that the site you are looking at is a legitimate, proven way to earn cash and rewards.
Is it a Scam? How Can You Tell?
Sadly there are a few scams around – but fortunately, there are some real easy ways to spot them!
The sites I will show you here are trusted and recommended, so you can feel absolutely safe in clicking those links.
However, if you do choose to look elsewhere, here are some things to look out for:
They want credit card details or other payment. None of the sites recommended here will ask you to pay them – after all, they want to pay you!  Some legitimate sites will even pay you a sign-up bonus.  If a site is asking you for payment, beware.  Even if it seems like a small amount, some scammers rely on small amounts from many people that can very quickly add up to hundreds of thousands, even millions, of dollars.
They don't have a clear privacy policy.  Even though these things can be faked, some scammers don't bother to make a policy they have no intention of keeping.  Your personal information can be sold, so don't give it to a website that isn't very clear about how they will use the data you give them.
You can't find contact information and they aren't affiliated with any scam watch organizations. It will often be difficult to reach anyone for information on a scammer site, and they don't post the details of other affiliated companies. It's not hard to see why!
A site offers incredible returns. Here is were it is good to remember that, "It's too good to be true" and, "There's no such thing as a free lunch", are as applicable today as they ever were. Beware of 'amazing offers'. If someone is offering you $200 a day through their paid survey program, they are almost certainly exaggerating or, to put it bluntly, lying. Earning $200 a month is much more realistic for most people completing online surveys.
Do an online research but also be aware that when reviewing survey sites, many disappointed people like to scream "SCAM!" – when really they just didn't follow requirements or were expecting too much. Use the internet as your first place of choice to check a site's safety and reliability.
Only follow trusted links.  Only click through links that are specifically mentioned on trusted sites – some websites have little to no control over the banner ads displayed on their sites, so just because there is a banner does not necessarily mean that it is endorsed by the website you are on. Also look for the padlock icon and word Secure in the address bar of your browser, a sure sign that it is legitimate, safe and trustworthy.
Privacy policy, contact information, affiliation with reputable internet checks are all good areas to be aware of – but they can be faked.
The best way to access a trustworthy site that will reward you and keep your information safe is to get recommendations – and that's what I am here for!
How Safe is Your Personal Information?
Some people are concerned about giving personal information to a website and rightly so.
However, if you sign up to a reputable site, then they will have a clearly set out privacy policy that you can read through.
All good sites should promise not to spam, not to share your information with anyone else, and to keep your information safe.
One way your information might get leaked from a safe site is if you follow links or banners, even to affiliate companies – they may not have the same excellent standards as the company you signed up with, so each time someone asks for your information, read their policy.
Most trustworthy sites will aggregate your information before sending it – that means that the companies that pay for your information might be able to learn that a 28-year-old, high school-educated female from California prefers blue packaging over red, but not your name or any other identifying information.
It will also be mixed with information from other people, so you are essentially unidentifiable. An unknown.
The Most Common Incentives: How To Choose Which Is Right For You.
Different sites offer different incentives – that's not surprising information.
What you might not have considered is how those rewards affects your decision to join.
Most sites use a points approach that can be redeemed for rewards, primarily because the actual dollar amount looks quite small – after all 100 points looks much more appealing than 10 cents!  Others do offer straight up cash amounts.
Sometimes those points translate directly to dollars, and sometimes, for example, there are incentives to redeem them on gift cards over cash or they might even sell higher denomination gift cards at a lower rate to encourage you to keep earning before you redeem your points.
How To Sign Up
Once you have decided which sites to join – if you decide to join at all! –  click the link and follow it to their website.
Check that the company operates in your region, and that you meet the requirements for signing up – some have age restrictions, and some will not allow new intake when their quota of members is full.
Then comes the boring part – it can't all be fun – and even if you just skim read do be sure to look through the site's FAQ section.
It is really important to have an idea of what you will be expected of you, and I have found most sites are refreshingly open and honest about how they operate.
If you understand the terms and conditions of using the site, you are greatly reducing your chances of making a mistake, which can lead to your account being deleted.
For example, some sites have rules against two people from the same household signing up – an innocent mistake to make, but it can get you barred.
Once you have read the information – do be sure to do this! –  sign up usually involves just providing a few personal details, and your email address, which you will most likely have to confirm by clicking on a link that is emailed to you.
Remember to set up a dedicated email address if the site you join is going to send a large volume of links etc.
Once you have confirmed your account, most sites will offer you chances to give them more demographic information in the form of short and unpaid questionnaires.
These will help the site to send you the surveys that best match you.
Complete as many questions as possible to get the most out of the site.
Once you have signed up, confirmed your email, and have filled out your personal information, you are good to go!
Spend some time familiarizing yourself with the site, and remember to check your emails regularly to make the most of any new opportunities.
And then?
Simple: It's time to get rewarded!
Related Posts: