Springboard America Panel Review – Is It Worth Joining?
Updated on: by Amy Kennedy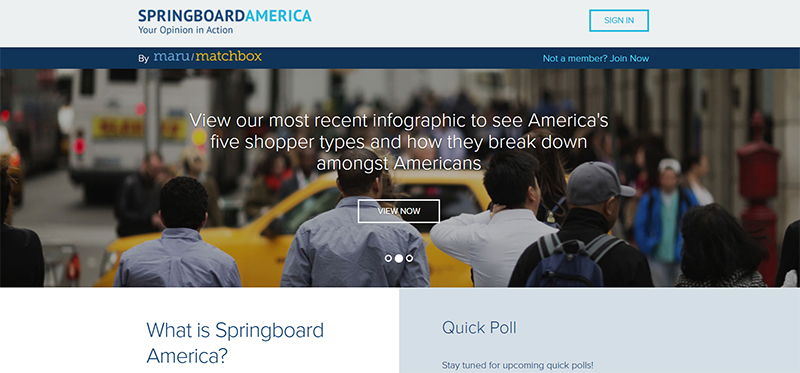 Need Easy Extra $350+/Month For Free?
Have you ever found a great person who just has one overriding bad feature that is hard to overlook?
Have you encountered a company like that?
Springboard America seems to be a legit company with real rewards, but they have a flaw that is very hard to ignore – an unnecessarily high cash-out amount.
Read on to find out if you think the company is worth a second look anyway.
Who is Springboard America?
It's a bit tricky to find out who they are owned by – I've seen information saying they are part of the Vision Critical group, that they're owned by Ipsos I-Say (review), and their website says they're "by Maru/Matchbox," whatever that means.
The truth is – I'm not sure.
Their business does have a direct listing with the Better Business Bureau (BBB) but they are not accredited, and they have the lowest rating of 'F'.
However, that does sometimes happen when a parent company has a separate page – they can ignore the rating given to one of the offshoot companies which tends to attract a lower rating by the BBB.
It doesn't necessarily mean the company is bad. It does have some positive reviews, which is unusual.
Is Springboard America a scam?
No, I really don't think so.
There are plenty of happy customers, or customers with complaints that still point towards the legitimacy of the site, even if they aren't totally happy with some aspects.
It has a modern interface, with clearly stated terms & conditions, privacy policy, and FAQ sections.
I would not hesitate to sign up based on legitimacy.  It is not a scam.
Key features
S. residents only
Take surveys and polls
Rewarded with Sweepstakes entries, points, or both
Redeem for bank transfer or gift cards
$2 for each successful referral
Must stay active to retain account (activity every 3 months)
Surveys are smartphone compatible
How does it work?
Springboard America designs and oversees research on behalf of clients from the private and public sectors, which allows them to make informed decisions based on what is important to Americans.
Their clients pay them to conduct the research, and Springboard America passes a small amount of those earnings onto you.
Need Easy Extra Cash?
Pinecone Research, a leading name in online survey panel honesty, absolutely guarantees $3 cash for every survey you complete!
Take advantage of their time limited New Membership drive and register NOW. Join today: 100% free!


Who can join?
To become a member, you will need to be:
A U.S. resident
18+
Not working in market research or similar
Willing to take a survey at least once every 3 months.
Signing up.
To sign up, I was directed to a short profile page where I filled in some of my demographic information.
Springboard America promises never to pass on your information without your consent.
They need information about areas like your job, education, income, gender, marital status and more to send you surveys based on your demographics.
I confirmed my email address and was able to take a survey very soon after, for a sweepstakes entry (which I didn't win).
I was asked to do a few more that month but didn't get above $5 in actual equivalent cash that month.
About the surveys
Varied.  Surveys vary in length, topic, payment, and even the types of responses required.  You might have to fill in a rating from 1-10, or you might have to write a short paragraph about your response to the question.
Several per month.  Members can expect between one to four surveys per month, and if you don't complete one every 3 months you are considered inactive, and your account can be deleted.  Just because you have received a survey invitation doesn't mean you actually qualify.
Different rewards.  Some surveys reward in a set number of points, whereas some will earn you entries into a sweepstakes competition.  The survey invitation will tell you what you stand to gain.
Rates of pay.  Survey payout is the equivalent of $0.50 – $5.  Points are usually credited immediately, but there are exceptions.  If you don't see the money within 24 hours, contact the company.
The real downside to Springboard America is the $50 cash out minimum.
$50 minimum cash out means that even if you are accepted and complete 3 surveys a month, you're still waiting at least 4 months to cash in, even if every survey you take pays you on the high end of the scale (which is pretty unlikely).
Associate surveys
Springboard America does offer associate surveys from time to time, where a trusted Vision Critical client uses the Springboard software and member base to conduct research.
If you accept these surveys, you are authorizing Springboard America to pass your relevant information on to that client.
If your privacy is important to you, be careful. This type of survey is completely optional.
Sweepstakes
There are several sweepstakes on offer at any given time.
The most common ones are:
Recruit Sweepstakes.  Drawn yearly, based on who has been recruiting people. There is 1 annual winner of $1,000.
Participation Sweepstakes.  As long as you keep active and participating in surveys, you're in with a chance.  This one is drawn monthly, and they have 1 winner of $500 and 5 winners of $50.
Profiling Sweepstakes.  Keep your profile up to date, and you're in!  Drawn monthly, there are 10 winners of $100.
Redemption
To redeem your points, simply:
Sign in and go to the "My Points" area
View your account
Click on "redeem points"
Choose your reward
Confirm selection
Enter your email address
Finished!
Pro tips for getting the most out of survey companies
Special surveys.  While most surveys will be emailed to you, there are occasionally special surveys available that can only be accessed from the member's log-in area.  Make sure you're checking regularly to access this benefit.
Answer quickly.  The survey invitation that is sent to your email inbox will tell you the closing date of the survey, but that's only a guideline.  Complete surveys as soon as possible to maximize your chances of qualifying – especially if it is relatively well compensated.
Answer all profiling questions.  Springboard America offers several different types of ways to keep your profile information up to date which maximizes your chances of being sent invitations.  Profiler surveys are general demographic questions, while Monthly Mosaics are on a variety of topics designed by clients that month – expect a few of each, every month.
Stay active.  Your points will never expire as long as you stay active – that means taking some action at least every 3 months.  If your account hits the 5-month mark without any action, it will be deleted, and you'll have to wave goodbye to your hard-earned points.
Follow up.  If you aren't credited with points after completing a survey – chase it up!  If you aren't getting many regular invitations to surveys, update your profile information and check your spam folder.  If you order a reward and it isn't there by the week – check your spam folder, and then contact the company.
Dedicate an email address.  Instead of having your regular email address clogged with newsletters and survey invitations, open up another free account and use that.  You only need to log in when you have free time available to do surveys.
Why you should think twice before joining
I'll say it straight up – I don't think there is actually anything wrong with this market research company.
I don't think they're a scam, I think they will send you survey invitations, and they will pay you if you get to that point.
However, there are some other considerations.
There is a low rate of surveys offered, even if most members say the surveys are reasonably well-paid and interesting when they do come.
They do have some information sharing that I'm not completely comfortable with, although I just opt out of the associate surveys.
To me, the biggest concern is the $50 minimum to cash out.
It's genuinely hard to reach, and some people talk about taking years to cash out any rewards.
Good on them for having the patience, but I'm not really interested in waiting 2 years to see any benefits.
Whenever I see a high minimum cash out, I can't help thinking they set it high because they want you to quit after you've earned $30 but accidentally leave it longer than 3 months, or get fed up with the site.
That means they get to keep your money and you've worked for free.
The Pros and Cons
Some of the pros and cons of this company include the following:
Pros:
Earn Extra Income: Freelancing for Springboard America Panel allows you to earn extra income by completing surveys. The more surveys you participate in, the more opportunities you have to earn rewards.
Flexible Schedule: As a freelancer, you have the freedom to choose when you want to complete surveys. This flexibility allows you to work at your own pace and fit survey-taking into your schedule.
Voice Your Opinions: Springboard America Panel provides a platform for you to share your opinions and influence market research. Your insights and feedback can contribute to the development and improvement of products and services.
Rewards and Incentives: By completing surveys, you can earn points or cash rewards. Springboard America Panel typically offers various redemption options, including cash via PayPal, which can be a motivating factor to continue participating.
Community Interaction: Freelancing for Springboard America Panel provides an opportunity to connect with a community of like-minded individuals. You can engage in discussions and share experiences with other panel members through forums or online communities.
Cons:
Survey Availability: The number of survey invitations you receive may vary based on your demographics and the specific requirements of market research projects. You may not always have a steady stream of survey opportunities.
Limited Earning Potential: While completing surveys can provide additional income, the earning potential may be limited. Surveys usually offer fixed rewards or points per completion, which may not always equate to significant earnings.
Screening Process: Some surveys may include pre-screening questions to determine if you qualify for participation. There is a possibility of being screened out of surveys if you do not meet the specific criteria, resulting in time spent without earning rewards.
Data Privacy: It's important to consider the data privacy policies of Springboard America Panel. Ensure that you review their privacy practices to understand how your personal information is handled and protected.
Reliance on Third-Party Platforms: Springboard America Panel operates through an online platform, which means you may be dependent on the functionality and reliability of the platform for survey invitations, survey completion, and reward redemption.
Conclusion: Should you join?
I can't see any reason why not, but I certainly don't recommend this site by itself.
There are plenty of other survey sites with a higher volume of available surveys.
If you wanted to join, maybe you could join several sites at once to give you the most chance of actually receiving enough surveys to make it worthwhile.
There are some rumors that Springboard America plans to lower the cash out rate to $25.
Earn Everything… nearly!
Join Opinion Outpost, one of the few faithful and honest survey panels and earn cash and gift cards for your opinion. Stack your points and redeem them: Simple! No hidden fees and completely free!


If that's true, it might become a better option.
Until that happens, either look elsewhere or sign up for multiple sites at once.
You could do worse, but you could also do a lot better than Springboard America.
Apply to Springboard America Here
Related Posts:
Earn Everything… nearly!
Join Ipsos iSay, one of the few Faithful and Honest survey panels and earn prizes, gift cards and donations. Stack your points and redeem them: Simple! No hidden fees and completely free!