The Detailed Review Of VIP Voice Online Surveys Panel
Updated on: by Amy Kennedy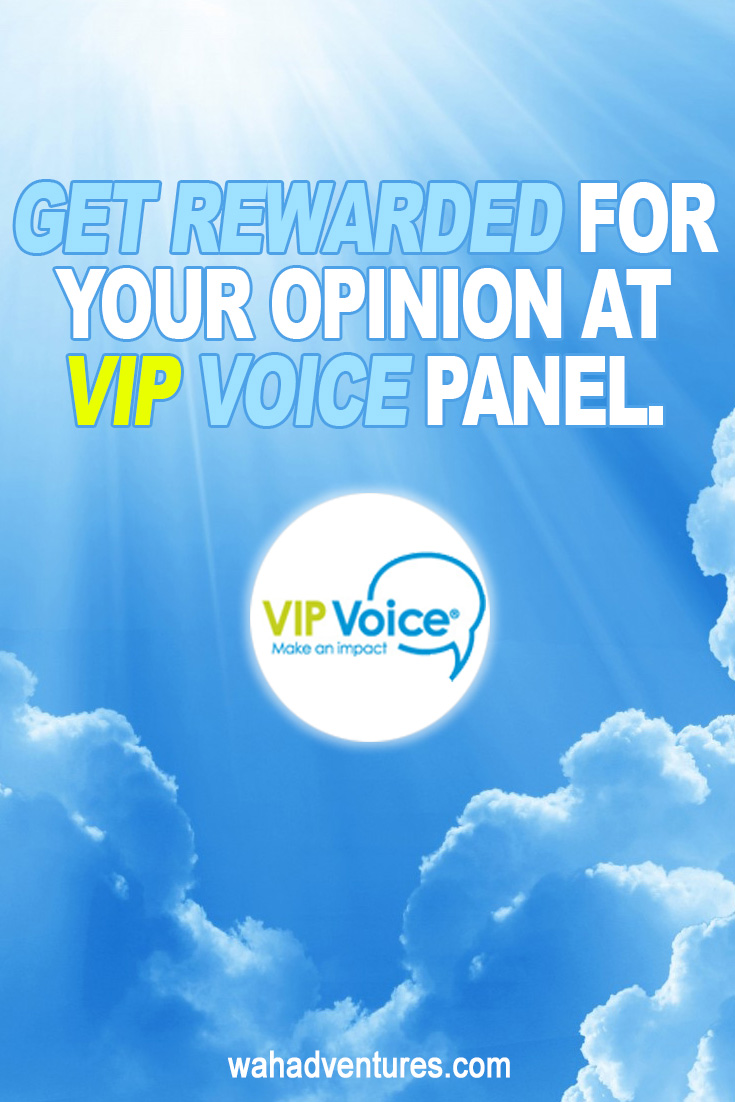 With so many voices out there today, you might think that your opinion doesn't matter.
Need Easy Extra $350+/Month For Free?
The truth is that it really does!
You can shape the decisions that companies of all sorts make with your opinions.
Best of all, you can get paid for doing so.
That's where VIP Voice comes into play.
Today you can share your own opinions with VIP Voice.
You'll not only help guide different companies into making the right decisions but you'll also be eligible to get into sweepstakes and auctions for a variety of rewards.
But is this place a legit site?
Let's take a look at what makes it stand out.
About VIP Voice
When you start taking surveys with VIP Voice, you will be working with a leader in the survey industry.
VIP Voice is affiliated with the NPD Group and conducts more than 10 million surveys each year.
The information it gathers is used by companies and retailers to get ideas on how people act and what they are interested in.
Don't worry if you're uncertain about whether the place is a scam as it does have its own series of physical addresses.
VIP Voice is based out of Port Washington, New York in Nassau County on the western end of Long Island.
It also has a Canadian base in North York, Ontario, a suburban district of Toronto.
I looked around to see what people are saying about VIP Voice. Out of nearly 700 reviews, the site gets about 4 out of 5 stars on Facebook.
Need Easy Extra Cash?
Pinecone Research, a leading name in online survey panel honesty, absolutely guarantees $3 cash for every survey you complete!
Take advantage of their time limited New Membership drive and register NOW. Join today: 100% free!


These reviews come from people who have become members of the site and use it regularly.
The information gathered is outsourced to Toluna.
It's one of the world's top paid survey panels.
Rest assured your words will be sent out to the right people.
What Industries Are Involved?
There's always a new kind of survey available for you to take at VIP Voice.
Just look around and choose what you like.
The surveys are provided by a vast assortment of companies in many industries.
You'll take surveys relating to apparel, automotive products, beauty items, food and beverage products, appliances and much more.
You can choose any kind of survey that you want to take on the site.
You don't need to have purchased anything specific to take advantage of any of these surveys either.
You will see what information is highlighted on your survey before you take it.
This provides you with details on all the different things that come with the survey so you know what to expect.
The questions involved will vary by each one though.
How to Take a Survey
To take a survey, just log into your VIP Voice account and go to the Survey Center section.
Don't forget to check your email to find any survey invites.
After this, just follow the prompts on the screen.
The surveys are very easy to take.
You will receive about three to five invites for surveys during a typical week.
It takes about five to twenty minutes to complete a survey on average.
Don't worry about anyone scamming you into downloading stuff you don't want. You should not have to use any outside programs or applications to complete a survey here.
Some surveys relate to products or services you might have used in the past. You don't need to have a product or service on hand in this case. You just tell the site what your experiences were with it.
How to Qualify For a Survey
You won't have to worry about being flooded with surveys not relevant to your interests at VIP Voice. You can fill out a profile that relates to your interests among other things That will help narrow down the surveys you can take.
After you fill out your profile, you will receive regular updates about what surveys you can complete. Whether you can participate in a survey depends heavily on the demographics you list, your interests and your geographic area.
How Do You Earn Rewards?
The rewards you earn come from points. You will get VIP Points for every survey that you complete.
But to make it work, you'll have to be active. You will reach a better reward level on the site when you complete more surveys.
You'll get more reward points when you qualify for surveys and take them. Don't worry if you take something but find out you can't go any further. You will earn Participation Points in the event that you complete a survey but do not qualify to take the rest of it.
How Do You Move Through Reward Levels?
Part of the fun of VIP Voice involves getting into the highest reward levels so you can earn more.
You can get into one of five such levels while at VIP Voice.
You will have to complete more surveys to reach the higher reward levels.
Earn Everything… nearly!
Join Opinion Outpost, one of the few faithful and honest survey panels and earn cash and gift cards for your opinion. Stack your points and redeem them: Simple! No hidden fees and completely free!


You'll see a green speech balloon at the top of each page.
This shows you the specific reward level you are at.
You'll even see how many surveys you need to complete in order to get to the next level.
In fact, some of the rewards you can go after are based on the specific reward level you are at.
This leads to the next section.
How Do You Use Your Points?
Have you ever wanted to get your own fancy television set or a trip to a resort from taking surveys? Today you can thanks to VIP Voice. This is thanks to the site's SweepLand and BidLand sections.
In SweepLand, you'll submit a certain number of points to get an entry into a particular sweepstakes. You can use as many points to enter into a contest as you wish. The cost per entry will be clearly listed on each sweepstakes page.
In BidLand, you will place points as bids on items in an online auction environment. You can place as many or as few points onto a product or prize as you want. The person who bids the most points at the end of the auction will win the event.
What Types of Prizes Are There?
It's amazing as to what you could win off of this site. At SweepLand, you can enter to win trips to a variety of spots around the world. Great new tech products, home décor items and much more are included.
At BidLand, you will find products similar to what is included at SweepLand. Some of the auctions are available exclusively to people who are at certain reward levels.
Typical auctions and contests last for about a month on average. New entries are included every day so be sure to check it out regularly.
There are a few instant win games to check out too. You can use a few of your points to play an instant game for the chance to win cash on the spot. There are no limits to what you can earn here too.
Special Offers
You could also save money on future purchases of all kinds of items when you are a VIP Voice member. You may receive various offers from different retailers and commercial partners associated with VIP Voice. These will come right to your account as you visit the site and won't entail anything flooding your email box.
The retailers and deals involved will vary. The offers and savings deals are provided exclusively to VIP Voice members.
Inactivity Points
You will have to keep your account with VIP Voice intact if you want to get the most out of it. Your account will stay active when you are logged in at least once in a six-month period
Customer Support
If you ever have any concerns about your account, just use the Contact Us button on the main website. You can contact the site if you have any concerns relating to your account.
Pros
The surveys on this site are very easy to take.
The layout of the site is very clear.
The site is safe and does not share your identifying information directly with other people.
There's a good variety of surveys for you to take here.
Cons
There are no guarantees that you will actually win anything on the site.
It often takes a bit of extra effort to try and win the contests offered here.
Other Unique Platforms Like VIP Voice
SurveySavvy
SurveySavvy is a reputable online survey panel that offers opportunities for individuals to participate in surveys and earn rewards.
They have a wide range of survey topics and provide regular survey invitations.
SurveySavvy offers a referral program that allows you to earn additional rewards by referring friends and family to join the panel.
OneOpinion
OneOpinion is an online market research panel that offers surveys on various topics.
They provide a user-friendly platform and offer a point-based reward system for survey completion.
OneOpinion also offers additional opportunities to earn rewards through product testing and online focus groups.
Pinecone Research
Pinecone Research is an exclusive online survey panel known for its high-quality surveys and timely payouts.
They offer a range of survey topics and compensate participants with points that can be redeemed for cash or rewards.
Pinecone Research has a strict screening process to ensure the quality of their panelists.
Opinion Outpost
Opinion Outpost is a trusted survey panel that offers rewards for participating in surveys and sharing opinions.
They provide a straightforward point-based reward system, and participants can redeem their points for cash via PayPal or various gift cards.
Opinion Outpost also offers occasional sweepstakes and prize draws.
Tellwut
Tellwut is a unique online survey platform that offers a combination of traditional surveys and "wuts," which are short, fun polls.
Participants earn points for completing surveys and wuts, and these points can be redeemed for various rewards, including gift cards from popular retailers.
Branded Surveys
Branded Surveys is a survey panel that allows users to earn rewards for completing surveys.
They offer a straightforward point-based system, and participants can redeem their points for cash via PayPal or choose from a variety of gift cards.
Branded Surveys also offers a loyalty program that provides additional perks and higher earning potential for active members.
Final Review
As great as VIP Voice appears to be, this isn't a place that is going to help you get a scholarship.
You will have to put in plenty of effort to actually get rewards on this site.
You won't be guaranteed any kind of reward on this site. You will have to earn them through the sweepstakes or auctions that are listed here.
The potential for you to get a good reward could still be rather appealing depending on what's available.
You must still complete more surveys to get the most out of the site.
VIP Voice rewards people who are the most loyal and complete the most surveys in a typical day.
VIP Voice is not a perfect place but it is still a spot that could help you get good rewards.
Just be prepared to put in some effort if you choose this spot.
Related Posts:
Earn Everything… nearly!
Join Ipsos iSay, one of the few Faithful and Honest survey panels and earn prizes, gift cards and donations. Stack your points and redeem them: Simple! No hidden fees and completely free!