37 of the Best Places to Sell a Used PS4 for Cash, Online or Locally
Updated on: by Amy Kennedy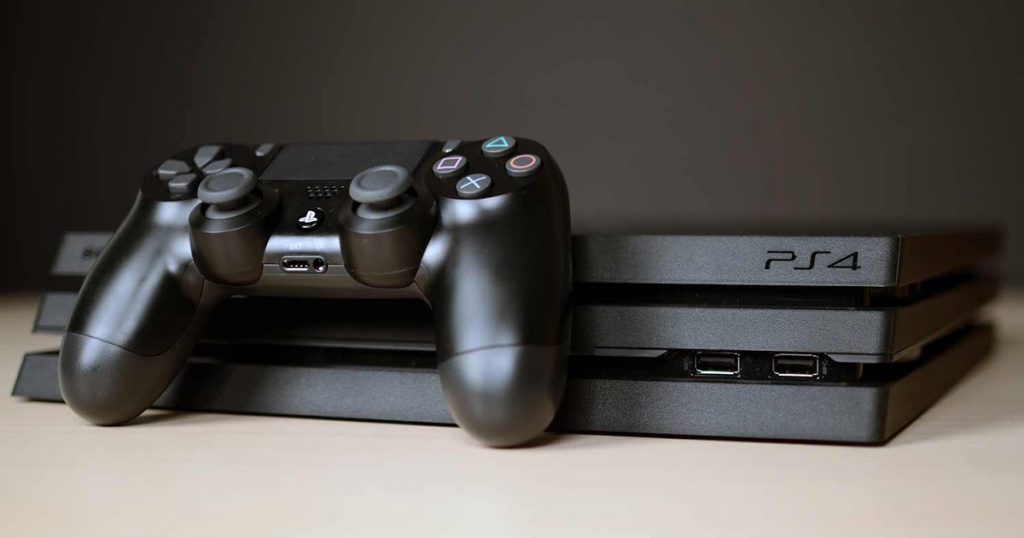 With the release of brand-new consoles like the PlayStation 5 and Xbox Series X in late 2020, it's no wonder that people are looking to sell their old consoles in favor of buying the new ones.
Need Easy Extra $350+/Month For Free?
But where can you sell a PS4 for the best price online or locally?
That's what we're going to dig into in this post.
Whether you want to make a quick buck or you want to find the place that'll give you the best selling experience and profit, you'll definitely find a place on this list that works for you.
What's the Best Place to Sell PS4 for Cash Near Me or Online?
Overall, you might have the best luck selling your PS4 online at eBay.
eBay has a little bit of a learning curve when it comes to selling, but once you use it a few times, it becomes relatively simple to use.
The thing that makes it helpful with selling a PS4 is that you have some options to make sure you're getting the price you want from it.
With other online places to sell a PS4, you get offered a price and can either accept or reject it.
But you won't have the same luxury of getting the price you want.
eBay was originally designed as an auction model, and you can still use that model to sell.
But if you want to guarantee that you get a certain price for your console and games, you can set your listing to fixed price.
This means that you'll choose your price and people will have to pay that price if they want to buy it.
You can also make an auction but set a reserve price for your PS4.
This is a minimum price the bids will need to reach to finalize the sale. If your bids don't reach that price, you can relist your item and try again.
eBay offers a lot of seller protections, too, to make sure you don't get scammed in the process.
Where to List a Used PlayStation 4 for Sale Online
Selling your PS4 online can help you find buyers all over the country (or even outside the country) who might be interested in your console.
Need Easy Extra Cash?
Pinecone Research, a leading name in online survey panel honesty, absolutely guarantees $3 cash for every survey you complete!
Take advantage of their time limited New Membership drive and register NOW. Join today: 100% free!


Other sites are dedicated to buying used electronics to resell, refurbish, or repurpose, and they'll be willing to buy your PS4 after you answer a few questions about its condition.
Here's where to sell online:
Amazon Trade-In
The Amazon Trade-In program lets you sell select items to Amazon in exchange for Amazon credit.
You can use the wizard to find your model and get an instant offer for your console.
Make sure you input the correct condition to receive an accurate offer.
Sell your PS4 or PS4 Pro to Decluttr, a site that focuses mostly on buying used electronics.
You'll get an instant quote for your console and can ship everything to Decluttr without having to pay for shipping costs.
Once it looks over everything, you'll get paid with a check, direct deposit, or PayPal.
SellBroke buys Sony gaming consoles in addition to laptops, Macbooks, and other electronic devices.
You can also sell your PS4 virtual reality gear here.
I will note that this doesn't seem to be one of the best-paying places out there, but if you're looking for a quick sale, it's still a contender.
UK people don't need to feel left out when it comes to selling their Sony consoles.
You can sell or trade your console and games at GameXchange using its online marketplace.
The site even offers free shipping for you to send your PS4 to your buyer.
Get an instant offer for your PlayStation from JayBrokers.
If you accept it, you can start the process to send it in and get paid.
The company also offers a price match benefit if you've found a better quoted price from a competitor.
Swappa is definitely one of the online buyback sites that offers some of the best prices for the PS4.
While others quote between $15 and $50, usually, Swappa prices range closer to $150+, depending on your console's condition and model.
That's because Swappa is more like an eBay than a regular buyback site.
Use its marketplace to create a listing, name your price, and start selling.
It's Worth More says that, in most cases, it'll pay you your quoted price within two days of receiving your console.
You can also get up to $200 for a PS4, which is higher than many competitors.
This site is all about offering cash for gaming consoles and games, so it's just another spot to consider for selling your PS4.
You can get a check, PayPal cash, or an electronic gift card to the company store.
While you can't bring your PlayStation into a Walmart store to sell, you can do it online through the CExchange program.
Get a quote online, ship with prepaid postage, and get an electronic Walmart gift card once Walmart receives it.
This site pays up to $200 for the PlayStation 4 Pro and various other PS4 models.
You'll also get your console sent back to you at no charge to you if the condition doesn't match what you noted, making your quoted price lower than what you'll actually get.
Earn Everything… nearly!
Join Opinion Outpost, one of the few faithful and honest survey panels and earn cash and gift cards for your opinion. Stack your points and redeem them: Simple! No hidden fees and completely free!


Gadget Salvation looks to refurbish and recycle old electronics that people no longer want.
For a PS4 in excellent shape, you can expect to get about $39.
It's not a super high price, but it's something.
Sell your consoles and games on this site and you can receive credit to buy other stuff, kind of like an online game trading marketplace.
You can sell or trade-in your PlayStation and its games with eStarland.
Ship your items by the due date eStarland gives you and you'll get paid.
This popular subreddit is where gamers go to trade and sell games and consoles with each other.
Best of all, Reddit is free to use, so you won't need to worry about listing or selling fees.
However, you will need to brush up on the best practices for avoiding scams selling this way, so be sure to read the information in the subreddit for guidance.
Target's trade in program gives you an online quote and a prepaid shipping label to send in your PS4 for free.
You'll receive a Target gift card rather than cash.
SellCell offers some of the best prices for PS4 consoles out of the online selling spots listed above.
But they're actually not the company's prices.
Instead, SellCell curates prices from other selling sites so you can always see which ones are offering the most money right now.
If you have games or in-game content from your PS4 you want to sell, Gameflip is the place to do it.
List your items for the prices you want to sell them after you register a free account.
This site has a PriceMatch guarantee that can help you make sure you're selling your PS4 for the best price compared to similar sites.
You can also choose between an Amazon gift card or PayPal cash for your payment.
Sell your PS4 account or game accounts at PlayerAuctions if you're looking to get rid of everything PS to move onto another gaming platform.
Sellers get paid with PayPal, Skrill, or bank deposit.
Where to Sell a Used PS4 Locally
Sometimes, selling something locally is a quicker, easier way to do it.
You don't need to worry about shipping loopholes and costs or trying to communicate with a buyer who lives states away from you.
Here are a few options to sell closer to home:
Best Buy
Best Buy has a trade-in program for various types of electronics, including gaming consoles like the PlayStation 4.
You can start the process online by using the trade-in estimator for your PS4.
Then, take your console to your local Best Buy store to trade it in for Best Buy credit that you can put toward your new console or something else you have your eye on.
GameStop
GameStop stores also let you trade in stuff in stores.
Bring your PS4 in, give them some details about its condition, and you'll receive an offer on the spot.
You can sometimes get cash for a trade-in, but this will mostly depend on the rules of your store and the value of your item.
Store credit is offered for other trade-ins.
Craigslist
Set up a free listing on Craigslist to let others know that you have a PS4 for sale.
People in your area can contact you through the secure messaging system to set up a date, time, and place to meet with you for purchase.
Use your own discretion here, as there are no protections for sellers or buyers.
Facebook Marketplace
Facebook Marketplace is another free place where you can list your PS4 for sale for others to buy locally.
You can also share your listing to your personal Facebook profile or to a group to help more people see it.
eBay
I mentioned eBay as the best place overall to sell your PS4, but I also want to make note that it's possible to sell your PS4 locally through eBay too.
Although it's common to sell stuff online here, you can also click the option for Local Pickup Only when you list an item.
So if you'd rather sell your console to someone who lives in your area that you can meet up with, then this might be a good option for you.
As a bonus, you'll still be eligible for the seller protections that eBay offers.
Shpock is a selling app that helps you find people in your area to buy your stuff.
You'll need a free account to list your items.
After you sign up, just upload some photos and a description and other people who are searching for a PS4 in your area can find it and message you.
OfferUp is much like Shpock, and it's also the new owner of Letgo, another popular local selling app.
You can use both apps to increase your chances of finding a buyer.
Mercari is an online marketplace where you can sell various items, including used electronics like the PS4.
You can create a listing for your console, set a price, and communicate with potential buyers through the platform.
Mercari provides shipping labels, making it convenient if you prefer to sell and ship your PS4 to buyers nationwide.
GameTZ is an online community and trading platform specifically focused on video games.
You can create a listing for your PS4 and negotiate trades or sell it directly to other members.
The platform facilitates communication and helps ensure secure transactions between buyers and sellers.
Let's Play Gaming Expo (LPGE) Marketplace
If you're located in or near the Dallas, Texas area, the Let's Play Gaming Expo (LPGE) Marketplace is a local event where you can sell your gaming consoles and related items.
The marketplace is hosted during the annual Let's Play Gaming Expo, providing an opportunity to connect with fellow gamers and potential buyers.
OfferBox
OfferBox is an online platform where you can sell various electronics, including gaming consoles like the PS4.
You can list your console for sale, and interested buyers can make offers. Once you accept an offer, OfferBox provides a prepaid shipping label for you to send the item to the buyer.
Local Video Game or Hobby Stores
Do you have locally owned gaming or hobby stores in your area that sell video games and consoles?
You can always try selling your console to them.
You might even get a better offer for your PS4 than a big box store, like Best Buy or GameStop, will give you.
Nextdoor
Nextdoor is a site an app that helps you communicate with your neighbors and community leaders.
There's also an option to sell stuff on Nextdoor.
Just log into your account and click the Post Message area to create your post.
From the drop-down menu, choose For Sale & Free, and you'll be able to let others in your neighborhood know what you're selling.
If you live in the UK and want an option like Craigslist for selling your PS4 console or games, then Gumtree is it.
It's an online classifieds site for people all over the UK.
You can set up a listing for free to get your console in front of people in your area.
Pawn Shop
A local pawn shop might offer a decent price for your PS4, but remember that they'll also need to make a profit, so it may not be the price you were looking for.
Still, if you're looking for a quick, simple buying process, this could be the place for you.
Yard Sale
People going to yard sales are generally looking for an awesome deal on stuff they want to buy.
If you aren't expecting a bunch of money for your PS4 and games, then you might be able to get rid of it quickly at a yard sale.
Make sure you advertise that you're having one on Facebook, in the newspaper, on Nextdoor, and by word of mouth with your friends and family.
Ask Friends and Family
Speaking of friends and family, you might be able to tap into this personal network to sell your PS4.
And it could be a whole lot easier than going through a different place to sell it.
Put up a post on Facebook or send out a group text to people you know asking if anyone's interested.
If not, they still might know someone who is and can pass along the information.
Helpful Tips to Sell Your PS4
If you're going to sell a used PS4, you probably already know that you shouldn't expect to get the same amount from it that you put into it.
That's just the name of the game with reselling something used.
But that doesn't mean you need to accept a lowball price for your system and games.
In fact, there are several things you can do to make sure you get the most out of your used system when you go to sell it.
Here are several tips to maximize the money you make from your PS4:
Use Flipsy to get updated information about the pricing of PS4 consoles on different selling websites, like eBay. It'll help you know the average price to expect for your PS4.
Clean it up. No one wants to see dust or grime on a system they're going to buy. Make it look presentable as possible by dusting it off with a dry rag and using an air compressor spray for electronics to remove any dust in vents and around buttons.
Unlink your account. You definitely don't want a different owner having access to your account information, so check the instructions for your PS4 to learn how to unlink your account from your console.
Wipe your data. This gets the console ready for its future owner and ensures that none of your personal information is still in the system. You can check the owner's manual for instructions on how to do this. Make sure you backup all your information first so you don't lose anything.
Give it a quick run-through. Make sure everything is in working condition and jot down notes about anything that's not. This way, you can be honest in your listing or with whatever company you're selling your console with to get the most accurate pricing.
Selling a PlayStation 4 Near Me or Online
It's time to get to work selling your PS4!
No matter what way you decide to sell (locally or online), spend some time researching selling prices from a variety of places, like Flippy, eBay, Amazon, Best Buy, etc.
You'll get a good idea of what new PS4's are selling for so that you can determine what might be a fair price for your used one.
Anything is better than nothing when it comes to cash for your PlayStation 4, but it's always great to get as much as you can out of what you sell.
Do you know of other places to sell a PS4? Let us know in the comments.
Related Posts:
Earn Everything… nearly!
Join Ipsos iSay, one of the few Faithful and Honest survey panels and earn prizes, gift cards and donations. Stack your points and redeem them: Simple! No hidden fees and completely free!