The Six+ Most Awkward Ways to Make Money
Updated on: by Amy Kennedy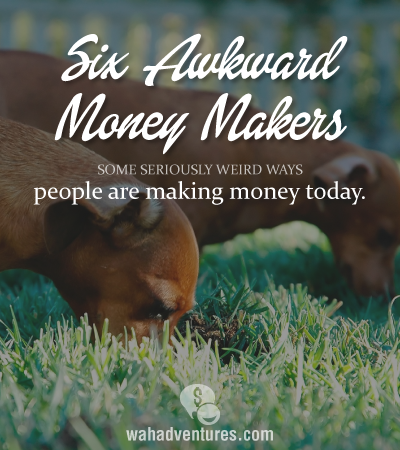 With thousands of ways to make money, there's bound to be a few bizarre methods here and there. But sometimes there are some really awkward ways to make money; things that will make you pause and scratch your head. Take these six examples of the most awkward money earning ideas I've ran across in my years for example.
Need Easy Extra $350+/Month For Free?
Sell Your Poop
Possibly the most awkward way to make money is by selling your poop!
OpenBiome has been paying people to come to their lab in MA and poop.  Seriously.
Apparently people who are sick with infections of a bacteria called C. difficile, are relieved from the extreme gastrointestinal upset when healthy fecal matter is put into the gut of the desperate patient.
However, there is a catch to this money making plan- you must be extremely healthy! Most people who apply to sell their poop are turned away. The lucky ones are paid well, "$40 a sample, with a $50 bonus if you come in five days a week."
If you live in Medford Massachusetts and have a regular bathroom schedule- then you could be cashing in big time! Highest earning potential is as much as $13K a year!
Collect Dog Poop for DNA
Since we already broke the ice on the subject of feces, let's continue with how you could be making money by collecting Dog Poop. While it's true there is a demand for people needing someone to regularly come and clean their land of animal poop, Poo Prints offers a different type of pooper scooper job.
Poo Prints is looking for interested people to partner with and help them create their own business collecting dog poop and extracting DNA. Wondering why this would ever be needed? It's actually becoming a pretty common thing for apartments, parks and other public places to have dna extracted from unclaimed doggie poop. This allows them to track down which dog owner is not cleaning up after their animals.
However, before you decide to start your own poop DNA extraction service, be ready to have a good 5 grand to start your business.
Sell Your Friendship
Friendship is a valuable thing. Some have even successfully put a price tag on their friendship.
One ebay auctioner sold a year's friendship to the highest bidder for $102.50.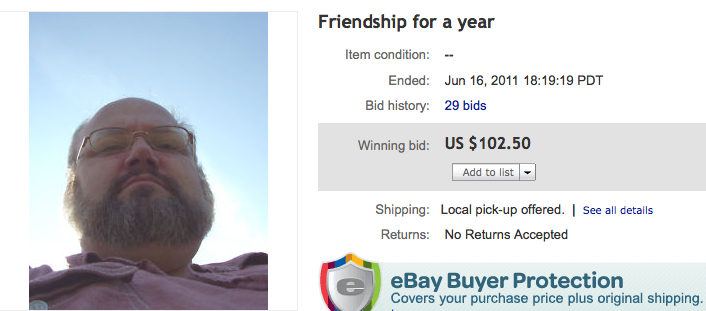 If you are serious about profiting from being a good friend then consider RentaFriend.com.
This online people marketplace can match you up with people willing to pay you up to $50 an hour just to hang out. Sounds like a bit of an awkward way to start a friendship to me.
Sell Your Dirty Underwear
What's more awkward than pooping in a lab and selling your feces? Selling your dirty underwear!
But there is a huge market for it! There are fetishes for just about everything and this is one that some people and couples have chosen to cash in on. There are even sites dedicated to helping you sell panties for money.
Need Easy Extra Cash?
Pinecone Research, a leading name in online survey panel honesty, absolutely guarantees $3 cash for every survey you complete!
Take advantage of their time limited New Membership drive and register NOW. Join today: 100% free!


The desire for used underwear is in fact so high, there are vending machines in Japan stocked with panties.
That's all I have to say about that.
Rent Out Your Family Pet
Offering your personal valuables is becoming a pretty trendy way to make extra money. Some people are renting out their driveway, tools, camping supplies and yes, even, Fido. Whatever you have that someone else needs, you can offer to let others borrow it at your chosen rate. Sites like Loanables.com make this extra money idea a bit easier.
Offer a Cuddling Service
Cuddling provides a healing for many people in a variety of ways. If you are willing to cuddle up to a complete stranger, you could be earning some serious green on the hour. Jackie Samuel in New York, offers her professional cuddling services for as much as $50 an hour!
That's one seriously awkward way to make money!
Get Paid to Stand in Line
This is quite a popular side job in areas where demand for new products, theater tickets, or restaurant reservations is high. Individuals pay you for your time spent standing in line for them.
This way, they can go about their day while you secure their spot.
Become a Human Billboard
Companies are always looking for new and innovative ways to advertise their products. Some may pay you to wear their logos or even get their logo tattooed on your body.
This is a quite unique and eye-catching way of advertising, and people who don't mind the attention can earn a decent amount of money doing it.
Test Experimental Medications
Clinical trials always need volunteers to try new treatments. While there can be risks involved, testing experimental drugs can be a high-paying job.
Before you get involved, it's crucial to thoroughly understand the potential side effects and dangers.
Sell Your Hair
For those with long, untreated hair, selling it can fetch a fair price. People use real hair for wigs, extensions, and even art. The healthier and longer your hair, the more you can potentially earn.
However, it's important to note that it can take a long time to grow hair long enough to sell, so this isn't a quick cash solution.
Related Posts:
Earn Everything… nearly!
Join Ipsos iSay, one of the few Faithful and Honest survey panels and earn prizes, gift cards and donations. Stack your points and redeem them: Simple! No hidden fees and completely free!