The vWorker Buzz
Updated on: by Amy Kennedy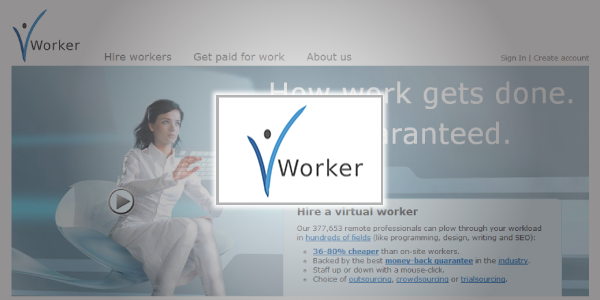 Need Easy Extra $350+/Month For Free?
UPDATE 07/2023: vWorker (formerly known as Rent A Coder) was acquired by Freelancer.com in 2012.
Vworker is a freelance site similar to Elance and Freelancer. These sites all generally work the same way in that those needing work done post a job description, and those wanting to do the job bid on it. The hiring party then chooses the contractor they wish to do the job based on whatever criteria they choose. That being said, this review will focus on those aspects of vWorker that are unique from other similar sites, and whether or not you can make money there.
How Much Does it Cost?
The main difference with vWorker is that they do not charge a joining fee, and monthly fee, or a fee to bid. It is totally free to the worker. They make their money by taking a cut of the final payment to the worker, and if you bid accordingly you lose nothing. In fact, now they simply add their fee on to what you bid, meaning you really do not even have to worry about it other than the fear that it may make your bid too high to be chosen. From what I understand this is a change from how it used to work, and in my opinion it is a good one. The vWorker percentage ranges from 6.5% to 15%.  ***Be Sure to Read the 'Update' below for additional details from experience.
How Much Can I Make?
Like any other freelance site, your bid may or may not be chosen. How to win work on these sites is a post for another day, but most of those who are talking about vWorker are in agreement on two things. You have to weed through the cheapskates, and you may have to be willing to work for less than you would want in order to build a presence. Though not unique to this site, it is important to note. One user said in one forum to look for those jobs that say they are "open to fair suggestion." That being said, once you build a presence and determine a rate that is considered fair for those posting jobs, and works for your needs as well, the sky is the limit on how much you could make. You could also pick up some private clients in the process.
Will I Get Paid?
Vworker guarantees payment if you do the work and do it well. That is one of the biggest benefits of working with a site such as this. You never have to worry about getting stiffed on a job well done. Apparently they are true to their word, as I found where one user posted in a forum about her arbitration experience. The client did not want to pay, stating that her writing was horrible and did not make sense. She pushed the matter, and in the end the arbitrator decided in her favor and even complimented her work to make a point to the client, who was apparently not very friendly. In this particular case the client did not understand English very well, which is why the word did not make sense to him. To me, it bodes well to hear of the company deciding in favor of the worker.
What Kind of Work is Available?
There have been tons of jobs in numerous categories anytime I have logged on. All kinds of writing, programing, and design work along with some bookkeeping and virtual assisting jobs are posted every day. Since it is free, if you are curious there is nothing to lose by looking around. There have been no complains of security on the site, so any information you give them appears to be secure. They are well established in the freelance world, which bodes well for the safety of those signed up with them as employers or workers.
What are the Pros and Cons?
Since the platform was acquired by Freelancer.com, I'll offer general pros and cons of such sites:
Pros
Access to clients worldwide: These platforms often have a global reach, giving freelancers access to a wide array of jobs and clients they might not find locally.
Protection mechanisms: Most freelancing platforms have mechanisms in place to help ensure you get paid for your work, such as escrow services or dispute resolution systems.
Variety of work: You can often find work in a variety of fields, from coding and design to writing and marketing.
Flexibility: Like other freelance work, you can often choose when, where, and how much you work.
Cons
Fees: Most freelance platforms take a percentage of your earnings as a service fee. This can range from a small percentage to a substantial chunk of your earnings.
Competition: These platforms often have a high level of competition, which can drive down prices and make it hard to get your first few jobs.
Inconsistent work: As with many freelance jobs, work can be inconsistent, which can make it hard to rely on for a steady income.
Limited control: Some platforms exert a high level of control over how you can communicate and work with clients, which some freelancers find restrictive.
How Do They Pay?
They pay via PayPal, but there are other options as well. These include a check via snail mail, Western Union, Payoneer, and Skrill. You also get to choose your minimum pay out and whether you would like to be paid on the 10th, 20th, or last day of the month. Another choice that I thought was interesting is that you can choose to have a certain amount held back or carried forward. Hello taxes!
Conclusion
If you are interested, sign up and look around. They have tons of articles about how to get started, tips for winning bids, and even how to get your profile noticed and build a presence. This could be steady work, but you never know. My advice to anyone looking to get started on these types of sites is to be sure you have back up work while you are waiting on those bids to be accepted, especially at first. In all, vWorker seems to do what it promises, and there is definite potential for work –at-home income here.
Update:
After I wrote this review I received an invitation to apply for a job.  You can receive invitations through their matchmaker program, which you just check a box that you want to be in when you sign up.  Anyway, it looked great and I wrote up a whole bid, but when I clicked submit something interesting popped up.  This employer had required at least a 15% expert guarantee.  Of course I had to find out what this was.  Basically, a person posting a job can require anyone who bids to put up a deposit of their own money, equal to a certain percentage of what they bid, to ensure they will work on the job, do their best, and not abandon it.  The theory is that the employer receives some assurance that they will not be out cancellation fees if the worker does not complete the job satisfactorily.  While this is not necessarily a bad thing, it is something to be aware of.  They don't have to do it, they do not all do it, but they CAN do it, so use your judgement.  If everything goes well you will get your money back plus the agreed upon pay, so the only issue if you are planning to do the work satisfactorily is whether or not you do without the deposit in your bank account until the project is over.
Related Posts:
Earn Everything… nearly!
Join Ipsos iSay, one of the few Faithful and Honest survey panels and earn prizes, gift cards and donations. Stack your points and redeem them: Simple! No hidden fees and completely free!