15 Ways to Make Money On Redbubble
Updated on: by Amy Kennedy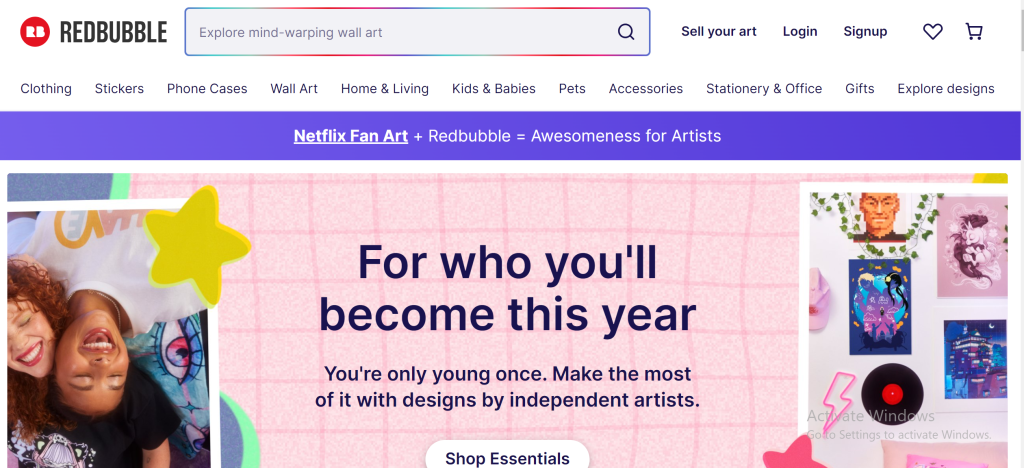 Unlocking a world of creative potential, Redbubble has emerged as a dynamic platform for artists, designers, and creators seeking to monetize their talents.
Need Easy Extra $350+/Month For Free?
In an era where artistic expression knows no bounds, this online marketplace has redefined how individuals can turn their passion into profit.
With a myriad of design options and products, Redbubble empowers you to showcase your creativity through customizable merchandise, from t-shirts and stickers to home decor and accessories.
It's more than just a marketplace; it's a vibrant community that fosters artistic collaboration and provides opportunities for you to make a mark in the world of online commerce.
This blog post will delve into the strategies and tips on how to harness the potential of Redbubble and transform your creative endeavors into a source of income.
What is Redbubble?
Redbubble is a thriving online marketplace that revolutionizes the way artists, designers, and creative minds can monetize their work.
Founded in 2006 and headquartered in Melbourne, Australia, this platform has gained global recognition as a haven for creative individuals seeking to showcase and sell their art and designs to a vast and diverse audience.
How to Register On Redbubble
Registering on Redbubble is a straightforward process, allowing you to quickly get started on your creative journey.
Here's a step-by-step guide on how to register on Redbubble:
1. Visit the Redbubble Website
To begin your journey on Redbubble, the first step is to visit the official Redbubble website.
You can access it through your web browser by typing "www.redbubble.com" into the address bar or simply by searching "Redbubble" in your preferred search engine.
This direct link will take you to the platform's homepage, where you'll embark on your creative adventure.
2. Click "Sign Up" or "Join"
Once you're on the Redbubble homepage, navigate to the top right corner of the page, where you'll find the "Sign Up" or "Join" button.
Click on this button to initiate the registration process. Redbubble offers a user-friendly interface, making it easy to locate this essential starting point.
3. Choose Your Registration Method
Redbubble provides multiple registration methods for your convenience.
You can choose to sign up using your email address, Google account, or Facebook account.
Need Easy Extra Cash?
Pinecone Research, a leading name in online survey panel honesty, absolutely guarantees $3 cash for every survey you complete!
Take advantage of their time limited New Membership drive and register NOW. Join today: 100% free!


Select the option that aligns with your preferences and existing online presence.
4. Provide the Required Information
If you opt for email registration, you'll need to enter your email address and create a secure password.
This unique combination serves as your login credentials, ensuring the security of your Redbubble account.
For those who prefer a streamlined approach, you can register using your Google or Facebook account.
This simplifies the process by using your existing credentials, making registration quick and hassle-free.
5. Complete Your Redbubble Profile (Optional)
While not mandatory, completing your Redbubble profile can significantly enhance your presence on the platform.
You have the option to add a profile picture, a brief bio, and other optional details that help showcase your personality and artistic style.
A well-curated profile can foster trust and connections with potential customers and fellow artists.
6. Agree to the Terms and Conditions
As with any online platform, it's essential to read and agree to Redbubble's terms and conditions and privacy policy.
These documents outline the rules and guidelines that govern the platform and your usage of it.
It's crucial to understand and abide by these terms to ensure a smooth experience on Redbubble.
7. Verify Your Email Address (If Required)
In some cases, Redbubble may require email verification to confirm your identity and ensure the security of your account.
If prompted, check your email inbox for a verification link sent by Redbubble.
Click on the link and follow the provided instructions to complete the verification process.
8. Start Uploading Your Artwork and Customizing Products
Once your registration is complete and your account is verified, you're ready to dive into the creative process on Redbubble.
Begin by uploading your original artwork, designs, or photographs to your Redbubble profile.
You can then customize a wide range of products with your creations, making them available for sale to a global audience.
Ways to Make Money On Redbubble
There are various ways you can make money on Redbubble, including the following:
1. Selling Art Prints
Selling art prints on Redbubble is a foundational way to monetize your creative talents.
Redbubble provides artists with a platform to showcase their artwork as high-quality prints, allowing customers to choose from various sizes and formats.
Whether your art is digital, traditional, or mixed media, Redbubble's print-on-demand services ensure that each print is produced with precision and care.
By offering your art as prints, you not only make your creations accessible to a global audience but also provide art enthusiasts with an opportunity to decorate their homes with your unique vision.
Additionally, prints are a versatile and timeless option, making them a steady source of income for artists.
2. Designing Apparel
Redbubble empowers designers to turn their creations into wearable art. From t-shirts and hoodies to dresses and more, you can upload your distinctive designs to be printed on a wide range of clothing items.
Redbubble's print-on-demand model means that you don't have to worry about inventory or production logistics.
When customers place orders, Redbubble takes care of printing and shipping, leaving you free to focus on creating.
This avenue allows you to combine fashion and art, offering customers a chance to wear your designs and express their individuality.
It's an exciting way to reach a fashion-forward audience and showcase your artistic flair through everyday apparel.
3. Stickers and Decals
Custom stickers and decals are a hit on Redbubble.
Earn Everything… nearly!
Join Opinion Outpost, one of the few faithful and honest survey panels and earn cash and gift cards for your opinion. Stack your points and redeem them: Simple! No hidden fees and completely free!


These adhesive products are not only affordable but also serve as a fun and creative way for artists to monetize their work.
You can design stickers featuring your artwork, illustrations, or witty sayings.
Stickers have broad appeal, making them a versatile product that can attract a diverse customer base.
Whether customers want to decorate their laptops, water bottles, or notebooks, your stickers can add a personalized touch to their belongings.
With Redbubble handling production and fulfillment, you can focus on designing stickers that resonate with your audience.
4. Home Decor
Redbubble allows artists to extend their creativity to home decor items, such as posters, canvas prints, throw pillows, and duvet covers.
These products offer customers the opportunity to transform their living spaces with unique art.
You can upload your designs and Redbubble will handle the rest, including printing and shipping.
Home decor items provide a canvas for your art to be showcased in different ways, from a striking poster to a cozy throw pillow.
They cater to a market of interior design enthusiasts and individuals looking to personalize their homes with a touch of artistry.
5. Accessories
Customizable accessories are another lucrative option on Redbubble.
You can design phone cases, laptop sleeves, tote bags, and masks with your artwork or designs.
These accessories allow your customers to carry your art with them wherever they go, whether it's on their devices or as part of their fashion ensemble.
Redbubble's print-on-demand service ensures that each accessory is crafted with precision and quality.
This category is perfect for artists looking to diversify their product offerings and reach customers who appreciate functional and stylish items infused with art.
6. Greeting Cards
Designing unique greeting cards for various occasions is a creative way to monetize your art on Redbubble.
You can create cards featuring your artwork, illustrations, or personalized messages.
Greeting cards are versatile and appeal to customers seeking a special touch for birthdays, holidays, or other celebrations.
Redbubble's print-on-demand model ensures that each card is produced with care and attention to detail.
This category allows you to tap into the greeting card market and offer customers a personalized and artistic alternative to mass-produced cards.
7. Calendars and Stationery
Calendars, notebooks, and other stationery items provide opportunities for artists to create functional yet artistic products.
Designing calendars with your artwork or crafting custom notebooks allows customers to incorporate art into their daily lives.
These items can be great for personal use or as thoughtful gifts.
Redbubble's print-on-demand services ensure that each calendar or notebook is of high quality, making it a valuable addition to your product lineup.
8. Participate in Challenges
Redbubble frequently hosts design challenges and competitions.
Participating in these challenges not only allows you to showcase your skills and creativity but also gives you a chance to win cash prizes and gain exposure.
Challenges often have specific themes or guidelines, sparking your creativity and helping you reach new audiences.
Winning or being featured in a challenge can significantly boost your visibility on Redbubble and attract potential customers who are interested in your unique style and designs.
9. Collaborate with Other Artists
Collaboration with fellow artists can be mutually beneficial on Redbubble.
By working together on innovative projects or co-designing products, you can expand your creative horizons and reach a broader audience.
Collaborations can involve creating joint artworks, themed collections, or cross-promotions.
Pooling your talents and audiences with other artists can lead to increased exposure and sales.
It's an opportunity to tap into each other's networks and create something unique and exciting.
10. Niche Targeting
Identifying niche markets is a savvy strategy on Redbubble.
By creating designs that cater to specific interests or themes, you can attract dedicated customers who are passionate about those topics.
Niches can range from hobbies like gardening or gaming to niche communities or fandoms.
Researching and understanding the preferences of your chosen niche can help you tailor your designs and product offerings, making your store a go-to destination for enthusiasts in that niche.
This targeted approach can lead to a loyal customer base and repeat sales.
11. Offer Customization
Providing customization options can set you apart on Redbubble.
Allow customers to personalize your designs by adding their names, custom text, or choosing specific color variations.
Customized products often hold sentimental value and can be an attractive selling point.
Customization extends your reach to those seeking unique, one-of-a-kind items, making your store more appealing.
Redbubble's user-friendly interface makes it easy to implement customization features and enhance the overall shopping experience.
12. Build a Brand
Building a brand identity is pivotal to long-term success on Redbubble.
Consistency in your style, themes, and messaging helps customers recognize your work.
Create a memorable brand logo, develop a cohesive aesthetic, and craft a compelling brand story.
A strong brand presence not only attracts customers but also fosters trust and loyalty.
As your brand gains recognition, customers are more likely to return for new releases and recommend your store to others.
13. Engage with Customers
Engagement is key to creating a thriving Redbubble store.
Respond promptly to customer inquiries and feedback, showing that you value their input.
Engaging with customers can also provide insights into their preferences and needs.
Consider hosting Q&A sessions, running polls, or sharing behind-the-scenes content to foster a sense of community.
Encouraging customer interaction can lead to valuable relationships and repeat business.
14. Optimize Pricing
Strategic pricing is essential on Redbubble. Set competitive prices while considering Redbubble's base prices and your desired profit margins.
Carefully analyze the pricing of similar products in your niche to ensure your offerings are competitive.
Discounts and promotions can also attract buyers, so experiment with occasional sales to boost sales volume.
Keep an eye on pricing trends and adjust your strategy accordingly to remain competitive in the marketplace.
15. Expand Beyond Redbubble
While Redbubble is a powerful platform, consider expanding your presence to other online marketplaces or even your own website.
Promote your Redbubble products through social media, blogs, and email marketing to drive traffic to your store.
Diversifying your online presence can help you reach a broader audience and mitigate the risk of relying solely on one platform.
Remember to maintain consistency in branding and quality across all channels for a seamless customer experience.
Wrap Up
In conclusion, making money on Redbubble is a creative journey filled with opportunities.
By leveraging the diverse product offerings, engaging with customers, and staying attuned to market trends, you can transform your passion into a sustainable income source.
Whether you're selling art prints, designing apparel, offering customization, or expanding beyond Redbubble, this platform empowers artists and designers to showcase their talents to a global audience.
Remember, building a brand and optimizing pricing are key elements to long-term success. Embrace these strategies, and Redbubble can become your canvas for artistic and financial growth.
Related Posts:
Earn Everything… nearly!
Join Ipsos iSay, one of the few Faithful and Honest survey panels and earn prizes, gift cards and donations. Stack your points and redeem them: Simple! No hidden fees and completely free!