7 Ways to Make Money as a Tech Review Blogger
Updated on: by Amy Kennedy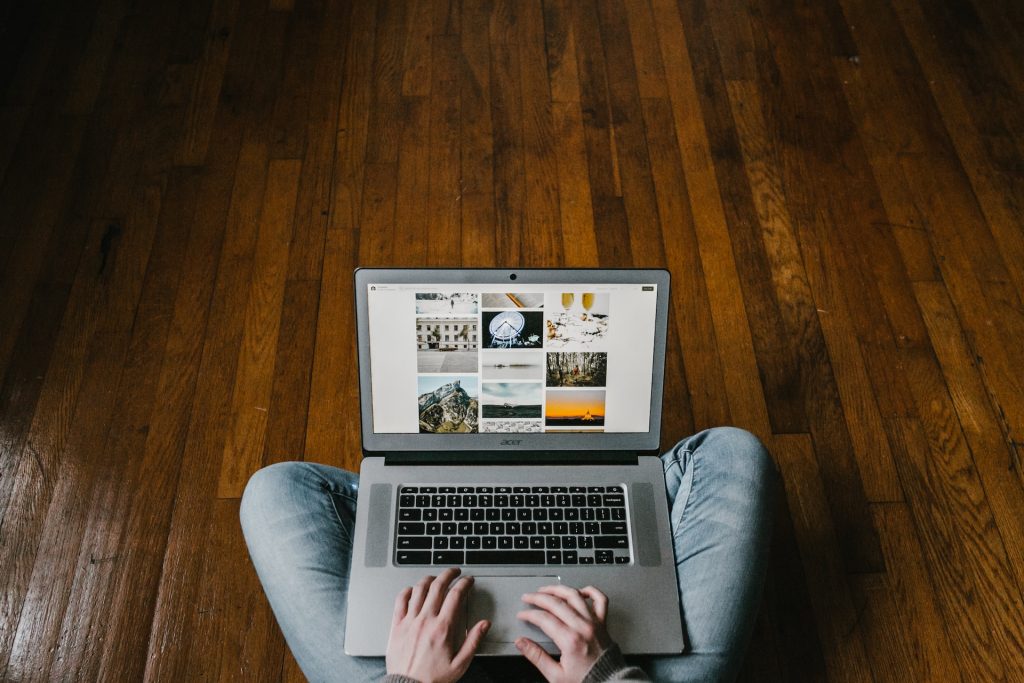 Are you passionate about technology and enjoy sharing your insights with others?
Need Easy Extra $350+/Month For Free?
Becoming a tech review blogger can be an exciting venture, allowing you to turn your hobby into a profitable online business.
In this article, we'll explore seven effective ways to monetize your tech review blog while maintaining an SEO-friendly structure.
So, let's dive in!
Affiliate Marketing
Affiliate marketing is a popular and lucrative method for monetizing your tech review blog.
By partnering with relevant brands and promoting their products, you can earn a commission for each sale generated through your affiliate links.
To get started with affiliate marketing, consider the following steps:
Sign up for affiliate programs
Join reputable affiliate networks such as Amazon Associates, ShareASale, or Commission Junction.
These platforms offer a wide range of tech-related products to promote on your blog.
Signing up is typically free, and once approved, you'll gain access to a vast inventory of products.
Choose products wisely
Select products that align with your audience's interests and needs.
As a tech review blogger, your readers rely on your expertise to make informed purchasing decisions.
Write informative and unbiased reviews, highlighting the benefits and features of the products you're promoting.
By providing valuable insights, you build trust with your audience and increase the likelihood of conversions.
Optimize your affiliate links
Incorporate your affiliate links naturally within your blog posts, ensuring they blend seamlessly with your content.
Utilize anchor text and call-to-action phrases to encourage readers to click on the links and make a purchase.
Need Easy Extra Cash?
Pinecone Research, a leading name in online survey panel honesty, absolutely guarantees $3 cash for every survey you complete!
Take advantage of their time limited New Membership drive and register NOW. Join today: 100% free!


For example, instead of using generic anchor text like "click here," use descriptive text such as "Check out the latest smartphone deals on Amazon" and hyperlink it to the relevant product page.
This approach increases the visibility and click-through rate of your affiliate links.
Remember to disclose your affiliate partnerships to maintain transparency with your audience.
You can include a statement in your blog's footer or within each individual post, indicating that you may earn a commission from the products recommended on your site.
Sponsored Content
Sponsored content presents another avenue to monetize your tech review blog.
Brands are willing to pay for exposure on your platform, providing you with an opportunity to collaborate and create valuable content.
To effectively leverage sponsored opportunities, follow these steps:
Understand sponsored content
Sponsored content involves partnering with brands to create blog posts, reviews, or videos that promote their products or services.
It is essential to understand the concept of sponsored content and its impact on your audience.
Transparently disclose sponsored content to maintain trust and credibility with your readers.
Clearly distinguish sponsored posts from your regular content, ensuring that your audience recognizes them as promotional material.
When creating sponsored content, strive for authenticity and provide honest opinions.
Your readers trust your expertise, and maintaining that trust is crucial for the long-term success of your blog.
Build relationships with brands
To attract brands and secure sponsored opportunities, focus on building strong relationships within the tech industry. Consider the following approaches:
Reach out to tech companies: Research and identify relevant tech companies that align with your blog's niche. Craft personalized pitches highlighting the value you can offer to their brand. Emphasize your engagement metrics, audience reach, and the unique perspective you bring as a tech review blogger.
Join influencer marketing platforms: Register on influencer marketing platforms like Influence.co, AspireIQ, or Upfluence. These platforms connect influencers with brands, simplifying the process of finding sponsorship opportunities.
When reaching out to brands or signing up for influencer marketing platforms, showcase your expertise and the quality of your content.
Provide examples of your past sponsored work and highlight the positive outcomes you've delivered for previous brand collaborations.
Negotiate rates
Establishing fair pricing for your sponsored posts is essential to ensure you are adequately compensated for your time and effort.
Consider the following factors when negotiating rates:
Audience size and engagement: Brands often value bloggers with a large, engaged audience. Highlight your blog's traffic statistics, social media following, and engagement metrics to demonstrate the potential reach of your sponsored content.
Value proposition: Showcase the unique value you bring to the brand. Explain how your tech review expertise, storytelling ability, or creative approach can enhance the brand's message and resonate with your audience.
Deliverables and content quality: Clearly outline the deliverables you will provide as part of the sponsorship. Whether it's a dedicated blog post, video review, or social media promotion, make sure the brand understands what they can expect. Highlight the high-quality content you produce and share examples of your past work.
Keep in mind that rates may vary depending on the brand, the scope of the sponsored content, and your negotiation skills.
Be open to discussions and willing to compromise while ensuring that the compensation aligns with the value you bring.
Display Advertising
Display advertising is a tried-and-true method for earning revenue from your blog.
By displaying ads from ad networks like Google AdSense, you can earn money based on clicks or impressions.
To optimize your display advertising strategy, follow these steps:
Set up ad networks
Sign up for reputable ad networks such as Google AdSense.
Google AdSense offers a user-friendly interface and a wide range of ad formats, sizes, and customization options.
Customize the ad formats, sizes, and placements to fit your blog's design and maximize visibility without compromising user experience.
During the setup process, Google AdSense will provide you with ad code that you need to place on your blog.
Make sure to follow the instructions and implement the code correctly to start displaying ads.
Optimize ad placements
Experiment with different ad placements to find the most effective spots on your blog. Strategic placement can significantly impact the performance of your ads.
Earn Everything… nearly!
Join Opinion Outpost, one of the few faithful and honest survey panels and earn cash and gift cards for your opinion. Stack your points and redeem them: Simple! No hidden fees and completely free!


Consider the following placement options:
Within content: Inserting ads within your blog posts can increase the visibility and engagement with the ads. Try placing them in the middle of the article or at natural breaks to capture readers' attention without interrupting their reading experience.
Above the fold: Placing ads above the fold refers to displaying them within the visible area of the webpage without requiring users to scroll. This prime real estate can attract more clicks and generate higher earnings.
Sidebar or header: Utilize the sidebar or header section of your blog to display ads. These positions are often highly visible and can capture readers' attention while they navigate your content.
Monitor the performance of your ads regularly and analyze the click-through rates (CTR) and earnings for each placement.
Based on the results, optimize your ad placements to maximize revenue without compromising user experience.
Balance ads and user experience
While displaying ads can generate revenue, it's crucial to maintain a balance between ads and content to prevent overwhelming your readers.
Too many ads or intrusive ad formats can negatively impact user experience, leading to a higher bounce rate and decreased engagement.
Ensure that your blog's loading speed is not significantly affected by the ad code.
Slow-loading pages can frustrate users and potentially affect your search engine rankings.
Optimize the ad code and regularly monitor your website's performance to maintain fast loading times.
Product Giveaways and Contests
Product giveaways and contests are not only exciting for your audience but can also benefit your blog monetization efforts.
By partnering with brands and hosting giveaways, you can attract new readers and engage your existing audience.
To make the most of product giveaways, follow these steps:
Attract brand partnerships
Reach out to tech companies and offer to host giveaways on your blog.
Emphasize the exposure and engagement your blog can provide to encourage their participation.
Highlight your audience demographics, engagement metrics, and the potential reach of your giveaway promotions.
Showcase past successful giveaways or collaborations to demonstrate the benefits of partnering with your blog.
Consider reaching out to brands directly or utilizing influencer marketing platforms to connect with potential sponsors.
These platforms can help facilitate collaborations by connecting influencers with relevant brands.
Leverage social media
Promote the giveaways on your social media platforms to increase participation and generate buzz.
Utilize platforms such as Instagram, Twitter, Facebook, or YouTube to spread the word about your giveaway.
Create visually appealing graphics or videos to catch the attention of your followers.
Encourage entrants to share the giveaway with their friends, expanding your reach organically.
Implement entry requirements that involve social media sharing or tagging, increasing the visibility of your giveaway across different networks.
Follow legal and ethical guidelines
Familiarize yourself with the legal requirements and regulations regarding giveaways in your jurisdiction.
Different countries and regions may have specific guidelines concerning sweepstakes, contests, and prize promotions. Ensure that you comply with these regulations to avoid any legal issues.
Clearly communicate the terms, eligibility criteria, and end date of the giveaway to your audience.
Transparency is essential to maintain trust and ensure a fair and enjoyable experience for all participants.
Make sure to outline any restrictions, such as age limitations or geographic limitations, if applicable.
Creating and Selling Digital Products
Creating and selling digital products allows you to leverage your expertise as a tech review blogger while generating passive income.To develop and market your digital products effectively, consider the following steps:
Identify valuable digital products
Determine the type of digital products that resonate with your audience and align with your expertise as a tech review blogger. Some popular options include:
E-books: Create comprehensive and well-researched e-books that provide valuable insights, tips, or guides related to your niche.
Online courses: Develop online courses that dive deeper into specific tech-related subjects. Structure your course with modules or lessons that provide step-by-step instructions, video tutorials, and downloadable resources.
Exclusive content bundles: Curate exclusive content bundles that include bonus materials, exclusive interviews, case studies, or behind-the-scenes access. These bundles can provide additional value to your audience and entice them to make a purchase.
Develop high-quality digital products
Create digital products that showcase your expertise and deliver unique value to your audience.
Consider the following aspects when developing your products:
Comprehensive content: Ensure your digital products provide in-depth information, practical advice, and actionable insights. Take the time to research and present accurate and up-to-date information.
Engaging format: Present your content in a visually appealing and easy-to-follow format. Incorporate multimedia elements such as images, videos, and interactive elements to enhance the learning experience.
Professional design: Invest in professional design or utilize user-friendly platforms like Canva to create visually appealing e-book covers, course materials, or promotional graphics. A polished and professional design enhances the perceived value of your digital products.
Implement effective marketing strategies
Promote your digital products through various marketing channels to reach a wider audience.
Consider the following strategies:
Blog promotion: Write dedicated blog posts that highlight the benefits and features of your digital products. Share excerpts or valuable insights from your products to give readers a taste of what they can expect. Include hyperlinks to your product pages within the blog post.
Email marketing: Leverage your email list to promote your digital products. Craft compelling email campaigns that include exclusive offers, testimonials, or limited-time discounts to incentivize your subscribers to make a purchase. Include hyperlinks to your product pages in your email newsletters.
Social media marketing: Utilize your social media platforms to showcase your digital products. Create engaging posts, videos, or stories that highlight the unique value your products offer. Encourage followers to share your content and engage with your posts to increase visibility. Include hyperlinks to your product pages in your social media posts.
Collaborations and partnerships: Collaborate with other bloggers, influencers, or tech companies to cross-promote your digital products. Offer them affiliate partnerships or provide them with free access to your products in exchange for promotion. Include hyperlinks to your product pages in collaboration or partnership announcements.
Consulting and Coaching
Leveraging your expertise as a tech review blogger can lead to lucrative consulting and coaching opportunities. To offer consulting and coaching services, follow these steps:
Establish credibility
Showcase your expertise through well-researched blog posts, case studies, and testimonials.
Consistently deliver valuable content that demonstrates your knowledge and insights within the tech industry.
Establishing credibility is essential to attract potential clients for your consulting and coaching services. Include hyperlinks to relevant blog posts or case studies that demonstrate your expertise.
Set up consulting services
Define the consulting services you can offer based on your expertise as a tech review blogger.
Identify areas where you can provide valuable guidance, such as technology selection, content strategy, SEO optimization, or social media marketing.
Clearly communicate your services on your blog, create a dedicated consulting page, and provide a contact method for inquiries.
Include hyperlinks to your consulting page and contact information.
Consider offering free consultations or introductory sessions to attract potential clients and showcase the value you can provide.
Use these sessions to understand their needs, offer initial advice, and build rapport.
Promote your services
Market your consulting and coaching services through your blog, social media platforms, and professional networks.
Leverage your blog's existing audience by writing blog posts or creating dedicated content that highlights your expertise and the benefits of working with you.
Share testimonials from satisfied clients to build trust and credibility. Include hyperlinks to your consulting page and social media profiles.
Use social media to share success stories, testimonials, and case studies that demonstrate the results you have achieved for clients.
Engage with your audience by answering questions, hosting live Q&A sessions, or offering valuable insights to position yourself as an industry expert. Include links to relevant social media posts or engagement opportunities.
Additionally, consider joining professional networking platforms or attending industry events where you can network with potential clients.
Establishing relationships with businesses or individuals seeking guidance within the tech industry can lead to consulting and coaching opportunities.
Include hyperlinks to relevant professional networking platforms or industry events.
Sponsored Events and Speaking Engagements
Sponsored events and speaking engagements provide opportunities to monetize your tech review blog while gaining visibility in the industry.
To pursue these opportunities, consider the following steps:
Collaborate with tech companies
Partner with tech companies to host sponsored events or webinars related to your niche.
These events can provide exposure, networking opportunities, and potential sponsorships.
Reach out to tech companies that align with your blog's focus and propose collaboration ideas.
Highlight the benefits they can gain from partnering with you, such as access to your engaged audience and your expertise as a tech review blogger.
Include hyperlinks to relevant tech companies or examples of sponsored events.
Find speaking engagements
Look for industry conferences, webinars, or local events where you can share your expertise as a speaker.
Research relevant events within the tech industry and explore opportunities to contribute as a speaker.
Reach out to event organizers or submit proposals showcasing your knowledge and the unique perspective you can bring as a tech review blogger.
Highlight your past speaking experience, the topics you can cover, and the value you can provide to the audience. Include hyperlinks to relevant industry conferences or webinar platforms.
Monetize sponsorships
When collaborating with tech companies for sponsored events or speaking engagements, negotiate sponsorship packages that include speaking fees, travel expenses, and promotional opportunities.
Leverage your blog and social media platforms to promote the events and attract attendees.
Showcase the benefits of sponsoring your participation, such as increased brand visibility and access to your dedicated audience.
Include hyperlinks to relevant sponsored events or examples of past speaking engagements.
Work closely with the sponsoring companies to ensure a mutually beneficial partnership.
Deliver engaging presentations or sessions that align with the event's theme and provide valuable insights to the audience.
Engage with attendees, answer questions, and network with industry professionals to maximize the opportunities that sponsored events and speaking engagements can offer.
Wrap Up
As a tech review blogger, you have several avenues to monetize your passion for technology.
By incorporating affiliate marketing, sponsored content, display advertising, product giveaways, digital products, consulting/coaching services, and sponsored events/speaking engagements, you can create a sustainable income stream.
Remember to maintain an SEO-friendly blog structure, optimize your content, and provide value to your readers while exploring these monetization strategies.
Best of luck on your journey to becoming a successful tech review blogger!
Related Posts:
Earn Everything… nearly!
Join Ipsos iSay, one of the few Faithful and Honest survey panels and earn prizes, gift cards and donations. Stack your points and redeem them: Simple! No hidden fees and completely free!