Work from Home as a UnitedHealth Group Medical Professional
Updated on: by Amy Kennedy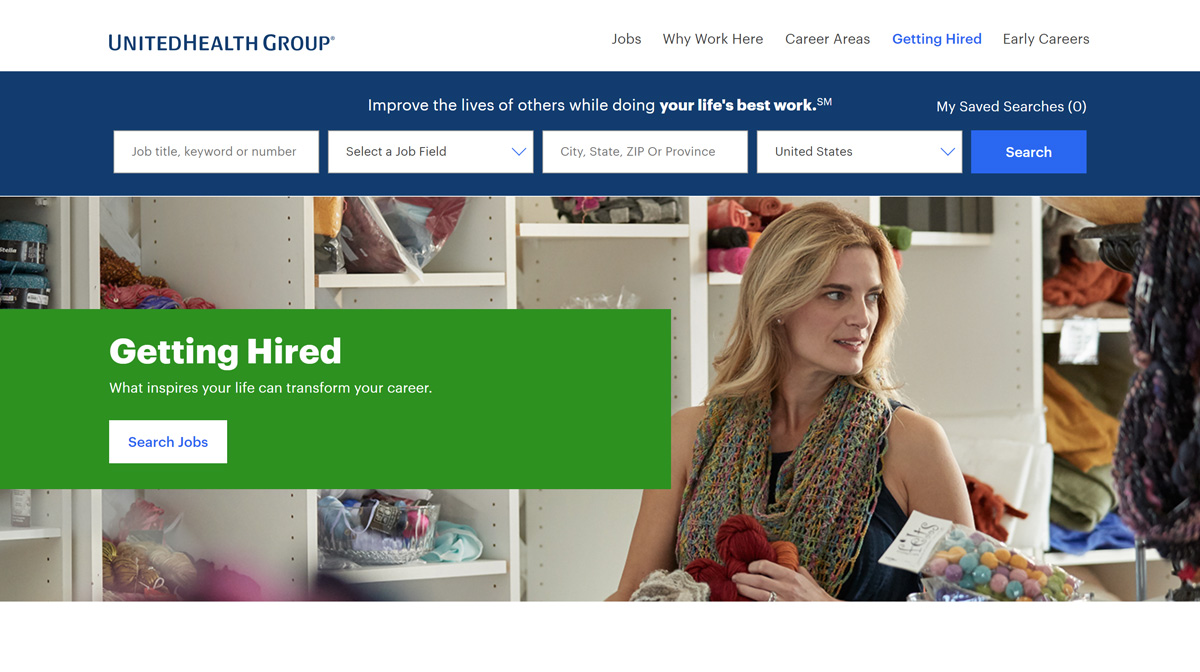 Finding a job in the health industry isn't easy when you want to work from home.
Need Easy Extra $350+/Month For Free?
Most healthcare jobs require workers to be on-site, helping patients and medical professionals face-to-face because of the nature of the jobs.
However, UnitedHealth Group is one of a few places that are regularly hiring professionals in the medical field to work from home.
If you have a degree or experience related to the medical, legal or financial industry and would like to work from your own home office then I suggest keeping a good eye on United Health Group.
Here at Work at Home Adventures we post their home-based UHC job openings often as they become available.
After seeing their job openings on a consistent basis for over a year, I began to realize UnitedHealth Group is not going anywhere and we need to look a little closer to the potential for a professional career working from home.
Therefore, this United Healthcare work from home review is intended on giving you the most up-to-date information about UHC jobs, what they pay, and how they all work.
Important note: This review has been updated for 2023 from its 2011 version with the most recent information we have available based on reviews and website information.
Who is UnitedHealth Group?
"UnitedHealth Group is a leading health care company, serving more than 75 million people worldwide."
UnitedHealth Group is a highly established company ranking 22nd in the 2012 Fortune 500 list!
Last year they reported a net income of over 5 billion dollars, which was an 11 percent increase from the previous year.
Despite the broken health care issues facing Americans- UnitedHealth Group has found a way to rise above and be successful.
If you are looking for a way to have a grounded position in the medical industry while working from home- UnitedHealth Group would be top choice for many nurses, insurance agents, health coaches, underwriters, customer care specialists and so on.
UnitedHealth Group is all things medical. They use their skills serving clients in all ranges of the healthcare industry.
What Type of Medical Jobs Does UnitedHealth Group Hire For?
UnitedHealth Group has open positions for work at home job seekers nearly all of the time. Some of the most common positions I have seen open are:
Registered Nurses
Nurse Practitioners
Health Coaches
Underwriters
Customer Service Reps
Case Managers
Research Consultants
Finance/Accounting
Legal
Pharmaceutical
Here's a more in-depth look into some of the most popular work at home careers offered at UnitedHealth Group:
Need Easy Extra Cash?
Pinecone Research, a leading name in online survey panel honesty, absolutely guarantees $3 cash for every survey you complete!
Take advantage of their time limited New Membership drive and register NOW. Join today: 100% free!


Telephone Customer Service Representative
Perhaps the most common job people look for with UnitedHealth Group to work from home is a customer service position that's mostly phone work, although it might include some email and chat work too.
These jobs usually involve you taking phone calls or making phone calls to members and medical professionals to learn more about their needs, address any problems or concerns, etc.
Much of the positions focus on researching medical benefits for people who are on a UnitedHealth insurance plan or for providers who need to learn more about a patient's benefits for billing purposes.
You'll, therefore, need to be an efficient researcher, know how to use a computer, and have excellent communication skills.
According to reports, this position will require training and possible certification before getting started.
There are opportunities for advancement, too, depending on your length of time with the company and your job performance, that include supervisor and manager roles.
Claims Resolution Specialist
The Claims Resolution Specialist acts as a liaison between members, providers, and medical claims.
You'll be responsible for reviewing medical bills, investigating any potential issues, and making corrections so that members benefits are applied correctly.
Specialists will need to work Monday through Friday during normal business hours from 6 am to 6 pm for 40 hours per week.
You're also expected to be available during open hours with some flexibility for scheduling and changes.
Some weekends and overtime might also be a part of the job.
Telephone Nurse Practitioner
You must be a nationally certified nurse practitioner to work for UnitedHealth Group in this position.
Most of these positions will require a combination of evening hours, weekend hours, and holidays, which will rotate with others in the same position.
You must live near a specific location for training and meeting purposes, but most of the work itself can take place in your home.
You'll be required to be on-call for aging residents who need help with their medical needs, medication reminders, etc.
Some in-home visits and meetings may also be required, but most of the job is home-based.
Wellness Coordinator
Wellness Coordinators take on the role of coordinating appointments and other services for UnitedHealth Group members.
These roles are telecommuting, meaning that you may need to drive some to meet with members to discuss their needs in person, but much of the work can be done out of your home office.
You'll be contacting mostly members who have recently been discharged from inpatient services to learn about their needs and wants and get them connected to other services after their release.
Clinical Administrative Coordinator
This role is part of the customer service team for UnitedHealth Group.
You'll connect with other customer service representatives, members, providers, and customer support managers and supervisors to make sure everything runs smoothly, procedures are being met, and members' needs are taken care of.
You'll also be responsible for handling faxes and emails and ensuring that scheduling requirements are being met for other workers.
Community Connections and Family Well-Being Coordinator
This position focuses solely on children with special health care needs and their families.
You'll be responsible for coordinating care and connecting families to local, state, and federal services that might help them.
UnitedHealth Group also offers a managerial role to oversee other coordinators, check-in on their work activities, give them instructions and direction, and develop and maintain procedures to keep everyone productive.
Who Does UnitedHealth Group Hire?
UnitedHealth Group hires mostly professionals in the healthcare industry who have had experience working in a medical office, hospital, or other healthcare position.
Many of the jobs require people like former healthcare case managers, registered nurses, etc.
However, other positions don't require anyone with a medical degree or similar degree, but rather those with customer service experience to fill its customer service positions.
Still, even applicants for those positions are typically required to have some experience in the healthcare industry, at least enough to understand basic medical coding, terminology, and more.
Earn Everything… nearly!
Join Opinion Outpost, one of the few faithful and honest survey panels and earn cash and gift cards for your opinion. Stack your points and redeem them: Simple! No hidden fees and completely free!


What Equipment Will I Need?
The equipment you'll need in your home office will vary depending on the job you apply for.
Generally, you'll need a reliable computer or laptop, a fast and reliable internet connection, and possibly a dedicated phone line if your job requires phone work (most will).
A headset might be recommended for some positions, too, especially if you'll be spending a lot of time calling others or answering phone calls.
You can browse each individual job listing from UnitedHealth Group to find out what exact requirements might be necessary for that particular job.
Is This Flexible Work?
Not so much.
Although most people look for a work at home job to have some sort of flexibility in scheduling, UnitedHealth Group jobs focus on healthcare.
Therefore, much of the work you do will need you to be available during normal business hours during which you can get a hold of patients, medical offices, and other professionals.
Most jobs through this company will have a set schedule with either a part-time or full-time working schedule.
You can usually find out more detailed scheduling requirements in the job posting or when you have contact with a recruiter.
Is the Salary Offered Through United Health Competitive?
Absolutely. UnitedHealth Group expects trained professionals with experience and or a degree in their field.
In many cases, applicants will also need special licensure, such as a current registered nurse license in their state, to get hired.
Because of the technical and high-level components of each job, employees are expected to have the skills, experience, and licensure and/or schooling to complete the job successfully.
In return, the company offers competitive salaries and usually a benefit package to go along.
For some examples of typical salaries at UnitedHealth Group, you can check out Glassdoor's average salary report.
Glassdoor has listed salaries for nearly 400 job types offered at UnitedHealth Group.
Examples:
A Customer Care/Customer Service representative working for UnitedHealth Group averages about $15 to $17 per hour.
A Claims Representative can earn around $15 an hour working for UnitedHealth Group.
Project managers can earn upwards of $85k a year.
An RN Case Manager can earn over $77K a year.
Benefits at UnitedHealth Group are not lacking either.
Paid company holidays, adoption assistance, and education reimbursement are just some of the perks employees of UnitedHealth group can get.
Since you won't be considered an independent contractor, but will instead be an employee, you'll be eligible for these benefits (depending upon position, of course) regardless of your work from home status.
You can view the common benefits offered including health insurances, 401k and paid time off on their benefits page.
Where Can I Watch for current UnitedHealth Group Job Openings?
To keep an eye on the home-based positions with UnitedHealth Group I would suggest keeping an eye on UnitedHealth Group's Careers page, which lists any job that's currently available.
There are also several filters here that can help you narrow down your search.
However, I find it easier to find the work at home jobs by doing a quick Google search.
You can type in something like "UnitedHealth Group work from home" and Google will bring up several results without you having to sift through on-site jobs to find what you're looking for.
UnitedHealth Group also sometimes posts its jobs on Indeed, so you can check there too.
One bonus with Indeed is that you can set job alerts for UnitedHealth Group for Indeed to send you an email when it posts a new job that matches your skills and interests.
The Verdict: Is UnitedHealth Group a Legitimate Company for Work at Home Jobs?
Absolutely!
This is one of the big names in the healthcare industry and it's definitely a legitimate company.
Additionally, its work at home jobs are some of the most talked-about in the business.
People who work in the healthcare industry don't get many opportunities to work from home, so it's refreshing to see a company that's so dedicated to its employees that it offers a good work-life balance for them with benefits, flexibility, and more.
This is one company you can certainly get behind and trust when it comes to finding a job you can do from your home office.
We want to hear from you!
If you're a past or current UnitedHealth Group at-home worker, leave your comment down below and tell us: What was your position like? Did you enjoy it? What were the pros and cons?
Your comments can help others looking for a job! Thank you!
Related Posts:
Earn Everything… nearly!
Join Ipsos iSay, one of the few Faithful and Honest survey panels and earn prizes, gift cards and donations. Stack your points and redeem them: Simple! No hidden fees and completely free!