15 Work From Home Weekend Jobs for Teens
Updated on: by Amy Kennedy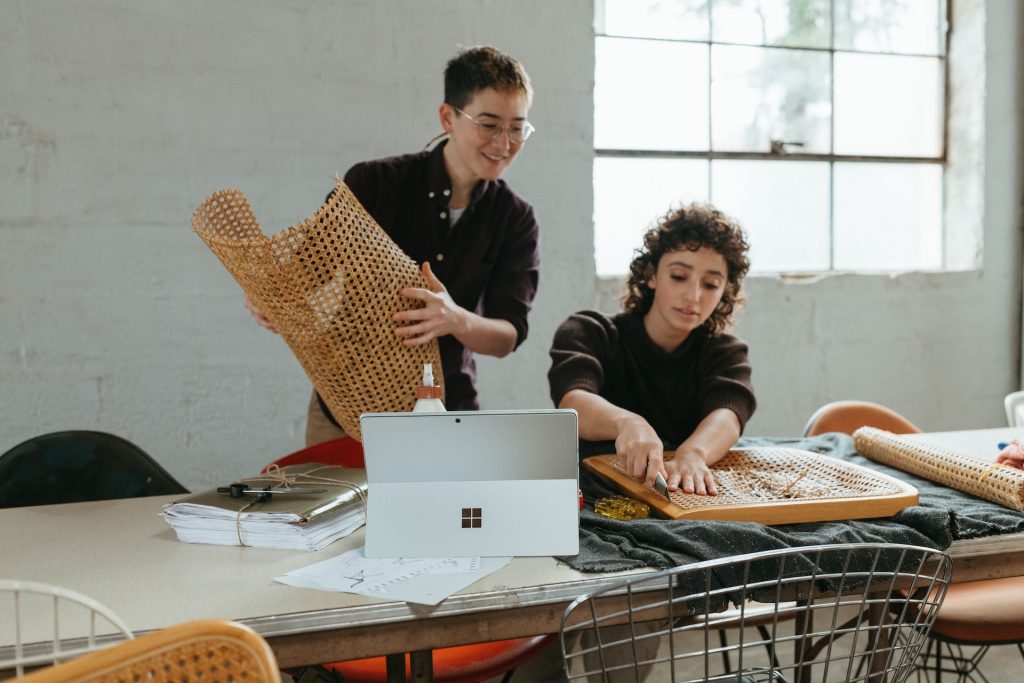 The age of the internet has opened a myriad of opportunities for teenagers to earn from the comfort of their homes.
Need Easy Extra $350+/Month For Free?
Teens no longer need to wait for their adulthood to start earning; the digital age offers myriad avenues to harness their skills, passions, and time efficiently over weekends.
From freelance writing to online tutoring, the possibilities are vast and diverse.
Below, we present a comprehensive guide to 15 work-from-home weekend jobs ideal for teenagers.
1. Blogging
Exploring Niche Interests
With platforms like WordPress and Blogger, teens can dive into their passions, sharing insights, reviews, and experiences.
Whether it's tech, fashion, or book reviews, pinpointing a specific niche will cater to like-minded audiences and create a loyal reader base.
Monetizing Through Ad Networks
Once they gain consistent traffic, bloggers can monetize using ad networks like Google AdSense. Understanding how ad placements impact reader experience and revenue is a valuable skill, allowing them to optimize their earnings.
Engaging with the Blogging Community
Participating in blogging communities and forums can help teens gain visibility, receive constructive feedback, and form valuable collaborations.
As they engage more, opportunities for guest posts, partnerships, and shared promotions can further boost their blogging journey.
---
2. Tutoring
Share Academic Strengths
For teens excelling in certain subjects, tutoring platforms like Chegg Tutors allow them to share their knowledge with students globally. This not only solidifies their own understanding but also enhances their teaching and communication skills.
Flexible Scheduling
One of the advantages of online tutoring is flexibility. Teens can choose timings that don't clash with their school or extracurricular activities, ensuring a healthy work-study balance.
Building Credibility and Client Base
Starting with friends or local community members can help teens build a testimonial base. As they gain more experience and positive reviews, they can expand their clientele, potentially charging higher rates due to proven expertise.
---
3. Social Media Management
Tapping into Digital Native Skills
Today's teens, often labeled digital natives, inherently understand social media's pulse. Platforms like Instagram or TikTok are second nature to them, and this insight can be invaluable to brands looking to connect with younger demographics.
Learning Analytics and Strategy
Effective social media management goes beyond just posting. Teens can dive into platform analytics to gauge post performance, audience engagement, and growth trends, subsequently tweaking strategies for optimal results.
Networking and Brand Collaborations
Consistent and effective management can attract other brands for collaboration or freelance social media handling opportunities. Building a portfolio and showcasing their success stories can pave the way for more lucrative projects.
---
4. Graphic Design
Expressing Creativity Digitally
Teens with a flair for art and design can transition their skills to digital platforms like Adobe Illustrator or Canva. The digital design realm is vast, from logo creation to animated graphics, allowing them to explore multiple avenues.
Need Easy Extra Cash?
Pinecone Research, a leading name in online survey panel honesty, absolutely guarantees $3 cash for every survey you complete!
Take advantage of their time limited New Membership drive and register NOW. Join today: 100% free!


Building a Portfolio on Platforms
Websites like Behance or Dribbble are ideal for showcasing digital artwork. A strong portfolio attracts clients, and as they undertake varied projects, their versatility and expertise are further highlighted.
Understanding Client Needs and Feedback
Collaborating with clients teaches teens the importance of understanding briefs, iterative feedback, and client satisfaction. These soft skills, coupled with technical prowess, can set the foundation for a potential career in design.
---
5. Freelance Writing
Honing Writing Skills
Whether it's crafting articles, blog posts, or creative stories, platforms like Medium or Upwork provide a space for teens to showcase and monetize their writing. The more they write, the more they refine their voice and style, appealing to varied readerships.
Exploring Different Writing Niches
The writing domain is expansive. Teens can explore copywriting, content creation, creative fiction, or even technical writing.
Experimenting across genres helps them discover their strengths and preferences.
Building a Writing Portfolio
Every piece they write contributes to their portfolio. As they accumulate published pieces, especially on reputable platforms or for esteemed clients, their credibility as writers solidifies, opening doors to higher-paying opportunities.
6. Affiliate Marketing
Learning the Basics
Affiliate marketing involves promoting products online and earning a commission for every sale made through one's referral link. Platforms like Amazon Associates provide a simple entry point, allowing teens to understand the dynamics of product promotion and sales conversion.
Choosing the Right Products
To succeed in affiliate marketing, it's essential to promote products that resonate with one's audience. Teens can explore products that align with their interests, ensuring authenticity in their promotions.
Tracking and Analyzing Performance
With tools provided by affiliate platforms, teens can track clicks, conversions, and overall performance. Understanding which strategies work best can guide future campaigns, maximizing earning potential.
---
7. Online Surveys & Reviews
Earning Through Opinions
Several websites pay users for sharing their opinions on products, services, or general topics. Platforms like Survey Junkie allow teens to earn by simply completing surveys, giving them a taste of the market research industry.
Diversifying Survey Platforms
It's beneficial to sign up on multiple survey platforms to increase earning opportunities. Each platform has a different set of surveys, catering to varied demographics and interests.
Staying Cautious
While there are genuine platforms that pay for surveys, some can be scams. Teens should do thorough research, check reviews, and perhaps start with well-known sites to ensure safety.
---
8. Selling Handmade Crafts
Monetizing Creativity
For teens who love crafting, platforms like Etsy offer a chance to sell their creations. Whether it's jewelry, digital art, or customized apparel, there's a vast market for handmade goods.
Understanding Market Trends
While passion drives crafting, understanding what sells can enhance profits. Keeping an eye on market trends, seasonal demands, and customer feedback can guide product creation.
Branding and Packaging
Successful selling isn't just about the product but also presentation. Creating a unique brand, ensuring quality packaging, and delivering consistently can garner loyal customers and glowing reviews.
---
9. Video Editing
Honing Technical Skills
With the rise of YouTube, TikTok, and other video platforms, video editing skills are in demand. Teens can utilize tools like Adobe Premiere Pro or Filmora to edit videos, enhancing their technical proficiency.
Understanding Audience Preferences
Different platforms cater to varied audiences, each with specific tastes. Grasping these nuances and editing accordingly can enhance the video's impact and viewership.
Building a Portfolio
Just like graphic design, video editing work can be showcased on platforms like Vimeo. Building a strong portfolio can attract clients and lead to consistent freelance opportunities.
---
10. Voice-Over Work
Discovering Vocal Potential
Voice-over work isn't just for adults. With platforms like Voices, teens can lend their voice to commercials, animations, and more.
It's a chance to explore vocal tones, pitches, and expressions.
Creating a Demo Reel
Before securing jobs, having a demo reel showcasing different vocal styles can attract potential clients. It gives them an idea of the teen's range and versatility.
Setting Up a Home Studio
Quality is paramount in voice-over work. With some investment, teens can set up a basic home studio, ensuring noise-free, clear recordings that meet industry standards.
11. Translation Services
Monetizing Language Skills
For teens who are bilingual or even multilingual, offering translation services can be a lucrative endeavor. Platforms like Upwork or TranslatorsCafé connect them with clients in need of translation for various projects.
Understanding Cultural Nuances
Translation isn't just about converting words; it's about conveying meaning. Being aware of cultural contexts and nuances ensures translations feel natural and resonate with target audiences.
Specializing in Fields
While general translation is great, specializing in areas like technical, medical, or legal translation can lead to higher pay. Acquiring knowledge in these fields can enhance the accuracy and quality of translations.
---
12. Podcasting
Exploring Audio Storytelling
With the rise of platforms like Spotify and Anchor, podcasting has become a popular medium. Teens can explore topics they're passionate about, interview guests, or even narrate stories.
Understanding Audience Engagement
Successful podcasting requires consistent engagement with listeners. Seeking feedback, promoting on social media, and actively participating in podcasting communities can increase listenership.
Monetizing the Podcast
Once a consistent audience is established, teens can explore monetization through sponsorships, ads, or affiliate marketing. Platforms like Patreon also allow creators to receive support directly from their audience.
---
13. Photography
Capturing Moments Digitally
For those with a keen eye and a camera, platforms like Shutterstock or Getty Images offer an opportunity to sell photos. Teens can explore different photography styles, from nature to portraits.
Earn Everything… nearly!
Join Opinion Outpost, one of the few faithful and honest survey panels and earn cash and gift cards for your opinion. Stack your points and redeem them: Simple! No hidden fees and completely free!


Understanding Post-Processing
Taking a photo is just the first step. Learning post-processing techniques using software like Adobe Lightroom can elevate photos to professional standards.
Building a Portfolio and Brand
Showcasing work on platforms like Instagram or personal websites can attract clients for freelance projects. As they develop their style and brand, they can cater to specific niches like wedding photography or travel photography.
---
14. App and Web Testing
Enhancing User Experience
Companies often require user testing to ensure their websites and apps offer a seamless user experience. Platforms like UserTesting pay teens to provide feedback after navigating websites or apps.
Understanding Testing Protocols
Each testing session usually comes with specific tasks and questions. Being thorough and providing detailed feedback can lead to more testing opportunities and higher pay.
Staying Updated with Tech Trends
As digital platforms evolve, understanding current tech trends ensures testers can provide relevant feedback. This knowledge enhances their credibility and demand in the testing community.
---
15. Dropshipping
Understanding E-Commerce
Dropshipping allows individuals to sell products without holding inventory. Platforms like Shopify enable teens to set up an online store, curate products from suppliers, and sell to customers, with suppliers handling shipping.
Researching Profitable Niches
The key to a successful dropshipping venture is identifying products with high demand and low competition. Continuous market research and trends analysis can guide product selection.
Focusing on Customer Service
Even though suppliers handle product delivery, customer service falls to the store owner. Promptly addressing queries, managing returns, and ensuring customer satisfaction can lead to repeat business and glowing reviews.
Bonus Offline Jobs: While the text has majorly focused on digital online jobs, teens can also do offline jobs such as the following:
1. Babysitting
Nurturing and Care
Babysitting is a timeless job option for teens. It allows them to earn while taking care of younger kids, teaching them responsibility and nurturing skills.
Parents often seek responsible teenagers for weekend outings or events.
Safety First
Many parents prefer babysitters who have basic safety or first aid certifications. Taking a short course can enhance a teen's credibility and ensure they're prepared for emergencies.
Building a Network
Starting with family friends or neighbors, teens can slowly expand their network. Word-of-mouth recommendations play a significant role in this job, so ensuring reliability and trustworthiness is crucial.
---
2. Lawn Care and Gardening
Connecting with Nature
For teens with a green thumb, lawn care or gardening offers a chance to work outdoors, beautifying neighborhoods. This job involves tasks like mowing, weeding, and planting.
Equipment Knowledge
Understanding the right tools and equipment is essential. Proper maintenance and safety precautions ensure longevity and reduce the risk of accidents.
Seasonal Opportunities
As seasons change, so do gardening needs. Teens can offer services like leaf raking in the fall or snow shoveling in the winter, ensuring year-round earning potential.
---
3. Tutoring Younger Students
Sharing Knowledge
Tutoring allows teens to share their academic strengths with younger students. Whether it's math, reading, or science, helping others grasp concepts can be deeply rewarding.
Developing Teaching Skills
Effective tutoring requires patience and adaptability. Every student learns differently, and teens will refine their communication and teaching strategies over time.
Building a Reputation
Starting with siblings or neighbors, consistent results and feedback can lead to more students. School bulletin boards or community centers can also be platforms to advertise services.
---
4. Pet Sitting and Dog Walking
Animal Companionship
For animal lovers, pet sitting or dog walking is a perfect job. Whether it's walking dogs, feeding cats, or even taking care of exotic pets, it's a chance to bond with furry friends.
Understanding Animal Behavior
Every pet has its unique temperament. Being patient, observant, and understanding their behavior ensures a smooth pet sitting experience.
Establishing Trust
Pet owners treat their animals like family. Building trust with them is essential. Clear communication, reliability, and genuine care can go a long way in securing repeat clients.
---
5. Local Grocery or Retail Stores
Learning Retail Dynamics
Many local stores hire teens for weekend shifts. Tasks can range from stocking shelves, managing cash registers, or assisting customers. It's an excellent introduction to the retail industry.
Interpersonal Skills Development
Interacting with diverse customers refines communication skills and patience. Teens learn the art of customer service, problem-solving, and teamwork.
Understanding Business Operations
Working in a store provides insights into inventory management, sales strategies, and business operations. It's a foundational experience for those interested in pursuing business or management studies.
Conclusion
The online and offline spheres presents a myriad of opportunities for teens to kickstart their professional journey.
These work-from-home roles, tailored for the weekend, offer flexibility, skill development, and a taste of financial independence.
As they navigate through these ventures, they're not only earning but also preparing themselves for the ever-evolving digital future.
Related Posts:
Earn Everything… nearly!
Join Ipsos iSay, one of the few Faithful and Honest survey panels and earn prizes, gift cards and donations. Stack your points and redeem them: Simple! No hidden fees and completely free!