111+ Best Online Jobs for Teens Under 18. Legit & Free.
Updated on: by Amy Kennedy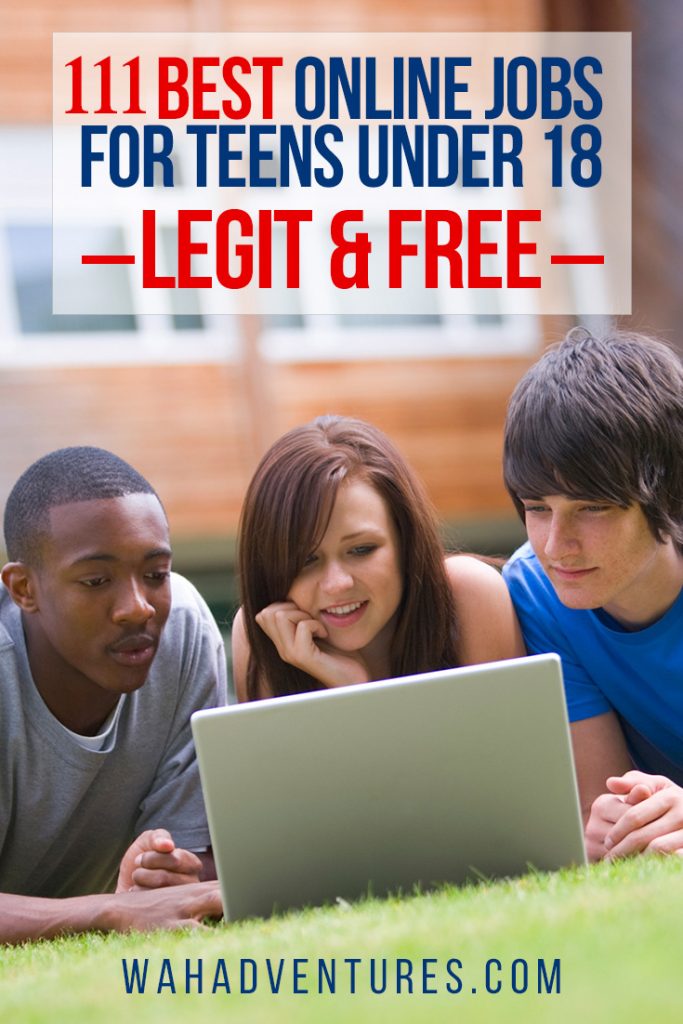 Did you know that teenagers can make money online, too?
Need Easy Extra $350+/Month For Free?
You don't have to be 18 years old to earn some extra income on the web.
Going to school takes up a lot of time and energy.
Adding a part-time job to that can leave 15-year-olds or 16-year-olds burnt out.
It's best to look for some online jobs that you can do for a couple of hours after school or on the weekends at home.
Fortunately, they're flexible, so you can do them whenever you have spare time.
Check out this list of online jobs for teens under 18.
That means even 12-year-olds can find a way to make some money online!
What are the Best Online Jobs for Teens?
Online jobs for teens need to be flexible.
When you're looking for ways to make cash online, look for jobs that don't require set schedules or a specific number of hours per week.
Instead, focus on smaller tasks that you can complete in your spare time.
There are several jobs that are perfect for teens to do after school for a couple of hours or on the weekends.
If you don't feel like searching for online jobs yourself, browse through our list of the best online jobs for teens under 18!
First, a Word on Internet Privacy with Kids and Teens
You might be wondering why online jobs for teens are limited.
Much of this has to do with internet privacy and the need to keep children and teens – also known as minors – protected from things on the internet.
COPPA is a law that targets children under the age of 13, requiring websites to follow guidelines concerning protecting the privacy of children that visit the site.
Need Easy Extra Cash?
Pinecone Research, a leading name in online survey panel honesty, absolutely guarantees $3 cash for every survey you complete!
Take advantage of their time limited New Membership drive and register NOW. Join today: 100% free!


There are other laws governing the way websites handle visits and data collection from minors who are 13 years of age or older, usually requiring them to have parental permission for the minor to visit and use the site.
A lot of companies and sites would rather be on the safe side and avoid getting themselves into any sticky situations by only allowing older teens or adults to use their site and services, which is why you'll see limited opportunities for teens.
Still, this doesn't mean you can't get an online job as a teen!
This article has plenty of ideas and opportunities for you to make legitimate money with companies who are glad to welcome teens on board and have practices in place to protect them along the way.
Online Jobs for 13 Year Olds And Up
Take Surveys
Most online survey websites allow you to sign up to begin taking surveys at age 13, provided you have your parents' permission.
The below survey websites will all pay 13-year-olds just to give their opinions:
Read More: 50+ Real Online Survey Jobs That Pay Cash
"Get Paid To" Websites
"Get Paid To" (GPT) sites pay you for completing offers and tasks, like watching videos, taking surveys, or playing games.
These GPT websites all welcome teens 13 or older:
Use Money-Making Mobile Apps
Some smartphone apps can be excellent money-makers for teens – and they're fun to use!
Some of these apps help you sell stuff you have.
Others help you invest your money to make more money.
Some are great for cashback shopping.
Others are simply fun ways to earn extra money in your spare time!
Play a Mobile Game!
Qriket is a unique way to earn some money, and there's no age limit as to who can play.
However, you will need parental consent in most locations, so check your local laws to find out that information.
This live online game show is available via an app on iTunes and Google Play.
Basically, you watch ads in the app, which gives you spins to spin a cash-making wheel.
Each spin can give you up to $5. It's really all a matter of luck.
You won't get rich off this game, but you can save up your money until you want to cash it out via PayPal.
Every little bit helps (and you might as well earn some cash in your spare time!).
Lets you watch advertisements that you're interested in and rewards you with gift cards!
The minimum age requirement is 13 because that's also the minimum age requirement for Facebook, which you must use to be able to sign up for NADAmobile.
Once signed up, you can watch a certain number of videos per day that NADAmobile will allow.
For each video watched, you'll earn credit that you can redeem for gift cards. Although it won't make you cash, you can earn gift cards to popular places like Amazon, Target and iTunes.
Videos can make money!
Much like a blog, you can make money off your content in videos.
Of course, you'll need to have a knack for videography so you can make videos that people want to watch.
Hint: Viral content is best!
Earn Everything… nearly!
Join Opinion Outpost, one of the few faithful and honest survey panels and earn cash and gift cards for your opinion. Stack your points and redeem them: Simple! No hidden fees and completely free!


Through your YouTube account, first enable monetization, which means that you have rights to what you upload and can begin the process of making money.
Then, sign up for Google AdSense, which is how you'll make money.
YouTube and Google AdSense will work together to provide ads on your videos that relate to your niche.
The amount you make depends on how much your videos are viewed, but if you're good at what you do and keep working at it, you'll be making money in no time.
Fiverr is one of the coolest marketplaces online, and it is perfect for teens with talent who want to sell their services.
Do you design graphics for websites or edit photos?
If you have any kind of computer talent that you can sell for $5, this place can make you some money fast.
You can create your "gig" starting at $5.
Then, you can choose to add on extra services for more money. So, someone can order a $50 project from you.
Just make sure you're charging enough for your services.
Think about how long it would take you to finish the project and figure out a good hourly rate for it.
Then, you can figure out how much to charge.
Sell your stuff!
With adult supervision, you can sell things you no longer need (or cool stuff you find at thrift stores or yard sales!) when you're 13 years old. Just remember that you'll need a parent's permission to use their account.
On eBay and Amazon, you can sell almost anything that's worth some money. If you are looking to get a new laptop but need some extra money to put toward the cost, sell your old one on eBay.
Do you have a bunch of old books from school you don't need? You can sell those too! (Obviously not your school's textbooks – they'd frown upon that!).
Bookscouter lets you find the best prices for your books so you can choose where to sell them to make the most money.
And, Swap lets you sell old clothes.
Although they need to be in good condition free from tears, stains, pet fur, etc., you can sell your gently-used clothes on Swap's marketplace. Send in a box and Swap does all the hard work of checking clothes, sorting them, and taking photos. You just need to set your prices and wait for them to sell.
If you're creative, but not quite in a computer sense, you can sell your crafts on Etsy. Etsy lets people sell handmade items like clothing, jewelry, accessories, paintings, etc.
Are you a photography enthusiast? Instead of letting your hobby go to waste, sell your photos! There are plenty of websites that will pay for your photos for use as stock photography for websites, presentations, and documents.
Shutterstock and Dreamstime are good places to start. You can sign up as a contributor and you'll receive royalties (cash) when someone downloads your photo or purchases a license to use your photo.
Use Facebook Groups
Facebook groups are a great way to find out what others need.
Spend some time in local Facebook groups, like job search groups or buying and selling groups.
Often, others will post about things they're looking to buy or services that they need.
You may be able to find the perfect opportunity to earn some cash around your neighborhood by finding out what others need online.
And, you could get lucky and have something that someone else wants to buy, like a video game or smartphone.
Sometimes, people need something very specific, like a painting for a gift. If you're artsy, this is a good way to find people for custom orders.
Just be sure that, if you're meeting anyone from Facebook, you have a parent or trusted adult go with you and you meet in a public, well-lit location.
Writing
If you enjoy writing fiction or articles, there are seemingly endless opportunities for you online to get paid for writing.
You can write articles for content networks like BlogMutt or ClearVoice (review).
These marketplaces list article assignments from clients looking for writers.
With BlogMutt, you'll pick an assignment to write and wait for approval from the client. If the client likes it, you'll get paid; if not, he can choose another article and you won't get paid. If you stick to the client's guidelines and have proper punctuation, spelling, and grammar, you have much better chances of getting your work accepted.
ClearVoice matches you with clients looking for articles in your area of expertise.
You can apply for an assignment and, if the client picks you, you can write the article. ClearVoice pays quickly via PayPal once your article is accepted.
Editing and Proofreading
This job may be a little more difficult than writing to find jobs for, as most editors and proofreaders need, at least, a high school diploma.
But, if you have some excellent grammar skills, you can still do it at almost any age.
You just have to find the right people willing to hire you!
Perhaps you can start with some of your friends and family?
Ask around to see if anyone needs some help editing school reports or articles for their blog.
You may not be able to get a lot for your work unless you have several people interested in your help, but it can be a great side gig.
Use social media channels to announce your services, and you may be able to pick up some work quickly.
It's best to set a price per word of edited material rather than an hourly rate for editing.
Tutoring
If you enjoy helping others, why not tutor students?
Enroll lets teenagers tutor other students virtually via its online dashboard.
You'll have to prove that you're an expert by tutoring two free sessions to ensure accuracy, but after that, you can start getting paid.
Virtual Bookkeeping
If you have a knack for numbers and organization, consider offering virtual bookkeeping services to small businesses or entrepreneurs.
You can help them with tasks such as recording transactions, organizing receipts, or preparing financial statements.
Platforms like Upwork and Freelancer provide opportunities to find bookkeeping gigs and build your clientele. Familiarity with accounting software like QuickBooks or Excel is beneficial for this job.
Online Language Tutoring
If you are fluent in a second language, offer online language tutoring services to individuals wanting to learn that language.
You can use platforms like italki or Verbling to connect with language learners worldwide. Conduct personalized lessons via video calls and help others improve their language skills while earning money.
Content Writing
If you enjoy writing, consider becoming a freelance content writer. You can write articles, blog posts, or website content for individuals or businesses.
Websites like Freelancer and Constant Content provide opportunities to showcase your writing skills and find clients in need of content.
Good grammar, research skills, and the ability to meet deadlines are important for this job.
Online Transcription
Online transcription involves listening to audio or video recordings and transcribing them into written form. You can find transcription opportunities on websites like Rev or TranscribeMe.
This job requires excellent listening skills, attention to detail, and fast typing speed. It's a great option if you have good language proficiency and enjoy working with audio content.
Coaching
Similar to tutoring but not quite the same is coaching.
If you have a specific skill that you can teach others online, then coaching is a great way to do it.
Maybe you know how to set up websites for people.
Maybe you've had success finding freelance writing work online.
Or, perhaps you're a young motivator who can be inspirational to other kids your age, triggering them to want to start their own business or have a better life in general.
Any of these things can spark a coaching career.
You can coach others in YouTube videos, create online courses, or even offer appointments for people to sign up and pay you an hourly fee.
Get creative!
Figure out what skills or interests you have that you know so much about that it would be easy to teach them to others.
Make an eBook.
eBooks are great for writers to earn a passive income fast.
If you're a fast writer, you can create a short eBook in a few days to a couple of weeks and sell it on Amazon or your website, if you have one.
Think about something you know a lot about and add information that isn't common knowledge or easy to find online already.
You'll want your eBook to contain new information that's helpful – that's what will make people buy it! Consider a guide for a video game, a recipe book, or an in-depth analysis of your favorite book.
Put it up on Amazon for $2 to $10, and you could continue making money from a book with no publishing fees or other costs to you (besides Amazon fees, but those come straight out of your profits)!
Start a Blog
A blog is more than just the story of your life.
Bloggers are making legit income by providing valuable information to their readers and monetizing their websites through ads, product reviews, courses, and more.
As a teenager with a full-time school schedule, you may not be able to make huge profits from a blog, but you can absolutely make enough for extra cash.
If you don't know how to start a blog, there are plenty of easy-to-follow tutorials online.
Once you have it up and running, sign up for Google AdSense, which will help you make money by placing advertisements on your website.
When people visit your site and click the ads, you'll make money!
You can also get paid by blogging networks to create blog posts that focus on a product, service, or company.
This list of blogging networks all pay money for you to craft blog posts!
Get Into Affiliate Marketing
We just talked about starting a blog and several ways that a blog can earn money if you keep up on building and growing it.
Another potential income path for a blog is affiliate marketing, but you can also use affiliate marketing on your social media channels.
Affiliate marketing is the process of promoting products or services that you'd recommend to others.
When people purchase the products or services through your links, you get a commission.
In many cases, the commission may only be a couple of dollars, but when you consistently are making sales with your links, your profit can add up quickly.
It can be tricky to jump into affiliate marketing without knowing what you're doing.
Fortunately, there are tons of free resources online from people who learned how to grow an affiliate marketing business and now share their expertise with those who want to learn.
Get Paid to Watch Ads
You can also make money watching advertisements through JingIt, an online platform that pays you to watch videos and click on ads from its partners.
Bonus: JingIt also gives you cash back on purchases of participating products!
Listen to Music
Did you know that you can make money online simply by listening to music, something you probably already do anyway?
Seriously!
Slice the Pie and MusicXray will pay you a small reward for each song you listen to and give your honest feedback on.
You will help to give new artists feedback on their music.
But, make sure you give detailed reviews or you won't get paid.
The purpose is to provide relevant feedback and constructive criticism.
You can get paid between 5 and 20 cents for each music review, so the more you do, the higher your earnings (and the better your reviews, the more you have a chance to earn!).
My Likes is a unique and fun way to earn some money, all by sharing what you love! When you sign up for My Likes, you'll get a free social website, which is basically a site to share with your friends or followers on social media.
When you bring traffic to your social website and generate active engagement from your followers, you'll earn money. Basically, you're providing advertising for the brands who sign up to share their content on My Likes.
Qmee is a background application that runs as you shop and search online.
You can use Amazon, Google, Yahoo, and Bing to search or shop for things you would buy or search for anyway.
Qmee will then provide you with relevant results on the side of your screen and you'll get paid when you click on those results, since they're from advertisers looking for more exposure for their products.
You can also earn some extra money with Qmee surveys.
Sell Video Game Accounts
Yes, you can actually get paid for playing video games! Some websites let you sell your video game accounts, as long as it's permitted by the video game terms of service (so, have a parent help you check this out!).
League of Trading is a game account marketplace for you to sell your game accounts with leveled-up characters.
Get your parent's permission to create an account, and you can start making money off your gaming skills.
Volt sometimes has openings for video game testers.
Its blog specifies that you'll be actively testing video games rather than playing them, but that your skills can absolutely lead to other positions in the industry!
Design or Create Stuff
Do you like to draw or work with web designs?
You could join CafePress and design some t-shirts or other goodies to sell!
Here, you'll use the web-based designer to come up with fun graphics or text to put on t-shirts, mugs, and more.
You don't have to keep any inventory. Just make the design and place products in your virtual store.
Others can even just purchase your design to put on other products they choose.
CafePress takes care of placing your design on the products, shipping them, and paying you, acting like the middleman between you and the customer.
This is a great form of passive income because you can keep making money whenever someone purchases your design and products.
Other options for design-to-sell websites include:
Become a Voiceover Talent
Voices.com lets you make money for your voice!
This site helps voiceover talent, from kids to teens to adults, find work by matching their skills with clients who need them.
You can sign up and browse for jobs that interest you and are within your set of skills.
There are no age requirements to sign up, since some clients look specifically for kids and teens to do their jobs.
And, each job is usually worth at least $100!
Design Graphics
Do you have an eye for design?
Are you able to work with computer design programs, like Photoshop, to churn out eye-catching graphics for the web or digital products?
Then you might be able to form a career as a graphic designer – and there's really no specific age you need to be to do it.
However, you might need the help of a parent to get you set up on a site where you can sell your artwork, like Etsy or a website of your own.
Sell Stuff on Instagram
Instagram requires its users to be at least 13 years old, so as long as you're 13, you can set up an Instagram profile for yourself.
Some Instagrammers use the platform to help them sell stuff, like clothing, artwork, crafts, or whatever else they sell.
You can always place the link to your stuff in a caption with each photo to let people know where to go.
Or, use a profile linking service – like Campsite – to help you place product links in your profile.
If you have a business profile on Instagram, you can even create shoppable posts to have people be able to click your photos to go to the product links and purchase what they see.
Help Forum Owners as a Writer for The Forum Wheel
The Forum Wheel has no minimum age requirements for its writers, so it's safe to say that teens of any age can sign up as a writer for the site.
Writers help clients of The Forum Wheel keep engagement up in their forums by creating new posts and responding to old ones.
It doesn't make a lot of money, but it can help you get a little extra cash in your spare time.
Dropship
Dropshipping is something that I've not only seen adults have a lot of success with, but teens as well!
Usually, teens and parents work together to create a successful dropshipping business, so it's a good idea to have a parent or trusted adult working alongside you to get your business off the ground and make sure you're complying with all laws for businesses.
Through dropshipping, you'll have an online store you sell through.
However, instead of having your own products, you'll sell stuff that comes from other companies.
Markup your prices while still making them reasonable for your customers and you'll get to keep the profits when customers buy them.
This method of online selling has become huge in the last couple of years, with many people having such success that they're able to quit their regular jobs to focus on their dropshipping business.
Start Your Own Online Business
The internet is the perfect place to start a business of your own as a teen – with some help from a parent or trusted adult, of course!
Use your imagination and let it run wild.
From selling stuff to teaching others to offering a service of some sort, you can do it all on the web.
There are plenty of kids and teens working with adults to start their own businesses at any age, so there's no reason that you can't do it too!
Or, Use the Internet as a Springboard for Your Business
You can also start a business offline and use the internet to help market your business on a website or social media channels.
The internet is super helpful for reaching a wide audience beyond what you can do in your hometown – and it can even let others in your town know what you're up to.
Use it to your advantage!
Online Jobs for 14 Year Olds And Up
In addition to the jobs for 13-year-olds, these websites will pay teens 14 and older!
Take Surveys
14-year-olds can find surveys here:
"Get Paid To" Websites
The following reward sites are open to teens age 14 and older:
What could be more fun than getting paid to babysit kids?
You can register your profile on Care.com with the help of a trusted adult and then search for parents in your area who are looking to hire a babysitter.
You'll have to pass a background check for safety purposes.
Once you find children to babysit, your families can pay you through Care.com and you can set your prices.
You'll then be eligible for extra benefits, like health insurance discounts on travel expenses and entertainment!
SEO Clerk is like a freelance marketplace for those with Search Engine Optimization skills.
If you know how to create SEO-worthy content and optimize websites with best SEO practices, you can join SEO Clerk at 14 years old, with a parent's permission, to sell your services.
Amazon Mechanical Turk
Amazon Mechanical Turk requires you to be 14 years old to join.
This site is all about microtasking. In other words, you'll be doing small tasks to earn money.
You may not be able to do each kind of task available, as some require special skills to complete.
But, you can always browse through the tasks to find ones you can do well, and fast, to make more money.
Most tasks only pay a few cents each, but they're quick to do.
This guide to the best Amazon Mechanical Turk tasks will help you decide what ones may be worth your time and what ones to avoid.
And, you also might want to check out some of the most popular Amazon MTurk alternative sites that will pay you, too!
Online Jobs for 15 Year Olds And Up
If you're 15 years old and looking for online jobs, check out all the listings for 13 and 14-year-olds that you are eligible for.
Then, consider these websites that allow 15-year-olds to register and make money:
Paid Surveys
15-year-olds can sign up for the following paid survey sites:
AppBounty is a mobile app for iOS and Android that gives you credits to download free apps to your mobile device.
It provides rewards in the form of Amazon and iTunes gift cards, or Xbox Live and PS Network points.
Virtual Assistant
There's not really any strict age for someone to become a virtual assistant.
It mostly depends on the client you work with and what they need you to do on a daily basis.
However, most will prefer you to be in high school and you'll need to at least be of working age in your state, many of which require you to be 15 or 16 years old.
As a virtual assistant, you'll help individuals or businesses with various tasks, like making phone calls, completing data entry tasks, or emailing people/providing customer service.
You might be able to find something like this with an adult you know or contact websites and businesses you enjoy to see if they need any help.
Online Jobs for 16 Year Olds And Up
When you turn 16 years old, more opportunities arise for part-time online jobs, since this is the age many teens get their first jobs and are legal working age for hourly wages.
In addition to the previously mentioned jobs, here are more online jobs that 16-year-olds qualify for.
Paid Surveys
These survey sites have opportunities for teens starting at age 16.
Direct Sales Opportunities
You know those Tupperware parties and LuLaRoe shops that your mom does? Well, there are some similar sales opportunities that you can even do as a teen!
More direct sales companies are catching on to bringing teens aboard their sales teams.
Why?
Well, because teens can do it well, and they can appeal to a younger market, which opens up doors to more sales and more interest!
You need to have some sales skills, obviously, to do well at these jobs.
But, if you're outgoing and have no problem meeting new people and pushing your favorite products, then this is a good opportunity for you to earn some cash in your spare time.
And, it can be really fun!
Here are a few companies that allow teens to join (with parental permission, of course):
If you have great customer service skills, you can become a Uhaul Reservation Sales Agent.
For this job, you'll be answering customer's questions or helping them make a Uhaul reservation.
This is a part-time job with bonuses and other benefits, and you can make between $12 and $14 per hour, depending on minimum wage in your state.
You need to be at least 16 years old and able to work legally in the United States.
You'll also need a working computer that meets Uhaul's requirements and a USB headset.
It's not as flexible as others, but it's a good option for teenagers who want to work a set schedule after school.
With SameSpeak, you'll teach English to foreign students as a personal conversation coach.
You can earn $30 per hour from two sessions here!
Perk is a mobile rewards program that pays you to watch videos, take quizzes, play scratch card games, and more.
Simply download the app to your Android or iOS phone and begin earning points to redeem for prizes or cash rewards.
UPDATE 5/2023: Perk is unfortunately no longer a working website or app.
If you're an awesome, detailed note taker for your school classes, you can earn money selling your notes to other students on StudySoup!
You get paid a base pay plus commission on the notes you sell.
StudySoup calculates your base pay according to factors like length and topic.
Once you have $25 in your account, you can cash out.
Reward TV is a great place to earn some extra money playing fun trivia games based on your favorite TV shows.
Although anyone over the age of 13 can join, the television shows the trivia games are based on are better suited toward teens 16 years old and up.
Content Gather is a marketplace for content writers to sell their articles to those looking for content.
If you're an awesome writer who knows how to optimize articles for the web, this can be an excellent way to earn income.
Your articles must be at least 250 words and they must be approved by a Content Gather editor before they'll be placed on the marketplace.
The thing that makes Content Gather really have an edge on other content marketplaces is that it pays you 20% of your asking price immediately upon approval, so you always have some money even if it takes your article awhile to sell!
Underage Purchaser
This is an interesting opportunity that usually requires you to be either 16 or 17.
These jobs require you to visit stores in person, but you may sometimes be required to fill out a follow-up survey about your experience online.
Either way, I thought this would be of interest to teens looking for some extra cash.
As an underage purchaser, you'll help inspectors make sure that stores are adhering to state laws that govern the purchase of tobacco.
You'll work with legitimate inspectors to carry out your purchasing tasks without doing anything shady.
In other words, you won't be trying to dupe anyone at the store.
You'll have real identification with your real age and act just like yourself as you try to make a purchase.
Ideally, the store won't allow you to because they'll check your ID like they should be.
If the store does allow you to make a purchase, you may need to testify in court against the store.
Online Jobs for 17 Year Olds And Up
17-year-olds get to explore some more unique online job opportunities in addition to all those that have been listed in this article!
Mystery Shopping
Some mystery shopping companies let you start working for them when you're 17 years old, either visiting stores in person or calling them to act like a customer and get information.
You can view a huge list of mystery shopping companies here, some of which will let you hop on board as a teen.
You know when you're on a call with a company and you hear a voice telling you the call will be recorded for quality purposes?
Well, you can be one of the reviewers of those types of calls and get paid for it through Humanatic.
Humanatic requires its reviewers to listen carefully to a call and answer a series of questions after the call, like whether the problem was solved and if the agent was friendly.
Most of its calls come in between 8 am and 7 pm through the week, but you can choose to work whatever hours you want. You'll need a PayPal account to get paid, and you can cash out once you've made $10.
Ibotta is one of the most unique and easy ways to make some extra money.
Basically, Ibotta pays you to shop.
Check the app before you go to your favorite stores and you'll see what kind of rewards are being offered as cash back on specific products.
You may find some things you were going to buy anyway and you can get anywhere from a few cents to a few dollars per offer.
And, new users get $10 just for signing up! You can cash out your rewards via PayPal, Venmo, or gift cards.
Global Test Market is a paid survey website for older teens and adults that lets you cash out rewards like PayPal and Kohl's gift cards.
UPDATE 5/2023: Global Test Market is no longer a working survey website.
YouTube Gamer
If you enjoy playing video games, you can actually make money for it on YouTube! People subscribe to YouTube gamers' channels to watch recordings of them playing games. Recordings can help players walk through certain obstacles of the game or simply provide some entertainment.
Before you begin uploading your videos, set up your YouTube account to enable monetization, which is what will make you money off your subscribers and views.
If you gain viral popularity, you can bring in some serious income just by playing your favorite games and sharing your videos with other games.
With parental permission, you can sign up to become a tutor for StudyPool.
Once you're accepted, you can browse all open questions in over 30 subjects for ones that you can answer. You're given a chance to bid on the question, and the student who asked will choose a tutor from the list of bids.
If you're chosen, you'll complete the question by the deadline and send it back to the student. He approves it, and you get paid!
As you build your reputation, you can qualify for more questions and better-paying jobs. Payments are made via PayPal.
Internships
Some online businesses look for teens who are interested in virtual internships, some of which are unpaid while others are paid.
These are not only beneficial for you to gain skills that can look great for college and future jobs, but they can also be a great way to get some money as you move through high school.
Chegg Internships has a full section of internships for high school students!
What's Available for 18 Year Olds?
You might wonder what happens when you turn 18.
Will you still be limited as to what you can do as a newly-turned adult online?
In most cases, no.
When you turn 18, you'll typically be able to apply to any online job whose qualifications you can meet, with the exception of some services that are alcohol-related or prefer 21-year-olds.
Now is the time that your options will open up significantly, so feel free to look into anything that interests you.
Most independent contractor jobs online don't require specific schooling or work experience (although some education-focused jobs might, like tutoring or online teaching), which is perfect for new adults who want to snag a job online.
Here are just a few of the places you can now work with at age 18:
High Paying Jobs for Teenagers Online?
It can be hard to find high paying jobs for teenager online because high pay rates typically come from steady on-the-books employment.
For teenagers, this type of job is difficult because of a restricted schedule.
However, you still can earn some good money by mixing some of these options together to figure out a combination that works well with your schedule and brings in some steady cash.
Note to Parents
Most online jobs for teens will allow your kids to sign-up with a Gmail account, Facebook or Twitter Accounts.
The minimum age requirements for these services are:
Gmail Age Limit – 13+ years old
Facebook Age Limit – 13+ years old
Twitter Age Limit – No Minimum
Payments are usually via gift card, PayPal or in some cases by check and almost all have a minimum payout amount.
As the minimum age for a PayPal account is 18, your teens may need assistance in getting their hard earned money out.
Paypal Age Limit – 18+ years old
Are There Work from Home Jobs for Kids Younger Than 13?
In most cases, because of the internet privacy laws geared toward kids younger than 13, you're not going to find much for young children who want to be entrepreneurs.
However, that doesn't mean that you, as a parent or guardian, can't help your youngster build a business!
In fact, there are plenty of parents who pull their children into their businesses to have them help with business tasks while learning more about how to build and grow a business.
This can lead to developing a young entrepreneurial mindset in your child, which may even influence them to start a business later on their own.
So, just because online sites probably won't hire your 12-year-old, that doesn't mean that opportunities to make money don't exist for them.
Get creative, find a family business that everyone will enjoy, and pay them a portion of the profits!
Help Your Teen Earn Money Online
Teaching the values of money from an early age will set your teens up for a successful life, and the tough grind of earning money online will help them to appreciate what they already have.
Encouraging your children to look for the best-paying jobs for teens, as this will give them a purpose, a sense of independence and hopefully they'll be a little more productive with their time.
Online jobs for teens is the new lemonade stand so avoid being the parent that won't allow your kids to earn money online.
And despite what you hear in the news, 99% of the Internet isn't such a bad place to hang out.
These are legit online jobs and as long as you've taught your kids good values in life, they'll know when to avoid a scam, perhaps even better than you.
Related Posts:
Earn Everything… nearly!
Join Ipsos iSay, one of the few Faithful and Honest survey panels and earn prizes, gift cards and donations. Stack your points and redeem them: Simple! No hidden fees and completely free!