Your Freelance Writing Client is Not Obligated to Please You
Updated on: by Miranda Grimm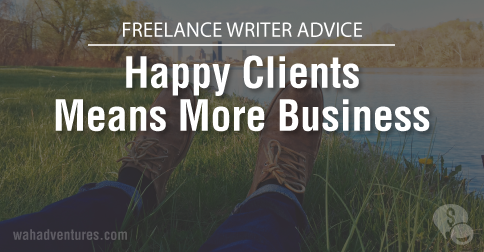 Should your client offer certain perks? Are there certain things you should expect them to do besides pay you?
Need Easy Extra $350+/Month For Free?
When freelancing, sometimes it can be difficult to figure out the roles played by you and your clients. Is the client asking for too much — or are you the one demanding the impossible? In freelance writing, the number one rule is that the client is not obligated to please you. In fact, you should instead be providing what the client needs. If you can't or won't, let them find it elsewhere.
Here's why.
The client's venue is not yours
Whether you are writing for a print magazine or a website, remember that you do not own it. While your name may be on the article, the client hired you to gear the article toward their venue. Some clients may be more flexible on topics. But if it comes down to choosing your idea over the client's, unless their idea is harmful, always go with what the client wants. It's their venue. You are a freelance writer, not a partial owner of the client's company.
Your client may have a different vision than you
Just because you think things should go one way does not mean they have to listen. Everyone has their own way of doing things and the client has the right to run their venue as they see fit. The client does not need to please you. But they do need to please their audience and they may have their own wants and needs outside of that. Sometimes a freelance writer has to bend their ideas to fit what the client wants. If you think an idea will make you look bad, then pass the work onto a more suited writer. Don't get mad at the client.
Respecting a client's wishes can lead to good reviews
Those who get good services often recommend freelance writers to their colleagues and friends. What will your clients have to say about you? Don't waste time arguing with your client about his needs, rather than providing the service you agreed to provide. Would you hire a plumber who would fix your working sink rather than your leaky toilet? Freelance writing is the same. Clients may have an exact request. If a client wants to pay you for a specific topic, don't bait and switch them with another. Passing a gig onto another writer is always better than insulting a client's ideas or trying to twist them to fit you better. Clients are more likely trust writers who are honest about what they can and cannot do.
The client hired you, not the other way around
When you sign a contract to complete a specific project for a client, it should be what they requested. There should be no requests from you for them to do anything for you, other than pay you for your work as agreed upon. It's fine to make suggestions. But if the client is not happy with them, then neither should you be. With some gigs, it's easy to think that a client should make certain accommodations, especially long-term gigs where a relationship is established. But in fact, it should be the other way around. You are still the one getting paid.
If anyone is obligated, it's you, the freelance writer
It would be nice if every client was bright-eyed and cheery and gave out extra bonuses and perks. But they are not all going to be that way, and they don't have to be. Sometimes when clients give extra incentives or web features (for online writers), the writer can come to expect more and more from that client and future clients. But the truth is that because the freelancers are being paid for the service, it is their duty to satisfy the client. This does not mean you need to suck up. But it does mean you should give them at least what they paid for.
Related Posts:
Earn Everything… nearly!
Join Ipsos iSay, one of the few Faithful and Honest survey panels and earn prizes, gift cards and donations. Stack your points and redeem them: Simple! No hidden fees and completely free!