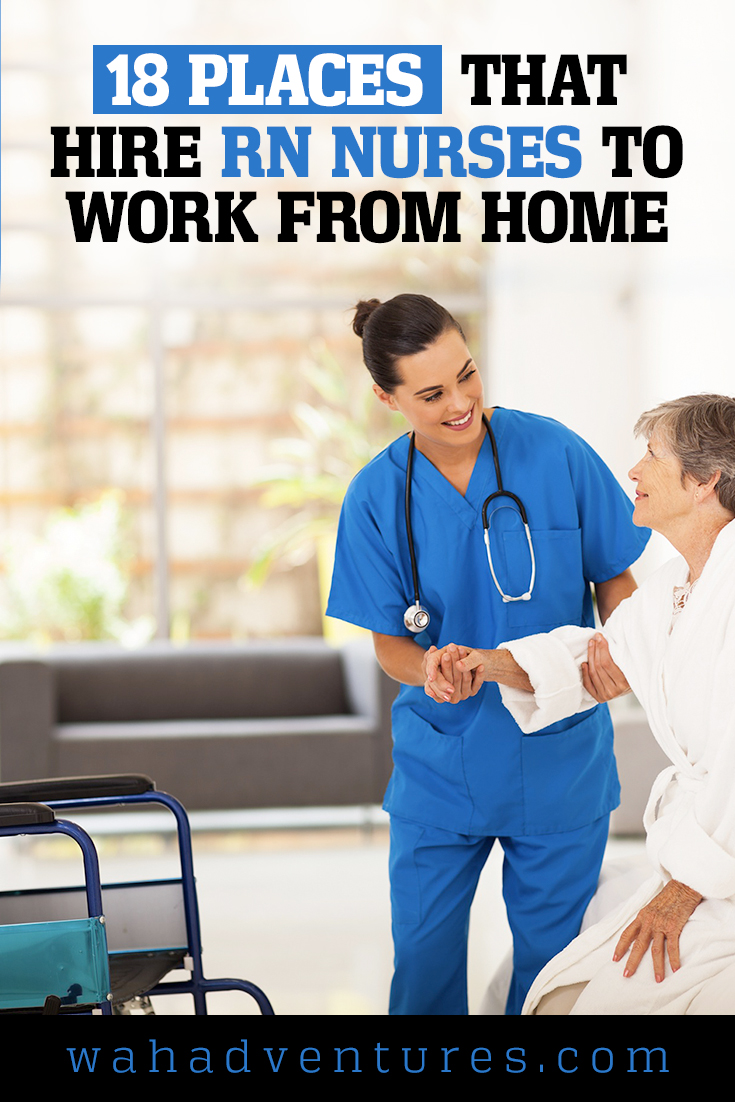 Being a Registered Nurse is such a rewarding and and time-honored position.
It is and has always been a much needed career, with plenty of opportunities available.
Being an RN has its many advantages, such as, the ability to telecommute.
When you signed up to be a Registered Nurse, surely you didn't think there was a way you could put your skills to use working from home!
Well, you can.
Nursing positions are one of the most common remote based careers!
More and more RNs are leaving the traditional workplace to find a rewarding RN career at home.
From triage nurses to Worker's Compensation case managers, you can use your RN license for a rewarding career right in your home office.
Case managers, hotline nurses and many other types of positions can be found if you are looking for a home job and have an RN license.
Here are just 18 of the common places that hire RN Nurses to work from home.
1. UnitedHealth Group
UnitedHealth Group consistently has a high number of positions available to Registered Nurses who want to work from home.
UnitedHealth Group is a solid company that offers an excellent benefits package.
Although you will travel within your area, the job is home-based and offers medical and retirement benefit packages.
Visit United Health Group Careers
 2. Aetna
Aetna is a highly recognized healthcare and life insurance company with a long standing history. Aetna is known for commonly offering telecommute positions to RNs across the US.
It has positions for Clinical Care Managers, Nurse Consultants, and more for RNs seeking to work from home.
You can narrow down its large list by clicking "Yes" on the telecommute filter.
 3. Cigna
Cigna, another household name, offer RN Nurses the ability to work from home as Medical Case Managers. In addition, Cigna hires nurses in other positions as needed as well.
4. Carenet
CareNet frequently offers RNs positions as a work from home Care Advisor to help complete a team that provides 24/7 healthcare.
Bilingual applicants are strongly encouraged to apply for this job.
5. McKesson
McKesson, a major part of the healthcare industry, offers work from home positions for Registered Nurses for Telehealth services and Implementation Consultants.
As a Telehealth RN, you'll provide nursing care over the phone or internet. Implementation Consultants help design and implement healthcare programs for McKesson.
(To find the Work at Home Positions, use the Advanced Search option. Under the location, scroll all the way to the bottom for "work from home" according to your country.)
6. The Hartford
You can apply for a Workers' Compensation Nurse Manager position with The Hartford, an insurance company that provides many benefits to its employees, like competitive pay, health insurance coverage, and wellness programs.
This position requires RNs to review and evaluate Workers' Compensation claims.
7. Johnson & Johnson
Johnson & Johnson occasionally lists work from home jobs for registered nurses like a Blood Glucose Manager and Insulin Pump Trainer. These telecommute jobs aren't always available, so check its career page frequently for new opportunities.
8. CVS
CVS provides Registered Nurse – Home Infusion home-based positions that allow you to visit the homes of patients to provide a variety of infusion care. CVS also has at-home nurse positions to manage nurse hotlines.
9. AmerisourceBergen
You can become a home-based RN Wellness Case Manager for AmerisourceBergen, one of the top Fortune 500 healthcare companies in 2016. This is a full-time contract position that provides medical support to patients and insurance companies.
Visit AmerisourceBergen Careers
10. Mercy
Mercy offers work from home opportunities for on-call nurses to provide guidance to patients with healthcare questions and concerns. For this position, you'll need at least 5 years of experience in a healthcare setting.
11. Anthem
Anthem hires RNs for telecommute positions, such as Nurse Medical Manager and Case Manager. Anthem offers competitive benefit packages for retirement, health insurance, and work-life balance.
12. Medtronic
Medtronic hires part-time and full-time RN positions for its Telehealth services. You will be providing healthcare information in response to patients' questions, as well as assessing their symptoms over the phone and advising a care plan.
13. Best Doctors
Best Doctors sometimes has open positions for RNs to work from home, like a Clinical Impact Analyst, who summarizes medical records and financial documents. Best Doctors provides paid time off and holidays on top of life insurance and other benefits.
14. Express Scripts
Express Scripts hires Infusion Nurses for at-home infusion treatments. You can check on its website for other work from home opportunities, as it has been known to offer others at times.
15. Humana
Humana is one of the largest and most well-known healthcare companies offering an excellent benefits package to its employees. You can search its website for work from home positions, including RN Case Manager, Quality Improvement Nurse, Care Coach, and more. Humana has several work from home opportunities for RNs at any given time.
16. FoneMed
FoneMed is a telecommunications provider of health and wellness services. Registered Nurses for FoneMed will help answer health-related questions of callers and help operate triage services.
The website provides additional information about its requirements, locations, and benefits.
17. Citra Health Solutions
Citra Health Solutions gives RNs the opportunity to work from home providing coordinated care, coaching, and motivational behavior modification tools to patients with chronic health issues enrolled in Citra's Chronic Care Management program.
Visit Citra Health Solutions Careers
18 Sykes Assistance Services Corporation
You can work from home as a Telehealth Care Coach Coordinator with Sykes, a specialized assistance program provider.
As a Care Coach Coordinator, you will provide over-the-phone assistance to patients and help them coordinate proper services.
Visit Sykes Assistance Services Corporation Careers
Enjoy Your Search for RN Jobs from Home!
We hope you find your dream work from home RN job from this list. Remember to check each career page or specific job listing for an outline of its benefits package.
Most RN job listings do not specify a salary within the listing, but these healthcare providers are top companies in the industry with employee-proven competitive salaries.
In addition to these 18 places that hire RN Nurses to work from home, there are many other opportunities available with several more companies.
Try searching the Indeed Job Board Page for some up-to-date openings:
Related Posts: