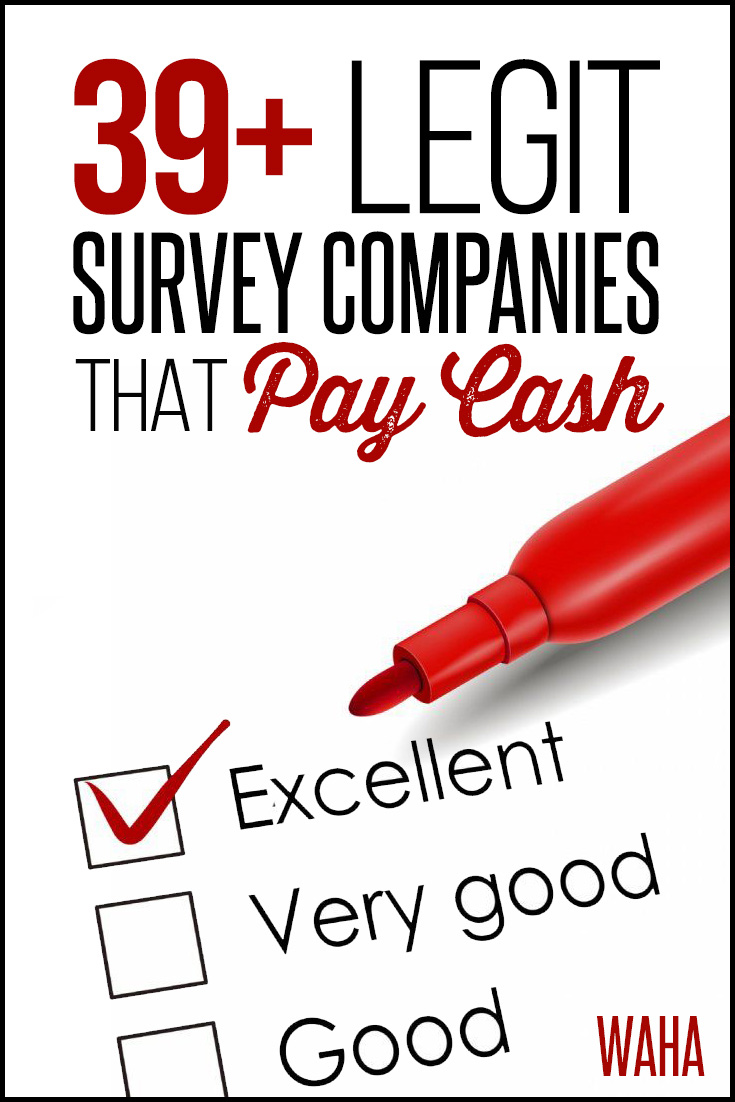 You can make real money by taking surveys online.
Companies want real, honest opinions from consumers and are willing to pay you for them.
Some survey websites offer excellent rewards and gifts, but if you're looking to make cash from surveys, you'll have to find survey for money websites.
Fortunately, there are plenty.
Some offer rewards to redeem for cash payments and others offer cash as a reward.
Either way, you'll be making real money just by sharing your honest thoughts.
How to Make Real Money from Online Surveys?
Signing up for just one survey website isn't likely to pay you a lot of money.
But, if you are diligent about answering daily surveys for multiple sites, you can make a decent part-time income.
The trick is to check your e-mail daily – preferably, multiple times per day – and respond to surveys shortly after they're sent.
Many survey websites send out e-mails every time new surveys are available.
But, surveys can fill up quickly, especially the higher-paying ones.
Sign up for your favorite money survey websites from this list, test them out for a while, and see which ones pay you the best.
Not everyone will have the same experience with each website, as demographics play a huge role in qualifying you for surveys.
Stick with your top three to five choices and regularly respond to surveys from them.
Keep track of your account so you can cash out as soon as your cash out minimum has been reached.
Legit Online Survey Jobs That Pay Cash
The following websites all pay cash for surveys in the form of either PayPal (or another online payment service), check, direct deposit, or a prepaid debit card.
Many of them are based on reward points systems, but your points can be redeemed for cash.
Swagbucks (review) (USA, UK, Canada, India, Ireland, Australia, 13+)
Swagbucks offers several ways to earn money, like cash back shopping, referrals, playing games, and paid web searches. But taking surveys can earn you money fast if you check back daily for more. Each paid task earns you SwagBucks that you can redeem for PayPal, gift cards, and more. You'll need 2,500 SwagBucks to earn $25 PayPal cash.
Vindale Research (review) (US, Australia, UK, and Canada, 18+)
Vindale Research will give you $2 once you sign up to become a panelist. It offers cash for surveys and some surveys have as much as a $50 payout. You can redeem your earnings with a check or PayPal when you have a minimum of $50. Pays twice per month.
Pinecone Research (review) (US, Canada, and UK, 18+)
You will earn reward points for completing surveys with Pinecone Research. This one pays via PayPal, check, or Prepaid VISA. Your first 300 points will be redeemed for a check to establish your account, after which your points will accumulate as usual. Minimum payout $1.
Inbox Dollars (review) (Worldwide, 18+)
Inbox Dollars pays by Prepaid VISA after you have $30 in your account. In addition to surveys, you can earn money through paid videos, paid searches, paid games, and more. Regular members wait between 10 and 16 days for payments to process, but you can become a Gold Member after your first payment is processed and will receive payments faster.
MySurvey (review) (USA, 16+; Canada, 14+)
MySurvey pays via PayPal or you can redeem points for gift cards. Must have 1,200 points, or $10, to cash out. You can also earn money through the Refer-A-Friend program, product testing, mobile surveys, and more.
Toluna (review) (Worldwide, 13+)
Toluna allows you to be part of a bigger community where you can voice your opinions and even create your own opinion polls. When you take surveys, or refer your friends to Toluna, you'll receive Toluna Points, which are redeemable via PayPal. Minimum points needed to exchange for PayPal is 90,000. You'll receive 500 just for signing up.
CashCrate (review) (Worldwide, 13+)
CashCrate pays once per month and offers several ways to make money in addition to surveys, like friend and family referrals, cash back for shopping, and playing games. Pays via check and even has a "Payment Wall" where you can post proof of your payment. Cash out minimum is $20.
Global Test Market  (review) (Worldwide, 14+)
When you take surveys with Global Test Market, you receive Market points, which are redeemable for PayPal and other rewards. You can earn up to $5 per survey.
E-Poll Surveys (review) (US, 13+)
E-Poll Surveys pays via PayPal when you redeem your points for cash. You must have at least $5, or 3750 points, to cash out. Your points, however, increase in value as you accumulate them, so it's best to save them up!
Opinion Outpost (US, 18+)
Opinion Outpost pays for surveys with PayPal, Amazon gift cards, or iTunes gift cards, and gives its members a chance to win a $10,000 quarterly drawing. Must have 100 points, or $10, before cashing out with PayPal.
Panda Research (US, 18+)
You can earn money with Panda Research by taking paid surveys and completing offers. It also offers compensation from paid emails and friend referrals. Pays twice per month with PayPal.
Consumer Village (US, 18+)
Consumer Village surveys are usually short and easy, according to its members. You do not need to request your payment from Consumer Village. Instead, it will be sent to you via check as soon as you reach $5.
Crowdology (US and UK, 18+)
Earn between $0.40 and $10 per survey from Crowdology, and sometimes more for longer surveys. You can cash out with a minimum of $8 via PayPal. Crowdology offers extra money for referrals and has a drawing of $20 monthly for anyone who has completed a survey that month.
Directive Analytics Panel (Worldwide, 18+)
Directive Analytics Panel offers DirectPoints for completed surveys. You can redeem your DirectPoints via check by mail. Payments take about 6 to 8 weeks to receive. 100 DirectPoints equals $1.00.
Engage Studies (Worldwide, 18+)
Engage Studies offers surveys for consumers and medical professionals. You can receive between $50 and $250 for survey. Studies are not offered frequently, but pay is much higher per study than most. Pays via check.
ESearch (Worldwide, 18+)
ESearch offers cash incentives for each survey that pay via PayPal. You'll be told how much you're offered for the survey when you receive your invitation. Incentives usually range between $1 and $5.
HCD Surveys (US, 18+)
HCD Surveys rewards you with points per survey, with 100 points equaling $1. Surveys pay between $1 and $5 each. You must have at least 1,000 points ($10) before you can cash out via check, which takes about 6 to 8 weeks to receive.
Mindspay (US, 18+)
Mindspay pays solely through PayPal and you can cash out in multiples of $50. There is a 30 day wait period after submitting for payment to become eligible for the next pay period. Pays twice per month, on the 1st and 15th.
Mindswarms (Worldwide, 18+)
Mindswarms pays via PayPal automatically 24 hours after you complete a survey. You can complete new studies on your computer or via the Mindswarms mobile app. Mindswarms will e-mail you when new surveys are available.
My Opinion Now (US, 18+)
Collect RewardPoints for filling out surveys and referring friends to My Opinion Now. You can also earn 1,000 RewardPoints for signing up. 20,000 RewardPoints equals $20 and you can be paid by check in $20 increments.
National Consumer Panel (US, 18+)
National Consumer Panel, or NCP, is a different kind of survey website. Here, you'll scan your receipts from purchases and answer questions about the items you bought. Pays via Prepaid VISA when you reach 8,000 points.
Paid Viewpoint (US and Canada, 18+)
Paid Viewpoint pays for surveys via PayPal and you can cash out once you've reached $15. Most payments are processed within 72 hours.
Parent Speak (US, 18+)
ParentSpeak offers parents a place to share their opinions with other parents through discussions, studies, surveys, and more. Most surveys pay $1 and ParentSpeak will increase payment for longer surveys with follow-up questions. Pays via check within about 4 weeks.
ProOpinion (US, 18+)
ProOpinion is geared toward business professionals who want to get paid to share their thoughts. ProOpinion sends e-mails to its panelists when new surveys are available. It pays via PayPal or gift cards, or you can choose to donate your earnings to the American Red Cross.
Survey Spot (USA, 18+)
Survey Spot automatically enters you in a drawing for $10,000 each time you complete a survey, plus you get paid per survey you complete. Survey Spot pays via PayPal, Amazon gift cards, and more.
More Survey Websites That Pay Money for Kids and Teens
The following survey websites will pay for kids and teens younger than 18 years.
SurveySavvy (Worldwide, 13+)
SurveySavvy is one of the longest-running survey websites, founded in 1999. You can get paid for surveys and referrals via check once you receive at least $1. If you install SavvyConnect, a desktop application that allows your activity to be monitored for behavioral research, you automatically earn $5 per month and other VIP perks.
American Consumer Opinion (review) (Worldwide, 14+)
American Consumer Opinion gives points per survey which you can redeem for PayPal. You must reach a 1,000-point minimum to cash out. Screeners range from 5 to 50 points and surveys range from 100 to 5,000 points.
FusionCash (US and Canada, 13+ with parental permission)
Receive a $5 bonus just for signing up for FusionCash. Once you receive $25 without bonus offers included, you can cash out via check, direct deposit, or PayPal. FusionCash also offers cash for paid tasks, shopping, web searches, and more.
iPoll Surveys (Open to 32 countries, 13+)
You can redeem iPoll Survey points for PayPal, Amazon gift cards, and iTunes gift cards. Must have a minimum of $25 in your account to cash out.
OneOpinion (USA, Canada, and UK, 13+ with parental permission)
OneOpinion pays via PayPal or Prepaid VISA once you receive a minimum of 25,000 points, or $25, in your account. Some opportunities for product testing are also available through OneOpinion.
PanelPolls (US, 6+ with parental permission)
PanelPolls pays its panelists via check to take surveys or participate in focus groups. You'll earn points to redeem as cash, where 1,000 points equals $1. PanelPolls is focused on families, to parents, teens, and kids can all join and share their opinions.
Ipsos Panel (review) (UK, 16+)
Ipsos i-Say is one of the most popular survey-taking websites that pays points per survey, usually between 5 and 250. You need 1530 points, or $15 minimum, to cash out via PayPal or redeem for another prize, like a gift card or Prepaid VISA.
Kids Opinions (US, 6-14)
Kids Opinions is a part of Panel Polls, a survey community geared toward families. Through your account on Panel Polls, your child can share his or her views when you respond to kid-specific surveys by e-mail. Pays via check when you redeem your points. 1,000 points equals $1.
KidzEyes (US, 6-12)
KidzEyes is focused specifically on kids to learn their opinions on products and services for children. It may sometimes need the help of parents, too, who can respond to special surveys. KidzEyes pays with KidzPoints, which your child can redeem for a check once he's reached at least 1,000 points.
Legerweb (Canada, 13+)
Legerweb is for Canadian residents. It pays out via check with a minimum of $20 and offers mobile surveys for convenience. You can also earn extra cash by referring your friends to sign up and take surveys.
Springboard America (USA, 14+)
You can share your opinions on everything from household products to the media as a panelist for Springboard America. You earn Survey Dollars for each completed survey and can cash out with Paylution when you reach 50 Survey Dollars. With Paylution, you'll be able to select either a check or virtual VISA as payment.
Teen Eyes (13-18, US)
Teens can complete at least one survey per month for Teen Eyes, the older version of KidzEyes. Surveys will focus on products and services for teenagers. Once you reach 1,000 points, you can redeem them for a check in $5 increments.
YouGov (USA, 14+; UK, 16+)
YouGov pays you for taking its surveys with reward points, which you can redeem for prepaid gift cards, including a Prepaid VISA. The minimum points needed for a Prepaid VISA is 67,500, which will give you $50. Most surveys give between 500-1000 points.
Clear Voice (US, Canada, UK, 13+)
Clear Voice pays you cash through Payoneer, a pre-paid card, once you've reached $10 in your account. You can continue to transfer your cash in increments of $10 to your Payoneer card after that.
Read More: 64 Best Online Jobs for Teens Under 18. Legit & Free.
Be Careful to Avoid Scams

Unfortunately, there are several websites looking to scam people who want to find genuine online survey jobs.
The ones listed above are legit survey-taking websites where you can make real cash.
But how can you spot the fakes?
If the website is asking for ANY money to sign up, be cautious.
You should not have to pay to become a member of a survey website.
All the ones on this list are completely free to become a member.
On the other hand, if the website is offering A LOT of money for a short survey, then it could be a scam as well.
Most legit survey websites do not offer a lot of money per survey, but when you complete surveys regularly, the money can add up.
The higher-paying surveys are typically studies that require a lot of time – hours, even – rather than 10 or 15 minutes.
Also, read the terms and conditions before filling out your information. Sometimes in the fine print, you'll see that a "survey website" doesn't provide the surveys at all.
Instead, it takes your information and signs you up for a ton of other survey companies that may be scams, or sells your information.
Make sure you know where your money is going before you fill anything out.
Finally, read about the rewards system. If it isn't clearly defined on the website, it's not a good sign.
You should know exactly how much you need before you can cash out and what types of rewards are offered.
If you can't find out this information on the website, you're probably better off looking elsewhere.
Related Posts: