Top 44 Legitimate Sites That Pay Cash For Writing Reviews Online
Updated on: by Amy Kennedy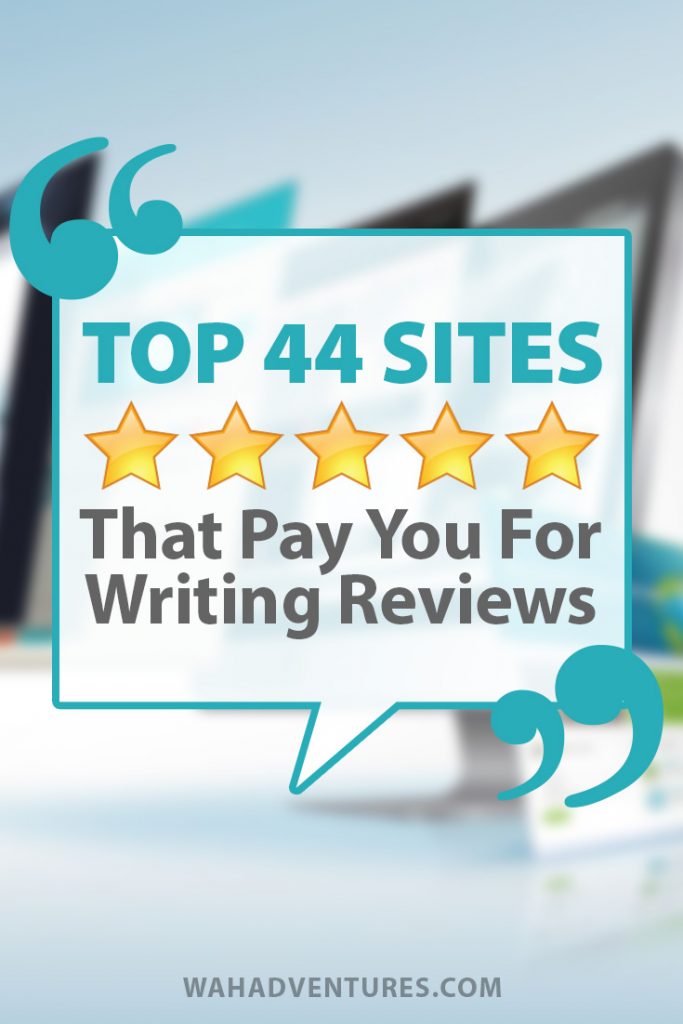 Are you interested in all sorts of products or services and want to share your opinions on them?
Need Easy Extra $350+/Month For Free?
Maybe you have a good way with words and want to write extended reviews on them.
Well, there are a number of places today that you can visit where you can get paid to write reviews online.
These include many places that offer good payouts although you have to look at the terms associated with whatever you are interested in writing about.
How to Write Reviews for Money
If you're a beginner to writing reviews for cash, then it could be helpful to know some tips before you get started.
What You Need to Start
What do you need to get started writing reviews?
It usually depends on the companies you write for, but the following can help:
Website
Having a website to store your reviews is always a good idea unless you want to stick to reviewing on other sites only.
However, writing sponsored review content on your own blog usually gives you more chances for better pay, which is why I think it's something you should really consider.
You'll have total control of what ends up on your site, too.
Social Media Channels
Many review networks also allow you to post reviews on your social media channels instead of just a blog.
So if you have at least one platform that's doing really well in terms of engagement and follower numbers, then stick with that one and work on beefing it up.
You could get paid just for writing a review on Facebook, for example, or a quick blurb on Twitter.
Instagram is another popular channel right now that a lot of brands are willing to pay for reviews on.
Audience
You need an audience if you're going to be reviewing stuff off of a review website.
Brands will look for not just big numbers of followers, but also the level of engagement of your followers.
Need Easy Extra Cash?
Pinecone Research, a leading name in online survey panel honesty, absolutely guarantees $3 cash for every survey you complete!
Take advantage of their time limited New Membership drive and register NOW. Join today: 100% free!


Make sure people are liking, sharing, and commenting on your stuff, or it's not likely that brands will choose you for high-paying campaigns.
For a blog, having a large number of followers can help.
Camera
A good camera can help you earn top dollar for your reviews because brands love seeing their products in gorgeous photographs!
Check out influencer blogs and social media channels for inspiration of the type of photos brands love to see.
If you have a newer smartphone, its camera may even do the trick, but you should still experiment with styling your photos.
Storytelling Chops
Nowadays, brands don't usually want the typical review with your thoughts about a product and its features.
Instead, they want real stories that connect the reader to the brand and product.
So, get your storytelling chops ready.
You'll want to be able to weave products into an organized, well thought out post that captures the attention of your audience.
How to Write Successful Reviews
Now, how do you write reviews that brands and your audience will love? Here are some pointers:
Writing Skills
Your writing skills have to be on point.
You don't have to be the next Ernest Hemingway.
But you definitely need to know proper grammar, spelling, punctuation, etc.
Brands want people who know what they're doing to talk about their products and services, so having a clear writing style that's light and engaging can help.
Honesty
Most brands – legitimate brands – want you to be honest in your reviews.
You should never feel like you have to lie to keep the brand happy, and if you're asked to do that, then you should decline the offer.
Your audience follows you because they enjoy and trust what you have to say.
Lying about something isn't going to help that audience grow.
So be honest and provide constructive criticism if you didn't love a product or service.
You may want to contact the brand first if you have a problem with the product, just to see if there's anything that can be done first before you write about it (like a replacement, different size, etc.).
Disclosures
Disclosing that your posts are sponsored by a brand is necessary in most countries around the globe.
Be sure to check with your local policies to make sure that you've disclosed everything correctly to avoid getting into legal trouble later.
A Look at Various Sites That Pay Money For Writing Reviews
The first place that you can write paid reviews for is Vindale Research.
This is a site that already offers a number of surveys for you to complete but it also offers regular written review opportunities.
The site provides you with the opportunity to order items online and then write proper reviews for different sites.
You can get paid back different values for each individual review you write.
Much of the money you can earn comes from shopping through Vindale.
When you go through Vindale's website to buy items, you can get paid for when you leave reviews on the products that you order.
You would have to check with Vindale to see what products you can write your reviews on.
Earn Everything… nearly!
Join Opinion Outpost, one of the few faithful and honest survey panels and earn cash and gift cards for your opinion. Stack your points and redeem them: Simple! No hidden fees and completely free!


The total amount of money you would get from each review varies.
Some places are relatively brief and offer just $1 but others will give you $75 for a more detailed review that might entail more data or bits of content.
Join Vindale Research here or read review.
Swagbucks is one place for reviews that offers free gift cards to all sorts of stores.
You can earn points by shopping for products through Swagbucks, watching videos, answering surveys and much more.
You will get points over time.
These can be redeemed for gift cards for more than a hundred different retailers.
You can even get a $5 bonus if you earn at least 2,500 points within your first 60 days of being a member on the site.
You do have the options to get your points transferred into money on your PayPal account.
You could even get a Visa reward card if desired.
Join SwagBucks here or read review.
At Review Stream, you can sign up to leave reviews on all kinds of products.
Just select a category and then request an interest in reviewing a certain product. When you are approved to write a review, you can complete the project.
A typical review should be a few hundred words.
You don't have to add photos onto your review but they might be recommended just to make what you are doing more illustrative.
After your review is accepted, you will get $2.
This is a high amount of money but be advised that you must have at least $50 in your account before requesting a payment.
Your reviews will continue to pay back over time as you will get $0.10 for each bit of feedback that another member leaves on a review you have posted.
Software Judge is a place that focuses on software reviews.
This place is best for those who are experienced with technical products like software programs.
On this site, you will review any kind of software program that is listed on the site.
These include programs for tax preparation, online security, cloud computing and general office functions among many others.
The site has a full listing of programs that it is asking for reviews on.
You can also choose to add programs onto the site although it would have to check on your review first.
The site editors will review your writing to determine if it should be a highlighted review.
While you can get $1 per review, the best recommended reviews that the editors choose will be paid up to $50 each.
User Testing works a little differently from other places in that you can test different website prototypes.
You can test these places for about 10 to 20 minutes at a time.
You will then review sites based on things like how appealing they are, how easy it is to read them and the functionality and technical aspects of such places.
This is a popular place that pays up to $10 for each review you make.
But to make it work, you need to pass a test to get accepted to the site.
You must also be able to record your reviews.
I like how Gen Video places an emphasis on you creating video reviews for products.
This is great as more people are interested in video reviews these days.
With Gen Video, you can create videos on YouTube that promote certain products.
You can earn revenues off of those reviews that you establish.
This is appealing as some of your videos can be posted on Amazon pages too, thus giving you even more money.
I wasn't able to figure out specifics on how much you would be paid though.
Crowdtap is a crowdsourcing site that gives you the chance to connect with some of your favorite brands and get paid to do it.
You can sign up and fill out your profile to match with brands that want to connect with you.
The site has various tasks you can join where brands will ask you questions or have fun activities to participate in for you to earn points.
There could even be some product review opportunities in it for you.
You can redeem your points for gift cards to popular places like Ulta Beauty, Walmart, and Amazon.
This is a software review site where people from all over the web can join to share their thoughts on software they've used.
Not all reviews get published, though, meaning that not all of yours will make it to the incentivized (paid) program.
Only published reviews will get paid.
Your reviews, then, should honor the guidelines of the site, be thorough, and be for software that hasn't already been reviewed.
When you do get a published review, you'll receive a gift card as a payment for your time.
Mindswarms won't necessarily pay you to write reviews, but it will pay you to talk about your reviews of products with your phone!
In other words, you'll use your video feature to record yourself in a video survey rather than a written one.
Just answer a few questions about a topic to get paid.
Mindswarms sometimes has people conduct product reviews on camera rather than just answer survey questions, so it's a great way to get paid to review stuff.
The best part is that this site will pay you up to $50 per review that you complete and gets approved!
Love checking out new music?
Then Slice the Pie is a good review site for you!
This site lets you listen to new music and pays you to share your thoughts when you're done.
The better your reviews, the more opportunities you'll have to get paid!
Online Book Club not only sends free books to its reviewers, but it also pays up to $60 per review of each book!
You can sign up using the quick form and become a member for free.
When there's a new review opportunity available to you, Online Book Club will reach out via email.
Whether you have an Android device or an iPhone, you can make money with Apperwall.
This company pays you to write reviews for apps in whatever app store you use.
You'll just download an app to try through the company's listings.
Then, write your honest review.
Once Apperwall approves your review, you can get paid and send your money over to your PayPal account.
Amazon Mechanical Turk is a microtasking site that has just about every type of digital task you can think of – including writing reviews.
You can browse the HIITs (tasks) and decide what you want to do – there always seems to be a lot of stuff available at any given time.
You can also search specifically for review writing tasks, which can be anything from a quick app review to an in-depth blog review.
You can always check out the pay of the HIIT before accepting it.
Once your HIITs get approved by the requestor, you can get your cash sent to your Amazon Payments account or have it sent directly to an Amazon gift card.
Product Report Card is a review site for kitchen, bath, and fitness items.
The site also lets people just like you sign up to share your opinions on various products and get paid to do it!
This site is a little different.
On Listverse, you can write just about whatever you want, as long as it's in list form (if you're not sure what that means, take a few minutes to browse the site and see how the articles are set up).
When an article you write gets accepted, you can get paid $100 via PayPal!
So, if you want to write a review, you might write something like "10 Ways to Use [your product]".
Listverse has the final say in what it selects and pays for, so make sure you follow all guidelines and make your writing stand out to catch the eye of the editors.
Best Review Sites for Bloggers and Influencers
The sites below are best to use if you already have a website set up or very engages social channels in place.
These pay some of the highest rates to influencers because influencers have already proven themselves to be authorities in their niche.
Collective Bias is a great network to sign up with if you love to shop.
Known as Shoppertunities, the opportunities here usually require you to visit a specific store for ingredients, products, etc. and create an engaging blog or social media post about them.
Storytelling is big for these campaigns, so it's important that you find interesting angles to display and talk about the products instead of just reviewing them.
Tomoson is one of the oldest review sites on the block.
Not every campaign here is paid – in fact, you have to pay for some products but at a discounted price – but some are.
You can also request compensation on most campaigns.
This is a good place to go if you're looking for excellent deals on products you may want to buy and don't mind leaving a review as a thanks for your discount.
Markerly connects its influencers to the best campaigns for them according to what they blog about and what their audience is like.
In many of the campaigns, you'll have the chance to try out new products from relevant brands and post about them on your blog or social media channels.
This is somewhat of an older site for bloggers that lets you sign up for free to create sponsored posts on your blog.
Often, the sponsored posts center around a product or service that you'll review in a blog post.
Influence Central is a network where you can sometimes find paid blogging opportunities, like product or service reviews.
It's free to join and accept campaigns.
If you're a mom who blogs, then this network is for you.
Just sign up quickly using the form and you'll get the chance to be matched with opportunities in your areas of interest.
Real Clever works with bloggers of all types, from beauty to parenting.
This place has some of the highest-paying campaigns and is starting to move heavily into visual influencing through Instagram.
Therefore, if you have a really high Instagram following and can product gorgeous photos, you can probably make some excellent income through this network.
Webfluential says that, on average, its active influencers make about $600 per month, so it can be a good option for you if you're looking for a little extra cash through paid reviewing.
Love shopping with Best Buy?
Then don't miss your chance to become a part of its influencer network, where you can not only score products to review, but you can also get compensated with Best Buy gift cards for your participation.
This sponsored content platform is great for travel influencers who have no problem storytelling to weave a brand into an engaging story.
Sign up for free to get connected to brands who have an interest in working with you.
FameBit gives you the opportunity to review products in a variety of ways.
You can sign up for an account to public video or pictoral reviews of products of interest to you.
These can be sent out to all sorts of parties looking to publish your work.
This is a much more detailed place in terms of how it focuses heavily on contracts with content publishers.
You can get more out of your experience on this site when you find great contracts though.
You can earn hundreds of dollars if your work is accepted but you will be competing with others just as well.
SeedingUp supports paid reviews as it helps you secure connections with a variety of people who want to get your reviews up.
With this site, you can write reviews of products that can be linked to various social media sites.
These include sites of many review companies or businesses.
You can use this to monetize your blog or any other site you have.
This will provide added traffic to your site and possible ad revenue among other financial benefits.
The site isn't specific in terms of how much you can get off of your work though.
BlogExpose is for bloggers that are aiming to make their blogs visible while being paid extra for writing reviews.
With this site, you can sign up for jobs where you can review certain types of products for different advertisers.
Depending on what you sign up for, you could get certain products mailed to you for your review needs.
You can also get paid $20 or more for a single review although the standards vary by each advertiser you reach on this site.
Another site that gives bloggers the opportunity to be paid for reviews, GetReviewed lets you share opinions on products and services on your own blog.
You can reach advertisers that will pay for your opinions.
There are no limits to what you can be paid for your reviews but you will typically be paid 14 days after you complete something that has been accepted by an advertiser.
I found that this site offers links from bloggers to advertisers.
You can register your blog with LinkfromBlog and then write reviews.
You can earn $20 or more for each review you write provided they meet the standards that individual people have on their sites.
You can get $50 for each referral you make to this site too.
The Payperpost website was pretty vague when I looked at it but what I did find elsewhere is that you can get paid money for reviews on your blog when you get into agreements with different advertisers.
You can get an agreed-upon total for each review you make on the site.
You'd have to be cautious when getting a contract ready with someone for any purpose.
Although known as SocialSpark, you could create review content for advertisers to review.
This can help you link up with more advertisers to promote their wares and can even help you get big contracts.
I figured this would be for more experienced people.
Also, you clearly have to be experienced with high-end multimedia programs to make this work for your plans.
The last option I found is Blogsvertise, a place that lets you monetize your blog.
You can accept or decline advertisement offers while also getting the freedom to create your own reviews as you see fit.
This is attractive but you will need to get your reviews confirmed by whoever you are getting those ads ready for first.
Another Way to Make Money Writing Reviews…
Is to become a freelancer!
Sites like Upwork and Freelancer have review writing jobs available at any given time.
It just depends on what clients want and need at the time!
You can sign up for an account to either one, beef up your profile with your skills and an explanation of what you do, and start browsing jobs.
Do a search for "review writing" or similar keywords to find the jobs you're looking for.
Alternatively, you can sign up for Fiverr, which is another freelancer platform.
This one puts you in a little more control, though, because you can create your gigs.
So, for example, you might start one labeled, "I can write a review of your product for $25" or whatever pricing and service you want to add.
Other people can find you and order your "gig."
Once you complete it, you can get the money added to your account, which gets released in 14 days.
Get a steady stream of people who want your help writing reviews and you could end up with a decent amount of money!
It's just another option you have if other sites aren't working out for you.
Inactive Review Writing Sites
The below sites are ones that used to be for review writing but have since switched to a new site or closed their doors completely.
We want to keep them here for reference, though, just in case you were wondering what happened to them.
UPDATE 11/2020: This site is now closed.
You can also make money writing reviews at Sponsored Reviews, a site designed for those who are more experienced at blogging.
This works in that you can use your blog to find advertisers through Sponsored Reviews.
You can establish a connection between your blog and a sponsor to create an agreement to write reviews for someone.
This allows you to post reviews on your own blog while whoever you are writing them for will pay you in return.
The total amount you are paid will be based on what the advertiser agrees upon and might increase based on the search engine traffic that comes onto your site.
You will have to check on the terms of your agreement with someone as the total you can get paid will vary based on who you contact.
UPDATE 11/2020: This site no longer appears to be a working review site.
Formerly known as Reviewme.com, Matomy is an additional place that offers bloggers an opportunity to get money for their reviews.
When you submit your blog to the site, it can be reviewed and then marketed to businesses that want to promote their wares on your page.
You can then select which ones will work the best for your site so you can start promoting their products with reviews on your blog.
I could not find details on how you are paid but I did notice that you can take out your money through a check, PayPal or with a prepaid MasterCard.
UPDATE 11/2020: This site no longer appears to be a working review site.
LinkVehicle helps you to get money from advertisers.
You can write reviews that will be posted on various blogs, including your own if applicable.
This requires you to sign up as a publisher although this is free to use.
The site works with a vast variety of prominent advertisers and companies.
The site did not list information on what you can earn but it did list points on how you can create blog posts, YouTube videos, social media posts and much more for money.
UPDATE 11/2020: This site no longer appears to be a working review site.
ContentBLVD is a place that lets you create YouTube video reviews of products from many prominent brands.
You can write reviews to be recorded on YouTube and then get paid for your work.
This is for those who are in the United States. It is not available to people outside the country.
I found that you can get paid $12 to $48 for each individual post you put up and is accepted.
UPDATE 11/2020: This site is no longer functional and is looking for someone to purchase it and take it over! If you're interested in buying and selling websites for profit, this one could be a good match, as it comes with all reviews, too!
Shared Reviews is a place where people can post reviews of a few hundred words each on different products of interest to them.
This has sections devoted to automotive products, financial services, family-oriented items and health goods among others.
It is recommended that you add your own photos onto your reviews.
This is to make your reviews look more professional in nature.
Your profile will be ranked based on your amount of expertise within certain fields.
Those who have more experience in writing reviews will be ranked as having more expertise in those fields.
You must write the best possible reviews so people can upvote them to give you more exposure.
This makes it easier for more people to read your reviews.
This is critical as you will get about half the revenue that comes from each individual view people put onto your review pages.
UPDATE 11/2020: This site no longer appears to be a working review site.
The thing I like the most about E-Pinions is that you will be paid for every time someone reads your reviews.
That is, instead of just spamming a site with lots of junk reviews, they reward the ones that are actually worthwhile.
I could not find details on how much each view is worth though.
Still, with E-Pinions you can choose to get reviews listed on a variety of products.
The site lets you choose from different product fields that you can leave reviews on.
Be sure to write your best work possible as you are competing with others to have the best reviews on certain items.
UPDATE 11/2020: This site has become a price comparison search engine for online shoppers.
Ciao is based out of the UK but is open to people all around the world.
You will use this site to show for items and then write reviews for those items.
This is great if you regularly buy certain types of items for different needs.
With Ciao, you can get payments for each individual review you write although those totals vary based on how much traffic gets onto the pages that your reviews are on.
You can collect your money rather quickly as well.
You only need to get £5 in your account before taking out your money.
UPDATE 11/2020: This site no longer appears to be a working review site.
Another UK site open to people around the world, Dooyoo lets you search for products by category so you can write reviews on individual items for sale.
You can write reviews on products of all sorts and get points for every time people read your review.
You can redeem those points for cash rewards among other benefits when you get enough.
This is one of the more competitive review writing sites around.
You will have to write more detailed and helpful reviews as you will compete with others who have written reviews of the same products.
The best-rated and most popular reviews are always the ones that show up first.
Conclusion: Writing Reviews Online for Pay
Writing reviews for cash is an excellent gig for people who love to write and share their opinions.
It's also perfect for you if you already have a popular blog or social media channels with large audiences.
As an influencer, you can garner some big paychecks from sponsored review and post opportunities!
Hopefully, this guide gave you several ideas of where you can get started making some money with your love for writing reviews.
Do you know of other places that you've tried or someone you know has had luck with?
Be sure to share them in a comment!
Related Posts:
Earn Everything… nearly!
Join Ipsos iSay, one of the few Faithful and Honest survey panels and earn prizes, gift cards and donations. Stack your points and redeem them: Simple! No hidden fees and completely free!