22 of the Best Places to Sell Clothes Online (Plus Extra Ideas to Try!)
Updated on: by Amy Kennedy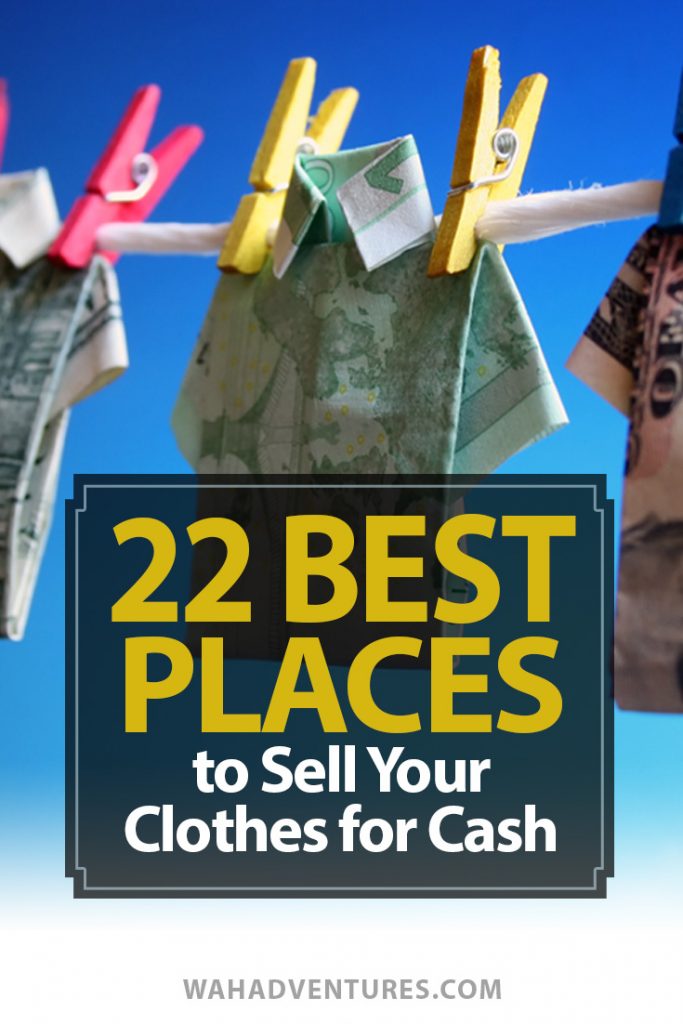 As someone who knows how to sell clothes online – and make a really good profit from it – I feel that I need to share what I know with our readers!
Yes, you can donate clothes. But, there are also plenty of places to sell clothes online if you're looking to get some money for them.
After all, you spend money to get awesome clothes, right? The least you can do is get some money back for them.
Plus, you can always donate the items that sales sites won't take – like those with tiny stains, pet fur, small tears, or budget items that won't really be profitable enough to sell.
I never realized how much you can make by selling stuff you don't wear anymore online until I decided to try it myself almost two years ago.
Since then, I've gotten consistent pay every two weeks from the site I use, which I'll explain more about below.
So, if you're tired of seeing clothes sitting around in your closet that you never wear (and probably never will!), it may be time to do a big clean out and get some cash for them.
No more waiting around for people to show up at your yard sale and wonder if they'll offer more than 50 cents for your favorite shirt.
Sell it online, set your price, and watch the sales roll in!
Best Websites to Sell Used Clothes Online
Here are some of the best websites specifically for selling clothing, shoes, and accessories online.
ASOS Marketplace is an online boutique that operates in several countries.
The site focuses mostly on unique and vintage items, so your clothing must fit within those categories.
You can open up a shop on the marketplace for a monthly cost and earn 20% of everything you sell.
The only catch is that your stuff must cater toward people in their 20s, as that's generally who uses the site.
You also must know about Indie brands and keep them in stock, and it's always required to have at least 20 items in stock.
ASOS is also very picky about photography; all your images must pass a photography check before you're allowed to open a shop and post them.
Once you're set up, you can link your social media accounts to help share your items and market your shop.
Bonanza is a site similar to Craigslist, but even a bit more organized and eye-pleasing.
This is a site where you can list items for free and find buyers for them.
Although it's not dedicated to clothing, those are some of the most popular items on the site.
The Women's Fashion section is extremely popular, and some brands that seem to do well here are affordable luxury brands, like Nike, Anthropologie, and Ralph Lauren.
To sell on Bonanza, you can register for an account for free, but there are paid plans you can choose.
Bonanza shops integrate with Google to make it easier for people to find clothing they might be looking for, and your products even sync with other places you sell on.
You'll also have access to helpful tools, like photo editing tools that make your pictures stand out on the platform.
Buffalo Exchange is a brick-and-mortar consignment shop that also lets you send in items by mail if you don't live near a location.
You can request a shipment bag to send in all your gently used clothing.
It takes up to 4 weeks to process everything, but then you'll be able to get your payment via PayPal.
Popular brands are what this company's looking for, so stick to things like Nordstrom, Calvin Klein, and Vans.
The company takes men and women's clothing and accessories in excellent condition, but doesn't accept things like swimwear, bridal wear, and discount clothing.
Crossroads is a physical and online consignment store.
If you don't live near a Crossroads location, you can ship your clothing via postal mail, selling it to the company to resell.
You can choose to either trade your items for store credit or receive cash for your items.
Selling it for credit gives you more money for your trades, but it won't come in handy if you don't live near a Crossroads store.
If you choose to sell your clothes for cash, you'll get 33% of what Crossroads prices your items for.
Clothes must be clean, modern, and in good condition for Crossroads to accept.
There's also a convenient selling guide on the website that can help you determine if your pieces are what Crossroads typically looks for.
Depop is an app that's been gaining a lot of popularity in the online selling world.
The app focuses on buying and selling clothing, shoes, and accessories, so it's perfect for you if you want to clean out your closet and make some cash.
The best part about Depop is that you don't need to pay anything to list items on the app.
You'll never get charged fees for what you don't sell, and you'll earn commission on what you do sell.
People can buy from you all over the world.
Just ship your items using the address given by the buyer.
Depop is also somewhat of a social selling marketplace, so it helps to follow other accounts that you love so that more people can see your shop.
As your followers grow, you should start seeing your traffic and sales increase too.
You can price your pieces for whatever you want; Depop takes 10% of the sales price.
Etsy is a site where DIYers can sell stuff they make, so if you have handmade clothing to sell, this could be a great place to do it.
On Etsy, you create your own shop where people can find all your items and buy from you.
There are costs to host a shop, including selling fees, but they're minimal.
I see a lot of people selling t-shirts and sweatshirts, especially, with custom designs on them, but you can also go the completely handmade route.
If you're into creating patterns for sewing clothes, you can sell them on Etsy too, either for people to download or to get shipped to their home.
You might also consider selling custom or handmade handbags, hats, scarves, and more!
Although most websites for selling clothes online are geared toward women and/or kids clothing, Grailed is all about the guys.
You can sell anything from jeans to jackets to shoes here. It even has a category for accessories, like fashion glasses, belts, and watches.
Grailed does focus more on new-release items, top brands, and coveted clothing. But it also has three selling sections to meet the needs of sellers: Grailed, Hype, and Core.
Grailed is for luxury designer clothing, like Saint Laurent. Hype is for streetwear, like Yeezy.
Core is where you'll need to sell if you have vintage-type items or mass-market brand clothing, like Aeropostale.
Once your items are all up on the site, you can offer special discounts or promotions to draw attention to your stuff.
You'll get notified anytime you have something sell and your money will immediately show up in PayPal!
Material World has a free trade-in kit for you to use to send your clothing in.
It's another site that accepts only designer brands in excellent condition, like Burberry, Louis Vuitton, and Zac Posen.
But, instead of setting your own prices, Material World will send you price offers for each of your items.
You can choose to accept the offer, return it back to you if you don't accept it, or donate it to charity.
If you choose to donate or get them shipped back to you, it's also free!
So, you're not risking a lot by sending in your stuff and seeing what it's worth.
Your earnings can either go on a gift card to one of your favorite retailers, like Bloomingdale's or Nordstrom, or onto a Material World Trade-In Card.
If you choose the Trade-In Card, you can shop at over 700 retailers that accept it. It works a lot like a prepaid Visa.  
Mercari is an online selling website that specializes in items like clothing, beauty products, electronics, sporting goods, and even handmade items.
Think of it like a cross between eBay and Etsy.
On Mercari, you can get an item listed in just a few minutes.
Add some photos, a description, hashtags, categories, and your selling price to list it on the site.
Mercari doesn't charge anything for listing items, but it will take 10% of the sales price.
Once the buyer receives your shipped items, Mercari will release the funds to you.
According to sellers who have had success on the platform, offering free shipping tends to boost sales for them.
MoshPosh is a designer consignment shop that lets fashion lovers sell luxury items online.
Here, you can sell everything from clothing and shoes to sunglasses and jewelry, so you might be able to get your whole closet cleaned out at once.
But your stuff has to be designer and in excellent condition.
Stuff like Valentino shoes and Louis Vuitton bags are the kind of pieces you'd expect to see here.
You can send a description and photo of your item to the website and you'll get a quote back for it within a couple of days.
If you accept your quote, MoshPosh will send you free shipping materials to send it in.
Once your item gets reviewed and confirmed for condition, you'll get paid.
You can also choose to consign your items instead and wait for them to sell according to the price you want, but this will take longer.
When you consign, though, MoshPosh does help by marketing your products via its popular social media channels.
Poshmark has both a website and app, but you'll need the app to start selling. It's available for both iOS and Android!
The app lets you post your items for sale in less than a minute.
You don't have to send your items to Poshmark like other sites – you do all the photo-taking and descriptions yourself.
This is a good thing if you want more control over everything.
The best part is that when you sell something on Poshmark, the company sends you a shipping box with postage and a pre-addressed label. Your buyer already pays for the shipping costs.
Drop off the box at the post office or have it picked up from your home. It couldn't be any simpler!
There are some fees for selling here: 20% of sales over $15 and a flat fee of $2.95 for sales under $15.
This isn't unreasonable considering you have control over your pricing.
Rebelle is another online shop for luxury brands.
You can either choose to sell stuff by yourself or sell it directly to Rebelle for the company to sell.
You might get more when selling by yourself, but it will take longer.
When you sell to Rebelle, you'll pay a small fee to have the company sell your products for you, but you'll also have dedicated support where Rebelle answers any questions and takes care of descriptions and photos.
Rebelle also has a concierge service that has someone come to your home to go through your closet and pick pieces that will sell on Rebelle.
Clothing, bags, accessories, and jewelry are all okay for the site, but they don't accept any fakes, damaged clothing, or non-premium brands.
ReFashioner is all about vintage clothing. You can buy, sell, or trade vintage pieces here.
ReFashioner even has categories for different decades that go as far back as the early 1900s, so you may even be able to sell some of your grandparents' vintage clothing and accessories!
Here, you create a "collection" in which to sell your stuff. You can upload your own photos and organize the closet how you'd like.
The only problem with this site is that it doesn't always accept new pieces for sale or new closets.
The website does say that it'll occasionally open up for more sellers, and you may even have a chance to sell your pieces if they're overly amazing and unique.
Until then, bookmark ReFashioner and keep an eye on it every once in a while, to see if it is ready for your business.
Resee is a site that takes your gently used clothing and sells it on its site.
You can choose to schedule an appointment with a buyer to purchase your items or sell them via a shop online.
When you send them into Resee, the company takes care of the marketing and listing for you, so you get to sit back and watch as your stuff sells.
This site seeks mostly luxury brands.
SnobSwap is a high-end selling site that focuses on designer pieces for less money than you'd pay in a boutique.
If you're a business woman or one who has to dress up frequently for her job, SnobSwap can help you sell and purchase new pieces more frequently without having to pay retail prices.
Listings here are completely free. Only when your items sell does SnobSwap take a commission of 15% of the final selling price.
Every time you upload photos of your pieces, a listing expert will work their magic to make it look the best it can – which means you may sell more easily!
From the site, you can print your shipping label to send to your buyer.
Your payments go securely into your bank account or PayPal account.
You'll need to look at the list of accepted designers before selling.
You can earn even more and possible sell faster by becoming a Verified Seller.
Do this by connecting your profile with your Stripe account and verify other personal information to confirm your identity.
Storenvy lets you set up shop in its marketplace so you'll have control over your listings.
Once you set up your account, you can upload your items to your store within minutes and make them look great with photos and descriptions.
Storenvy even gives you two options for stores.
You can create a social marketplace that is basically like your own shop on Storenvy.
You'll have access to all of Storenvy's customers, and they'll find your store through the site.
Or, you can have a custom shop that runs on Storenvy's platform but looks totally separate. When you send customers here, it will look like your own online store!
Using the social marketplace includes a commission fee of 10% of each transaction.
Your custom store has transaction fees, but you keep 100% of the sales because you're responsible for the marketing and traffic.
Either way, you'll have plenty of ways to promote your shop as people can choose to "watch" your shop for updates, or you can market it on social media or get featured on the website.
You can accept various forms of payment, like PayPal and Stripe.
Swap is my personal favorite for selling clothes online. This is the one I've used for a couple years now, and as long as I send in clothes regularly, I also get regular income.
Swap, like other online selling places, is fairly picky about the clothing it chooses to sell, but with good reason.
As a customer, you wouldn't want to buy something with stains or tears, right?
All clothing you send must be free of dirt, stains, tears, holes, unpleasant odors, and hair (human or pets). Everything must be laundered before sending, too.
If your stuff isn't up to par, Swap will give you the option of donating the items on your behalf, or you can pay a small shipping fee to have them sent back to you.
What I like about Swap is you can send them a lot of items at a time, provided they all fit within a certain-size box.
You can use your own box or have Swap send you one – both have some fees, but they'll come out of what you sell.
You can set your prices here, and Swap will even give you a suggested price range, based on similar items that have sold.
It's like a no-need-to-think-about-it way to sell.
Swap pays every other week via PayPal, and it notifies you every time something sells so you can easily keep track of sales.
TheRealReal is another online consignment shop dedicated to luxury brands.
On the lower end, items can sell around $40. Higher-end items can sell for $200 and up!
You'll see a lot of Chanel, Roberto Cavalli, and Prada-type designer brands here.
If that's what you have in your closet, this is a great place for it!
TheRealReal authenticates all items before they're posted. That way, buyers can purchase items with confidence and you can get top dollar for your stuff.
You can choose to ship your items to the company or set up a local pickup.
The website says that most items sell within 3 days of being listed
TheRealReal does take out a good chunk of your selling price for commissions – 30% – to keep this in mind when you set prices.
You'll get your earnings on the 15th of each month via mailed check, direct deposit, or even store credit!
ThredUp was originally a place to sell used kids clothes online, but has since expanded to sell women's clothing, maternity wear, accessories, and more.
ThredUp isn't necessarily geared toward designer brands, but it does tend to accept more middle-of-the-road brands than budget brands.
Things like Old Navy, Aeropostale, and Mudd should either be new, or in excellent condition, for higher chance of acceptance.
Clothing must be free of any defects (stains, tears), currently on-trend, and meet overall quality standards when inspected.
What makes ThredUp a little different than other online consignment shops is that when you send your items to ThredUp, you can get an immediate payment based on the value of your clothing.
ThredUp will inspect everything, and will pay you for the things that meet the standards. Other items can be consigned on the website.
You can get your money via PayPal or a ThredUp Prepaid Visa.
Tradesy is another place to sell women's clothing, accessories, shoes, and even wedding dresses.
This is another shop that focuses more on high-end brands.
Tradesy automatically enhances photos you upload to make them as eye-catching to buyers as possible.
Once your items sell, Tradesy sends you a branded shipping kit so you can package everything up easily.
You can set your prices, set your closet on "Vacation Mode" to halt selling temporarily, and even participate in site-wide promotions to gain traffic to your closet.
Tradesy's commission fee is $7.50 for items less than $50, and 14.9% for items over $50.
Withdraw your earnings at any time with PayPal or direct deposit.
Your earnings may be held up to 21 days to ensure the buyer had a great experience. But, most sellers earn their money within 4 days of selling.
This site looks for shoes, bags, and women's and men's clothing.
Vestiaire Collective is a luxury consignment shop, so your pieces must be in excellent condition and be premium brands.
Use the app to conveniently sell clothing, even on the go.
The team then works to help make the listing beautiful on the site by optimizing its description and photos.
Once you sell an item, you'll ship it to the company, where it checks it for authenticity and condition.
If everything checks out, Vestiaire Collective ships your item to the buyer and processes your payment.
You can get up to 80% of the selling price of everything you place on the site.
Vinted is a site for those in the UK to find buyers for their clothing and accessories.
The site accepts women's, men's, and kids' clothing.
You can join quickly by signing up using Facebook or Google, and then list your items by uploading photos and adding a description and price.
It's free to sell, and Vinted just takes a small fee from everything that sells.
You can choose to use your earnings to shop on Vinted or have it transferred to your bank account.
More Best Places to Sell Clothes Online
If you're not into paying the fees or waiting for the best websites to sell used clothes online to sell your stuff, you can always try these options.
Online Sales Sites
eBay and Craigslist are other options for selling your clothing.
On Craigslist, you may have a difficult time selling high-end designer brands, but it's also completely free to list and sell.
So, you may want to try it for selling your lower-end items that won't get accepted by online consignment shops.
eBay does have some listing and selling fees, but you'll likely have more luck here selling higher-end items.
You can auction them off or set a fixed price to make sure you get what you want from them.
If you're clueless about selling on eBay, check out our complete guide to selling on eBay!
Or, if Craigslist isn't quite your cup of tea, you can always check out other sites like Craigslist.
Social Media
Believe it or not, you can even sell clothing on social media!
Facebook, for example, has tons of selling groups, and some are specifically for clothing.
To avoid scams by having to ship items long distances, try to find some local selling groups first. That way you can meet your buyers and collect money at the same time.
Or, try Instagram!
Instagram is all about bright, eye-catching photos.
It's no wonder that some influencers are using the platform to take awesome photos of their clothing for sale.
Again, it is best to find local buyers. If you can't, use PayPal or another secure payment system that will protect you in case you get scammed.
Never send an item without first receiving the money!
If you want to sell clothes on Instagram, use the hashtag #shopmycloset, which has gotten a lot of traffic recently from people wanting to buy and sell clothing.
I mentioned Facebook as a place to sell, but I want to go more in-depth with the Facebook Marketplace.
This is a newer feature Facebook added to help people sell their items instead of simply placing them in groups or posting about them on their walls.
With Facebook Marketplace, you can sell directly from your Facebook profile by adding photos and a description of your clothing in a post.
You can then opt to share the post in your selling groups, on your Facebook profile or pages, or even just keep it within the Marketplace.
Other people searching in your area for clothing will be able to see your post and contact you directly through Facebook, so be sure to check your messages occasionally (and make sure you're accepting them!).
Shopify isn't just for selling clothes, but it definitely offers that option.
This site is a one-stop shop for creating your own online shop with virtually anything you want to sell.
Rather than starting from the ground up with your shop, Shopify makes the process easier and more streamlined by setting up your store for you and giving you access to various tools you'll need to start selling, marketing, and more.
If you would rather sell new clothing in your shop instead of your used stuff, then this can be a great way to do it.
Heard of dropshipping?
Shopify connects with thousands of retailers that you can use to dropship clothes from the companies directly to your customers when they order from you, letting you keep the profits but not have to hold inventory.
Of course, you can always use your Shopify store to host all your gently used items, too.
Once your business grows, you'll be able to keep buying inventory to stock your shop with and resell.
Tips to Help You Sell Clothes Online
1. High-Quality Product Photography
High-quality product photography is essential for attracting potential buyers.
When selling clothes online, customers can't physically touch or try on the items, so they heavily rely on visuals.
Use high-resolution images that clearly showcase the clothes from different angles.
Make sure the colors are accurately represented. It's important to invest in proper lighting and use a clean, uncluttered background.
Including photos of the clothes being worn or styled can help customers visualize how they would look, increasing the chances of making a sale.
2. Detailed and Accurate Descriptions
Providing detailed and accurate descriptions of the clothes you are selling is crucial.
Include important information such as the brand, size, color, material, and condition of the item.
Be honest about any flaws or imperfections, as transparency builds trust with potential buyers.
Use descriptive language to highlight the unique features and selling points of the clothes.
The more information you provide, the easier it will be for customers to make an informed decision.
3. Clear Sizing Information
Sizing can vary across brands, which can be confusing for customers.
To help them make informed decisions, provide clear sizing information.
Include measurements (such as bust, waist, and hip) along with the size indicated by the manufacturer.
Consider offering a size conversion chart or guidelines to assist buyers in selecting the appropriate size for themselves.
Clear sizing information minimizes the risk of returns and ensures customer satisfaction.
4. Competitive Pricing
Researching the market and setting competitive pricing is vital when selling clothes online.
Take into account factors such as brand, condition, and demand for similar items.
Consider setting reasonable prices that attract buyers while ensuring you make a profit. If your prices are too high, customers may look elsewhere.
On the other hand, if your prices are too low, you might undervalue your products.
Offering discounts or bundling items can also be effective strategies to entice customers and increase sales.
5. Engage with Customers and Provide Excellent Customer Service
Engaging with potential buyers and providing excellent customer service can make a significant difference in your online clothing sales.
Promptly respond to inquiries and provide helpful and courteous customer service.
Answer questions about the clothes, provide additional photos if requested, and address any concerns promptly.
Positive interactions and good customer service can lead to satisfied customers who are more likely to leave positive reviews and recommend your store to others.
Building a strong relationship with your customers can result in repeat purchases and increased brand loyalty.
Conclusion: Selling Clothing Online
So many great ways to sell clothing online that it's difficult to pick just one, right?
That's okay!
You can always try out one or two at a time and see what you like best.
Just because Swap worked well for me doesn't mean it'll work well for everyone.
It all depends on what brands you have, the quality of your clothing, and what commission structure you want to work with.
Have you used any of these sites to sell clothing, or do you have others that you use?
Let us know in a comment below!
Related Posts: