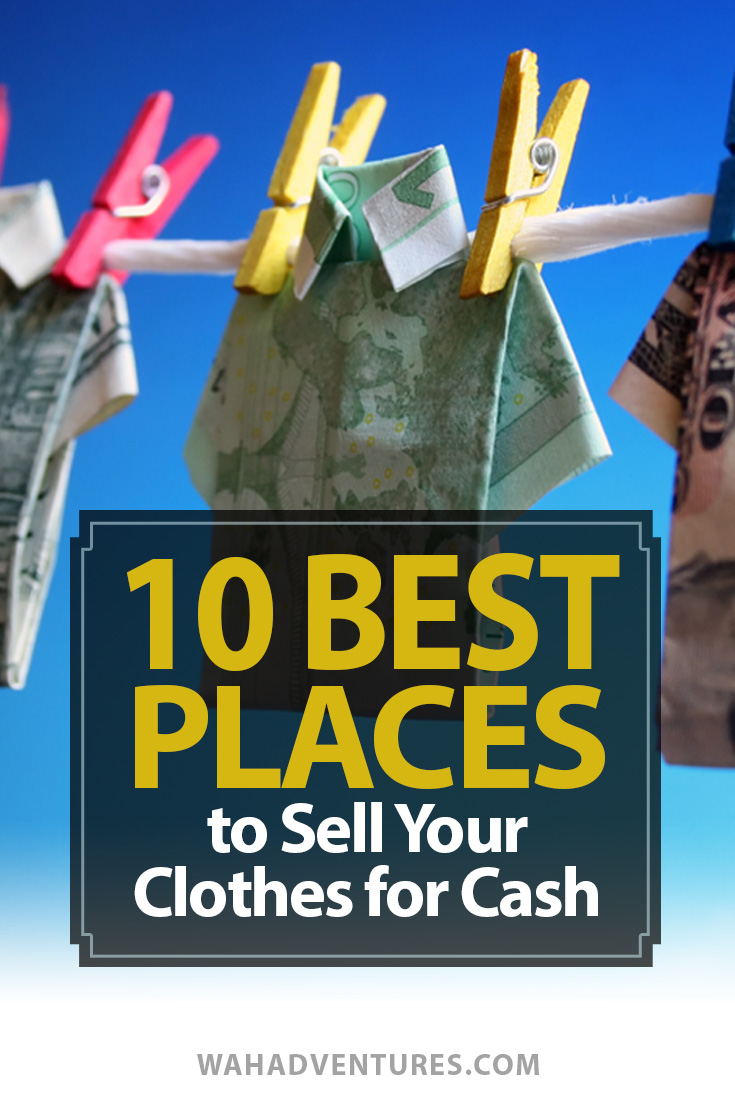 As someone who knows how to sell clothes online – and make a really good profit from it – I feel that I need to share what I know with our readers!
Need Easy Extra $250+/Month For Free?
Yes, you can donate clothes. But, there are also plenty of places to sell clothes online if you're looking to get some money for them.
After all, you spend money to get awesome clothes, right? The least you can do is get some money back for them.
Plus, you can always donate the items that sales sites won't take – like those with tiny stains, pet fur, small tears, or budget items that won't really be profitable enough to sell.
I never realized how much you can make by selling stuff you don't wear anymore online until I decided to try it myself almost two years ago.
Since then, I've gotten consistent pay every two weeks from the site I use, which I'll explain more about below.
So, if you're tired of seeing clothes sitting around in your closet that you never wear (and probably never will!), it may be time to do a big clean out and get some cash for them.
No more waiting around for people to show up at your yard sale and wonder if they'll offer more than 50 cents for your favorite shirt.
Sell it online, set your price, and watch the sales roll in!
Best Websites to Sell Used Clothes Online
Here are some of the best websites specifically for selling clothing, shoes, and accessories online.
Although most websites for selling clothes online are geared toward women and/or kids clothing, Grailed is all about the guys.
You can sell anything from jeans to jackets to shoes here. It even has a category for accessories, like fashion glasses, belts, and watches.
Grailed does focus more on new-release items, top brands, and coveted clothing. But it also has three selling sections to meet the needs of sellers: Grailed, Hype, and Core.
Grailed is for luxury designer clothing, like Saint Laurent. Hype is for streetwear, like Yeezy.
Core is where you'll need to sell if you have vintage-type items or mass-market brand clothing, like Aeropostale.
Once your items are all up on the site, you can offer special discounts or promotions to draw attention to your stuff.
You'll get notified anytime you have something sell and your money will immediately show up in PayPal!
Material World has a free trade-in kit for you to use to send your clothing in.
It's another site that accepts only designer brands in excellent condition, like Burberry, Louis Vuitton, and Zac Posen.
But, instead of setting your own prices, Material World will send you price offers for each of your items.
You can choose to accept the offer, return it back to you if you don't accept it, or donate it to charity.
If you choose to donate or get them shipped back to you, it's also free!
So, you're not risking a lot by sending in your stuff and seeing what it's worth.
Your earnings can either go on a gift card to one of your favorite retailers, like Bloomingdale's or Nordstrom, or onto a Material World Trade-In Card.
Want more money?

Easy Extra Cash! Join the famed Vindale Research site and earn rewards by doing nothing more than sharing your experience of using the internet. Guaranteed 100% free membership.


If you choose the Trade-In Card, you can shop at over 700 retailers that accept it. It works a lot like a prepaid Visa.  
Poshmark has both a website and app, but you'll need the app to start selling. It's available for both iOS and Android!
The app lets you post your items for sale in less than a minute.
You don't have to send your items to Poshmark like other sites – you do all the photo-taking and descriptions yourself.
This is a good thing if you want more control over everything.
The best part is that when you sell something on Poshmark, the company sends you a shipping box with postage and a pre-addressed label. Your buyer already pays for the shipping costs.
Drop off the box at the post office or have it picked up from your home. It couldn't be any simpler!
There are some fees for selling here: 20% of sales over $15 and a flat fee of $2.95 for sales under $15.
This isn't unreasonable considering you have control over your pricing.
ReFashioner is all about vintage clothing. You can buy, sell, or trade vintage pieces here.
ReFashioner even has categories for different decades that go as far back as the early 1900s, so you may even be able to sell some of your grandparents' vintage clothing and accessories!
Here, you create a "collection" in which to sell your stuff. You can upload your own photos and organize the closet how you'd like.
The only problem with this site is that it doesn't always accept new pieces for sale or new closets.
The website does say that it'll occasionally open up for more sellers, and you may even have a chance to sell your pieces if they're overly amazing and unique.
Until then, bookmark ReFashioner and keep an eye on it every once in a while, to see if it is ready for your business.
SnobSwap is a high-end selling site that focuses on designer pieces for less money than you'd pay in a boutique.
If you're a business woman or one who has to dress up frequently for her job, SnobSwap can help you sell and purchase new pieces more frequently without having to pay retail prices.
Listings here are completely free. Only when your items sell does SnobSwap take a commission of 15% of the final selling price.
Every time you upload photos of your pieces, a listing expert will work their magic to make it look the best it can – which means you may sell more easily!
From the site, you can print your shipping label to send to your buyer.
Your payments go securely into your bank account or PayPal account.
You'll need to look at the list of accepted designers before selling.
You can earn even more and possible sell faster by becoming a Verified Seller.
Do this by connecting your profile with your Stripe account and verify other personal information to confirm your identity.
Storenvy lets you set up shop in its marketplace so you'll have control over your listings.
Once you set up your account, you can upload your items to your store within minutes and make them look great with photos and descriptions.
Storenvy even gives you two options for stores.
You can create a social marketplace that is basically like your own shop on Storenvy.
You'll have access to all of Storenvy's customers, and they'll find your store through the site.
Or, you can have a custom shop that runs on Storenvy's platform but looks totally separate. When you send customers here, it will look like your own online store!
Using the social marketplace includes a commission fee of 10% of each transaction.
Your custom store has transaction fees, but you keep 100% of the sales because you're responsible for the marketing and traffic.
Either way, you'll have plenty of ways to promote your shop as people can choose to "watch" your shop for updates, or you can market it on social media or get featured on the website.
You can accept various forms of payment, like PayPal and Stripe.
Swap is my personal favorite for selling clothes online. This is the one I've used for a couple years now, and as long as I send in clothes regularly, I also get regular income.
Swap, like other online selling places, is fairly picky about the clothing it chooses to sell, but with good reason.
As a customer, you wouldn't want to buy something with stains or tears, right?
All clothing you send must be free of dirt, stains, tears, holes, unpleasant odors, and hair (human or pets). Everything must be laundered before sending, too.
If your stuff isn't up to par, Swap will give you the option of donating the items on your behalf, or you can pay a small shipping fee to have them sent back to you.
What I like about Swap is you can send them a lot of items at a time, provided they all fit within a certain-size box.
You can use your own box or have Swap send you one – both have some fees, but they'll come out of what you sell.
You can set your prices here, and Swap will even give you a suggested price range, based on similar items that have sold.
It's like a no-need-to-think-about-it way to sell.
Swap pays every other week via PayPal, and it notifies you every time something sells so you can easily keep track of sales.
TheRealReal is another online consignment shop dedicated to luxury brands.
On the lower end, items can sell around $40. Higher-end items can sell for $200 and up!
You'll see a lot of Chanel, Roberto Cavalli, and Prada-type designer brands here.
If that's what you have in your closet, this is a great place for it!
TheRealReal authenticates all items before they're posted. That way, buyers can purchase items with confidence and you can get top dollar for your stuff.
You can choose to ship your items to the company or set up a local pickup.
The website says that most items sell within 3 days of being listed
TheRealReal does take out a good chunk of your selling price for commissions – 30% – to keep this in mind when you set prices.
You'll get your earnings on the 15th of each month via mailed check, direct deposit, or even store credit!
ThredUp was originally a place to sell used kids clothes online, but has since expanded to sell women's clothing, maternity wear, accessories, and more.
ThredUp isn't necessarily geared toward designer brands, but it does tend to accept more middle-of-the-road brands than budget brands.
Things like Old Navy, Aeropostale, and Mudd should either be new, or in excellent condition, for higher chance of acceptance.
Clothing must be free of any defects (stains, tears), currently on-trend, and meet overall quality standards when inspected.
What makes ThredUp a little different than other online consignment shops is that when you send your items to ThredUp, you can get an immediate payment based on the value of your clothing.
ThredUp will inspect everything, and will pay you for the things that meet the standards. Other items can be consigned on the website.
You can get your money via PayPal or a ThredUp Prepaid Visa.
Tradesy is another place to sell women's clothing, accessories, shoes, and even wedding dresses.
This is another shop that focuses more on high-end brands.
Tradesy automatically enhances photos you upload to make them as eye-catching to buyers as possible.
Once your items sell, Tradesy sends you a branded shipping kit so you can package everything up easily.
You can set your prices, set your closet on "Vacation Mode" to halt selling temporarily, and even participate in site-wide promotions to gain traffic to your closet.
Tradesy's commission fee is $7.50 for items less than $50, and 14.9% for items over $50.
Withdraw your earnings at any time with PayPal or direct deposit.
Your earnings may be held up to 21 days to ensure the buyer had a great experience. But, most sellers earn their money within 4 days of selling.
More Best Places to Sell Clothes Online
If you're not into paying the fees or waiting for the best websites to sell used clothes online to sell your stuff, you can always try these options.
Online Sales Sites
eBay and Craigslist are other options for selling your clothing.
On Craigslist, you may have a difficult time selling high-end designer brands, but it's also completely free to list and sell.
So, you may want to try it for selling your lower-end items that won't get accepted by online consignment shops.
eBay does have some listing and selling fees, but you'll likely have more luck here selling higher-end items.
You can auction them off or set a fixed price to make sure you get what you want from them.
If you're clueless about selling on eBay, check out our complete guide to selling on eBay!
Or, if Craigslist isn't quite your cup of tea, you can always check out other sites like Craigslist.
Social Media
Believe it or not, you can even sell clothing on social media!
Facebook, for example, has tons of selling groups, and some are specifically for clothing.
To avoid scams by having to ship items long distances, try to find some local selling groups first. That way you can meet your buyers and collect money at the same time.
Or, try Instagram!
Instagram is all about bright, eye-catching photos.
It's no wonder that some influencers are using the platform to take awesome photos of their clothing for sale.
Again, it is best to find local buyers. If you can't, use PayPal or another secure payment system that will protect you in case you get scammed.
Never send an item without first receiving the money!
If you want to sell clothes on Instagram, use the hashtag #shopmycloset, which has gotten a lot of traffic recently from people wanting to buy and sell clothing.
Conclusion: Selling Clothing Online
So many great ways to sell clothing online that it's difficult to pick just one, right?
That's okay!
You can always try out one or two at a time and see what you like best.
Just because Swap worked well for me doesn't mean it'll work well for everyone.
It all depends on what brands you have, the quality of your clothing, and what commission structure you want to work with.
Have you used any of these sites to sell clothing, or do you have others that you use?
Let us know in a comment below!
Related Posts:
Earn Everything… nearly!

The internet's Best Paid Surveys are here. Make up to $100 per survey completed.