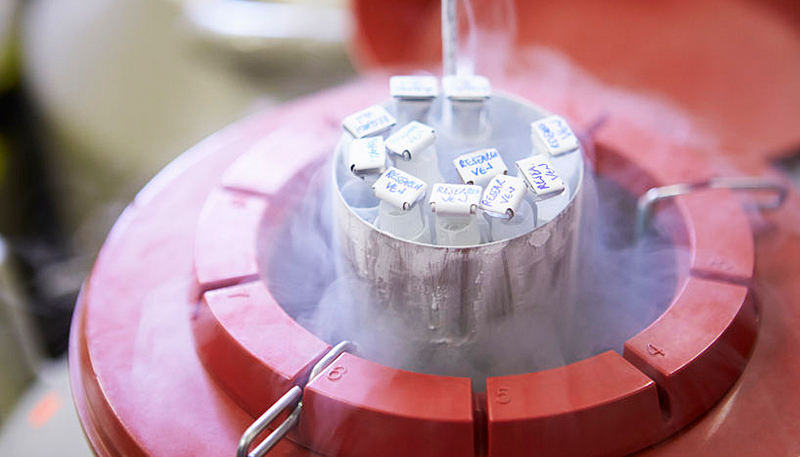 If you've ever wondered, "How do I donate sperm for money?" then this is the article for you.
Need Easy Extra $350+/Month For Free?
Making money using your body is a real thing, and it isn't as weird as it sounds.
In fact, people sell their hair, their eggs, and even sell blood plasma up to twice a week.
If you're going to keep making things naturally, you might as well get some money from them, right?
But, is sperm donation compensation worth it? Are the health screenings and the whole process worth the amount you get?
Yes, it can be! I'm going to explain a bit about the process so you can decide if it's for you.
But, just know that plenty of donation centers are willing to pay for donated sperm that can potentially help others have babies.
Why Donate Sperm?
Donated sperm can be used for a few different reasons:
A woman's partner may not produce enough sperm to get her pregnant, or the couple may be facing other infertility issues.
The partner may not produce healthy sperm for fertilization.
The couple may have a baby at risk of certain genetic disorders if they create the baby together.
A woman may want to have a baby without a partner (single parenthood).
Those in the LGBT community may want a baby but cannot conceive on their own.
This list isn't comprehensive, but rather, just some of the reasons.
Of course, every man's reasoning for wanting to donate his sperm may differ.
Some men simply want the extra cash.
Others may have a personal connection to infertility – maybe someone in their families may be suffering – and simply want to donate to help the overall issue of infertility.
Whatever your reason for donating, it's not right or wrong. And, it's a good deed that can truly help people!
Your donation will go to a woman who needs it for her own reasons to help her have the baby she's dreamed of.
Requirements for Sperm Donation
Depending on the donation center you choose, you'll have several requirements you'll have to meet before being eligible to donate.
This ensures that you're in good health and lead a relatively healthy lifestyle to have the healthiest sperm possible.
Yes, there is a difference between healthy and unhealthy sperm – and which type do you think a woman wants to make a baby?
Donation centers each have their own processes and requirements, but here are a few general rules you can expect if you choose to donate:
You must be at least 18 and not yet 40 years old.
You do not smoke or drink excessive amounts of alcohol.
You don't have any genetic diseases, which could be passed down to a baby.
You must be at least 5'9", but some centers require taller men.
Many centers won't allow adopted men to donate unless they have a full family history.
Family histories must be clean, with no history of mental illness for you or your family members.
Most centers require donors to have a college degree or currently in pursuit of one.
You must stay up-to-date with doctor's visits.
You must have only had female sexual partners.
Many countries and states have their own requirements for sperm donation, too.
You can always check with your local health department, which can likely give you more information about specific regulations in your area, if applicable.
How Much Do You Get Paid for Sperm Donation?
How much you make with sperm donation largely depends on where you donate and how often you donate.
Some sperm donation centers allow men to donate up to three times per week.
Other donation centers may not be as in need of donations, depending usually on your location, so it may limit the number of times per month you can donate.
Of course, your health, age, and even genetics play a role, too.
Want more money?

Join Opinion Outpost, one of the few faithful and honest survey panels and earn cash and gift cards for your opinion. Stack your points and redeem them: Simple! No hidden fees and completely free!


The healthier you are, the more opportunities you'll likely have. And, if you have in-demand features, like blue eyes, there may be more opportunities for your donation.
Most centers will require men to commit to a certain number of donations within a specific timeframe.
For example, you may be required to donate at least twice a week for a year.
Any healthy donations you give, you'll receive compensation for.
Some donation centers do not pay donors. Donors simply do it to help others.
Others offer $1,000 or more per month, depending on your health and donation frequency.
So, although it depends on a lot of factors, there's certainly money to be made from sperm donation if you find the right donation centers.
Are There Risks?
If you want to donate sperm, it's valid to wonder if there are any risks associated with sperm donation.
For the donor, there isn't! That's good news, right?
Legit sperm donation centers follow proper medical protocol to make sure donors don't donate sperm too often.
It's a fairly simple, very safe process.
On the other hand, kids born from donors and the women who receive sperm donations do face some risks.
Women can face sperm rejection, which happens when a recipient and donor aren't compatible.
Hormones, uterine lining, and other factors may reject or kill sperm.
There's no way to know if it will happen until it does.
In other cases, a woman could become pregnant but suffer a miscarriage, which can happen to any pregnancy.
Babies born from donors could potentially have congenital defects caused by a donor's sperm.
Although donors are screened ahead of time, it's still possible for recessive genes on both the father and mother's sides to show up in a child.
Again, there's no way of knowing until it happens.
What to Consider Before You Donate
As with any medical procedure, there are things you should consider before donating sperm:
Are you ready to be a father? Even though your identity is a secret, you'll still have to consider whether you'll be able to handle having potential children in the world that you may never see.
In 2005, laws were passed that made it possible for people born from sperm donors to seek information about their donor as long as they're 18 years old. If you don't want any way of being contacted, it may be best not to donate.
If you later decide you want rights to your child, you may not get them. An arrangement would have to be made between you and the woman recipient, and it's ultimately up to her what to decide.
Where Can You Find Places to Donate Sperm?
Now that you know all about sperm donation, how do you go about donating?
Finding centers isn't always the easiest, because sperm donation isn't something that's typically advertised.
So, to locate banks near you, here are a few options:
Ask Your Local Health Department
Your local health department should have some answers for you.
Even if there aren't any sperm banks in your town, there may be some a few towns away.
Health departments generally service larger areas, like your county, so they'll likely have a good idea of what's at least close by and whether the centers are currently accepting donations.
Consult the Directory
SpermBankDirectory is an excellent place to search online for local sperm donation centers.
Using the map, click on your state. The website will bring up locations in your state, or in surrounding states, where you can donate sperm.
It also provides the phone numbers of each center so you can call in advance to inquire about the process.
Note that most donation centers are in large cities, so it may require a bit of traveling to get to your closest center.
Co-Parent Match
This is a bit of a different way to donate sperm, but it gives you more control over the process.
Co-Parent Match is a website that matches sperm and egg donors with recipients.
You can browse through the database of recipients to match with someone looking for a sperm donation.
You'll be responsible for paying for a health screening before you can donate.
Also, Co-Parent Match doesn't pay donors for donations.
However, the website does state that you can ask your recipient for valid expenses, such as traveling, if related to the donation.
It's possible that a recipient even offers to pay you.
Using this site, you have control over who you donate sperm to, leaving some guesswork out of the process.
And, it can give you an opportunity to set up a specific parenting plan, if desired.
Conclusion: Get Paid to Donate Sperm
Donating sperm may not be the simplest process, but if you're serious about it, it's certainly worth it.
Make yourself aware of, and consider, all the potential risks and outcomes before donating.
Then, talk with the donation center to find out about the process, how much you can get paid, and how often you can donate.
Is sperm donation something you'd consider doing? Why or why not? Let us know in the comments!
Related Posts:
Get Money: Cash In!

With American Consumer Opinion (ACOP) the numbers truly do speak for themselves: $30 million+ in payments so far, 7 million+ international members, 20 million+ surveys completed!