How Much Money Do You Get for Recycling Aluminum Cans?
Updated on: by Amy Kennedy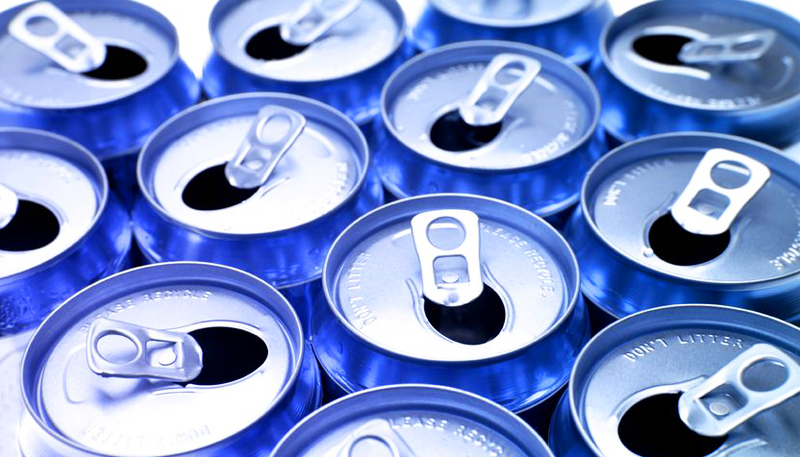 As financial times get a bit tougher, you might notice people coming up with unique ways to get cash.
Need Easy Extra $350+/Month For Free?
Thinking outside the box can sometimes be the best way to find a new way to make some money outside of a job.
That's because not a lot of people have caught onto the idea yet, which leaves more opportunity for you to cash in!
Most people know that you can make money collecting cans, but most people also assume that you can't make much from it.
In some cases, that's true.
Each can make you just a few cents, so unless you have tons of cans, the money you make won't amount to much.
But, if you know some tricks of the trade to really profit from this money-making opportunity, it can work well to earn some side income.
One man in New York made it his own business for over 30 years collecting bottles and cans in the wee hours of the morning.
He makes about $50 for 6 hours of work, which is less than minimum wage, but still not a bad income just from selling cans!
All About Recycling Aluminum Cans for Cash!
Let's take a closer look at this business opportunity and learn how you might be able to earn even more by maximizing your collecting and selling opportunities.
And, no – you don't need to be an adult with work experience to make this work from you.
This post might even help you learn how to make money as a teenager recycling cans for cash!
What Do You Need to Start?
This business opportunity will only be as successful as you make it.
Fortunately, you won't need a lot of things to start, but be aware that to make the most money possibly, you'll need to be prepared to go out and look for cans.
You probably won't make a lot just from the cans of soda you and your family drinks!
What you'll need depends on how you want to go about your business.
Need Easy Extra Cash?
Pinecone Research, a leading name in online survey panel honesty, absolutely guarantees $3 cash for every survey you complete!
Take advantage of their time limited New Membership drive and register NOW. Join today: 100% free!


Some people who are serious about collecting cans obtain permission from their city to place a recycling bin in high-traffic areas where several cans will accumulate.
For example, stadiums, parks, sports arenas, and conference areas may all be good places for a recycling bin for cans.
This will take some research on your end to find out the laws for your location and whether the venue will allow a bin.
If you go this route, make sure you label your bin for aluminum cans only so you don't have to spend time sorting trash from cans.
Another option is to go through local trash and recycling bins like the man in New York who built his business this way.
But, if you're going this route, you need to check your local laws to find out about rummaging for cans in trash bins around town.
In many areas, it may be prohibited to go through someone's trash or recycling containers.
No matter what way you choose to collect cans, make sure you have heavy duty gloves to keep yourself protected when sorting.
And, you'll need a way to store what you collect, so a pickup truck might be helpful.
Important Equipment You Might Need
Although this is generally not a job where you'll need tons of stuff to start with, it could benefit you to buy some things to get your business up and running.
First, consider your own safety.
You'll potentially be rummaging through garbage to get the cans you need to sell.
Even if you find cans lying on the ground, you can never be certain where they came from and who touched them.
Cans that have been stepped on might also have cuts in them or ragged edges that can cut you when you pick them up.
So, you'll always want to protect yourself by wearing durable rubber gloves that reach over your elbows.
It's not a bad idea, either, to protect your eyes with goggles, just in case there's any liquid in the cans that might splash you.
You'll also need a large supply of heavy-duty, oversized trash bags to use to collect your cans.
I wouldn't skimp and try to buy the cheapest bags you can find because they likely won't be durable enough to hold your cans and you don't want to risk getting holes in your bags.
Look for lawn bags with durable handles that can hold a decent amount of weight.
Eventually, you might want to invest in a pickup truck that you can use to haul large amounts of cans you find, but this isn't something you necessarily need in the beginning.
Just make sure that whatever vehicle you do use, you keep its seats or cargo area protected with towels or a blanket, just in case of any spills.
Where Can You Find Aluminum Cans to Sell?
You're probably wondering how to find enough aluminum cans that would make selling them worth your time.
Here are some of the best places to go if you want to find the most cans possible:
Local parks: Bring some bags to the local park and search the grounds and trash receptacles for cans. You can even collect any from people you see rather than having them throw the cans away.
Family and friends: If your family and friends don't recycle, ask them to save their cans for you. Let them know you'll pick them up weekly for free, and do the same with your neighbors!
Sporting events: Keep an eye on tailgaters! From soda to beer, sporting events are ripe with aluminum cans that would just end up in the trash anyway.
Your office: Ask your co-workers to save cans for you, and see if your boss will allow a special recycling bin for cans that you can take home weekly.
Your home: Make a clearly marked bin for any special events or parties you host in your home so your guests know where to put their cans.
Local businesses: Check with businesses in your area. Many may not already be partnered with a recycling company, and they may love the fact that you'll pick up their cans for free.
Craigslist: People give stuff away for free all the time on Craigslist. It's possible that someone has a bunch of aluminum cans they need to get rid of and just haven't had the chance to get to the recycling center to do it, which can be a great opportunity for you to swoop in.
Facebook: Ask friends and family on Facebook if they're willing to gather cans for you. You can also let people know in your local buying and selling groups that you're willing to pick up any cans people want to give away for free.
Hair and nail salons: You might find cans that contain hair sprays and products or nail products at these places. You can learn more about recycling aerosol cans below.
What to Know Before Selling Cans
Believe it or not, there is a process you should know about before you start selling your cans to recycling centers.
Although most of the cans you collect will be common cans that hold soda or alcohol, you might come across food cans, like those that hold beans or sauce, or spray cans, like the type that hold shaving cream, air fresheners, or hairspray.
It's important to note that you can sell these cans too.
However, you'll need to work with them a little differently than you would soda cans.
With soda cans, it's important just to make sure that there aren't any ragged edges on them that could hurt you or someone else and that they've been completely emptied of the liquid that was once inside them.
Food cans, however, don't always just have a liquid that you can easily pour out.
Earn Everything… nearly!
Join Opinion Outpost, one of the few faithful and honest survey panels and earn cash and gift cards for your opinion. Stack your points and redeem them: Simple! No hidden fees and completely free!


If there's food still stuck inside them, then you'll need to rinse them out – or sometimes, scrub them out – to get them clean before you take them to the recycling center.
You should also remove any labels from the cans.
As for spray cans, you should also remove labels to leave just the can visible.
Most recycling centers will also require you to puncture the can using a special puncturing tool to relieve pressure from inside the can.
This allows the center to crush the cans safely like they would other cans to save space.
Centers that require you to complete this step might also require you to split the can in half after puncturing it to prove that there's no pressure left inside.
When you puncture cans, be sure to do it away from any open flame, since some of the contents can be extremely flammable.
Did You Know…
There are some cans that look like aluminum cans but actually aren't real aluminum, or aren't made with enough aluminum to be accepted by recycling centers?
The cans you need are marked to make it easy for you to know the difference, but it'll take some extra time to comb through them to check each one.
You'll need to look for cans that are marked with ALU to ensure that they're aluminum.
On most cans, this symbol is easy to spot, but it could be somewhat hidden on others.
You can also see if the can has seams. Aluminum cans will not have seams, but those made from similar metals usually do.
If you're still not sure, you can always use the magnet trick.
Put a regular magnet up to the side of the can.
If the can sticks to the magnet, it's not real aluminum (aluminum isn't magnetized!).
How Much Money Do You Get for Recycling Aluminum Cans?
The money you make for recycling aluminum cans largely depends on where you live and how much time you invest in collecting them.
Scrap Sales USA currently estimates an average of about $0.35 per pound of aluminum that you recycle.
This is based on the current "spot price", or market price, of aluminum per pound divided in half.
The current spot price is about $0.70 per pound.
However, the prices vary across the United States, so your state may be lower or higher.
And, it's important to note that the price a recycling center gives you is negotiable.
So, feel free to try to squeeze a bit more out if you don't think you were given a fair price.
How much you make depends on how much you collected and how much you're willing to haggle.
Always get a quote for your turn-in in writing before you leave if you're not paid that day.
Some recycling centers will pay weekly or monthly, but you'll want a written record of the price you were told if so.
What About Bottle Bill Laws?
Some states have what's known as a "Bottle Bill" which requires a certain amount to be paid per can for recycling.
The price usually ranges from $0.05 to $0.07 each!
The states that have a Bottle Bill include: California, Connecticut, Hawaii, Iowa, Maine, Massachusetts, Michigan, New York, Oregon, and Vermont.
If you live in one of these states, you're lucky.
Your cans are worth much more than in other states.
If you turn in an average of 500 cans each week in a state that pays $0.10 per can, that's an easy $50 per week.
Of course, if you're able to collect way more cans from placing recycling bins in busy areas, your profits could quickly go into the hundreds each week.
Read More: Need More Cash? Recycle Glass Bottles and Jars for Money!
Is it Worth My Time?
That depends.
Do you have plenty of recycling centers in your area willing to pay as close to the average price per pound as possible?
Are you able to find hundreds of cans per day or week without hours and hours of work?
Do you live in a state with a Bottle Bill?
If you answered "yes" to any of these questions, then recycling cans for cash could be worth your time.
Unfortunately, if the answer is "no," you may end up spending a lot of time on something that makes very little money.
If you live close to another state with a Bottle Bill, you may find that you can go to one of its recycling centers to turn in your cans. Just make sure that you're not spending more on gas than the trip is worth!
Here are a few other things to keep in mind to make it worth the effort:
Clean and crush your cans: You can hold more cans in a load if you crush them before loading them up. And, some recycling centers may pay you less if you bring them in without rinsing them off.
Keep track of weight: The last thing you want is for the recycling center to give you a lowball offer, insisting you turned in a lower weight than you did. Do your best to record it before you walk in.
Large quantities are better: Save up your cans for a week or two, if possible, and turn them in at once. It saves you unnecessary trips and you may even get a higher payment.
Get people involved: This may be a better business opportunity if you can get more people involved in helping you search for cans, load them up, and deliver them.
You might also find that if you live in or near a large city, it's much easier for you to find a recycling center that's willing to pay a good price for your cans.
Recycling centers can be few and far between in smaller areas.
How Can I Sell Aluminum Cans for Cash Near Me?
Now that you know how to find cans near you and make money from them, it's time for the important part.
You need to know how to find centers that will buy the cans from you!
Here are a few of the best options:
Earth 911 is definitely one of the first websites you should try to find recycling centers near you.
All you do is put "aluminum cans" in the search bar, plug in your zip code, and the website will search the database for centers that take aluminum cans!
From there, you can make calls to each center to find out their prices for aluminum cans.
Earth 911 also tells you if a center allows people from outside the area to drop off their recyclables.
For example, when I search my area, I see a few centers that say "[My town] residents only" or "[My county] residents only."
These types of centers won't work if you're trying to make use of the Bottle Bill.
iScrapApp is a lot like Earth 911, except it's also a convenient app for your mobile device.
You can use the website, too, if you don't want to download the app.
Plug in your location and iScrapApp will bring up a map of centers near you.
You can view the profile of each to find out more details, if available, and even send a message to the center to get a quote.
The app is available for iOS and Android and is convenient to use when you're traveling.
The app can use your location to automatically find centers near you that might take aluminum cans.
It will even tell you the most recent prices for most of the centers so you won't have to call each one!
Recycler Finder is a website for United States residents to find recycling centers in any state.
Plug in your zip code and your desired radius.
Choose Bottles & Cans from the "Materials" selector.
Recycle Finder does all the hard work for you!
Another recycling center finder website, this easy to use site finds centers and scrap yards near your zip code.
It's always good to have several resources like these in your back pocket, because not all websites will list the same places.
Some catch centers that others don't.
This website is also a good resource for recycling news and information.
RecycleInMe is a global marketplace for scrap and recyclables.
It connects scrap buyers and sellers from over 200 countries, offering a simple and effective platform to trade various recyclable materials.
To use RecycleInMe, you can list the type and quantity of the aluminum cans you have, then interested buyers will get in touch with you.
It provides you a wider reach, increasing the likelihood of getting a better deal for your aluminum cans.
Freecycle is a nonprofit movement aimed at reducing waste by connecting individuals who are giving (and getting) stuff for free in their own towns.
If you have aluminum cans to sell, you can list them on Freecycle and see if anyone local is interested in picking them up.
It's not necessarily a money-making route, but it is an environmentally-friendly way to ensure your cans get recycled, and you might find interested local scrap collectors or artists who may offer you a price for them.
eBay is an online auction and shopping website where people and businesses buy and sell a wide variety of goods and services.
If you have a significant quantity of aluminum cans, you could consider selling them here.
You could either list a set price or set up an auction and potentially make more if you have multiple interested buyers.
Be sure to take into account eBay's seller fees when pricing your item.
RecycleNation is a dynamic recycling and green living-focused site that makes recycling, conserving, reusing and living wisely easy.
RecycleNation features comprehensive recycling location database that gives the user the ability to easily assemble a recycling to-do list.
The database is location based, and aims to make your recycling needs as easy as possible, whether you're clearing out the house, garage, or office.
It provides a way to locate recycling centers and learn more about their pricing and policies.
Reverse Vending Machine
Some areas have what's known as reverse vending machines.
They're usually in areas with strict recycling laws to help people recycle.
The machines let you turn in your cans (and sometimes bottles) in exchange for a receipt with a cash value.
Most of the time, you'll find the machines in a supermarket, where you can exchange your receipt for cash.
These machines usually only allow you to place one can at a time, so if you have several pounds of cans, it's not the best solution.
Still, it's something to consider if you aren't having luck elsewhere.
Check out Earth911.com for more information.
Local Agencies & Departments
If you're still not having luck finding anything near you, it could just be that your recycling centers aren't listed in many of the searches.
You can still contact local government agencies to find out what's available in your area.
For example, your local Chamber of Commerce (provided that you're in the United States) can help direct you to local recycling centers that may help.
This agency is responsible for providing assistance about local businesses and resources in your area.
And, your local sanitation department can likely do the same.
Call the company that picks up your trash to see if it, or another company, will pay for your cans.
Craigslist
It's completely free to list most things on Craigslist unless you're listing in large cities, so it's worth a try to put your haul on here if you're not having much luck with recycling centers in your area.
You might find a buyer who wants cans for an art project, or maybe someone else who's getting into the same business you are and wants to build their can stash.
I wouldn't suggest using Craigslist as your first tool for getting paid, but it could be a good idea to list your cans here while you're awaiting offers from other avenues.
Facebook
Similarly, Facebook's Marketplace might help you find local buyers for your cans relatively quickly if you're not interested in waiting for other paths to pan out.
It's also free to list here and you can share your listing with your friends on Facebook or the groups you participate in.
How to Make the Most Potential Profit Selling Cans
We've covered a lot of stuff here.
I bet you had no idea that recycling a common household product can be such a great side gig for the right person.
Well, I have one more suggestion to make it an even better side gig, but it'll likely take a little more work and research on your part.
Instead of recycling and selling regular aluminum cans, you could focus more on finding cans that will get you more money.
Antique cans, of course.
Think about it: Just about anything "vintage" can go for a lot more money than modern stuff, like vintage furniture, clothing, jewelry, household décor, etc.
The same holds true for cans.
Antique beer cans, for example, are collectibles to some people.
Those who are big fans of a particular beer company might want the full collection of that company's cans over the years and decades that it's been in business.
If you happen to find one to complete someone's collection, there's no telling how much the right buyer will be willing to pay for it.
It really all depends on the brand, how old the cans are, what shape they're in, and how long you're willing to wait to find the perfect buyer.
If you want to make money now and sell your antiques to the first person who offers a price for them, you probably won't make what they're worth.
However, if you're willing to sit on the cans for several months, or even years, then it's totally possible to make thousands of dollars by selling to the right person.
If you're interested in learning more about vintage beer cans, I suggest heading over to CanSmartBeerCans, which has some excellent information about vintage cans and how to tell what they might be worth.
You can also check out Collector's Weekly, which showcases several of the most-watched beer can listings to see what ones are popular and selling for the most money.
There are some on eBay that are currently at auction for $400 or more!
Which brings me to my next point: eBay can be a great place to list these types of cans because your listings can be seen all over the world if you don't mind selling internationally.
Unlike regular cans that likely won't get much traction on a site like eBay, vintage cans definitely could because this is where collectors tend to go to find the missing pieces of their sets.
Another Idea: Raise Money to Donate with Aluminum Cans!
Another really awesome way to make money with aluminum cans is by participating in a ThinkCans fundraiser.
This place can even help you raise money for yourself, but it's mostly for teaching younger generations how to be charitable by collecting aluminum cans and selling them for donations to others.
It's possible that some of you came across this page hoping to raise money for an organization or event you want to support.
In that case, ThinkCan can help.
This opportunity is only for those based in the United Kingdom, though.
To start the process, you'll need to find a recycling center that participates in the program near you.
You can use this page on ThinkCan to help.
Then, grab your friends, family, and community to help join you in the effort.
Make sure everyone knows what it is you're supporting so that they can get in on the action and know what they're working toward!
Once you've gathered your bundle, you can bring it into your local center.
You'll get 40 to 50 pence for every 65-70 cans you turn in, which you can use to fund your donation piggy bank.
Conclusion: Recycling Aluminum Cans for Cash
Recycling aluminum cans for cash doesn't earn most people a full-time income, but it's a worthy venture for some extra cash.
You don't need the cans once you're done with them anyway, so you can reap 100% of the profits.
If you want to turn it into a business, you likely can do so if you live in an area with a Bottle Bill, especially if you live in a large city within your state.
If not, it'll be difficult to get it off the ground.
Otherwise, do what you can to collect as many cans as possible, save them up each week or month, and turn them in for some extra cash.
This type of business is definitely easier to get moving when you have plenty of people to help you, so gather up everyone you know to get started!
Do you collect cans for cash? Have you had success with this gig? Tell us about it in a comment below!
Related Posts:
Earn Everything… nearly!
Join Ipsos iSay, one of the few Faithful and Honest survey panels and earn prizes, gift cards and donations. Stack your points and redeem them: Simple! No hidden fees and completely free!