Free Building Materials: From Pallets to Paint
Updated on: by Amy Kennedy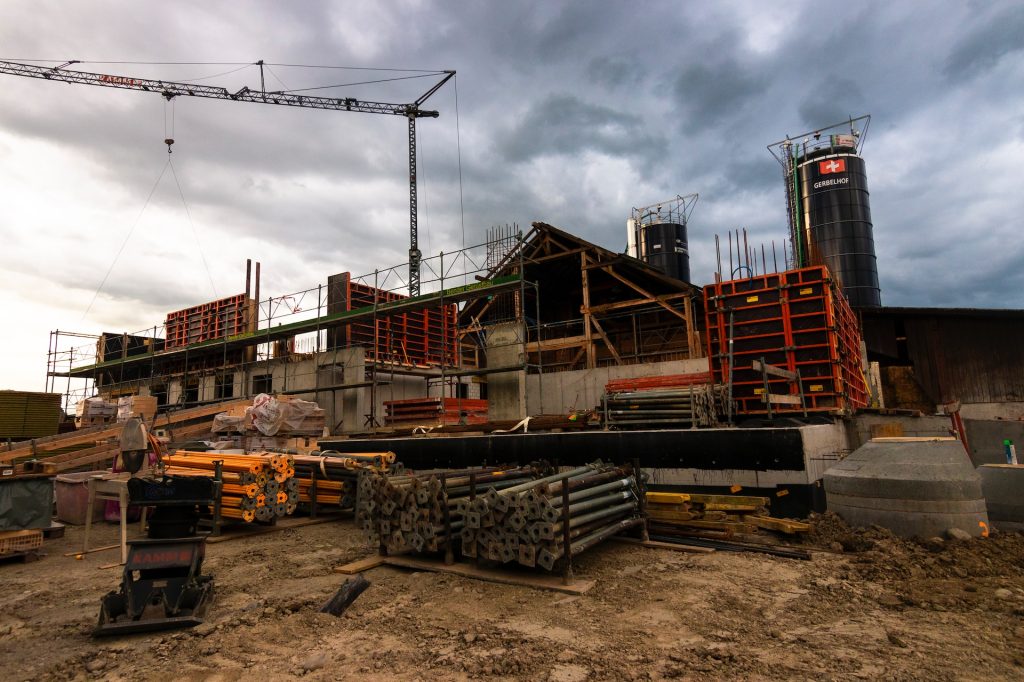 When it comes to construction or DIY projects, the cost of materials can often be a significant barrier. But what if you could cut down on this expense without compromising on quality or aesthetics?
Need Easy Extra $350+/Month For Free?
This is where the concept of free building materials comes in. From pallets to paint, the world around us is full of resources just waiting to be utilized.
Besides the financial benefits, using these materials also presents a wonderful opportunity to contribute to environmental sustainability by reducing waste.
The Hidden Treasure: Unearthing Free Building Materials
Unlocking the potential of free building materials requires a significant shift in perspective. What may seem like waste or useless debris can indeed become a valuable resource.
Embracing the Reclamation Mindset
To begin with, it's important to cultivate a reclamation mindset, recognizing that one person's trash can indeed become another's treasure. This perspective shift is not only eco-friendly but also fosters creativity and innovation.
With this mindset, you'll start to see opportunities everywhere: in a pile of discarded wooden pallets, in half-empty paint cans, in stacks of old newspapers. Every material holds potential if we're willing to see it.
Construction Sites: A Goldmine of Resources
Construction sites often have a surplus of materials that are either unused or discarded. While some of these materials may need a bit of cleaning or repurposing, they can serve as robust, quality resources for various projects.
From leftover bricks and tiles to spare pieces of wood or metal, these sites can offer a rich array of materials. Always make sure to get permission before taking any materials from construction sites.
Reclaimed Wood Shops: Where Old Becomes New
Reclaimed wood shops are another excellent source of free building materials. Often, they have a selection of items removed from older properties, including flooring, beams, and doors.
Some even offer furniture pieces that can be refinished or upcycled into something unique. Visit your local Habitat for Humanity ReStore to explore available options.
Online Platforms: A Virtual Treasure Trove
In our digital age, numerous online platforms offer opportunities to find free or low-cost building materials. Sites like Craigslist have sections dedicated to free items or construction materials for sale at significantly reduced prices.
Another fantastic resource is Freecycle, a network of people who are giving (and getting) stuff for free in their own towns. It's all about reuse and keeping good items out of landfills.
On these platforms, you can find everything from furniture to paint, wood, and much more. Be patient and check these sites regularly as new items are posted daily.
Community Swap Events: Neighborhood Treasures
Many communities host swap events where residents can exchange items they no longer need. These can be an excellent source of free building materials as you might find old furniture, leftover construction materials, or other valuable items.
Check your local community calendar or websites to see if there are any upcoming events in your area.
Local Dumps and Recycling Centers: Unlikely Goldmines
Local dumps and recycling centers can be unlikely treasure troves of free building materials. While this may require a bit more digging (literally and figuratively), you can often find materials like bricks, tiles, wood, metal, and even fixtures and fittings.
Need Easy Extra Cash?
Pinecone Research, a leading name in online survey panel honesty, absolutely guarantees $3 cash for every survey you complete!
Take advantage of their time limited New Membership drive and register NOW. Join today: 100% free!


Always make sure to check with the management of these sites before taking anything, as there may be safety protocols or regulations in place.
Yard Sales and Estate Sales: Hidden Gems
Yard sales and estate sales are other great places to find free or cheap building materials. Often, people are eager to get rid of surplus materials from home renovation projects, or they might be selling old furniture or other items that can be repurposed.
Look out for these sales in your local community, and don't be afraid to negotiate – you might walk away with a real bargain.
Local Businesses: Mutual Benefit
Local businesses, especially those in construction or home goods industries, can have leftover materials they're looking to get rid of. Examples could include tile shops, lumber yards, or home improvement stores.
Reach out to them and see if they're willing to donate or sell their surplus at a low cost. It's a win-win situation: they get to clear out space, and you get the materials you need.
Pallets: More Than Just Wooden Frames
The humble wooden pallet is a common sight in warehouses, supermarkets, and construction sites. While it's easy to overlook these structures, they are in fact a gold mine for DIY enthusiasts, holding tremendous potential for transformation.
Pallets in Home Decor
One of the most popular uses for pallets is in home decor. With a little bit of creativity and effort, these wooden structures can be turned into a range of furniture items.
Pallets can be used to construct everything from coffee tables and bed frames to bookshelves and wine racks. Websites like Instructables provide a wealth of ideas and step-by-step guides to help you turn a simple pallet into a piece of art.
Outdoor Uses for Pallets
Pallets are not just for indoor use. They can be repurposed to build outdoor structures as well.
For example, they can be used to create decking, fences, planters, or even a treehouse for your kids. Websites like 1001 Pallets have numerous ideas for outdoor DIY projects using pallets.
Safety and Preparations for Using Pallets
Before starting your DIY project, it's crucial to ensure the pallets are safe to use. Look for pallets marked with "HT" (Heat Treated), which signifies they are free from harmful chemicals and pests.
Avoid those marked with "MB" (Methyl Bromide), which can be hazardous. Before using, pallets should be thoroughly cleaned, and any rusty nails or splintered wood should be removed to ensure safety.
Paint: Give New Life to Used Materials
Leftover paint might seem like nothing more than a storage nuisance, but it can be a valuable resource when given a chance. It's perfect for bringing a new lease of life to old furniture, or for adding a splash of color to your interior walls.
Transforming Furniture with Paint
There's no need to get rid of old furniture when you can revitalize it with a bit of paint. A fresh coat can help disguise wear and tear, change the color to better match your interior, or create a new style entirely.
Check out Better Homes & Gardens' guide to painting furniture for tips and tricks on how to achieve the best results.
Creative Uses of Leftover Paint
Beyond furniture, leftover paint can be used in a variety of creative ways. From painting accent walls and creating murals to crafting homemade artwork or repurposing old items, the possibilities are endless. Sites like Family Handyman offer plenty of inspiration for creative uses of leftover paint.
Proper Paint Storage
When storing paint, remember to keep the cans sealed tightly and store them in a cool, dry place away from direct sunlight. This will help preserve the quality and longevity of the paint.
If the paint is too old or has a foul smell, it might be best to dispose of it properly according to your local waste management guidelines.
Other Commonly Overlooked Free Building Materials
There's a world of free building materials available beyond the more obvious options like pallets and paint. Many of these materials are easily accessible and can be transformed into something surprisingly useful, innovative, or even artistic.
The Versatility of Cardboard
Cardboard is one material that's frequently available and often discarded. However, its uses go far beyond mere packaging.
For the eco-conscious gardener, cardboard can be a great addition to compost heaps, helping to balance the green and brown elements required for successful composting.
For craft enthusiasts, cardboard offers endless opportunities. It can be turned into decorative items, used in model building, or even formed into furniture.
There are numerous online tutorials available that offer step-by-step guides on how to create stunning pieces from this humble material.
Breathing New Life into Old Windows
Old windows are another commonly discarded item that holds great potential. If the glass is still intact, they can be repurposed into picture frames, offering a unique, vintage feel to your photographs or artwork.
If you have a set of windows, they can be assembled to create a stylish coffee table with a glass top.
Gardeners might see an even greater potential in old windows. They can be used to construct a greenhouse or a cold frame, providing a perfect environment for seedlings or frost-sensitive plants.
There are many resources online, such as this guide from The Spruce, which provides instructions on how to create your own window greenhouse.
The Potential of Scrap Metal
Scrap metal is often perceived as nothing more than junk. But in the hands of a creative person, it can be transformed into unique art pieces, customized furniture, or even be used in construction.
From creating garden ornaments to building a custom coffee table, the possibilities with scrap metal are almost limitless. Websites like Welding Champs provide a wealth of ideas and instructions for various projects using scrap metal.
Earn Everything… nearly!
Join Opinion Outpost, one of the few faithful and honest survey panels and earn cash and gift cards for your opinion. Stack your points and redeem them: Simple! No hidden fees and completely free!


Upcycling Old Tires
Old tires often end up in landfills, posing an environmental problem. However, they can be repurposed in numerous ways.
For instance, they can be painted and used as planters in the garden, offering a unique, rustic charm. Tires can also be used to create playground equipment or an obstacle course for children.
This guide from DIY & Crafts provides several creative ideas on how to upcycle old tires.
Reinventing Old Doors
Old doors hold a surprising amount of potential for transformation. They can be converted into dining tables, headboards, bookshelves, or even garden gates.
With some sanding, painting, or refinishing, an old door can become a charming and functional piece in your home or garden. Websites like Architecture Art Designs provide plenty of ideas for reimagining old doors.
Versatility of Wine Corks
Wine corks are another material that is often thrown away but can be repurposed into a multitude of items. They can be used to make pinboards, bathmats, trivets, or even garden markers.
They can also be used in a variety of craft projects, adding a unique texture and pattern. Check out Crafts by Amanda for ideas on how to reuse wine corks.
Discarded Fabrics and Clothes
Unwanted fabrics and clothes can be turned into a wide variety of household items. Old t-shirts can be turned into rugs, pillow covers, or tote bags.
Scraps of fabric can be sewn into quilts, table runners, or even wall art. Jeans can be repurposed into aprons, storage baskets, or gardening kneepads. There's an abundance of sewing tutorials on sites like AllFreeSewing that can guide you through transforming old fabrics into something new.
Creative Use of Broken Tiles
Broken tiles or leftover ceramic pieces can be used to create stunning mosaic artworks, tabletops, or garden paths. By arranging different colored tiles, you can design unique, personalized pieces that can add a pop of color and artistry to your space.
Websites like Mosaic Art Supply offer guidelines on how to start with your mosaic project.
How to Safely Use and Treat Free Building Materials
Using free building materials is a great way to save money and recycle. But just as important as the savings is ensuring that these materials are safe and durable for their intended purpose.
Here's how to inspect, treat, and safely use free building materials in your projects.
Inspecting the Materials
Before you start your DIY project, a thorough inspection of the materials is crucial. Look for signs of damage, such as cracks, chips, or breaks in the material.
If you're using wood, be on the lookout for signs of rot or termite infestation. In metal, watch out for rust or other signs of corrosion.
For paint, smell can be a good indicator of quality. If the paint has a foul smell, it may be spoiled and no longer suitable for use. Always check the condition of materials before incorporating them into your projects to ensure they are safe and durable.
Treating and Preparing Materials
Preparation and treatment can greatly extend the lifespan of your free building materials. For wood, this might mean sanding to remove rough spots and applying a sealant or paint to protect it from the elements.
For metal, this could include removing rust with a wire brush or sandpaper and then applying a rust-proof paint or sealant.
With fabrics, a good wash and ironing may be all that's required, but if there are stains or discolorations, you may need to use a fabric dye or paint to give them a new look.
Remember, the goal of treating and preparing materials is not just to make them safe but also to enhance their aesthetic appeal and durability.
Safe Use of Materials
Lastly, when working on your project, always prioritize safety. Use the right tools for the job and ensure you're using them correctly. Always wear appropriate safety gear, like gloves and eye protection, especially when cutting, sanding, or painting.
When using paints, sealants, or other chemicals, ensure you're working in a well-ventilated area and follow the manufacturer's instructions for safe use. If you're working on a large project or using heavy materials, consider seeking help to prevent injuries.
Conclusion
In the world of construction and DIY projects, free building materials present an opportunity to save money, reduce waste, and even stimulate creativity.
So next time you see a pile of discarded pallets or a half-used can of paint, think twice before you pass them by.
They might just be the hidden treasures you've been looking for.
Related Posts:
Earn Everything… nearly!
Join Ipsos iSay, one of the few Faithful and Honest survey panels and earn prizes, gift cards and donations. Stack your points and redeem them: Simple! No hidden fees and completely free!