20 Legit Ways to Get Free Domino's Pizza for Pickup or Delivery
Updated on: by Amy Kennedy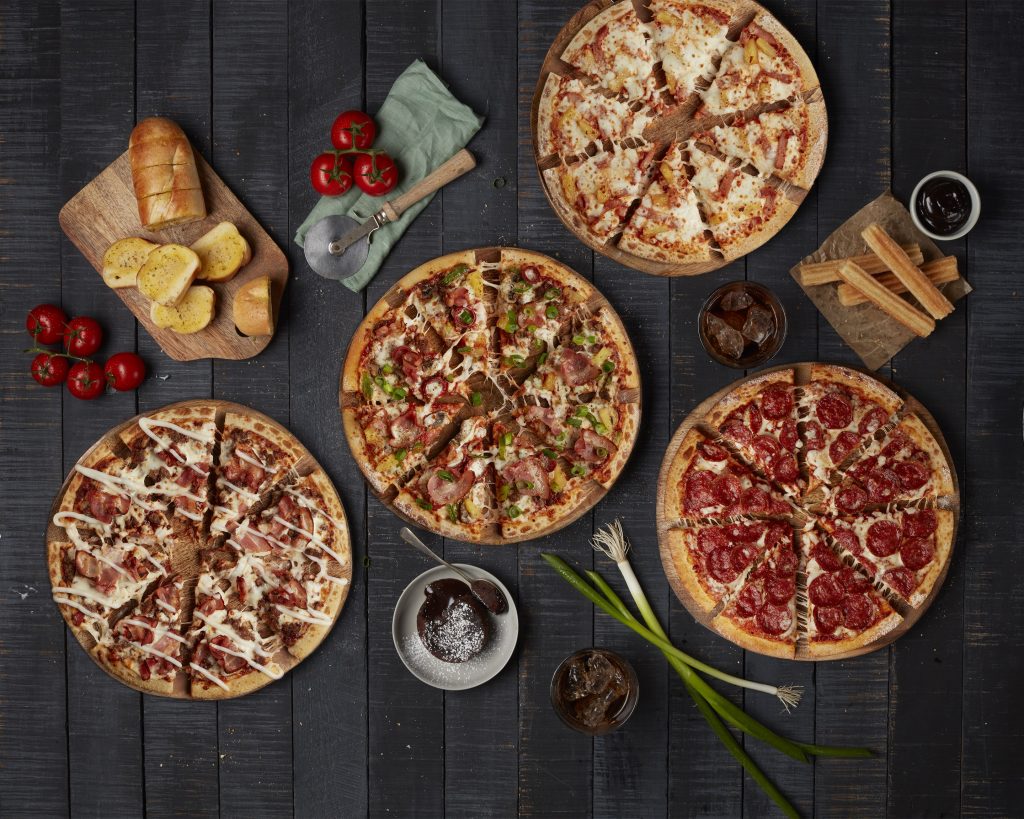 Not many things beat the savory, cheesy flavor of a fresh pizza.
Need Easy Extra $350+/Month For Free?
Domino's is one of America's favorite pizza companies, offering a mix of specialty pizzas, yummy toppings, and even some extras, like wings and subs.
Domino's often has some of the best prices for pizza, too, but that doesn't mean it's wrong to want to save some money on your pizza orders, especially if you're ordering for the family.
Do you know all the ways you can save on your Domino's order?
We've put together this list of 17 legitimate ways to either get Domino's for cheap or get your pizza for FREE.
How to Get Free Domino's Pizza
Are you ready to save big on your next Domino's pizza order (and every order after that)? Good, because we have 17 legitimate ideas for you to get your pizza and other Domino's goodies for free.
By far, one of the best ways to spend less on your Domino's orders is to sign up for its Piece of the Pie Rewards program.
This is a loyalty program designed to reward you for ordering from the company by giving you points for all your orders.
You can even get points when you call in and order, so it doesn't just have to be through mobile or online orders.
When you bank enough points, you can get rewarded with a free pizza!
Every order that's $10 or more will give you rewards, and you'll need 60 of them to get a free 2-topping medium pizza.
Opt-In to Email and Text Offers
If you don't mind getting some texts and emails from Domino's, you can opt into its text and email offers to get notified when there are new discounts or deals on the site or at your local restaurant.
You can also sign up for just one or the other if you don't want to get both.
Domino's sends regular notifications to keep you up to date on current sales, which is perfect for people who order from the company regularly.
If you ever feel like you don't want the notifications anymore, simply follow the instructions in your texts and emails to unsubscribe (you can also change these settings in your account on the website).
Download the Domino's App
The Domino's app is available on the App Store and Google Play.
Need Easy Extra Cash?
Pinecone Research, a leading name in online survey panel honesty, absolutely guarantees $3 cash for every survey you complete!
Take advantage of their time limited New Membership drive and register NOW. Join today: 100% free!


Search for it in your app store, download it, and sign in with your account credentials (or sign up if you haven't yet) to order online and access deals.
The app sometimes has exclusive discounts just for people using the app, so it's just another way to save money on your Domino's order.
Order with Coupons or Deals
Check out the Domino's coupons page before you order to see what new deals are available at your location or sitewide if you're ordering online.
This is where Domino's will let you know about all current coupons that you can use on your order, so it's the perfect way to save on your full order or specific items.
Sometimes, you'll even find stuff for free!
Take Advantage of Mix and Match Savings
One of my favorite ways to buy Domino's is with its Mix and Match deals.
It's kind of like getting stuff for free because it's so cheap!
You can mix and match any of the included products to get each one for only $5.99 – and pizzas are included (that's a steal for a pizza!).
The best part is that you can use the deal multiple times, so you can even order 10 items and use the deal 5 times to keep saving.
Mix and Match deals are available any way you order, including over the phone or on the website.
Keep an Eye on Your Mail
Your mailbox (the physical one, not the electronic one) can be an excellent place to find deals for future Domino's orders.
In my mail, I've gotten sheets of coupons that not only include awesome deals for saving on orders, but they sometimes also include coupons for free items.
Some postal customers also get coupon books for local retailers, depending on where they live, that could include free or discounted Domino's rewards.
So, before you throw all your junk mail away, make sure there aren't any coupons hiding inside!
Did you know that you could get free Domino's from people when you sign up for the Domino's Wedding Registry?
No, you're not being punked. This is a real thing.
And it's for people who are either having an upcoming wedding or had to postpone their wedding.
Just create a registry for free, share your link with your guests, and they can buy you different pizza "gifts" that reward you with free pizza and other Domino's goodies when you feel like having it.
Because no bride or groom should ever be deprived of pizza!
Choose Carryout Instead of Delivery
Did you know that some pizza places will give you discounts simply for choosing to pick up your order instead of having it delivered?
Delivery tends to cost the company more money because they have to pay more in labor and fees for delivery people to send out orders.
Carrying out costs them nothing, though.
It might be a little more of an inconvenience on you, but if you don't live too far away, it can definitely save you some money on each order.
Call your store and see if it's offering any discounts on carryout orders (sometimes there are % off deals and sometimes there are discounts on specific products).
You never know unless you ask!
Try Common Promo Codes
If you use promo codes to order food – or anything online, really – you probably can start seeing a pattern with many of them.
Several stores use similar patterns for their promo codes that change with seasons, holidays, special events, etc.
You can always try a few of these patterns on Domino's website or app when you order to see if anything works.
Codes usually start with a word, like WELCOME, SAVE, SUMMER, etc., followed by a two-digit number, like 10, 20, or 30.
Earn Everything… nearly!
Join Opinion Outpost, one of the few faithful and honest survey panels and earn cash and gift cards for your opinion. Stack your points and redeem them: Simple! No hidden fees and completely free!


It's not guaranteed to work, but it's worth a try.
Sign Up for Swagbucks (and Watch for Gift Card Deals!)
When you sign up for and use Swagbucks, you can earn points toward Domino's gift cards!
Swagbucks is a platform that offers games, cashback shopping, paid emails, and tons of other stuff you can do on the site and across the web to earn points.
Those points are what you can trade in for a gift card of your choice.
Swagbucks has Domino's gift cards available in several denominations, from $5 to $50, so you can choose how much you want depending on the points you have saved up.
Sometimes, Swagbucks even has discounts on gift cards, allowing you to buy one for fewer points than it usually sells for!
Follow Domino's Social Media Accounts
Many modern retailers are on social media and they use their accounts to share exclusive deals with their followers.
Domino's is no exception!
Follow the company on its social media accounts, like Facebook, Twitter, and Instagram (you can search for the company on those platforms or find the links on its website) to get access to those deals.
Make sure you like or comment on a few of their posts to keep them popping up in your feed so you'll be one of the first to know when new deals arrive.
Ask for Domino's Gift Cards for Gifts
If you have a birthday or special day coming up but you don't really want any specific gifts, you can always ask people for Domino's gift cards!
Gift cards work the same as cash, and you can use them to pay for your order online, through the app, or over the phone, so you can get your pizza any way you'd like.
As added bonuses, Domino's gift cards don't have any fees (meaning whoever buys them for you doesn't pay any extra than the amount of the card and you don't have any fees taken from your card) and they don't expire.
Buy Discounted Gift Cards
Domino's is one of many retailers that use gift cards as a way for people to get gifts for their favorite places.
They're easy to use and can make excellent gifts for someone who doesn't really want anything but could use some money toward their favorite places.
But you can actually save money when buying gift cards if you purchase them through a discount gift card retailer.
So, say you want a $50 Domino's gift card, but you find one on one of these sites for $40.
You're basically getting $10 of Domino's cash for free – that's about as much as a small or medium pizza!
Here are a few places to buy discounted gift cards:
Visit Coupon Code Sites
There are plenty of coupon code sites on the web that list codes you can use for your favorite places, like Domino's, when you order online.
Don't forget to stop by a few of them and see what promo codes are currently available before you order, because they can change frequently.
You might find hefty discount codes to get you 30% off or more on your entire order, a free item, or even free delivery.
You can sometimes even find codes that give you a dollar amount off your order, so they're perfect for saving some money when you want pizza.
Here are a few that have Domino's discount codes:
Call Your Local Store and Ask for a Deal
Some Domino's locations might have different deals going on than others, and they might not all be listed on the website.
So calling your local store could give you access to deals you wouldn't otherwise know about, especially if you're a frequent customer.
When your store gets to know you and knows you order frequently, they might just come up with a special discount just for you to show appreciation for your patronage.
Participate in Blog Giveaways
Many blogs host giveaways for gift cards, cash, and prizes.
These giveaways help the blog get more traffic, social media follows, etc., while blog visitors get the chance to win cool prizes, so it's mutually beneficial.
You can look for blog giveaways that are giving away free Domino's pizza gift cards!
There are several sites that you can find giveaways and sweepstakes on, including Giveaway Monkey, Giveaway Booster, and Giveaway Promote.
Keep the ones you find bookmarked so you can check them regularly for new giveaways that feature Domino's prizes.
Let the Company Know if Something Was Wrong
I'm adding this idea last because it's somewhat of a controversial one.
But let me be clear: When I talk about this, I'm not suggesting that you do something unethical like lie to your local Domino's about having an order that's incorrect or not up to par.
Instead, I wanted to let you know that you can usually get a food item replaced if it wasn't correct or something was wrong with it just by calling the store and letting them know.
But you should only do this if your order was actually wrong!
I've had to do this once with a Domino's pizza that was missing a topping I ordered.
I simply called, nicely explained the problem, and the associate put a credit on my account for a free pizza for my next order.
Many stores do keep track of complaints, so it's likely that if you abuse the system and keep calling for "wrong orders," you'll get caught and this won't work for you.
Use this method only when you actually need something corrected so that you can get what you ordered and paid for.
Participate in Local Fundraisers or Events
Sometimes, local Domino's stores collaborate with community groups, schools, or nonprofits for fundraising events.
During these events, the store might offer discounted or even free pizzas. The aim is to generate a buzz, bring in more customers, and raise funds for a good cause.
Keep an eye on local news or community events where Domino's might be participating.
Buy in Bulk During Promotions
Often, Domino's will run promotions where you can get a discount for buying in bulk.
For instance, there may be a deal where if you buy five pizzas, you get the sixth one free. These types of deals are great if you're hosting a party or get-together.
Just make sure you're only buying what you need to avoid waste and unnecessary spending.
Join Online Forums or Deal Groups
There are numerous online forums and groups where users share deals, discounts, and hacks for getting free or discounted goods and services, including Domino's pizza.
Websites like Reddit and Facebook have several such groups. Regularly following these communities can help you stay updated about current promotions, coupon codes, and other ways to get free Domino's pizza.
Be sure to contribute to the community as well, by sharing deals you come across.
It's Time to Get Free Food from Domino's!
Follow the tips above and you'll always have a way to save at Domino's.
I suggest taking advantage of all of the company's built-in ways to save, like downloading the app and signing up for text and email alerts.
Of course, becoming a part of the rewards program is also an excellent idea, even if you don't order from Domino's frequently.
Combine those easy ways to save with some of the other ideas on this list, and you'll be able to spend less at Domino's every time you order.
If you know of other ways to get Domino's pizza for free or cheap – or even if you just know ways to get free delivery – let us know down in the comments.
Other Domino's fans will thank you!
Related Posts:
Earn Everything… nearly!
Join Ipsos iSay, one of the few Faithful and Honest survey panels and earn prizes, gift cards and donations. Stack your points and redeem them: Simple! No hidden fees and completely free!