How to Get Free Stuff Online Today: 25+ Awesome Freebie Websites
Updated on: by Amy Kennedy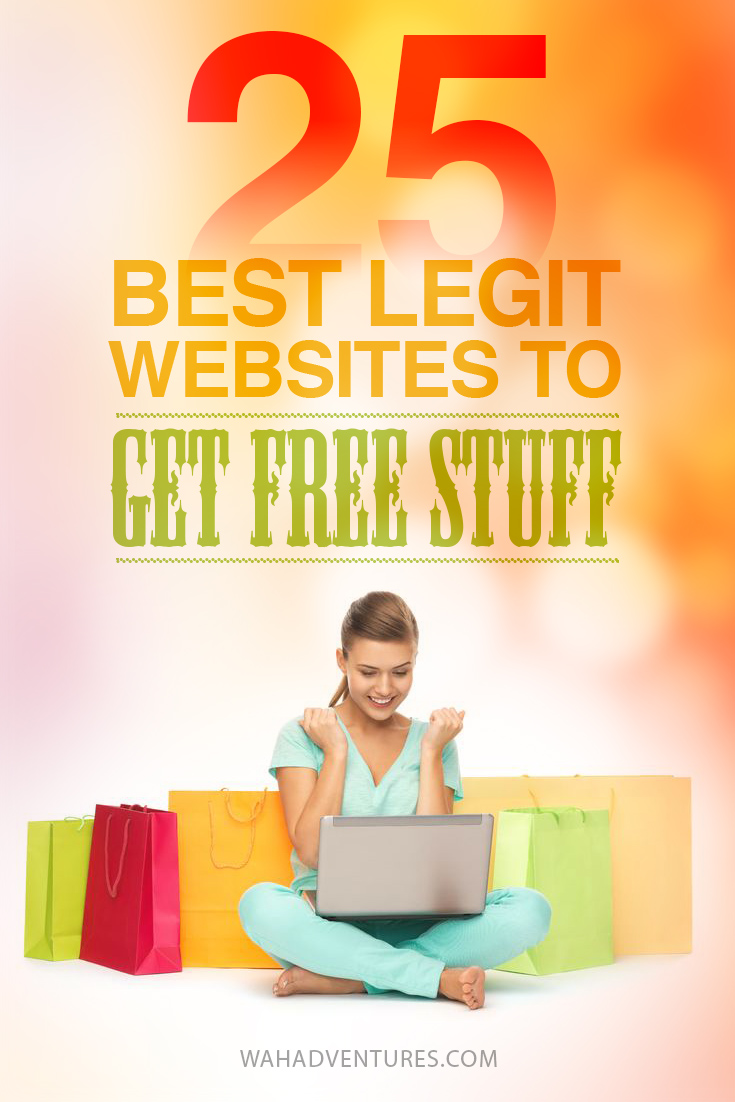 Everyone loves a good deal.
Need Easy Extra $350+/Month For Free?
What's even better, though, is being able to get stuff for free!
There are plenty of giveaway websites on the internet where you can score free samples, coupons, or even full products or services without paying a dime.
It's 100% real, and I wanted to bring you a huge list of some of the best websites for finding free stuff online.
Keep this list bookmarked so you always have it handy!
Want to Know How to Get Free Stuff Online?
So, how do you get free stuff online? Most of these websites curate freebies from all over the web and bring them to you on their websites so you can find them conveniently.
When you find a deal you like, you'll usually get taken to the website that's the main source of the Freebie, like the company's website.
There, you may need to provide some basic information, like your name and address, so you can receive your freebie.
Most places will ask for your e-mail address too so they can continue to send you new offers.
Why Do Websites Give Away Free Stuff?
Businesses want to give their products and services exposure.
This is how they gain an interest in potential customers and, hopefully, turn them into long-term customers.
What better way for them to get your interest than to offer a free item or service?
Many companies reach out to bloggers with free offers to promote on their websites, especially if they have a huge following on their blogs or social media.
In turn, freebie websites have big audiences of people who want free stuff.
They make money from advertisements and may even get some sponsored blog post deals from companies who want them to advertise their freebies.
It's a win-win for everyone involved, especially YOU who gets the freebies!
Need Easy Extra Cash?
Pinecone Research, a leading name in online survey panel honesty, absolutely guarantees $3 cash for every survey you complete!
Take advantage of their time limited New Membership drive and register NOW. Join today: 100% free!


These Are the Best, Legit Free Stuff Sites!
2000Freebies is a bit on the sloppy side for websites, but it has tons of freebies and is updated daily.
On the front page, 2000Freebies lists some of the most popular freebies for the current month so far.
But, you can also search through alphabetical offers or freebie categories if you want to find something more specific.
BzzAgent works a bit differently than other freebie sites, but it's awesome and needs a spot on this list.
Sign up for the website and you can receive free stuff to test out and review.
It's free to join, and in exchange for free stuff, you might have to write short reviews on brand websites or share about the product on social media.
I've used BzzAgent for a while and have been sent pet, health & beauty, and some home products that have been absolutely worth more than what I spent on them (nothing!).
ClubFreebies isn't updated daily, but it has a really good database of coupons and free stuff to search through.
The website also lists ways for you to earn some cash through surveys, sweepstakes, rewards sites, and companies that offer rewards for purchases.
You'd be amazed at some of the free stuff you can find on Craigslist!
Search your local area for free stuff by typing "Free" into the search box.
I just did it for my location and it immediately pulled up free furniture, a huge TV, starter plants, car seats, clothing, and more.
You may even score some great free finds that you can spruce up and re-sell for a profit!
Freebies4Mom isn't really just for moms; a lot of people can make use of its free samples, giveaways, coupons, and more.
This website is updated just about every day with the owner's most recent finds.
It's also a blog where the owner shares some freebie and coupon-finding information for specific stores and brands and some great money saving tips.
This website is updated frequently with a variety of coupons and freebies, including special offers for birthdays.
Check out its blog, too, for a chance to enter some great giveaways!
Have you ever signed up for an e-mail newsletter from a company and get surprised with a special coupon or deal around your birthday?
FreeBirthdayTreats is a directory that brings you awesome birthday deals all in one place.
Always check here before going to a restaurant, kids party place, stores, or anywhere else you plan to celebrate your birthday!
Earn Everything… nearly!
Join Opinion Outpost, one of the few faithful and honest survey panels and earn cash and gift cards for your opinion. Stack your points and redeem them: Simple! No hidden fees and completely free!


Freeflys has been one of the most popular freebie websites for years, even getting features on huge news outlets like NBC and ABC.
It's one of the easiest to browse current samples.
Click on "Samples" at the top and you'll be taken to numerous categories to choose from. All currently freebies in that category will be displayed and you can take your pick.
Free Mania goes even further than many freebies websites do.
Not only does it list coupons and free samples, but there's also categories for free events, apps, music, and more.
You can also check the Free Gifts section to score some bargain deals on Amazon products and items from other online retailers.
Or, sign up for the daily newsletter to get some awesome deals sent to your inbox every day.
Free Sample Monkey gathers freebies from the best freebie websites across the internet to bring you the most updated, complete list of freebies in one spot.
The website updates about every 15 minutes, pulling the most recent information from freebie websites each time.
Next to each freebie posting is how long ago it was swiped, so you can see just how much it updates!
If you want to look for something specific instead of most recent, use the website's search feature.
FreeStuff.com is updated every day with samples in tons of categories.
It's especially good for finding free stuff based on holidays, since it has a whole category broken down into big holidays, like Christmas and Easter.
You can also find sweepstakes and giveaways to enter or use the coupon clipper to save money on your next trip to the store.
Free Stuff Times updates several times a day so you'll never run out of freebies to apply for!
The website also has a huge section for contests and giveaways and you can search its Screenings section to even score a free movie screening!
Don't forget to sign up for its very active forum, too, where you can discuss some of the newest and best freebies on the web.
Get It Free definitely has one of the best layouts so it's a breeze to find what you're looking for.
The freebies are updated every day and it offers a lot of freebies that you don't see on other websites!
The Get It Free blog also has awesome tips for finding free or cheap activities and saving money.
GoFreebies updates its registered users with a daily e-mail newsletter including the newest deals, coupons, and freebies.
It even chooses an occasional winner from the people who sign up to get a $10 Amazon gift card.
You can also just browse the website without an account, which has freebies in several categories, like Books, Food, Home, and more.
Hey It's Free is one of the most popular freebie sites around, bringing a wide selection of the newest free stuff to the internet for over 10 years.
The website is updated almost daily, and sometimes several times per day, with unique free stuff to score. There's also a great coupon database you should check before you go shopping.
Hip2Save is stocked full of freebies, deals, and coupons every day.
This is one of the best places to go if you're looking for incredible deals on Amazon products, especially.
It's updated several times per day, so there's always new stuff to check out!
This website is a little cluttered, but it's easy to narrow down your search using the categories at the top.
There's also a section for printable or mailed coupons so you can save some extra money on products you want to buy.
ILoveFreeThings.com is a great resource for all kinds of free samples and products.
Each freebie includes a good description of exactly what you need to do to qualify for it.
If you want to browse freebies on your mobile phone, ILoveFreeThings even has a mobile app for Android and iOS devices!
Just Free Stuff offers the most categories of any freebies website I've come across – you'll find everything from education freebies to free clothing offers.
The website also has monthly giveaways where you can win awesome free prices, like an outdoor fire pit, camera, Kindle Fire, gift cards, and more.
PINCHme is an online service that lets members try products from leading brands for free, all in exchange for their feedback.
The process is simple – you create an account, fill out your personal profile, and then PINCHme directs you to products that suit your lifestyle.
After you receive and try out the products, you share your feedback on the site, which gets relayed back to the brands.
Freecycle is a grassroots and entirely nonprofit network of people who are giving (and getting) stuff for free in their own towns.
It's all about reuse and keeping good stuff out of landfills. You can sign up for free, and then search through listings of free items in your local area.
Items range from furniture and appliances to clothing and toys.
You can also list items you'd like to give away.
While Swagbucks isn't a traditional freebie site, it's an excellent way to get things for free.
You earn points (called "Swagbucks" or "SB") for doing activities online, like searching the web, watching videos, playing games, and shopping.
You can then redeem these points for gift cards to major retailers or for cash back through PayPal.
It's a fun and easy way to turn your online activities into rewards.
Reddit is gaining some major popularity on the internet as a way for web surfers to connect with each other, share opinions, provide the latest news, and more.
It's also becoming a great way for freebie-lovers to come together to share their latest finds with others in the subreddit.
The Freebies subreddits are very active, with people posting the deals they've found several times per day.
This is actually how a lot of freebie website owners find the freebies and deals they list on their websites!
As the name suggests, you can find daily samples and freebies on this website founded by two guys who love free stuff.
The website also has a Coupon.com integration so you can easily find the latest coupons while visiting.
Shop4Freebies is updated every 24 hours and there are tons of deals each day to keep you busy.
Its freebies aren't the same old ones you find at other websites either, which means that it's owner really spends some time combing through the web to find cool stuff.
You can look at some older coupons by using the categories list on the right sidebar.
SweetFreeStuff.com is a well-organized site that updates almost daily.
You can score everything from free magazines and books to free baby stuff and digital freebies.
Sign up for the newsletter and receive daily deals sent right to your inbox!
Totally Free Stuff is a huge database of some of the best freebies from all over the internet.
I like that you can sort the list on the front page by the newest posts, staff picks, or the ones with the newest comments.
Alternatively, you can search through several categories, like Pets, Home & Garden, and Electronics, to find deals specific to what you're looking for.
The Discussions Forums are a great place to connect with other freebie lovers and find even more freebies!
This website is obviously geared more toward women, but there are still some freebies men can benefit from too, so don't rule it out if you're a guy.
The freebies are updated daily, and sometimes multiple times per day.
There's also several categories to choose from to narrow down your search.
Just Be Warned…
Not all freebie websites can be trusted, unfortunately.
And, sometimes it's not even the freebie website's fault, but the website you get sent to for the freebie instead.
It's a good idea to have an antivirus program installed on your computer if you're going to be roaming freebie websites frequently.
Keep it active so it can catch anything that might come your way as you browse.
When you bounce from website to website to chase down a freebie, it's easy to stray so far from where you started and get caught in a security mess.
If a freebie has you chasing it all over the internet, it may end up just being a scam to get your e-mail address, or worse – get information from your computer with spyware.
Be careful never to download anything to get a freebie.
No true freebie will need you to download something to your computer to redeem it.
Also, you shouldn't have to pay any money or provide credit card information for free stuff!
That makes it not-so-free.
Finally, be warned that, to get freebies, you usually have to provide your e-mail address because the company wants to stay in contact with you.
Some companies use your e-mail address responsibly, only e-mailing you with important information and news you'd be interested in.
Others may spam you daily with irrelevant messaging.
The more places you sent your e-mail address to, the more potential spam you may get.
It's highly suggested to create a new e-mail account solely for freebie searching!
If you have any other freebie websites or tips you'd like to share, let us know in a comment!
Related Posts:
Earn Everything… nearly!
Join Ipsos iSay, one of the few Faithful and Honest survey panels and earn prizes, gift cards and donations. Stack your points and redeem them: Simple! No hidden fees and completely free!