4 Best Ways to Get a High-Paying Job in Antarctica
Updated on: by Amy Kennedy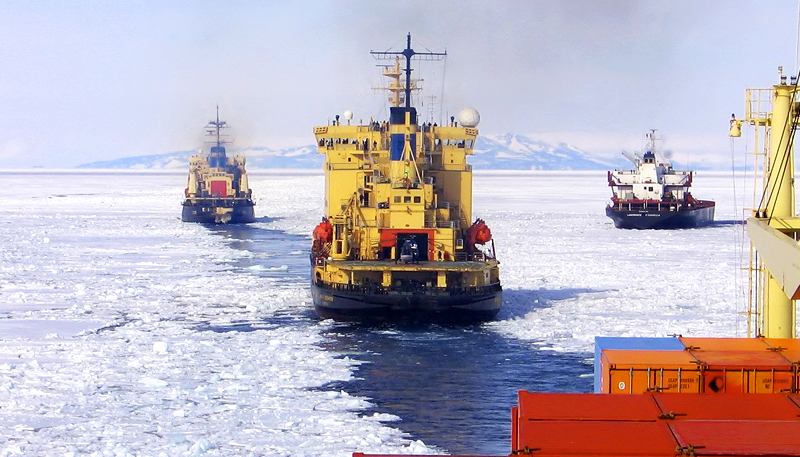 Believe it or not, some people like the cold.
Need Easy Extra $350+/Month For Free?
While some seek out winter jobs in Canada, others look for the best jobs they can get in Antarctica, the coldest continent in the world.
It might be hard to fathom if you're more of a beach and sun kind of person, or someone who just likes to have all four seasons through the year.
That's exactly why the government sometimes pays people extra to head to Antarctica for work to take over important labor and research positions that a lot of people don't necessarily want.
Other people simply volunteer to be one of the lucky ones to brave the cold and get to work because it's something different than they'd get to do otherwise.
Whatever your end goal, you're here for a reason: to see what type of work is available in Antarctica and whether it might be the right kind of work for you.
So, let's get to the jobs!
U.S. Antarctic Program Jobs
The United States Antarctic Program (USAP) has been around since 1956 and helps people find jobs in Antarctica doing important research about the continent, its weather, and how it interacts with the rest of the world.
The USAP has about 3,000 open jobs in Antarctica every year, so this is definitely one of the best places to go if you're interested in snagging one.
USAP doesn't necessarily hire people directly though.
Instead, it relies on other companies that work through the organization to hire people as support personnel.
Some of these companies include:
PAE
Lockheed Martin
Leidos
GHG Corporation
PHI, Inc
NSF Office of Polar Programs (OPP)
You can find out more on the Jobs and Opportunities page.
Here are a few of the jobs that might interest you in Antarctica:
McMurdo Station Jobs: PAE, Lockheed Martin, and More
One of the most popular places to land a job through USAP is at McMurdo Station.
This spot is a research facility on the southern end of Ross Island.
Need Easy Extra Cash?
Pinecone Research, a leading name in online survey panel honesty, absolutely guarantees $3 cash for every survey you complete!
Take advantage of their time limited New Membership drive and register NOW. Join today: 100% free!


McMurdo Station is both a scientific research station and its own community.
It has airfields, a heliport, ATMs, commercial buildings, and residential buildings for workers and their families.
Therefore, if you work at McMurdo Station, there's a good chance that your family might be able to tag along with you.
There are a lot of current listings open through the Pacific Architects and Engineers, Inc. (PAE) for McMurdo Station opportunities, although Lockheed Martin, University of Texas Medical Branch, and other companies also hire for the positions.
At PAE, you'll find positions like:
Carpenter
Light Vehicle Technician
Field Camp Supervisor
Weather Observer
Utility Mechanic
Refrigeration Mechanic
Shop Foreman
There are plenty of others, and it's safe to say that people in various industries with all kinds of work experience can likely find a job suited for them.
However, repair and technical skills can absolutely come in handy, as a lot of the positions require people who can work on heavy machinery, vehicles, and other important equipment.
Artists and Writers Program (AAW)
The Artists and Writers program is more like a scholarship program than a job for people who want to enrich their artistry or writing in Antarctica while learning about this incredible place.
The AAW is funded and awards some money to people who are accepted, although not everyone accepted will get grant money directly from the fund.
People from all countries are welcome to apply for this program, but priority is given to U.S. citizens.
Anyone involved in the program will be able to visit the research and science facilities in order to gain information they need for their writing or artwork.
You can go here to find out more about the program and to apply.
Leidos contracts people for various positions for USAP.
Most contractors will have a set period of time they'll need to stay to complete their jobs, with most positions needing a commitment from October through February.
Leidos has positions available mostly in McMurdo Station and South Pole Station.
Some positions even take place on the Antarctic research vessels!
When you work through Leidos, you'll receive free airfare to and from your destination and free room and board during your stay.
That's all in addition to your salary, which the company states is similar to what you'd get paid for the same or similar job in the United States.
USAP also seeks journalists and other members of the news media industry to work in Antarctica both to enrich their own professional portfolio and to focus their journalism efforts on the research taking place in Antarctica at various facilities.
News media members can either work through a company that employs people for USAP or as a freelancer, as long as they're willing to sign a commitment contract.
British Antarctic Survey Jobs
The British Antarctic Survey is the UK version of USAP.
You must, therefore, be a UK resident or at least are legal to work in the UK.
The BAS seeks individuals for various jobs, too, so it's worth a look no matter what industry you work in or are interested in.
The BAS does most of its hiring, though, rather than contracting people through other companies like USAP.
So, most people working through the program will receive the same types of benefits, which include things like:
30 days annual leave
Flexible scheduling
Some paid holidays
Sick pay coverage
Employer discount on some products and activities
Career breaks
Home-based work for some jobs
Pension program
As you might guess, the Australian Antarctic Division (AAD) is like the USAP and BAS for Australia.
This program is Australia's research, and science-based program focused on deepening the research efforts of Australians in the Antarctic.
This program has strict deadlines for its positions within the program and the application deadlines for the upcoming work season tend to end several months before the season starts.
Earn Everything… nearly!
Join Opinion Outpost, one of the few faithful and honest survey panels and earn cash and gift cards for your opinion. Stack your points and redeem them: Simple! No hidden fees and completely free!


You can, however, visit the website and register yourself to be one of the first to know when positions for the following year open.
The AAD is especially well-known for its medical practice program in which medical practitioners can get a once-in-a-lifetime experience practicing medicine in a different continent.
The medical practitioners stay with expedition groups to tend to their needs in case of an emergency, illness, or injury.
In this position, you can be the group's sole doctor for a 12-month period.
There are also some medical research positions in which you can study how humans interact with Antarctica's environment and how the atmosphere affects their health.
The medical program isn't the only one through the AAD though.
The AAD also has a media program, an arts fellowship, a science program for Ph.D. students, engineer positions, and more.
The Bureau of Meteorology is a division of the Australian government that recruits people for Antarctica expeditions.
The positions here are all weather and atmosphere related, including things like weather observers, meteorologists, technical engineers, and more.
Most expeditions through this program last about 12 months in Antarctica.
There's also at least four months of training and preparation involved before you ever get to the continent.
You'll get a base salary that's similar to what you'd be paid for similar positions in Australia, but you'll also be eligible for living bonuses and money to cover expenses like food, clothing, and lodging.
Check out current vacancies with the Bureau of Meteorology here.
Read More: 
16 Best Traveling Jobs for People Who Love to Explore the World
Top 12 Ways to Earn Money Fast in New York City
Conclusion: Best Jobs in Antarctica
If you think you can brave the frigid Antarctica climate to take advantage of one of these once-in-a-lifetime job opportunities, then at least you now know how to go about getting one!
These jobs certainly aren't for the timid.
You'll be in temperatures like you've never felt before, in a world where there's nothing around you besides the people you work with and the communities you've created with them.
However, these jobs are truly ones you won't find anywhere else.
You'll have a hand participating in incredibly important research that can shape how humans interact with the earth now and in the future.
No matter what industry you work in, you can try to score a job with your country's program because there are a lot of various positions available.
After all, the crews in Antarctica need people to work the same positions as they would back home for everyone to survive.
Cooks, nurses, teachers – I'm looking at you!
Browse the websites and look through the open jobs to find something that might suit your interests and experiences.
Have you or someone you know ever taken one of these interesting positions?
We'd love to hear about it – leave us a comment!
Related Posts:
Earn Everything… nearly!
Join Ipsos iSay, one of the few Faithful and Honest survey panels and earn prizes, gift cards and donations. Stack your points and redeem them: Simple! No hidden fees and completely free!